Walnut and Butternut Squash Quinoa Salad with Ginger & Tarragon Vinaigrette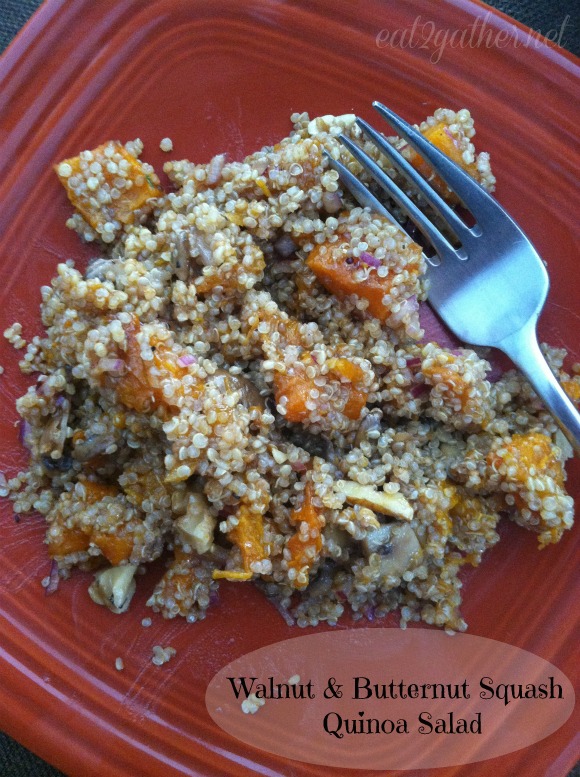 This is how I like quinoa! If you missed my post a while back.  Or if you saw it but didn't read it and actually thought that I enjoyed eating quinoa for breakfast well….I don't.    I'm not a morning person so the best way for me to start the day is with a heavy dose of sweet and caffeinated.  Unfortunately that doesn't quite fit my "eating plan" these days!  I did concoct this sweet sugar-free breakfast however. Recently I  bought a 50 pound bag of quinoa at Costco, and it's taking up valuable space in my pantry.  JK. It was only 5 pounds but every time I take a cup out, another cup appears.  I can't seem to get rid of it!!  If you live close by and you want to borrow a cup or two of quinoa come to the garage door and knock 3 times, pause, then knock quickly two times.  I will promptly deliver quinoa into your pesky hands!  No questions asked. 😉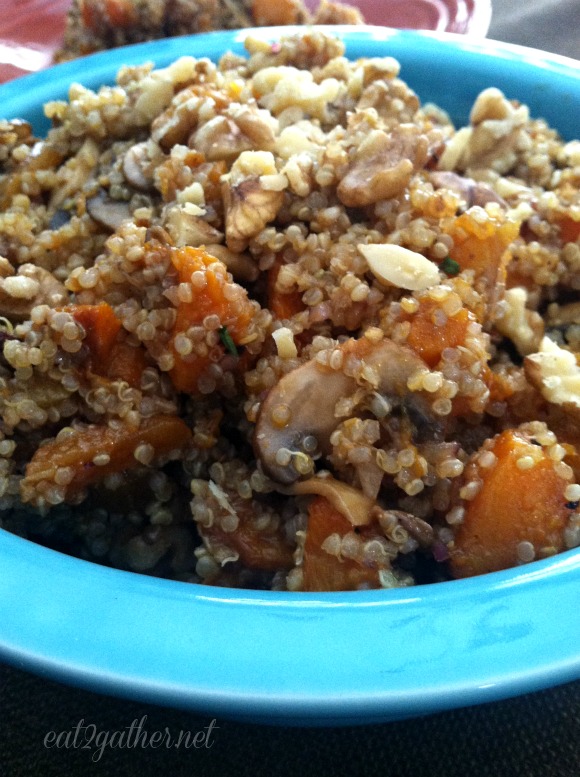 This recipe is 100X better than my first attempt at using up the replenishing truck load of quinoa.  I could eat this salad often!  Quinoa lends itself better, in my taste, to the savory side.  It's definitely has an earthy flavor. This recipe would be easy to change-up and add other roasted vegetables to, like green beans or asparagus…Ooo roasted beets and sweet potatoes would be good too!  I even chopped up some spinach and mixed it in one day for lunch, this was super good!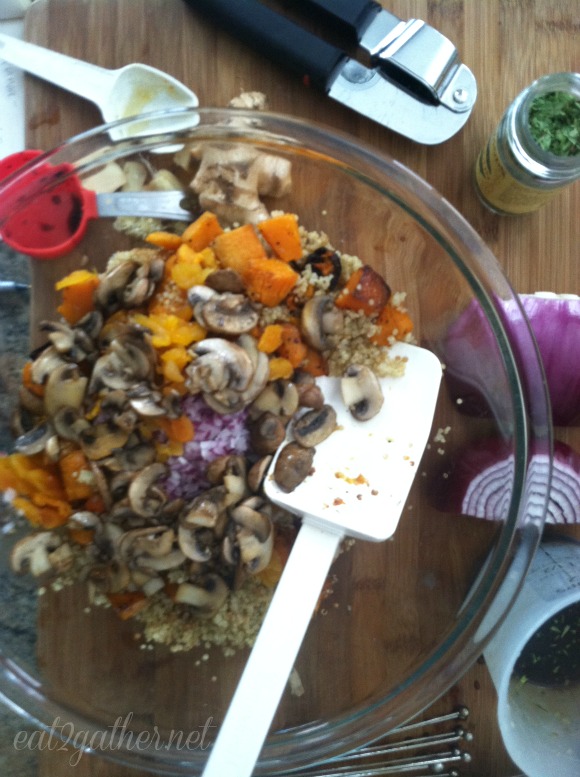 Cook the quinoa, roast the butternut squash, saute' the mushrooms, chop the walnuts and throw it all together in a large bowl.  I know this sounds like a lot of steps, well you're right it is, but it's worth it!  Besides this salad will last you 3-4 days in your refrigerator.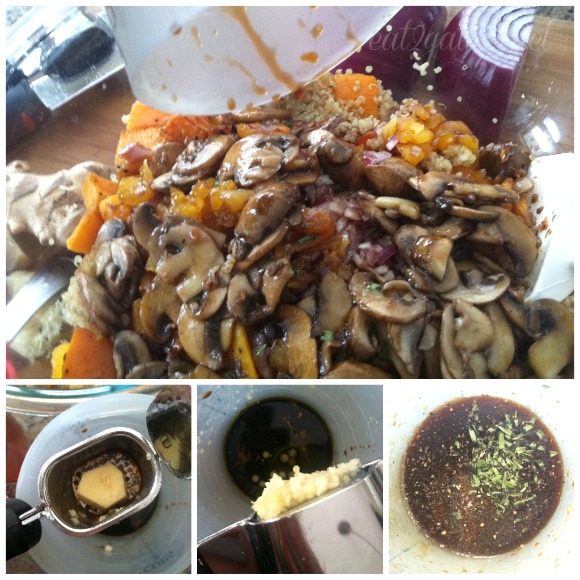 Whisk together the vinaigrette ingredients and pour over quinoa. I like to use my garlic press for ginger.  Stick a thumb size piece of fresh peeled ginger in your garlic press and press it right in to your stuff.  This method mostly juices the ginger, but you will get a bit of ginger that comes thru just scrape it off with a knife into your vinaigrette.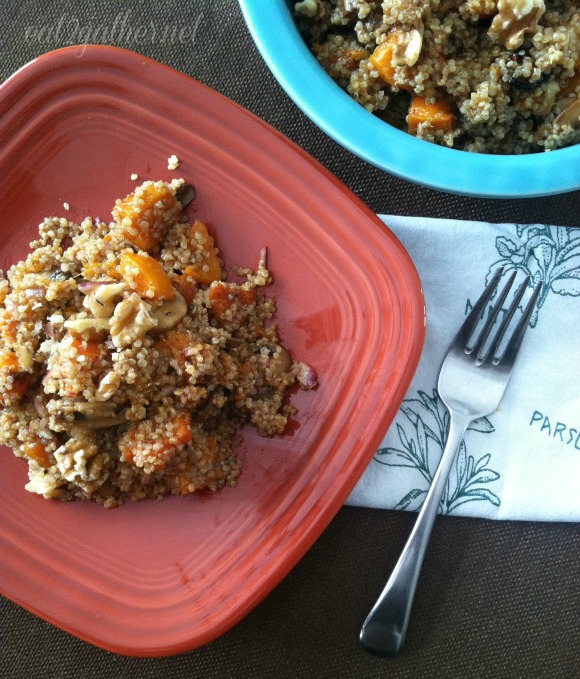 This recipe is so versatile.  Please I beg of you make it your own!  Add what ever roasted vegetable you like, switch the nut,  I think golden raisins might be good in this too.  On the last day of eating this salad I added leftover chicken and chopped fresh spinach for a tasty and toolicious lunch! [print_this] Butternut Squash and Walnut Quinoa Salad with Balsamic Tarragon Vinaigrette 1 medium Butternut Squash, skin, seeded, and cut into chunks 1 tablespoon Olive Oil 1/2 teaspoon Salt 1/2 teaspoon Pepper 1/4 cup diced Red Onion 1 8 ounce package Mini Belle Mushrooms, sliced and sautéed in 1/2 tablespoon olive oil 1/2 cup chopped Walnuts Vinaigrette 1/4 cup Balsamic Vinegar 4 tablespoons Olive Oil 1 tablespoon Honey 1/2 teaspoon dried Tarragon leaves 1 inch Ginger Root 1 Garlic Clove, minced Salt and Pepper to taste Preheat oven to 400 1. Toss chunks of butternut squash with olive oil, salt, and pepper. Spread out on a baking sheet and bake for 30 minutes, remove from oven and using a spatula flip the squash over so the other side gets roasted and a little crispy. Return to oven and bake another 10 minutes. 2. While the squash is roasting you can cook the quinoa. Add quinoa to 2 cups of water bring to a boil, turn down to low, cook for 10 minutes covered, turn off heat and leave on stove for 20 minutes do not remove lid. After 20 minutes remove lid and toss quinoa with a fork. 3. Clean and slice mini portabella mushrooms saute in frying pan with a dash of vegetable or olive oil, until they have reduced to half. 4. Whisk vinaigrette ingredients together. You can grate ginger, mince it finely or I like to press it through my garlic press. 5. In a large bowl add quinoa, roasted squash, onions, sautéed mushrooms, and walnuts toss with vinaigrette. Eat right away or keep in refrigerator for up to 4 days Options: You could use any roasted vegetables you like beets, sweet potatoes, beans, asparagus.  You can can also substitute almonds or pecans if you prefer. Eat this warm or cold. Toss in some chopped fresh spinach and/or chicken. Make this recipe your own! Enjoy! [/print_this] Are you attempting to eat differently this year?  How have you changed your eating habits and why?