This recipe is for my birthday boys, because they both love chocolate…lots of it! And cookies warm out of the oven.  Three layers of chocolate flavor, a smattering of coffee, and some oatmeal to make this momma feel like I'm giving my family something healthy!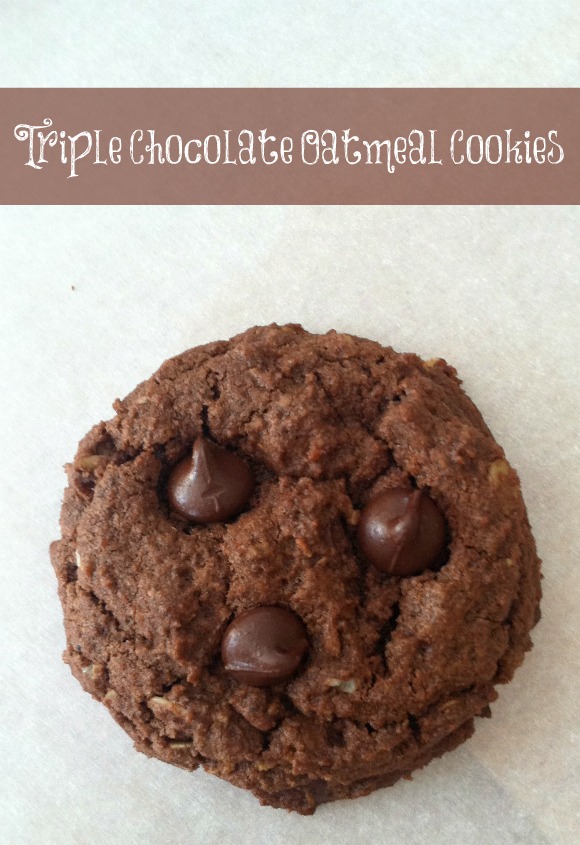 My birthday is Christmas Eve.  As lovely as that seems, so closely sharing a birthday with the Savior of the world, it's really quite a drag.  Well you think I would have planned a bit better when it came to the birth of my children.  Nope.  I did not.  Two out of four are December birthdays, and to make it worse they are within a week of Christmas.  Mine the 24th, my third child on the 28th, my first-born on the 30th of December.  Holy Mother of God….forgive me for I think not about what I do.  That was a prayer people, I was not being sarcastic or sacrilegious.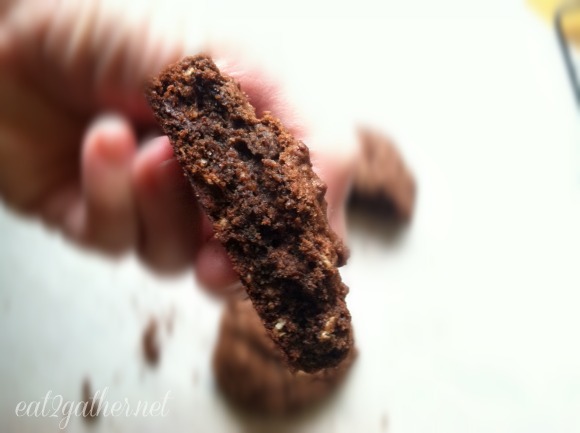 And to double my pain….I have laid on mountains of tradition when it come to my kiddos birthdays.  Because mine was always pretty much Christmas…..  I have gone to the enth degree to make my boys birthdays special.  My oldest would say annoyingly so.  My younger son would probably still say he feels jipped.  It's hard.  Birthdays at the holidays are just weird.  Ken and the girls all have Summer birhtdays….Lucky bumbs.  They have no idea.
Wahhh we have it so hard.  Not. We are friends right?  I can vent and whine a little can't I? Thank you. Love you.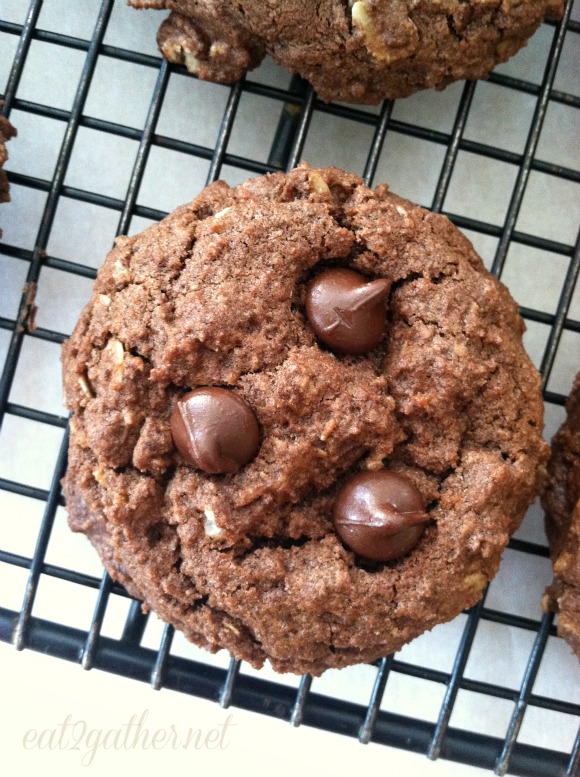 What are some of the traditions?   Well they are all mostly food related…SHOCKER.  First off I always hang a birthday banner, and do some decorations around the breakfast table, where the birthday presents are waiting for them.  One year I did a scavenger hunt to find their gifts, key words one year.   It took too much thinking on my part.  I do not have that sort of mind.  I have friends that are scavenger hunt aficionados.  Everyone's got their gifts, scavenger hunt planning is not mine.
Mine would be food.
I also prepare them whatever food they want for all three meals.  This has been anything from homemade donuts for breakfast, to taco bar at lunch, to homemade egg rolls at dinner.  Sometimes a kid birthday party thrown in there or sledding party with hot chocolate.  The skies the limit…pretty much.  Then we end the day by looking through their baby book, and pictures.  It's good to remember.
I came up with these cookies as a gift to all of the December birthday people in our home and around the globe.
These are like prize-winning cookies…..if I may say so myself.   It took me a few tries.  And I got it right, these cookies will take the edge off any holiday birthday stress you may have.  Strong cup of Jo and a Triple Chocolate Oatmeal Cookie…wahBAM  and you will be buzzing around like one of Santa's elves!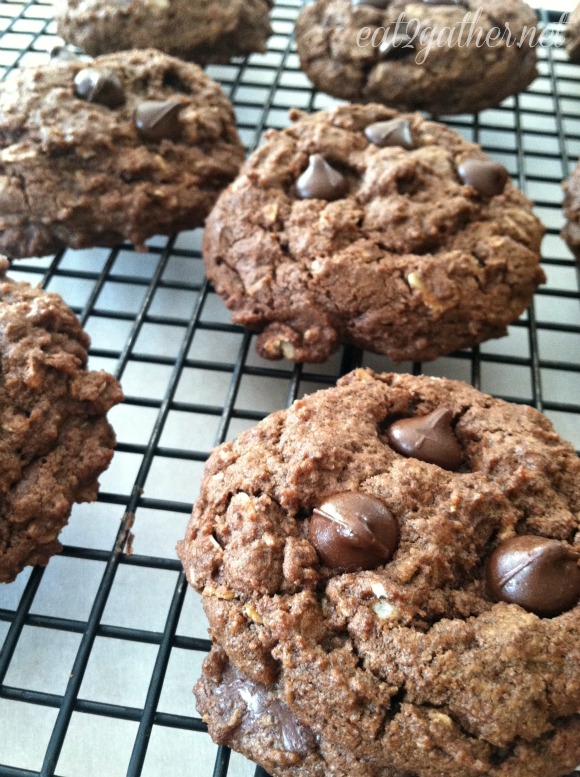 [print_this]
Triple Chocolate Oatmeal Cookies
makes 2 dozen
2 sticks of Butter, softened
1 cup Sugar
1 cup Brown Sugar
2 Eggs
2 teaspoons Vanilla
4 1 ounce squares Unsweetened Chocolate, melted and cooled
2 1/2 cups Flour
1 teaspoon Baking Soda
1 teaspoon Salt
1/4 cup Cocoa Powder
1/2 teaspoon Cinnamon
1 tablespoon Instant Coffee Crystals
1 1/2 cups Old Fashioned Oatmeal
2 cups Chocolate Chips
Preheat oven to 375 degrees.
1. In a double boiler melt chocolate squares and allow to cool for 5 minutes. (If you want chocolate to cool faster stir to whip air into chocolate.)
2. Cream together butter and sugars until smooth and fluffy. Add eggs one at a time beat until each is incorporated. Add Vanilla. Slowly add in cooled chocolate. Beat into butter mixture, be sure to scrape the bowl at least once.
3. Measure out flour add in baking soda, salt, cinnamon, coco powder and combine. Gradually add flour mixture to chocolate butter mixture. Once all flour is added sprinkle in coffee crystals and beat until combined. Next add oatmeal and chocolate chips.
4. Drop tablespoon sized balls of dough on to parchment lined baking sheets. Bake for 10 minutes, no more no less. Even if the cookies do not appear to be done take them out of the oven and remove them from the baking sheet to a cooling rack or cool surface.
Minty Version: Cut vanilla down to 1 teaspoon, leave out the cinnamon, and add in 1/4 teaspoon Lorann Peppermint Oil (the kind you use to make rock candy), or 1/2 teaspoon McCormick Mint Extract.  This makes these cookies taste like Andes Mints.  Wunderlicious!!
Enjoy!
[/print_this]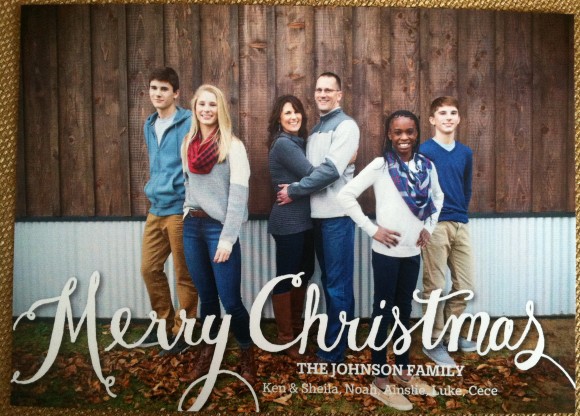 Cheers to the New Year!  Wishing you all the best and a very blessed Christmas season!!
Peace, Sheila