Today I'm sharing a recipe from one of America's Test Kitchens newest cookbooks Slow Cooker Revolution volume 2: the easy-prep edition.  The recipe for Asian Chicken Lettuce Wraps is not only tasty and easy it is also versatile and the leftovers – if you have any – freeze beautifully, for an even quicker easier meal next time!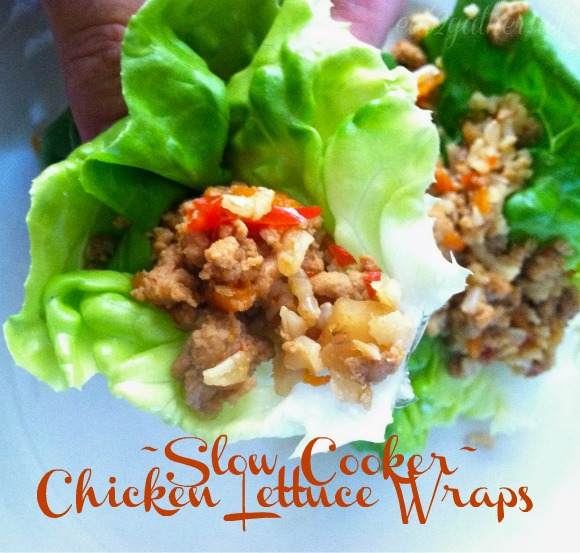 Our family has a favorite restaurant we always eat at when we are in East Lansing visiting Sparty, and we always start our meal out with the chicken lettuce wraps.  I have attempted making them at home, but it was always so much work all the chopping and so many ingredients.  That is not the case with this recipe, the addition of hoisin sauce (which can be found in any grocery store in with the Asian ingredients) makes it a snap to throw together.  This recipe works perfect when you have leftover rice from another meal or a Chinese take-out.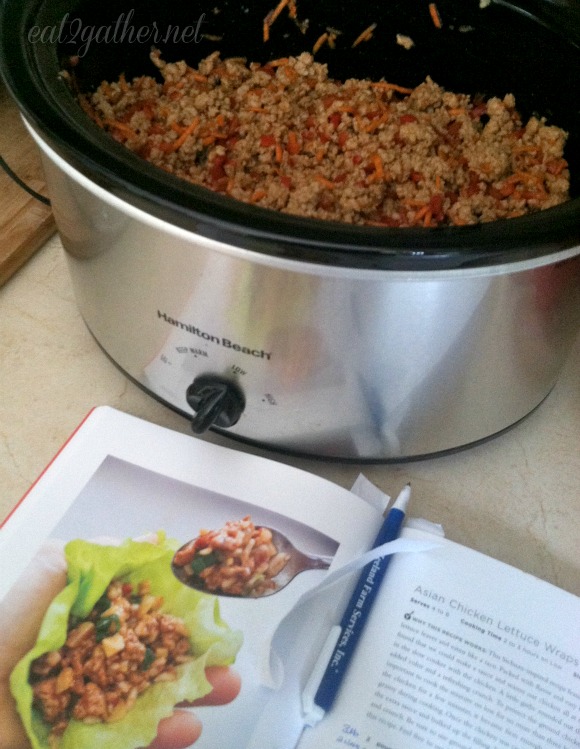 I altered the recipe slightly only because the book states it will feed 4-6 and I knew that would not make enough for my hungry lettuce wrap lovin' family!  I also  like to get as many vegetables in as possible, so I added a cup of shredded carrots to the original recipe, but other than that no major change was needed.  This recipe was perfect in every way!  Especially perfect because it only took me about 15 minutes to get it prepped and in my slow cooker; then I just walked away!
Question: What recipe do you make most often in your slow cooker?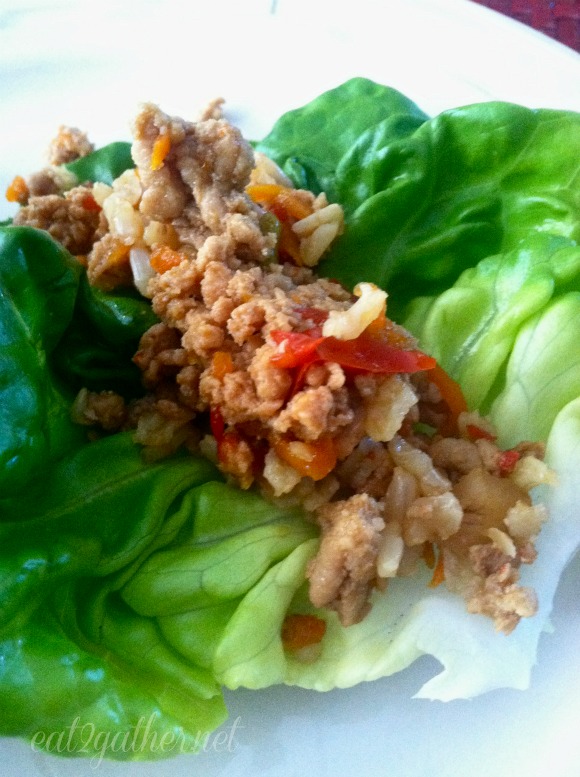 I also should tell you that I left the Asian Chicken in the slow cooker, on low, for 6 hours before we ate, the recipe says 2-3, but even after 6 hours it was not dry or over done it was juicy and very flavorful.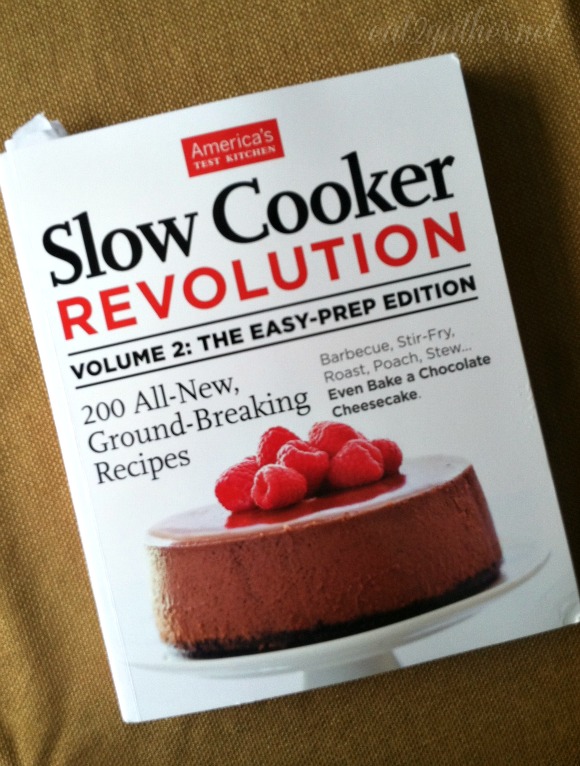 I love America's Test Kitchen!  I trust everything they say, their recipes are made over and over and over, tested this way and that, making sure everything is perfect.  Everything!  I have been subscribing to their bimonthly magazine Cook's Illustrated for years, I have learned more from reading this magazine than anywhere else (sorry mom).  So when they ask me if I'd like a copy of their new slow cooker cookbook  to review I said, YES PLEASE!  And will you give me another to give away….they said, "yes!!"  I did a happy dance 😉
As you can see this cookbook is dog-eared after only a month, and I have all sorts of page markers stuck in it for recipes I want to try.  I love using my slow cooker, but I feel like I'm not very creative with what I make in it.  Well let me tell you this cookbook will have you using your slow cooker for everything from Creamy Potato, Cheddar, and Ale Soup to Moroccan Spice Beef Stew and then Carrot Cake for dessert!  Yes you can make dessert in your slow cooker!
GIVEAWAY DETAILS below!!
[print_this]
Asian Chicken Lettuce Wraps
recipe slightly adapted from
America's Slow Cooker Revolution Volume 2:Easy Prep Addition
serves: 6   cooking time: 2-3 hours on low   slow cooker size: 5 to 7 quarts
3 pounds ground Chicken
2 cloves Garlic, minced
2 Red Bell Peppers, cored and chopped fine
1 cup shredded Carrots
1 8.5 ounce jar Hoisin Sauce
4 tablespoons Soy Sauce
1/2 teaspoon Salt
1/2 teaspoon Pepper
1 8 ounce can sliced Water Chestnuts, rinsed and chopped
2 cups cooked Rice
3 Green Onions, sliced thin
2 heads Bibb Lettuce
1. Brown chicken and garlic in a skillet until chicken is no longer pink, about 5 minutes. Drain off liquid and transfer mixture to slow cooker. Stir in bell pepper, shredded carrot, hoisin, soy sauce, salt and pepper. Cover and cook for 2-3 hours.
2. Stir in water chestnuts and rice and let sit until heated through about 5 minutes. Stir in green onions and season with more salt and pepper if needed. Separate Bibb lettuce leaves, serve by spooning chicken filling into lettuce leaves like a taco.
Note:
~I let this cook on low for 6 hours and it did not dry out.
~You can make the above recipe, however leave the rice out and then serve Asian Chicken over rice instead of in the lettuce wraps, my family loved it this way.
~This recipe also freezes well, you can easily thaw and reheat it in the microwave for a quick lunch or dinner.
[/print_this]
I should also tell you…..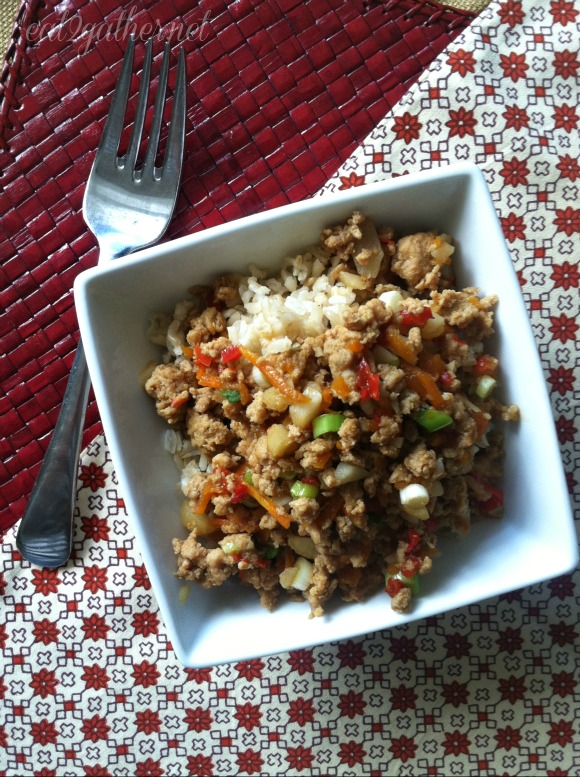 That I made this recipe and left the rice out, then served the Asian Chicken over  the rice instead of serving it in the lettuce leaves.  This will help stretch the meat mixture a little further if you are trying to get more for your money.  I also served it over brown rice, which always makes me feel like I should give myself a pat on the back for being "like all health conscious" and stuff 😉
Ok now without further ado'…..here is how you can win yourself a copy of America's Test Kitchen's
~Slow Cooker Revolution volume 2: The Easy-Prep Edition~
GIVEAWAY RULES: Contest CLOSED. 
1. Leave a comment below in response to the highlighted question in the post.
**You must have a mailing address within the Continental U.S. to win**
DEADLINE is Tuesday October 8, 10am EST.
That's it!!  That's all you have to do.  Of course feel free to share this giveaway on any and all social media circles because as always it's nice to share!
The WINNER will be announced next week at the beginning of the What's 4 Dinner Wednesday post. If you haven't already subscribed to my weekly newsletter this is a great way to keep up with what's going on here at E2g.
Wishing you the BEST! XO, Sheila