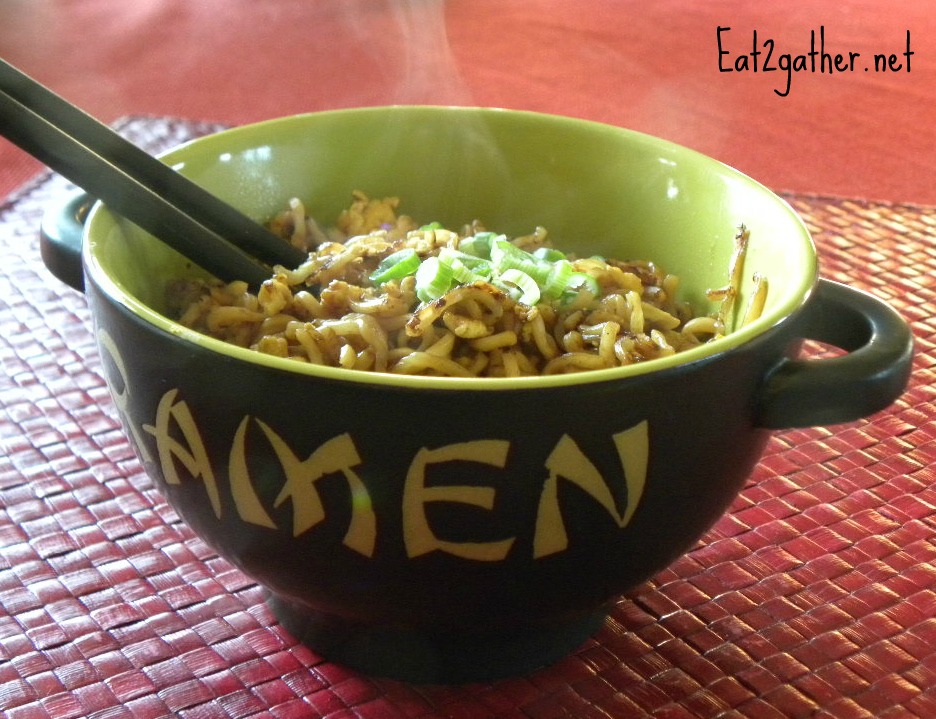 I'm going to make this short and sweet, because that's just what Stir Fried Ramen is.  My kids love Ramen Noodles, and would eat their weight in them if I allowed it!  So last Summer in an attempt to make ramen noodles somewhat healthy, I came up with this recipe…if one could even call it that. Four ingredients and Five minutes and you will have a quick meal to satisfy the biggest to the smallest in your family!
I fix Stir Fried Ramen mainly for lunch, but on occasion it does show up at the dinner table.  Especially on busy days, when I haven't prepared dinner ahead, and we have a night full of activities.
What do you throw together, last minute, for dinner on busy nights?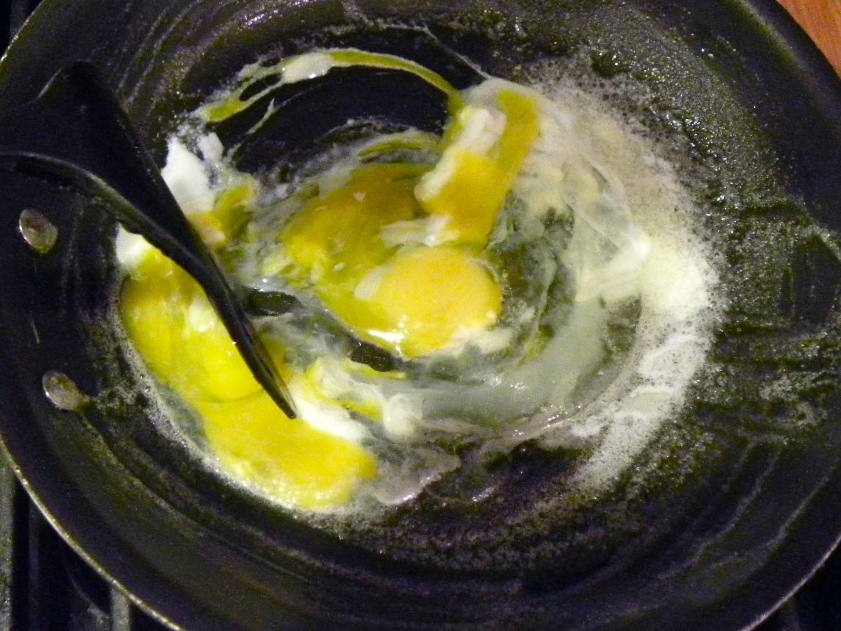 In a non-stick pan scramble 1 Egg.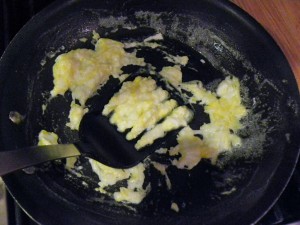 Making sure that the egg is scrambled into small pieces.  I like to use my spatula to squish it and break the egg into little bits.
While you are scrambling your egg.  Boil water in sauce pan add ramen noodles, throw away the flavor packet, cook noodles until just tender.  Drain noodles.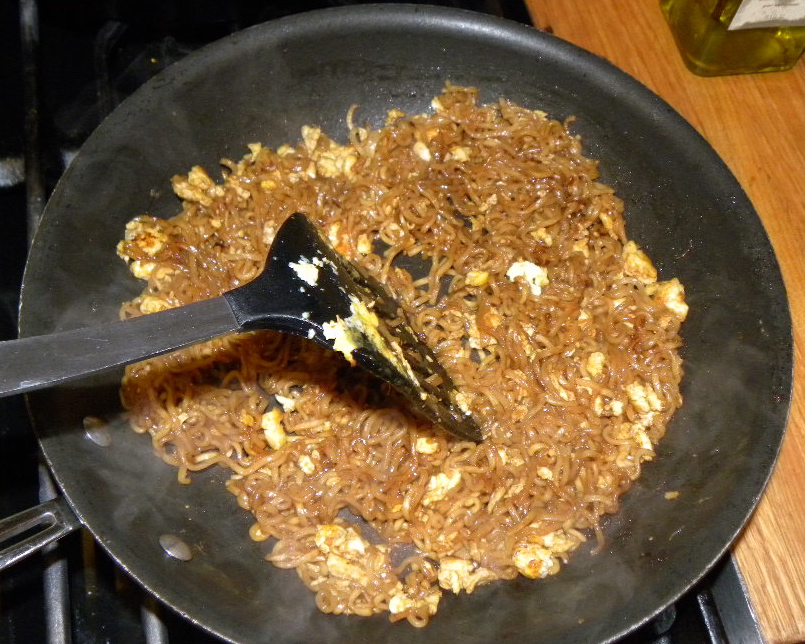 Toss drained ramen into frying pan with scrambled egg.  Add 1 teaspoon of Hoisin Sauce, and 1 1/2 tablespoons of Soy Sauce to pan.  Over Medium-High Heat continue to stir with spatula, making sure that the hoisin and soy sauces are mixed throughout.  Feel free to use more or less of the hoisin and soy sauce to suite your taste.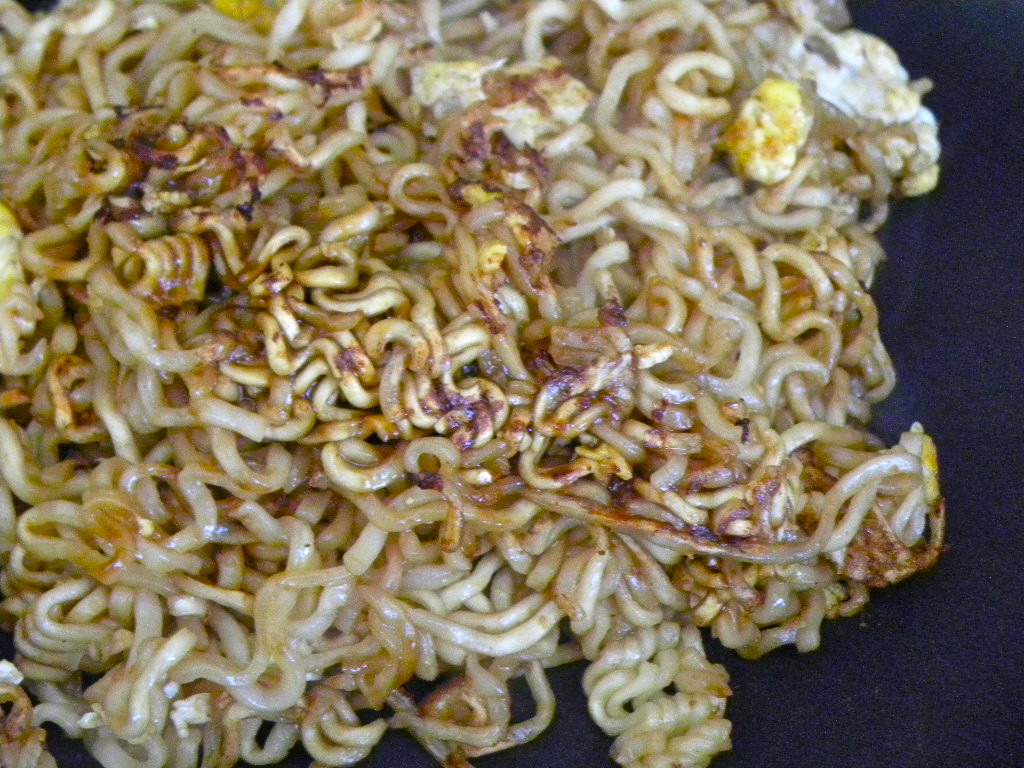 After the sauces are mixed in, let the noodles fry for a minute, this will add a delicious crispy, crunchy texture to your Stir Fried Ramen
If I have them on hand I will through in matchstick carrots, or edamame, bits of leftover cooked broccoli.  My kids like it best with egg only.  Simple.  I have also used leftover spaghetti noodles or rice instead of ramen.  Works like a charm!  It's so easy I feel silly making a printable for it…but who knows, if your brain works anything like mine, perhaps you might need one.  So here you go!
[print_this]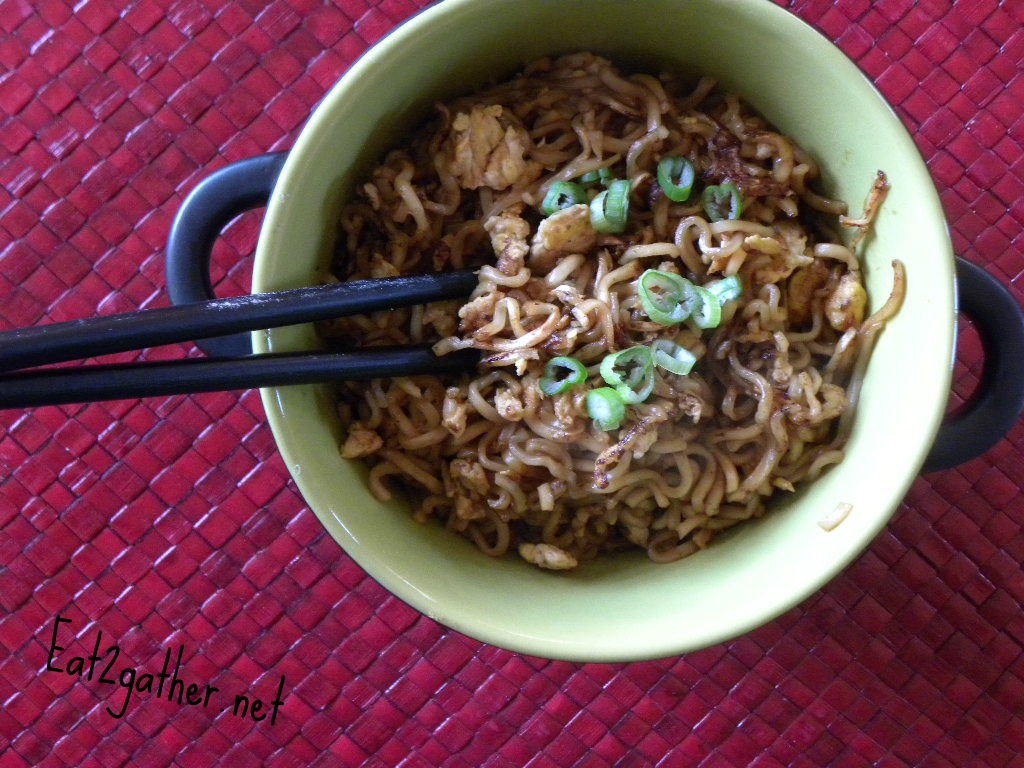 Stir Fried Ramen
1 serving, 2 if you under 4 foot
1 Egg
1 package Ramen Noodles (discard seasoning packet)
1 teaspoon Hoisin Sauce
1 1/2 tablespoons Soy Sauce
Scramble egg in a non-stick pan. Cook ramen noodles until tender, drain. Add ramen noodles to scrambled eggs, turn up heat to medium-high. Add hoisin and soy sauces to noodles, combine. Continue to fry noodles for another minute until noodles start to get crispy and crunchy in parts.
Note: Feel free to add matchstick carrots, edamame, bits of broccoli or any other vegetable that tickles your fancy. I have also used left over spaghetti noodles or rice (approximately 1 1/2 cups) instead of ramen noodles. I only have a small non-stick pan so I make mine one batch at at time, but doubling or tripling this recipe would be a cinch.
[/print_this]
Maybe you already make something similar to this.  I would love to hear what you add to your stir fry.
Peace, Love, and Ramen Noodles……….