I HEART Jell-O Sugar Cookies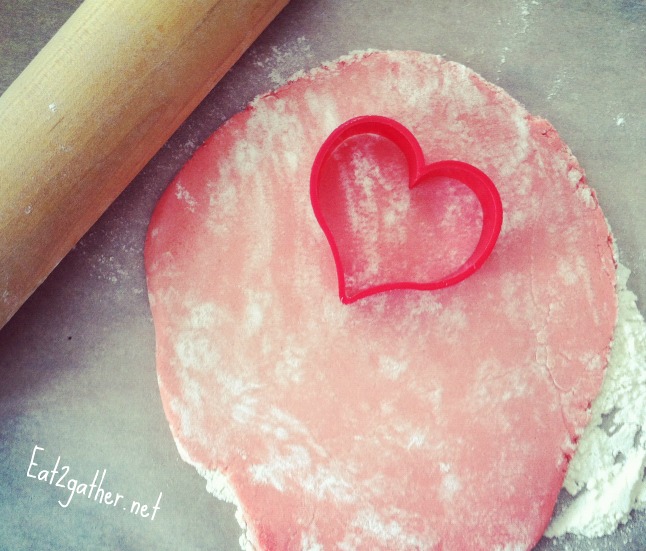 I grew up on these cookies.  Jell-O Sugar Cookies are chewy, and sweet.  The Jell-O adds a special fruity twist, and they're a lovely color too!  This Jell-O Sugar Cookie Recipe is  my Mom's recipe….I searched high and low on the world wide web (I love saying that it makes me giggle.) and I found nary a recipe that is exactly like my Momma's.  She has been making these cookies long before there even was a world wide web!  So I am making the bold claim that this is "The" Jell-O Sugar Cookie recipe!  I love it.  When I make these cookies I feel like a little girl again.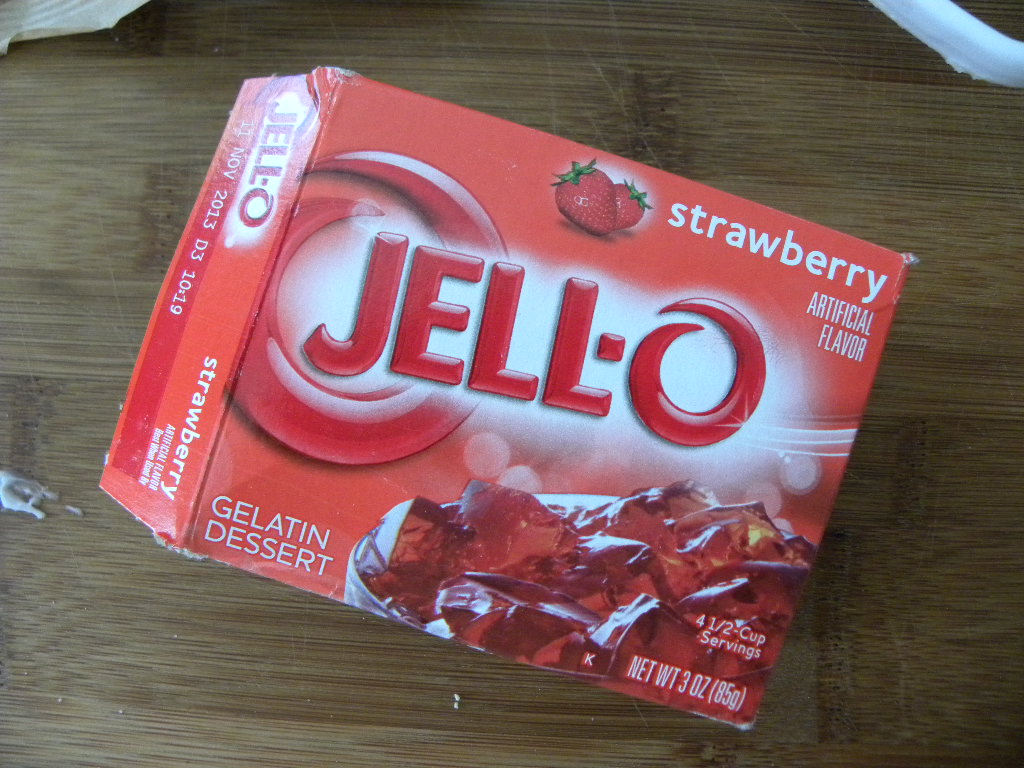 I used Strawberry Jell-O for these Valentines Sugar Cookies.  You could use raspberry or cherry.  But my favorite is making them with lemon or lime Jell-O and then adding some zest from the citrus in the dough and in with the sugar when rolling them.  The sweet and sour tickles your taste buds!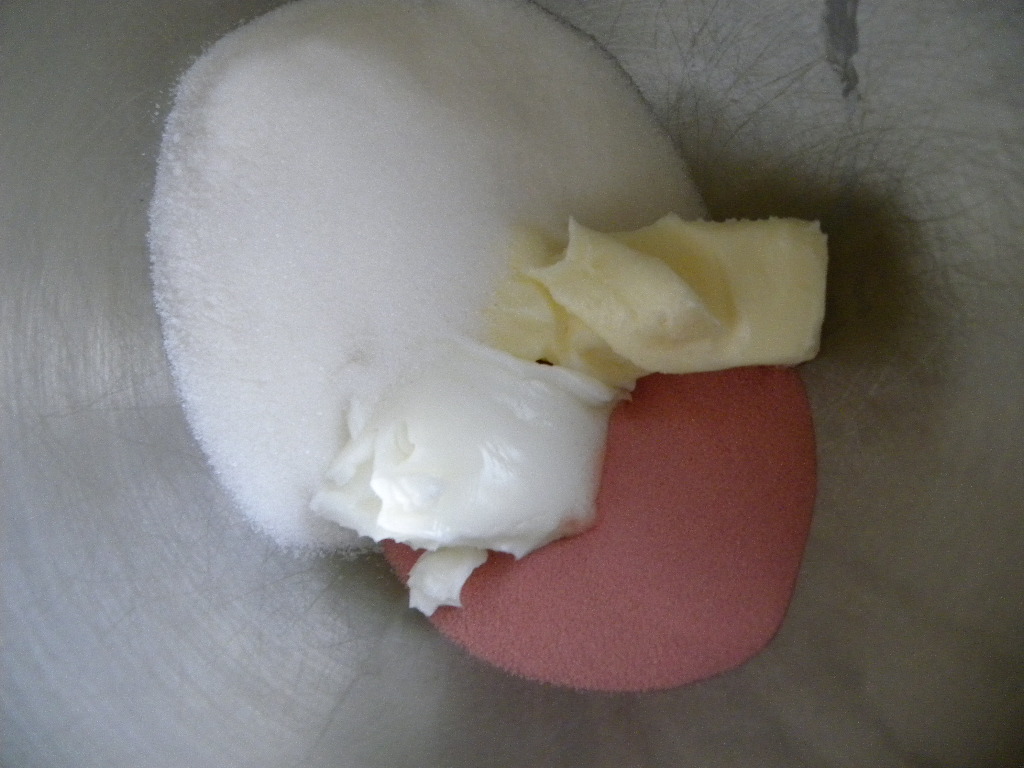 Preheat oven to 350 degrees.
Add 1/2 cup Butter softened, 1/2 cup Shortening, 1 3ounce package Strawberry Jell-O (or any flavor you choose, but we're trying to stick with a Valentines theme here……just remember that it's not St. Patty's Day) and 1 cup Sugar to mixing bowl.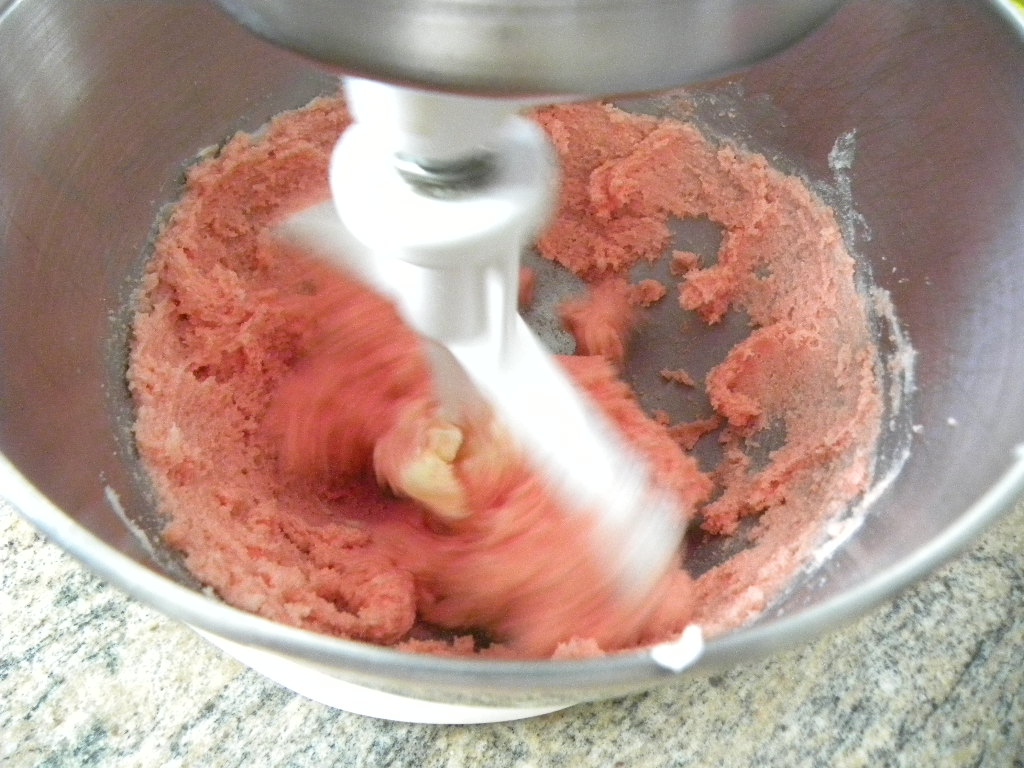 Cream together until combined well….about 4-5 minutes.  Take time to give the bowl a scrape.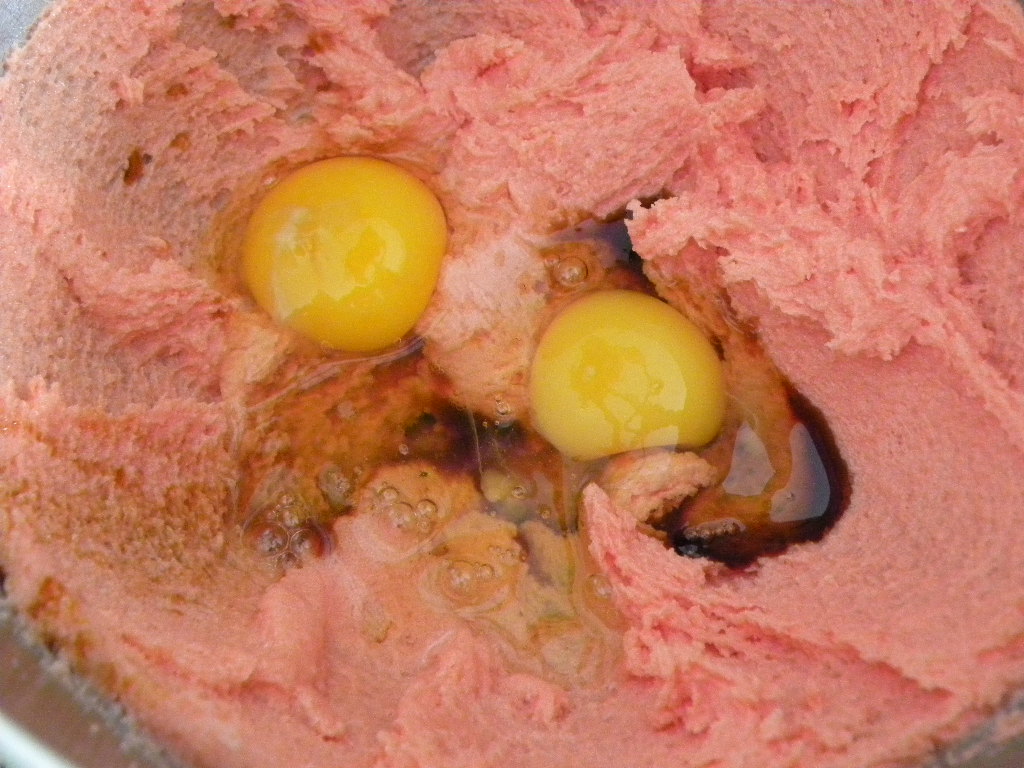 Now add 2 large Eggs and 1 teaspoon Vanilla Extract.  Mix on medium-high for an additional 2-3 minutes.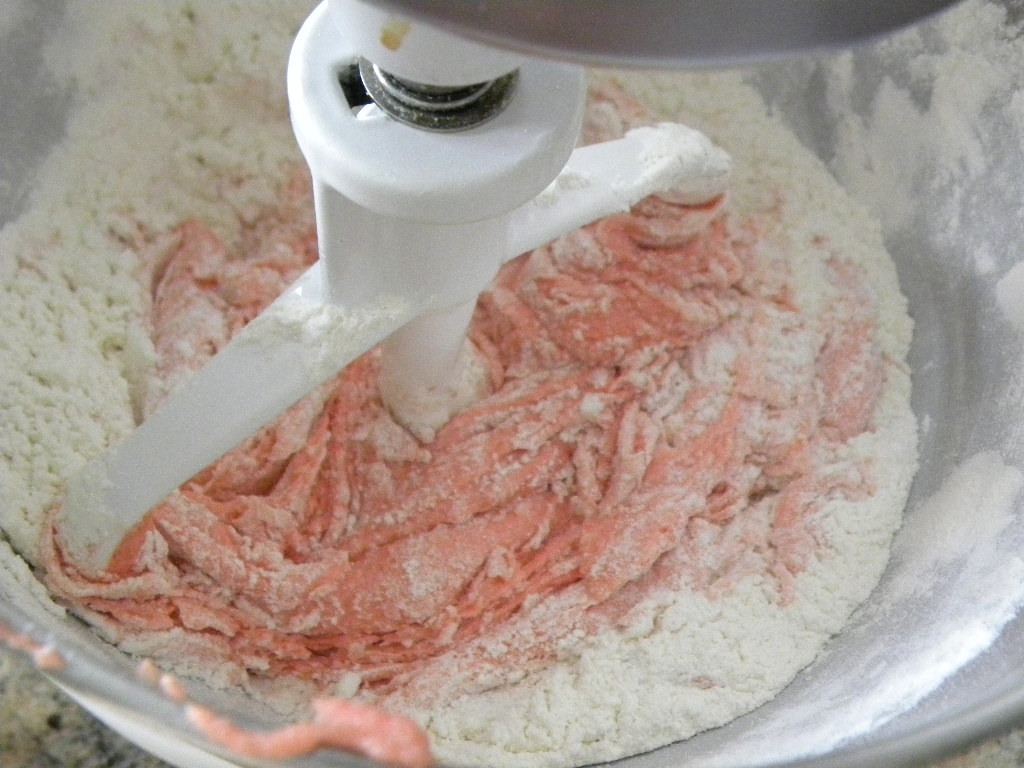 Measure out 2 1/2 cups of Flour add 1 teaspoon Baking Powder and 1 teaspoon Salt to flour.  Gradually add flour mixture to wet ingredients.  Mix until just combined.  Do not over mix.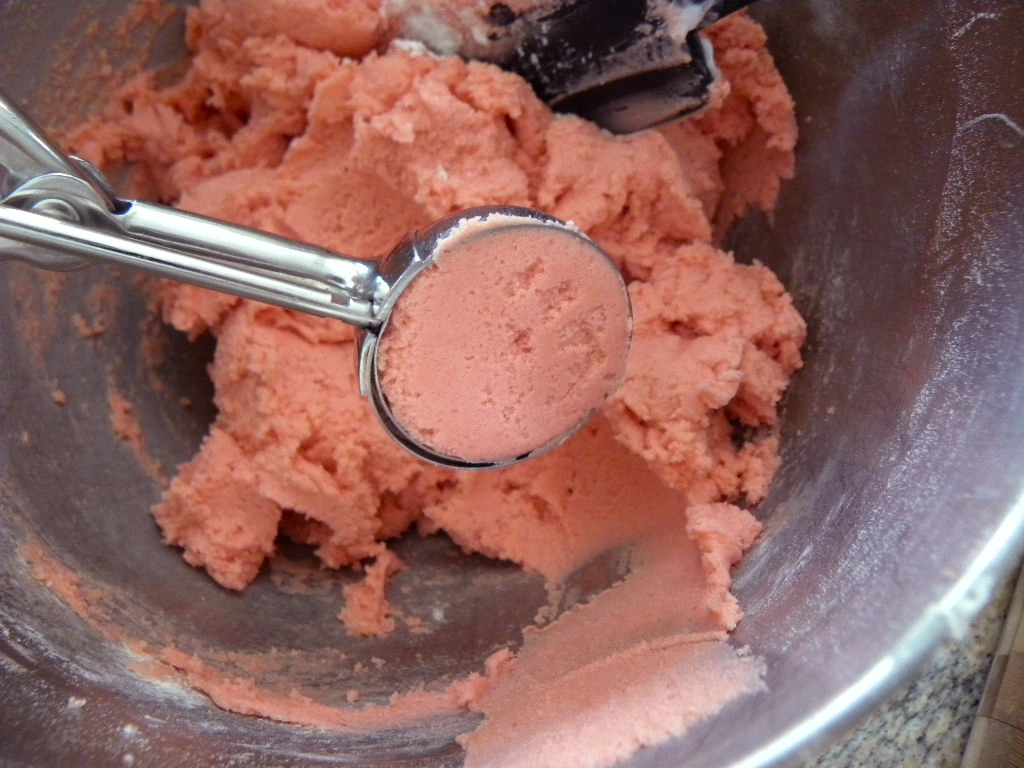 I always use my small melon baller to scoop cookie dough.  Growing up my mom just used a table spoon to scoop out the dough and rolled the dough into a ball in the palm of her hand.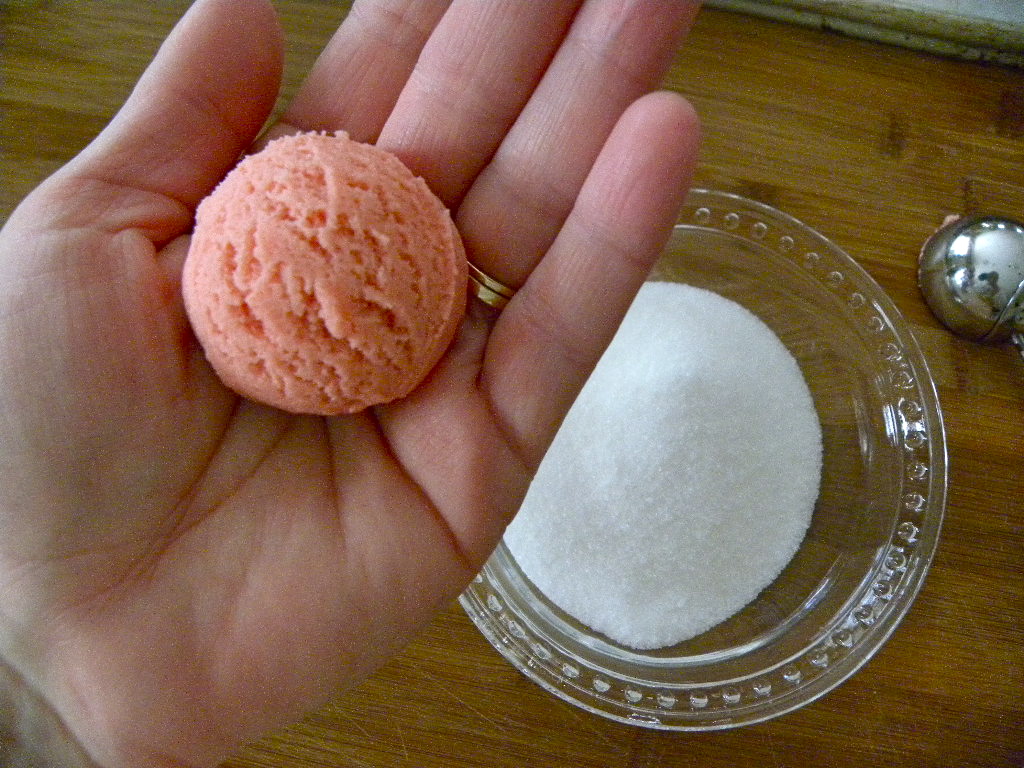 This is an average sized Jell-O Sugar Cookie.  Not that there is anything normal or average about these scrumptious cookies, but you know what I mean!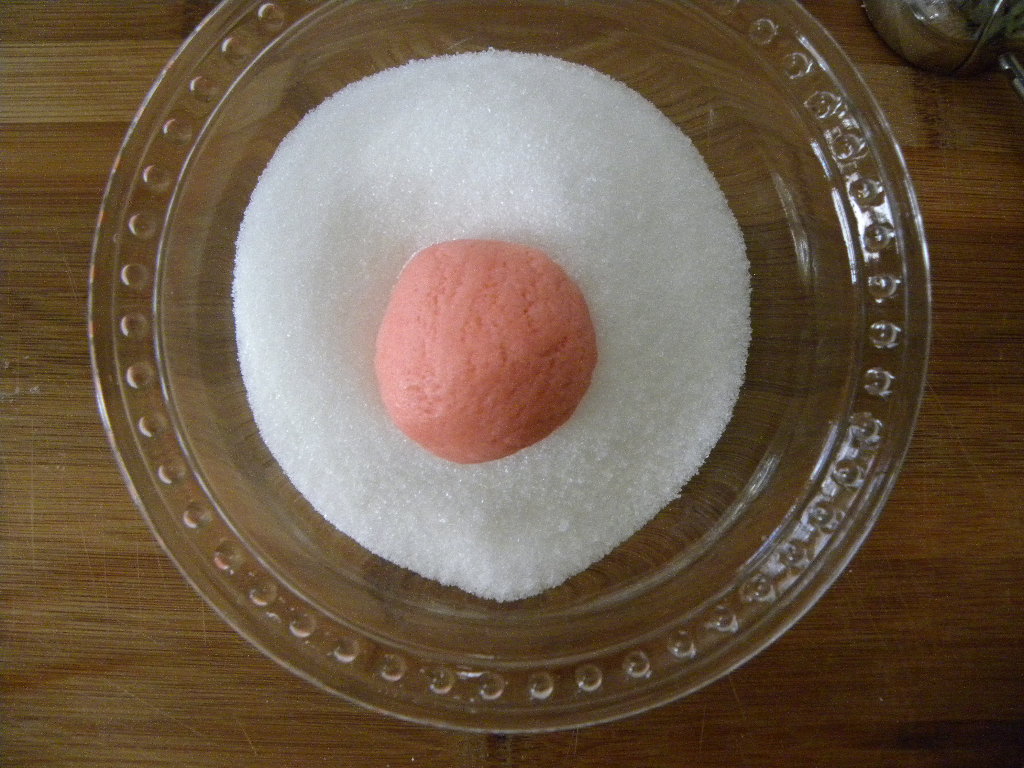 Fill a small bowl with Granulated Sugar, approximately 1 cup.  Roll the cookie dough in the sugar.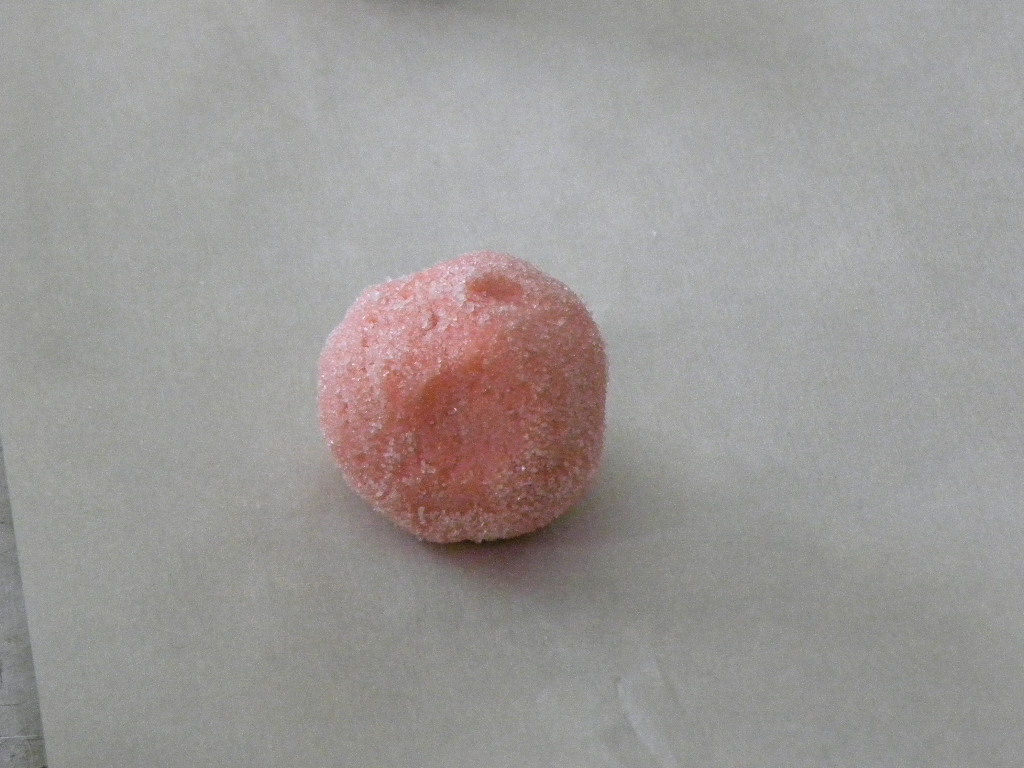 Place sugared dough ball…..on a baking sheet lined with parchment paper.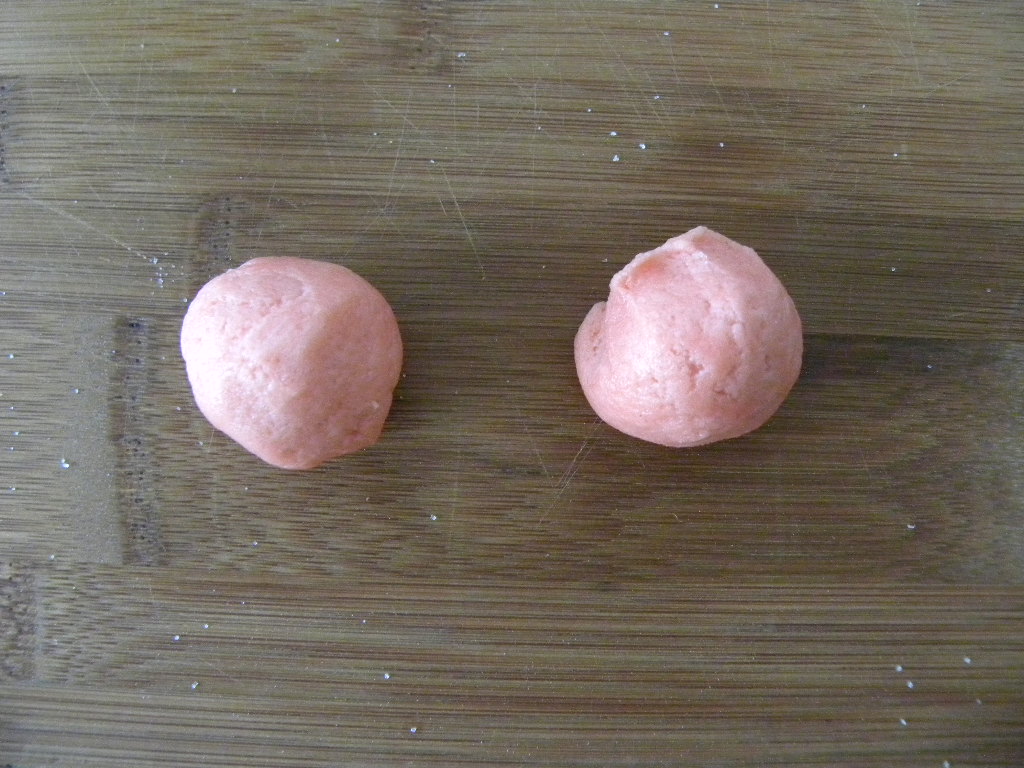 Now have a seat, especially you Mom, because I have painstakingly developed 2 new versions of my Mom's original Jell-O Sugar Cookie.  It was gruelling let me tell you.  Alot of blood sweat and tears went into the process.  So anyway………
#1. Using a teaspoon or just your fingers to pluck out a small ball of dough about the size of a bouncy ball roll this in sugar and place on parchment lined cookie sheet.
#2 Place dough on a well floured surface, roll out to 1/4 inch thickness and cut out hearts with cookie cutters.  Sprinkle with sugar.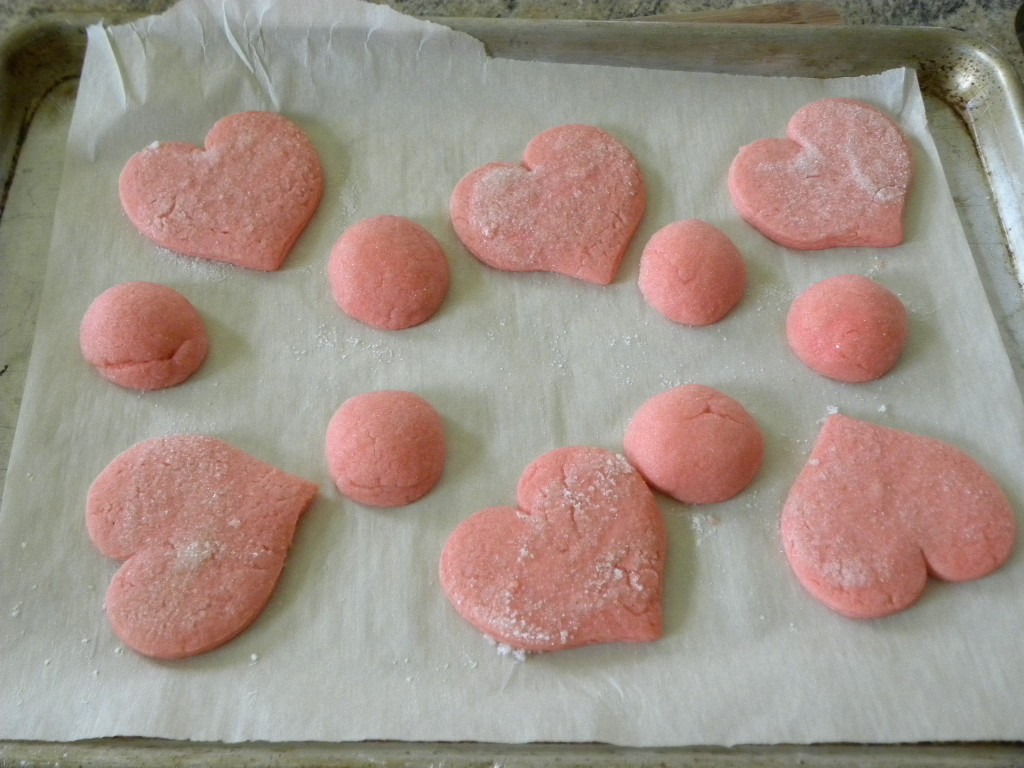 Bake at 350 degrees for 10 minutes.  Remove from oven and let cool on pan.  You want to take them out before they appear brown around the edges.  They will continue to bake on the cookie sheet.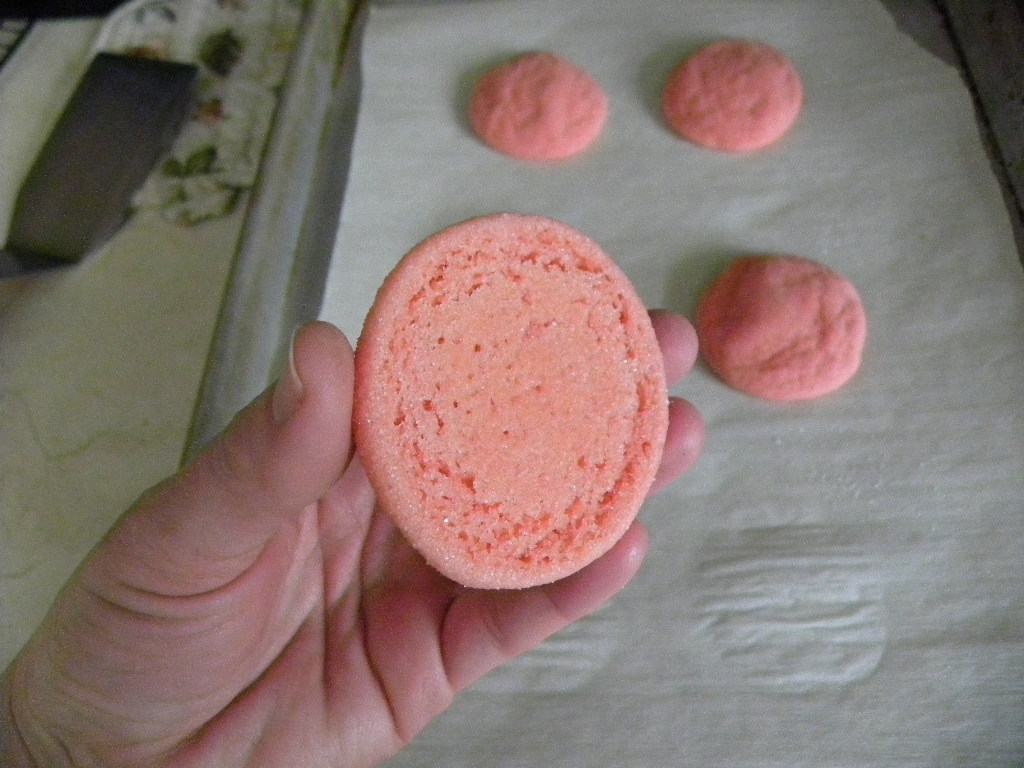 Jell-O Sugar Cookies should look like this on the bottom.  If you over bake them they will not be as purdy, nor as chewy. The above cookie shape and size is how I made them when I was a little whipper snapper.  It's easy and they are chewy, fruity, and scrumptious……but if you want to get fancy and add a little something spAcial, well then hang on to your hat Hombre because here are the two new variations I developed (tee hee)!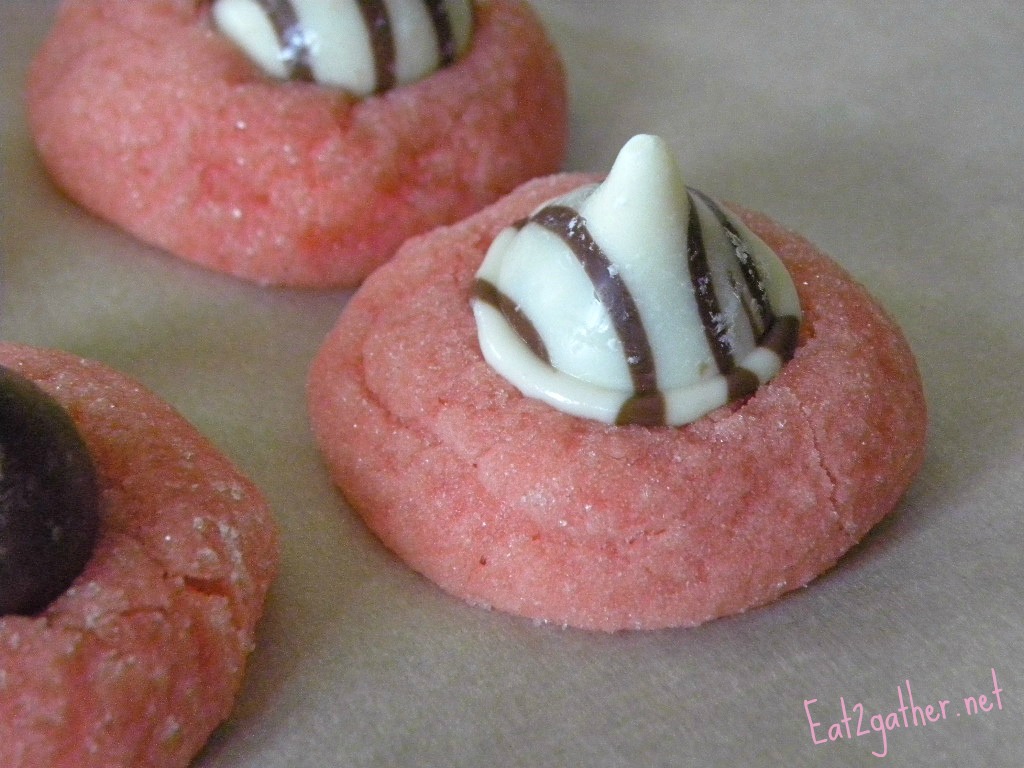 While the smaller balls are still warm but not hot push a Hershey's Hug down into the cookie.  And then pause for the clouds to part and the angel to sing…because this is a very beautiful thing.   Momma did I do your sugar cookies proud?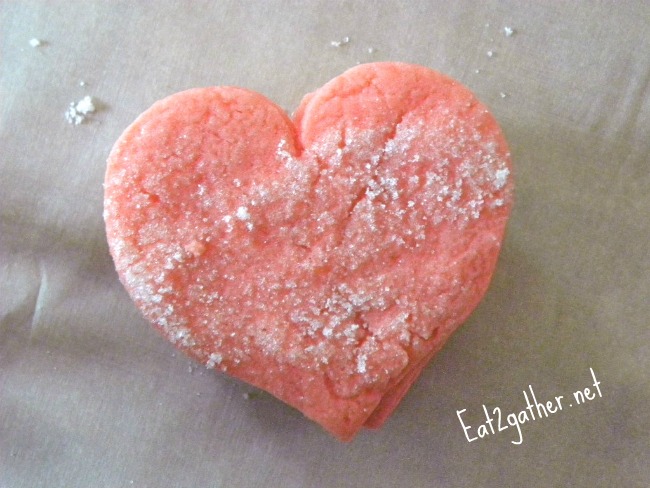 Well then there are these beauties……..now I could be wrong but I never ever remember rolling this dough out and using it as a dough for cut out cookies.  "Mom…did we use this is as a cut out dough?"
I have to say it was the best dough I have ever used for cut out cookies. I didn't even bother to chill it first.   I just rolled it right out, cut them, and baked them. They held their shape well during baking and were chewy not crumbly afterward. This is a test for dough becasuse I am the worlds worst cut out cookie baker. I stink at it!  Especially the decorating part.   Another reason why these cookies are super, because Jell-O Sugar Cookies are so flavorful you don't need to frost them or decorate them, just a little sprinkle of sugar and they are perfect!  Which is perfectamundo for this gal!
[print_this]
Jell-O Sugar Cookies
makes 2 dozen
1/2 cup Butter, softened
1/2 cup Crisco shortening
1 cup Sugar
1 3 ounce package Jell-O gelatin, any flavor
2 Eggs
1 teaspoon Vanilla Extract
2 1/2 cups Flour
1 teaspoon Baking Powder
1 teaspoon Salt
1 cup of Sugar for rolling dough in
24-36 Hershey's Hugs, if you are going to do the Hug Cookies
Preheat oven to 350 degrees.
Blend butter, Crisco, sugar, and Jell-O together well with mixer, approximately 5 minutes on medium high speed. Add eggs and vanilla, mix well. Combine flour, baking powder, and salt. Gradually add flour mixture to wet ingredients. Mix until just combined, scrape sides of bowl and give the mixer another turn or two.
The original Jell-O Sugar Cookies:  scoop tablespoon of dough out, roll into ball, roll ball in sugar, place on a parchment lined baking sheet.  Bake for 10 minutes.  Allow cookies to cool on baking sheet.
Hug Cookies: ball dough into smaller balls (size of a bouncy ball) roll in sugar, place on parchment lined baking sheets bake for 8-10 minutes, let cool on baking sheet when still warm push an unwrapped Hershey's Hug Candy down into cookie.
Cut out Cookie: after mixing dough together, place on a well four surface, sprinkle with flour, roll out to 1/4 inch thickness, using cookie cutters cut out shapes, transfer to parchment lined cookie sheets. Bake for 10 minutes. Allow to cool completely on baking sheet before transferring.
Enjoy!
[/print_this]
So how are you celebrating Valentines Day?  Do you get your Loves 
cards, or gifts?  Do you go out for dinner, or do you make a special 
romantic dinner?
We aren't too romantic around these parts.  Seriously I feel like there is no time for romance any more.  I am going to try this idea I found on Pinterest from MakeandTakes.com.  I think I might give it a whirl.  Show my family how much I love them….maybe stir up a little romance with my Kenny.  Woot Woot!
I sincerely hope you make these cookies for the Loves of your life.
Happy Valentines Day!
XOXOXO
Sheila