Everyone goes through different stages in their life.  High school, college, single, dink (dual income no kids), diaper years, whatever it may be at this moment in time I can bet, you are going through some sort of stage in your life.  Or phase.  You can call it a phase if you like.  The definition of stage is the phase or process of change or some sort of development.  As in this is happening for a while in my life, things are changing…hopefully progressing,  but it will pass and change and things will be different, and I will move on to something new.  Thank goodness.  Because if I got stuck in the stage where I was changing diapers and wiping butts all day long, I think life would be pretty abysmal.  Abysmal not a word I use everyday.  Can I get another thank goodness?  Abysmal = like an abyss, extremely hopeless.  That sounds extreme but life felt like an abyss when I had three kids in diapers and I was in my human kleenex phase.  That's the one were my kids were wiping their snot noses on me for three years straight, leaving me with snotty, crusty thighs and shoulders, this is also known as the the booger stage in some circles.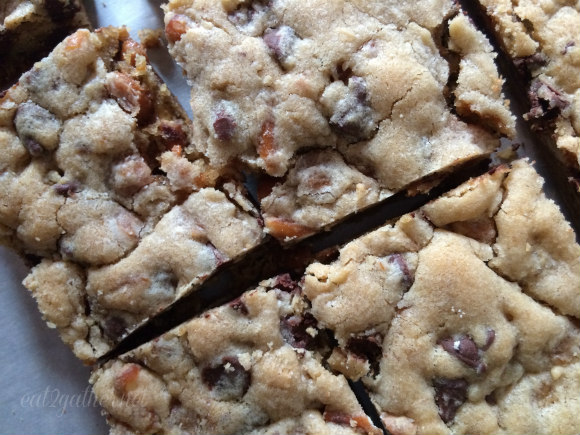 Where am I going with this?
Oh ja.  Stage.  We go through stages.  I'm in a stage, or phase if you will, right now.  Are you ready for this?
I'm calling it my bar stage.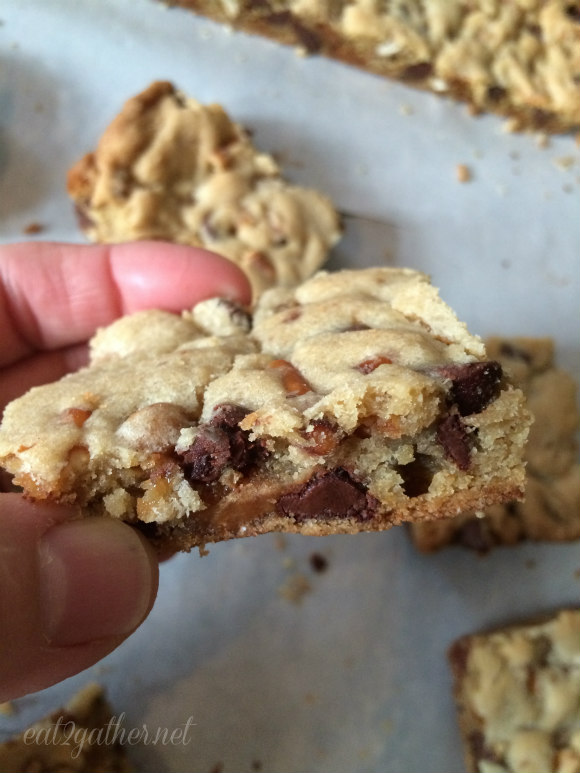 Bar as in cookie bar.  No please don't send me to rehab.  My kids are fine.  I'm not bar hopping every night.  Unless you're talking about the bars that have caramel pieces, pretzels and a freakish amount of chocolate chips.  I'm hanging out at those bars airy-deh.  Ask my hips they know.  They are screaming for rehab!!  And unfortunately my waistline needs to see some bar bells.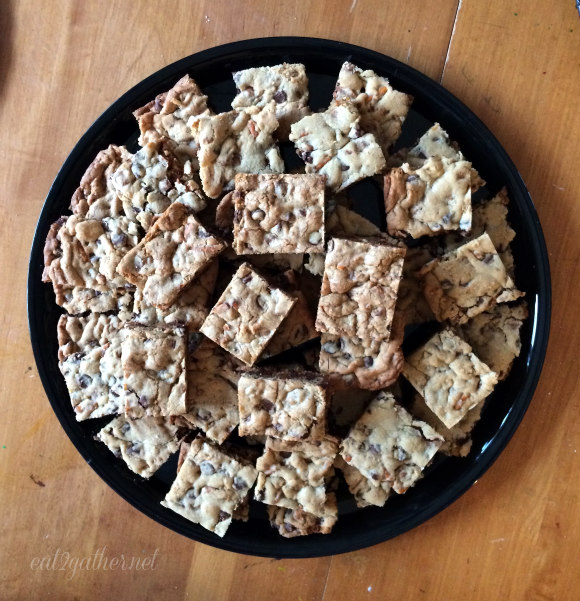 Why am I calling these years my bar stage?  Because I'll be darned if I have time to make cookies!!  Who has time to make 40 cookies these days?  Sheesh!  And when I do, I always burn the last flippen pan!  Always.  It's like my brain shuts down after 4 pans and says, even though the oven timer is going off, I refuse to hear said timer, and I will not go to the oven and take out the cookies until they are smoking, and black.  My brain is a stubborn weird brain. So I've turned to the bar.  Cookie Bar that is!
One pan, 32 squares of cookie deliciousness.  BAM done.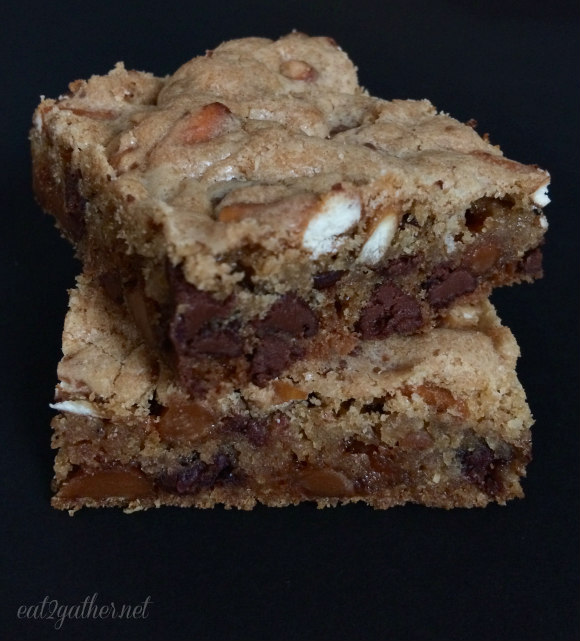 Smooth the dough out in to a 12×15 baking sheet, bake for 20+ minutes and hot dang you've got yourself cookies.  Square cookies, but cookies nonetheless!!  I think I actually like bars better.  That is what I'm telling myself, while trying to convince myself I'm not over committed or on the other hand just too dang lazy to plop cookie dough on a pan and wait till they are done 5 times in a row.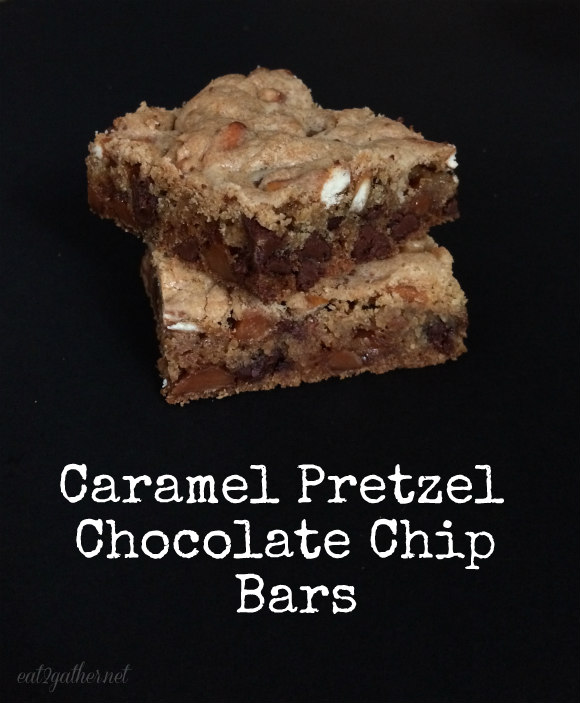 [print_this]
Caramel Pretzel Chocolate Chip Bars
32 bars (depending on how you cut them!)
1 cup Butter, softened
1 cup Brown Sugar
1 cup Sugar
1 tablespoon Vanilla Extract
2 Eggs
3 cups Flour
1 teaspoon Baking Soda
1 teaspoon Salt
3 cups Chocolate Chips
1 11 ounce bag Caramel Bits
1 heaping cup crushed Pretzel pieces
coarse Sea Salt
Preheat oven to 350 degrees, spray 12×15 baking sheet with non-stick baking spray.
1. Cream together butter, sugars, and vanilla until smooth and whipped.
2. Add eggs one at a time and mix until combined.
3. In a separate bowl measure out flour, baking soda, and salt.
4. Gradually add flour mixture to butter mixture, mix until completely incorporated.
5. Add goodies -> chocolate chips, caramel bits, pretzel pieces, at this point my stand mixer gets really full, so don't walk away from this you might come back to find dough all over your counter and floor!
6. Spread dough into greased baking sheet, sprinkle a few granules of coarse sea salt evenly over the top. Bake at 350 degrees for 25 minutes. Remove from oven to a wire rack allow to cool for 20 minutes before cutting into bars.
Enjoy!
[/print_this]
So I'm in the bar stage of my life….tell me what stage of life are you in?  Inquiring minds need to know!!
Peace, love, and cookie bars!
XOXO, Sheila
Disclaimer:  This recipe was shared with me by my friend Tina who is a master cookie maker, diligent walker, and great friend.  She found the original recipe on the blog bystephanielynn.com.  I've modified it slightly.