If there is one thing my mother (I call her mom, but for the sake of the holiday I'll say mother just this once.)…OK what was I saying? Oh yeh, if there is one thing I can say about my mother it's that she loves food and she loves to talk about food. Like reely, REEELY likes to talk about food, well and so do I so that's a good thing. If my mom tastes something new and she's really excited about it you might as well sit a spell while she tells you about what ever yummyness she partook of for the next 20 minutes (a.k.a hour), gotta love it!
So tomorrow is Mothers Day….
My mom lives 5 states away it's been years since I spent Mothers Day with my mom,  but I will for sure be giving her a call before she eats, because you know I'm not a phone talker and any conversation over 5 minutes on the phone means one of two things I'm married to you or I just ate something yummy and I want to tell you about it! HA!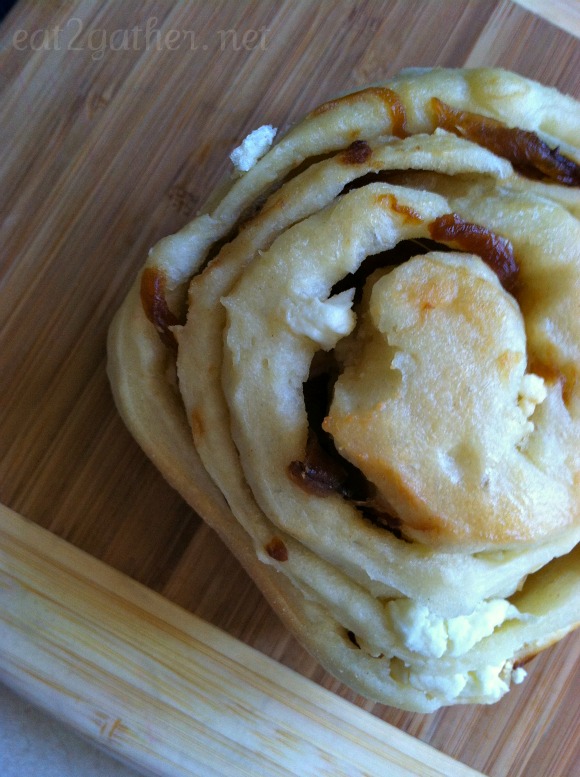 I know my mom could give a impassioned and eloquent speech on these rolls. Yeh I'm going to just take a bow right now, brace myself for some pats on the back…..because these rolls are that good.  Can I get and Amen Heather?!  (Heather just happened to be over when my magnum opus came out of the oven.)  I know you want to know what my inspirations was, what great works did I draw from to create this master piece…..so I'll tell ya!
It was a rather ordinary day…hum, dee, dum dum… I was caramelizing onions and making cinnamon rolls.  I got hungry so I decided to have a nibble of cheese while I worked…goat cheese. WHA Bam!  It hit me! Oma-geerrd how good would goat cheese and caramelized onion cinnamon rolls be??!!  Minus the cinnamon, and the brown sugar of course, and maybe I should substitute the icing for a nice brush of butter.  Voila!  A Star is born!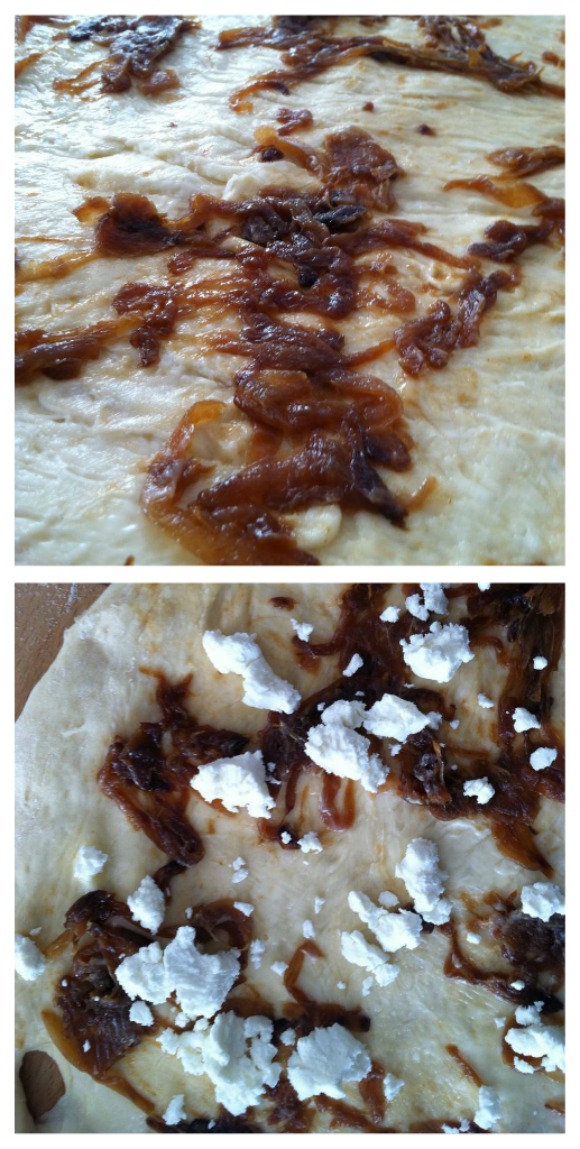 Hold me back I could eat these as is…raw dough, butter, onions, and goat cheese!  I made my dinner roll dough in my bread machine which you can do or you could also use a loaf of frozen bread dough thawed, rolled out spread a thin layer of butter over the dough, spread 3/4 cup of caramelized onions evenly over that and then sprinkle crumbled goat cheese over top!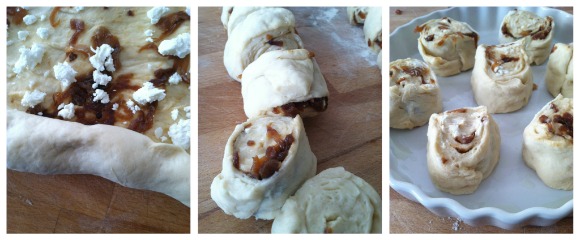 Roll dough the long way away from you, pinching edges together when roll is complete, give roll a slight stretch, with a serrated knife cut into 1 1/2 inch section, place in a lightly buttered baking dish, cover and let rise for one hour.  Bake in a 375 degree oven for 16 minutes, give a quick brush with butter and your done.
[print_this]
Goat Cheese & Caramelized Onion Rolls
16 rolls
1 recipe Dinner Rolls, or 1 loaf frozen White Bread Dough thawed
4 tablespoons Butter
5 ounces Goat Cheese, crumbled
3/4 cup Caramelized Onions
Preheat oven to 375 degrees before ready to bake.
Roll dough out to a 12×18 inch rectangle. Use 2 tablespoons of butter and spread a thin layer over the dough then spread onions evenly, and sprinkle with goat cheese getting cheese as evenly distributed as possible. Roll dough from the longest side away from you, pinching the edges together when finished, and giving the rope of dough a slight stretch.  Slice with a serrated knife in 1 1/2 inch rolls. Place in a lightly butter dish cover with a tea towel and allow to rise until nearly doubled in size, approximately 1 hour.
Bake at 375 degrees for 16 minutes.
Enjoy!
[/print_this]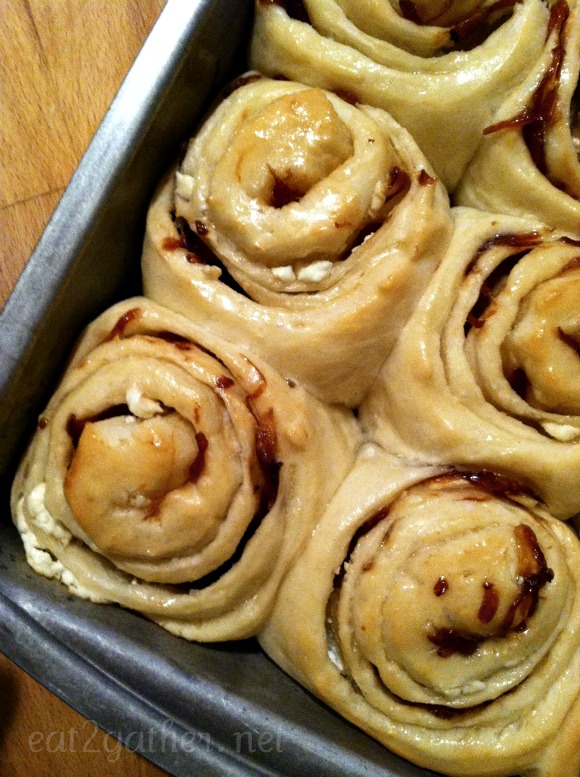 I'm usually not one to brag….but these rolls are good.  Dang good.  If you're a momma I hope someone makes these rolls for you, if you have a momma make her these rolls, she will think you gave her diamonds and gold.
Much love to all you Moms out there!  You rock!  I hope you have a wonderful day full of scrumptiousness! 
Sheila
PS  Goat Cheese and Caramelized Onion Dinner Rolls are Patent Pending.