Crock Pot Chicken Alfredo for a crowd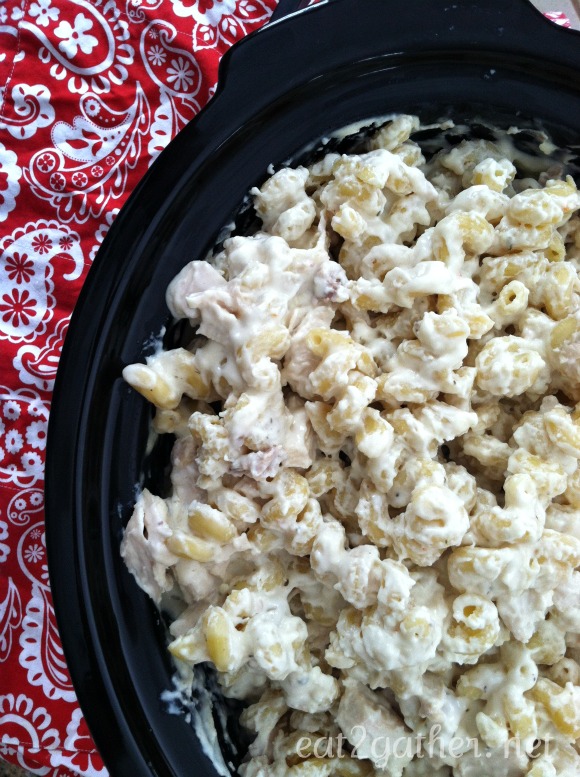 Crock Pot Chicken Alfredo is a crowd pleaser.  I found this out when I made it for my daughters volleyball team last weekend.  From the youngest to the oldest everyone kept going back for more!  I'm not sure if I can technically call it a "crock pot" meal, because I didn't actually cook the food in the crock pot. I basically  kept it warm in my crock pot.  Whatevs!  I'm calling it a crock pot meal!

While your chicken roasts, boil the cavatappi noodles, and make the creamy rich sauce then throw it all together in your crock pot on the warm setting. I kept mine on warm from 2-8pm while at a volleyball tournament.  It did get a little dry toward the end, but that didnt' stop people from going back for more.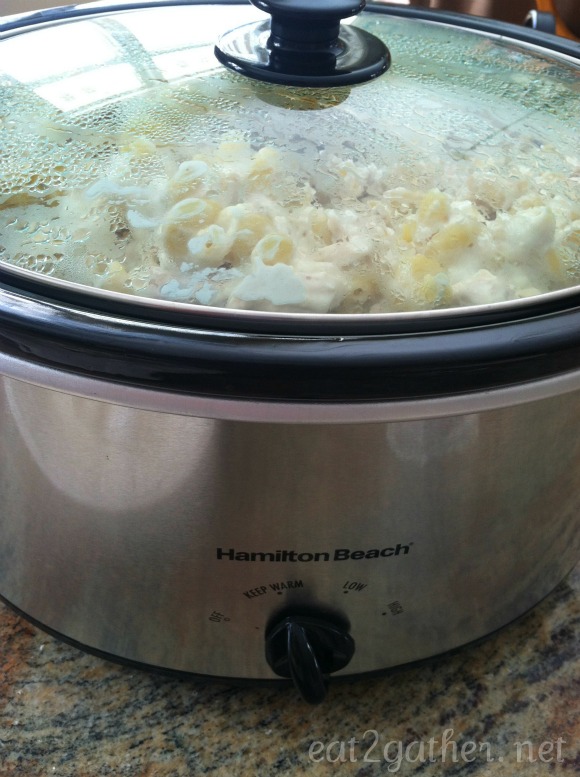 This recipe makes enough to feed 8 hungry volleyball players and their families so about 25 people give or take.
[print_this]
Chicken Alfredo for a Crowd
1 Roast Chicken
2 pounds Cavatappi Noodles, cooked al dente (reserve 1 cup of water from boiling noodles)
1 stick Butter
1 cube Land O Lakes Italian Herb Saute Express Butter (if you cannot find substitute 1 tablespoon Italian seasoning and 1 clove garlic minced very fine or grated)
1 cup Flour
1 quart half & half
1 cup Heavy Cream
1 8 ounce brick Cream Cheese
1 cup Parmesan Cheese
1/8 teaspoon ground Nutmeg
salt and pepper to taste
1. Roast Chicken: cut out back bone, lay chicken flat, skin side up,  in baking dish, drizzle with olive oil sprinkle with season salt. Bake at 425 degrees for 45 minutes. Or you can purchase a Roasted Chicken from you local grocery store this works! Remove meat from bones discard bones and skin.
2. Layer cooked noodles and roasted chicken meat in crock pot.
3. Alfredo Sauce: Melt butters in large saucepan, add flour and whisk let bubble up, about 1 minute. Continue to whisk. Slowly pour in half & half turn stove down to medium low. Continue to cook and whisk until thick, add in cream cheese allow to melt, combine well. Add heavy cream, and parmesan continue to cook another 3-5 minutes on low heat. If sauce seems too thick add pasta water until it's the consistancy you desire. Whisk in nutmeg and salt and pepper to taste.
4. Pour sauce over pasta and chicken, stir to combine. Turn crock pot on the warm or lowest setting.
NOTE: You can also serve immediately as is, this does not have to be served as a crock pot meal. I used a  7 quart Hamilton Beach slow cooker.
Crock Pot Chicken Alfredo serves 20 people
[/print_this]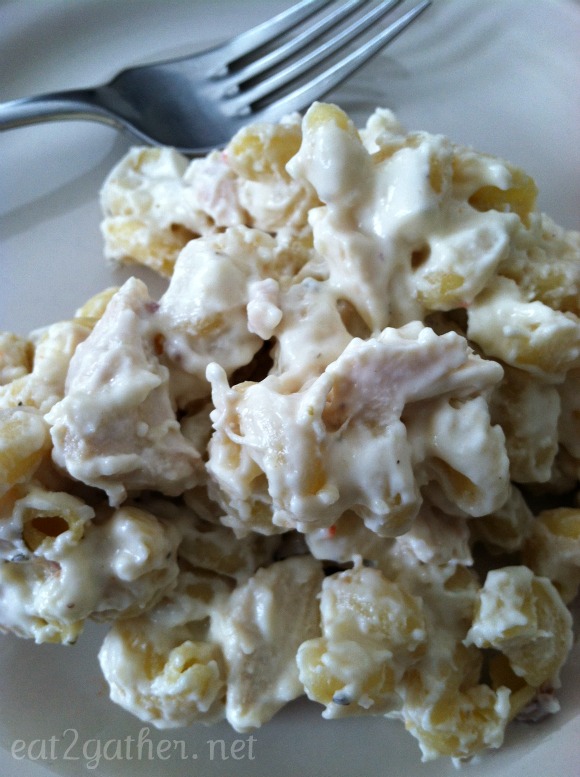 Do you have a hungry crowd  to feed?  Add garlic bread and a salad, some brownies for dessert and you could throw this whole meal together in an hour or less!  I know what I'm making the next time it's my turn to feed the youth group!
Have a great weekend!  XOX Sheila