Yahoo! Yippee!  We finally have spring in Michigan.  I slept with my windows open for the first time last night, and today I'm wearing shorts and flip-flops!  I honestly thought the winter of 2012/13 would never end.  We are finally seeing true signs that summer is right around the corner!  Hallelujah!  Needless to say during the long hard winters in the Mitten we drink a lot of Hot Chocolate.  I buy the economy size hot chocolate mix at the store because we drink so much of it!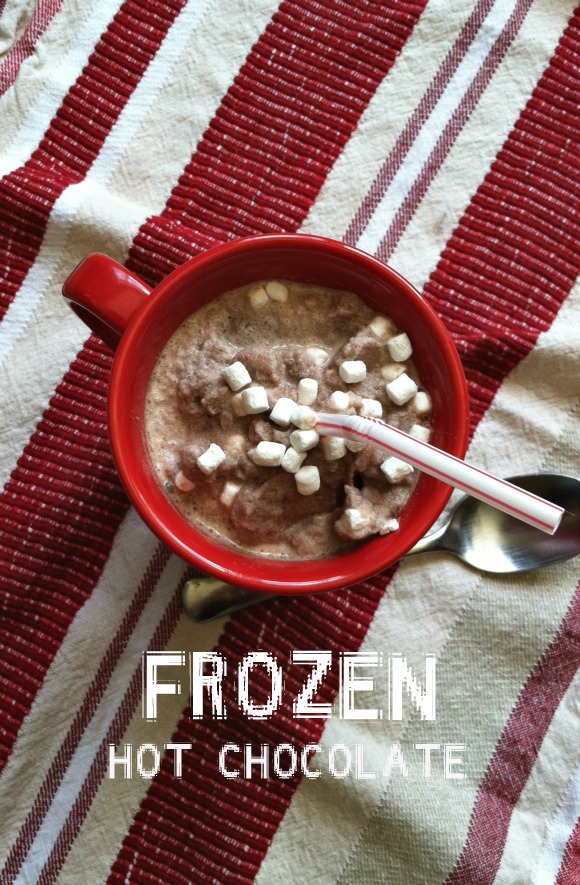 So a few weeks ago when Ken and I were getting ready to head to New York City and my niece told me that I needed to go to Serendipity and order the famous Frozen Hot Chocolate, I was less than thrilled….I was thinking, I'm ready for a margarita by the pool no more hot chocolate thank you!  But the frozen "hot" part intrigued me so I was determined to give it a try.  I've been to the big apple a few times, but this time was a little different because Ken would be at a conference and for the most part I would be left to my own devices during the daytime hours.
So what does this girl do when left to her own devices in NYC?  Eat.  Of course, but honestly I didn't eat as much as I normally would , because frankly eating alone is no fun.  I had my favorite places mapped out and I added Serendipity 3 to the long list of  "need to try".
The definition of serendipity:
serendipity ~ the art of making happy discoveries, or finding the unexpectedly pleasant by chance, accidental discovery
If you have been to New York City you know that serendipity describes this city to a T!  There is a happy accidental discovery around every corner.  Literally. I am a big city girl at heart.  I love the landscape, the food, the diversity, everything about a big city gets me excited.  It had been two years since I took our oldest on his non stop eating adventure of NYC so I was very excited to get back.
Wasting no time I headed off to eat lunch at Serendipity3 my very first day, only to find a line down the sidewalk. Wah?  Seriously, Friday at noon and theres a wait.  I chickened out.  I didn't want to wait by myself in line to eat alone, so I just acted like I had come there for one thing and one thing only.  The Frozen Hot Chocolate Mix.  I bought two cans one for my niece, who was watching the kiddos for us back home, and one for the kiddos.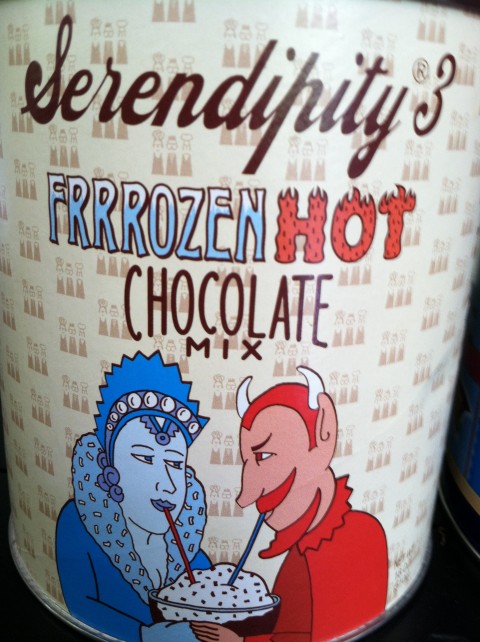 Ken and attempted to go back one night for dessert, but again there was a line out the door and down the sidewalk.  Have you been to Serendipity3?  Is it really that good?  Should I have waited in line?  Actually we ended up stumbling across Sprinkles Cupcakes….see what did I tell you NYC is serendipity!
So I had to wait until I got home to make my own Frozen Hot Chocolate…I had so many questions.  Was it really frozen and hot?  Did the hot mean spicy?  Would it look frozen but be hot?  Who knew.  I followed the directions on the container.  Guess what?
It tasted just like frozen hot chocolate!  Who woulda guessed it?!  There is nothing hot about this drink, except maybe the devil on the container.   I found it to be fairly tasty and my kiddos thought it was spectacular!   Thinking we needed to order up some more online, lickety split….Mmmmmm, not so fast there Choncho I think I can make this heavenly frozen hot chocolate for less thank 15 bucks a can.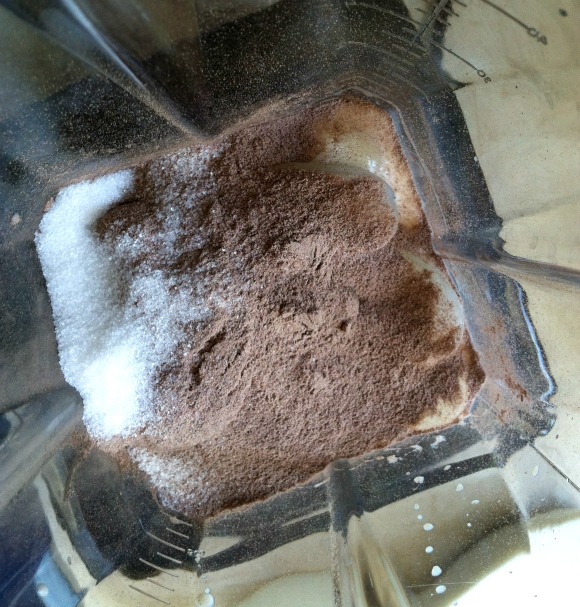 Yes!  It can be done, using regular old hot chocolate mix from your regular old grocery store, no special order or trip to NYC required!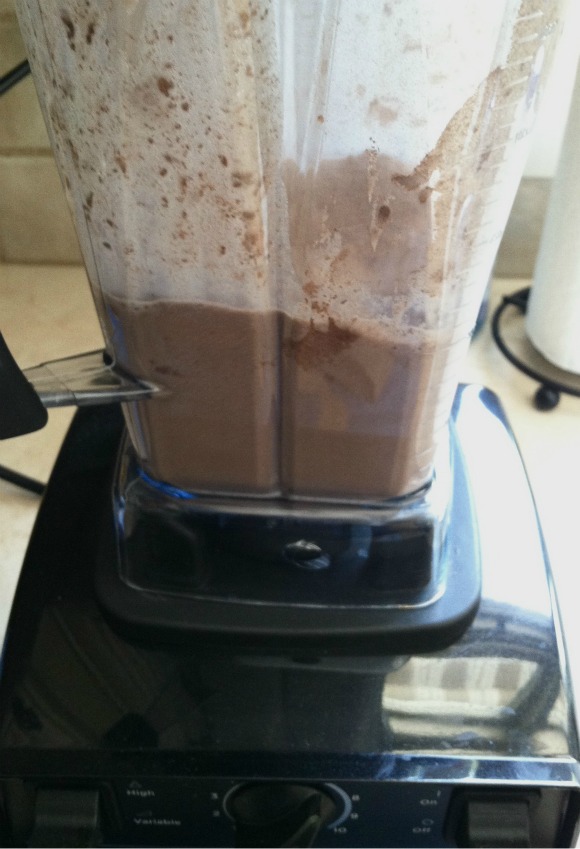 Ice, hot cocoa mix, sugar, milk…Voila!


[print_this]
Frozen Hot Chocolate
1 serving
1 1/2 cups Ice Cubes
3/4 cup 2% Milk
1/3 cup Hot Chocolate Mix (I think any mix will do, but I used Swiss Miss.)
1 teaspoon granulated Sugar
Place ingredients in blender in order, blend until smooth. Pour in a glass and enjoy!
Note: If you want to add a little zip to this delightful frozen drink add a shot of kalua, vanilla vodka, or Baileys.
Enjoy!
[/print_this]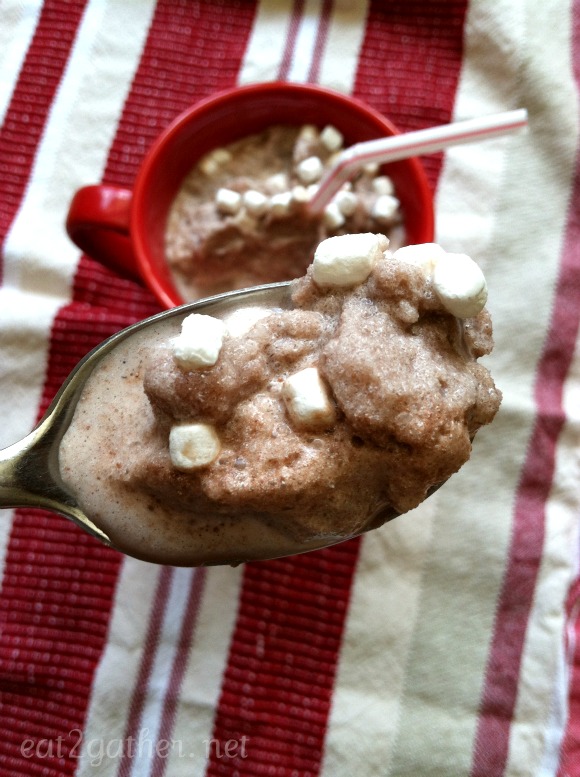 I do confess it is pretty durn good.  Serendipity3 is still on my list of must do's for when I return to NYC.
Here are a few of my NYC must do's that I have done and highly recommend doing…do  do do do doody do!
1. Food Tour.  I have done the Foods of NY food tour four times now, and have loved it every time.  They have five different walking tours.  Next time I would like to do the Chinatown tour.  This time I did Central Village/SOHO.  It's the best.  You get to eat great food, learn the history of the neighborhood, meet new people, walk, and did I say eat?  I tried to get a tour with Famous Fat Dave's but he was booked, I guess I'll save that one for next time too!
2. Walk. Simply walk around.  Get out of the Time Square area for goodness~sakes!!  Walk over to 9th or even 2nd or 3rd and just start walking you will run in to some fun places, and if you want to do some shopping get yourself lost in the SOHO district around Prince Street…but if you are like me you might only be looking.  It can get pricey, but it's fun to look!  My smart phone made walking around so much easier this time, I could see right where I was this little blue dot blipping around the city!
3. Cooking Class This one has been on my list of must do's for years. Kelly gave me the suggestion of going to the Institute of Culinary Education, because they have a huge selection of recreational cooking classes.  It was AMAZING.  If you love to cook, and want to learn more I HIGHLY recommend taking the time to do this while in NYC.  I took a class on butter.  Of course I did, it even included some bacon ; ).  I have taken cooking classes before, but this was on a whole new level, not too serious and still fun, much more more in depth.  Funny story..erHmm I got the salt mixed up with the sugar….and well my steaks were beautifully caramelized, the end.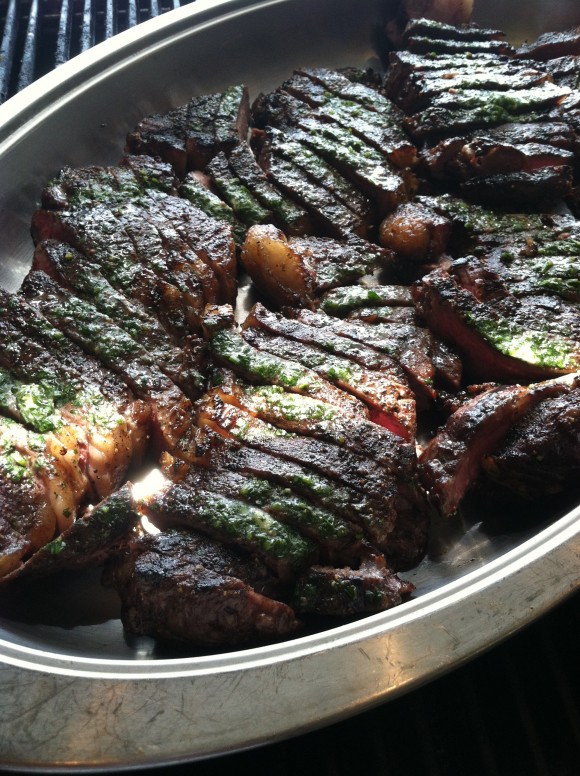 4. There are quite a few things you need to do if it's your first time in NYC one of them would be getting high.  High up.  I'm mean like off the ground.  Ergh!  SAY NO TO DRUGS. What I mean to say is take the elevator up to the top of Rockefeller Center or the Empire State Building or both!  Do one at night and one during the day!  (That suggestion came from my friend Cathy…I didn't actually get high twice in one day, but she did and said it was awesome!) Getting up off the ground and looking over the city really gives you perspective on the expanse of this city….it's mind blowing! (Be prepared for high security, it's like going through airport security to get to the top of these skyscrapers.)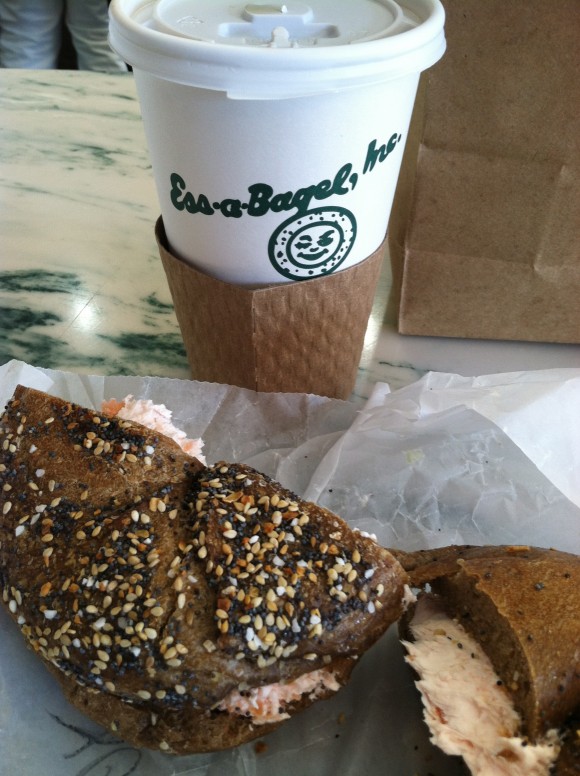 Whole Wheat Everything Bagel with lox cream cheese
5. Eat a real New York Bagel!! at Ess-a-bagel.  They have a location on 3rd between 50th and 51st, but if you can try to get down to the original location on 1st and 21st.  It's the best atmosphere ever!! Old grouchy men behind the counter, bagels boiling in the back, 7431 different cream cheese spreads. Oh and don't ask for your bagel to be toasted because "no toast da Bagels!!" Yikes. Bagel Nazi. I don't know why I love this place so much, but I do.  I walked 30 blocks to get there…hey it was nice out and I wanted to take a look around the city.  That was kind of a long walk, I suggest taking the metro.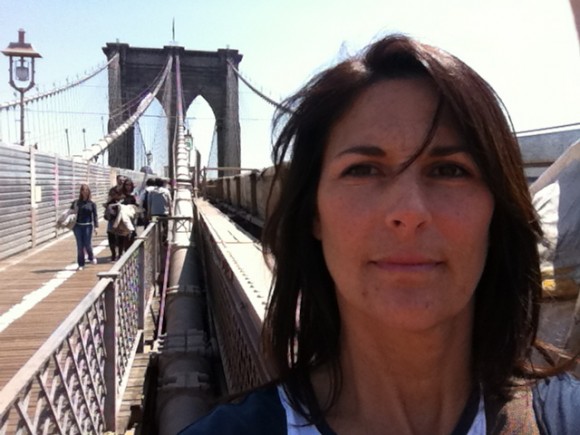 selfie
6. Walk the Brooklyn Bridge.  I had yet to do this, and this time I was determined that come hell or high water I was going to walk that bridge.  The funny thing is I had this idea in my head that I would be the only one walking serenely over the Brooklyn Bridge taking in the sights and sounds of the city, watching the birds fly by, pausing to ponder my life past and present, it was going to be profound and peaceful.  NOT. What was I thinking??!! This is not the Mackinaw Bridge that is out in the middle of nowhere.  This is the Brooklyn Bridge.  With 2.5 million people residing in the burrough of Brooklyn and 1.5 million people on Manhattan Island nearly 9 million people in the whole of NYC (info from wikepedia) Um yeah, I was not alone on this bridge, there were approximately .5 million people on the bridge with me in a 10ft x 1.13 mile space, and it was amazing!  Truly. It was not what I expected, because I'm a goofball, but it was one of my all time favorite things that I have ever done in NYC.  I would do it every time!  And to top if off I ran in to my friend Lisa on the bridge…and spider man too! What are the chances?!  Only in New York.
7. Bike Tour.  I wanted to see Central Park the whole thing, not just the south end of it.  So Lisa (a friend and wife of one of Kens partners) and I took the Bike and Roll Greenspace and Central Park Bike tour.  It was about 9 miles and 3.5 hours long.  Biking is a great way to see all of Central Park and learn about the landscape of NYC along the way.  Highly recommend.
8. Broadway Show. I'm a sucker for a good musical.  Heck I even loved High School Musical!  A few of my favorites over the years have been Joseph and the Technicolor Dream Coat (saw it with Donny 2x…I know I'm dating myself), Cats, Momma Mia, Wicked, oh and the list goes on and on, but I had never seen Jersey Boys…Ok new favorite!!  Loved it!  It's expensive to see a show on Broadway, but if you can swing it I say go for it!  And know this none of the theaters are huge, even the "bad seats" are good seats you don't have to buy the most expensive seats.
9. Doughnut Plant, The Pickle Guys, Grom, Pomme Frits.  Little yummy places. Doughnuts, pickles, gelato, french fries!  No I am not pregnant.  But I do love all these little bites.  I only made it to Donut Plant this time, the other three hopefully will continue to stick around for my next visit. If you want to go on a little eating adventure I suggest you start at Grom in Greenwich Village on Bleeker for some gelato, make your way to the Doughnut Plant for the most amazing doughnuts you will ever eat, then to walk over to The Pickle Guys and grab yourself a pickle for your walk to Pomme Frites for real Belgium fries, then keep right on walking to the Brooklyn Bridge because you will need to walk off all the calories you just ate!  That's my little food tour for ya!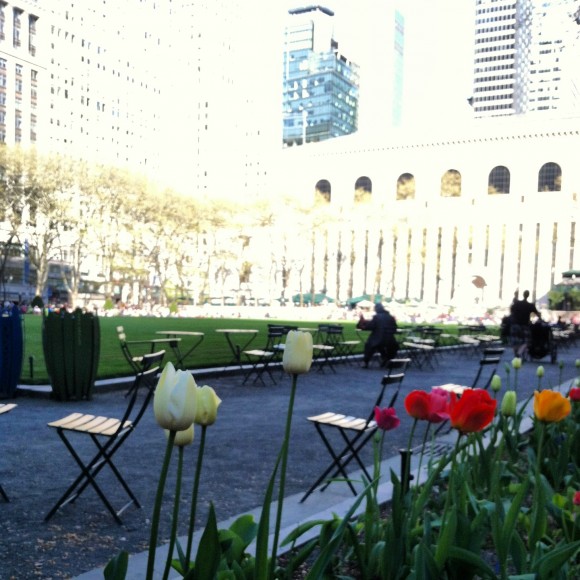 10. Parks. There are so many beautiful parks on the island of Manhattan.  Find them and have a sit.  There are usually great eats close by, so get it to go and eat in the park.  A few of my favorite NYC parks besides Central Park are Bryant Park, Washington Square Park, Hudson River Park.  A new park I just heard of but did not get to is Highline Park.
You can never see it all in NYC, I've been there a handful of times and there's still more to do and see, more serendipity to find!
Have you been to the Big Apple?  What are some of your favorite things to do and eat while there?