Caramelized onions are magical. This one simple ingredient can transform any recipe from ordinary to spectacular.  Pizza, pasta, frittata, soups, salads, focacia…are you getting what I'm saying?  They give that extra hutzpah to everything you slip them in or spread them on! Caramelized onions are magic I tell you!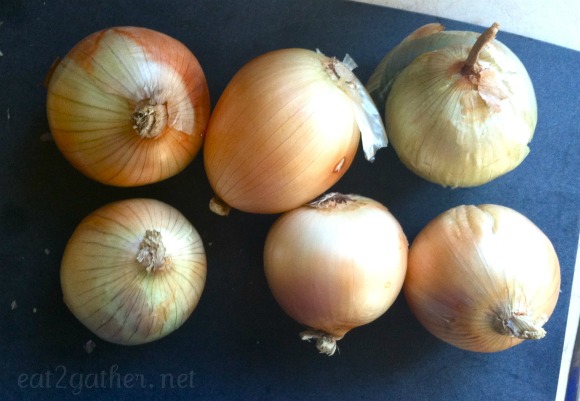 Caramelizing onions does take some forethought, but it's actually super easy.  Just fill a large pan full of onions, turn your stove on low and before you know it you've got yourself a pan full of beautiful and flavorful caramelized onions that will last up to 10 days in your refrigerator or 6 months in your freezer!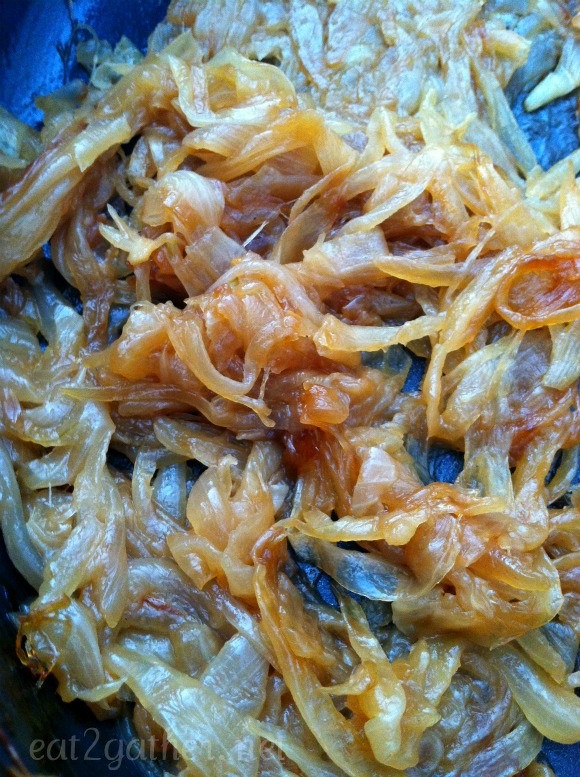 To get started get out your cutting board, a sharp knife, and if you used them some onion goggles.  I don't use them.  I welcome the snot dripping tears that come fast and furious when I slice up 6-10 onions at a time.  I should have taken a selfie here to show you just how beautimus I become while chopping onions.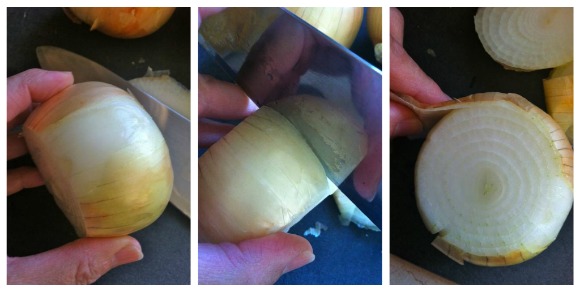 I prefer Vidalia onions, or a any sweet variety of onions when caramelizing.  First cut off both ends, slice knife through first layer, and peel it off.  I once watched a onion peeling contest on the Food Network, this is where I learned my mad onion peeling skills.  It was fascinating, really….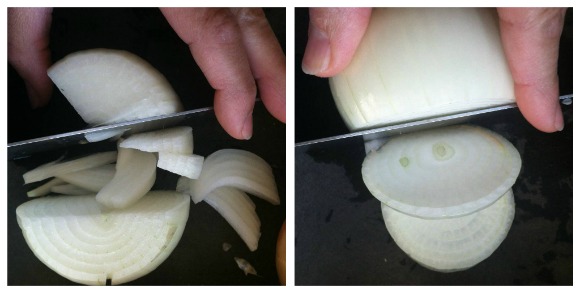 Now for the slicing I prefer to cut the onion in half and then slice the onions into thin, short pieces as in the photo to the left.  However if you prefer to slice your onion into rings this works too.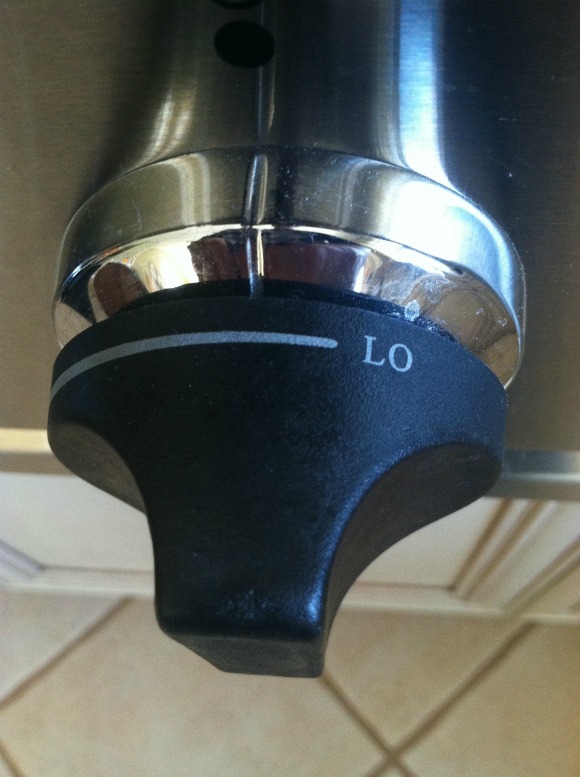 Turn your burner on low…even lower than this to start.  How low can you go?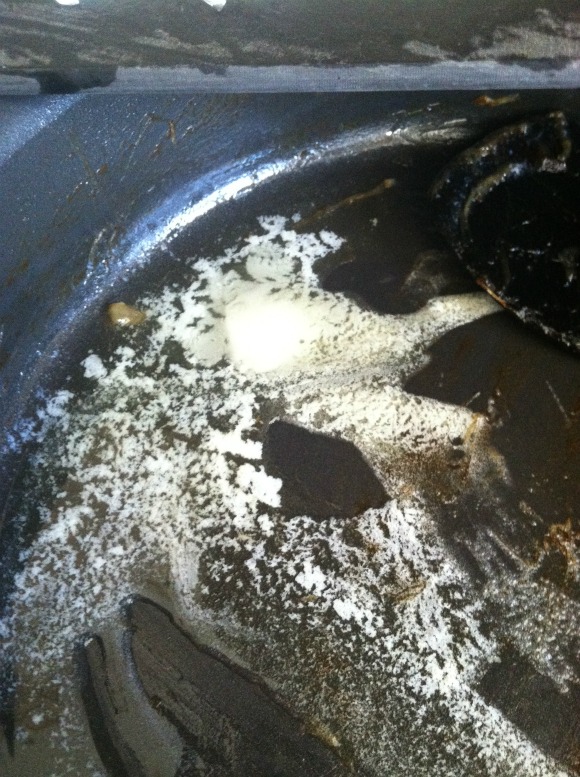 Melt 2 tablespoons of butter in a large skillet, over low heat.  Olive oil can also be used or a combination of both works too.  I think butter adds an extra richness and it seems to speed along the caramelization of the onions.

Pile sliced onions in the pan, sprinkle with kosher salt, and relax.  Stay close but relax…from start to finish this will take 45 minutes to an hour.

Every now and then move the onions around, after about 20 minutes when you finally start to see the onions turning color, sprinkle in 1/2-1 teaspoon granulated sugar over them.  You can skip this step if you want, your onions will still caramelize, but again I think, like with the butter, it helps speed along the caramelization and you get a deeper golden color in the end.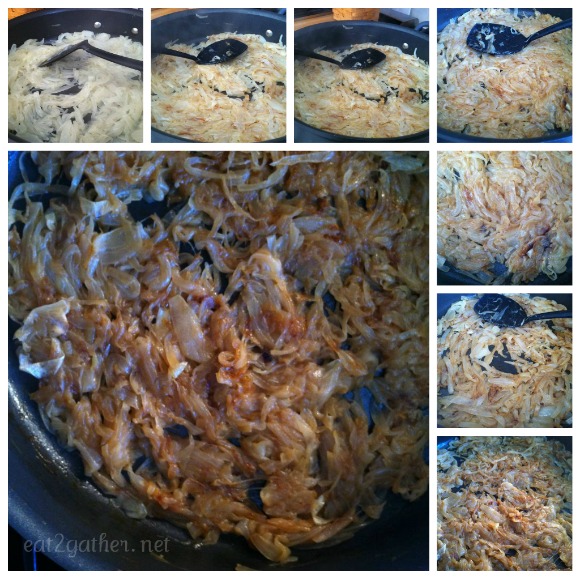 Is that not a thing of beauty?!!
Continue to move the onions around,  if you feel the need to you can up the heat just a bit to cook off any excess fluid that may be in the pan in the beginning, but then crank it back down to extra low and chillax.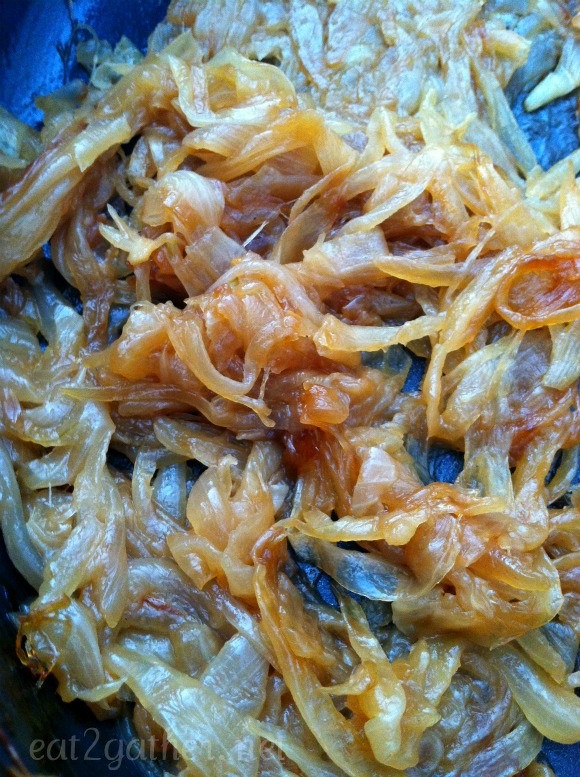 HominAH HOMinah nom nom nom!  I can't keep my hands out of the pan, they are so good!  Like candy!

[print_this]
Caramelized Onions
6 medium Sweet Onions
2 tablespoons Butter or Olive Oil or a combination of both
sprinkle of  kosher salt
1/2 – 1 teaspoon granulated Sugar
Peel onions, and cut into thin strips. Turn stove top on low, melt butter in a large skillet, add onions to pan, sprinkle with salt. Continue to cook on low moving around every 5-10 minutes or so. If there is excess liquid in pan, turn temperature up to cook it off, but then turn heat back down to low again. When you start to see a color change sprinkle in sugar. Continue to cook over low heat moving around until onions are a deep golden color. Near the end if pan seems too dry you can add in a teaspoon of water and scrape up any browned bits from bottom of pan, mixing them in with the onions.
[/print_this]

There you have it!   This ones a life changer.  Use them right away or store them in an airtight container for up to 10 days in your refrigerator.  You can freeze them in 1/2  cup increments in freezer bags or you can also fill your ice cube trays with the caramelized onions once they are frozen pop them out in to a larger bag and just grab them out by the cube as you need them.  Add them to casseroles, crumble on to pizza, or in to scrambled eggs.
The skies the limit baby!!
While I was caramelizing onions recently I was also making cinnamon rolls…go figure, and well I had an epiphany…..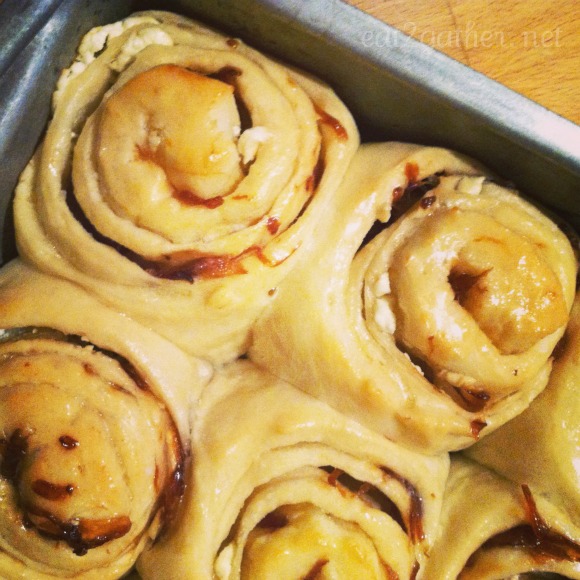 I promise to share the recipe for these rolls soon….until then here are a few other recipes you can use Caramelized Onions in.
Rice Pilaf stir some caramelized onions in at the end to kick up the flavor.
Come to momma!  Stir a half of a cup of caramelized onions in your Risotto at the end.
Chocolate Stout Beef Stew also a delicious place to add in these babies!