I recently confessed to dropping my tradition of making Christmas cookies.  However I really miss making all our Christmas favorites and I'm feeling some guilt because now my daughters do not have memories of making Christmas Cookies with there momma like I used to do with mine.  And dang Christmas cookies are YUM!   I long to eat all the treats that are only made at the Holidays, that my grandma made, my mom made, and that I used to make.
WHY?  You ask why did I stop making Christmas cookies…..well because life got busy, I got chubby, and I decided it was time to cut something out that was stressing me out.  I'm all about stress reduction….some might argue me on this point, but it's true.  It must have been about 10 years ago, when kiddo #4 was a fussbudget baby, and I had a 3, 4, and 5 year old in tow.  I said "baggit!", and decided to make everyone Cinnamon Rolls for Christmas.  Easy.  One item.  Make it package it and have hubby deliver them the heck outta my house….far, far, away from my middle.
So now I'm torn betwixt.  Christmas Cookies vs. Cinnamon Rolls. My kiddos are older, easier.  I want to pass these yummy Christmas recipes down.  So I decided this year to make a few of the oldies but goodies and share them with you, and I will still make Cinnamon Rolls.  Ugh! my middle just pudged out writing about all the sugar that's going to be passed before it.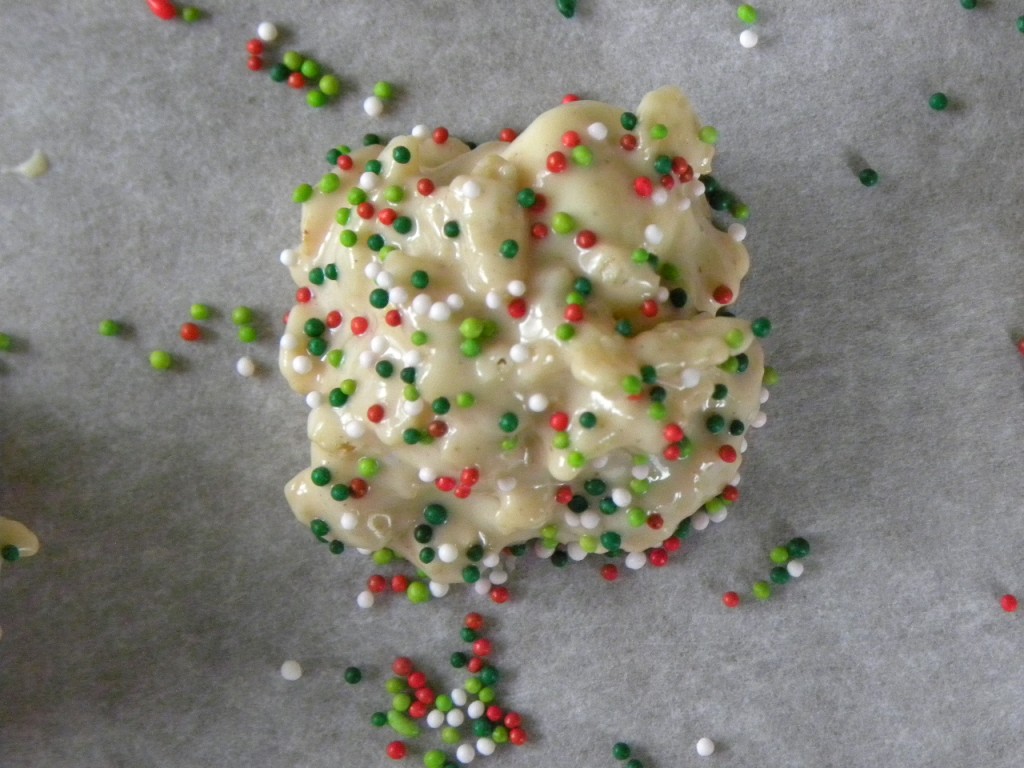 Sweets are my downfall.   Salty sweets.  Especially, peanutbuttery salty sweets.  OK you get the idea.
White Chocolate Christmas Candy is all that.  Sweet, peanutbuttery, with just a titch of salt from the peanuts, and crunch from the rice crispies…..HEAVEN help me.  I can't have these things around.
My mom always made them around Christmas time.  We called them Christmas Star Candy, because we used the white chocolate star candy to make them.  But I haven't been able to find white chocolate star candies in years.  So I use white chocolate chips and call it White Chocolate Christmas Candy….it works.  They are so doggone easy.  Honestly I was making them on my own by the time I was in second grade.  My momma was good that way….just letting me go in the kitchen, while she was nearby amerced in her Harlequin Romance in.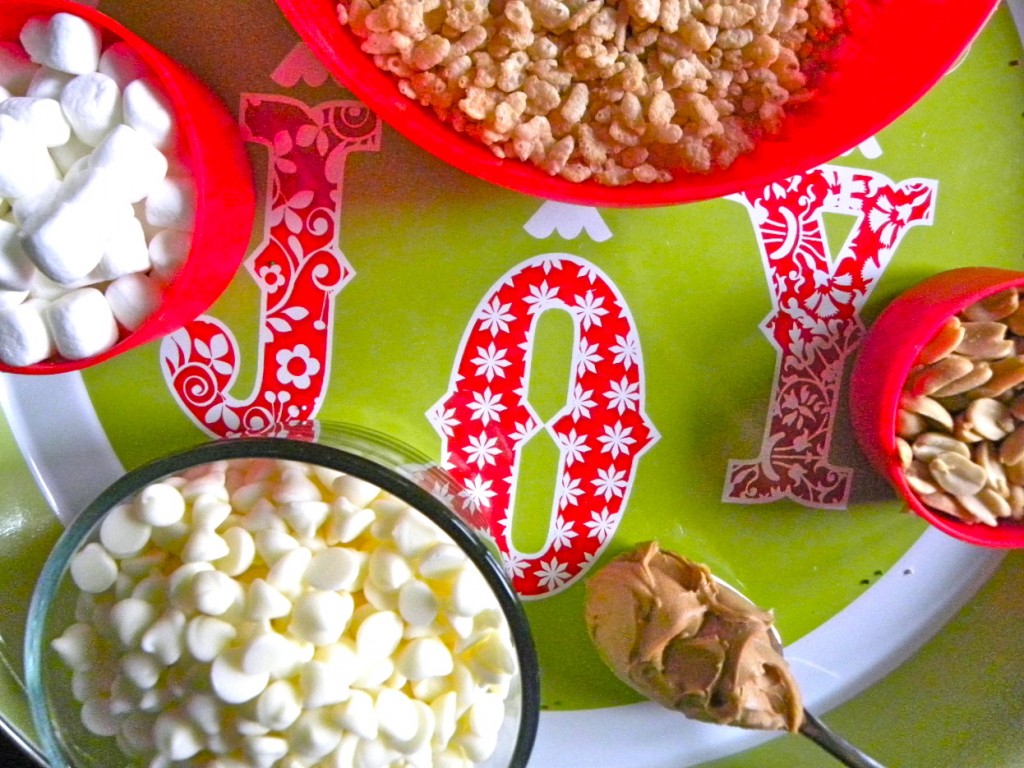 These five ingredients and a microwave is all you will need.

First, melt 2 cups of white chocolate chips and 2 tablespoons of creamy peanut butter together in a glass bowl in the microwave.  One minute on high, remove stir,  return to microwave for 30 seconds more, remove continue to stir until smooth.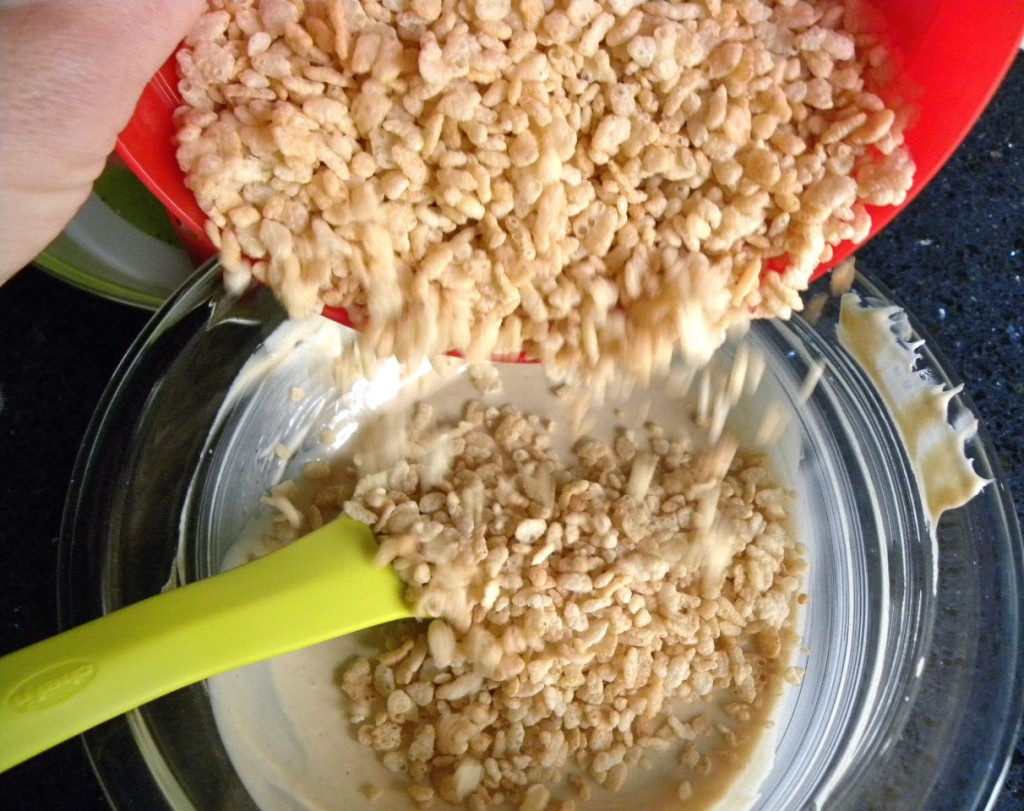 Add 2 cups rice krispies to melted chocolate mixture.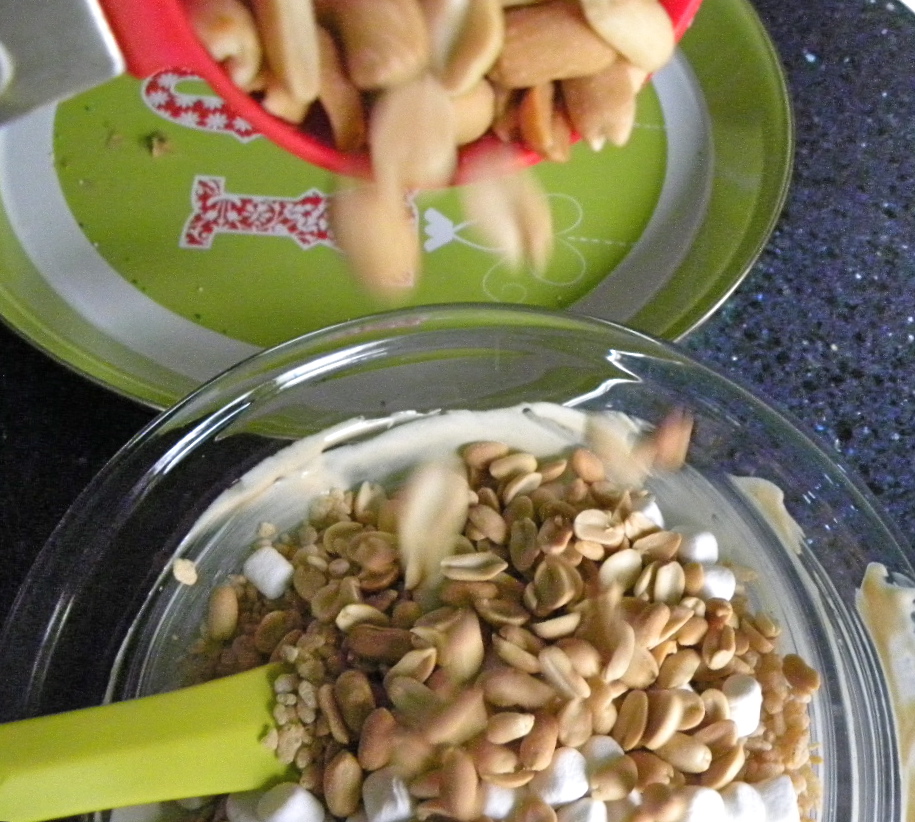 Toss in 1 cup lightly salted peanuts.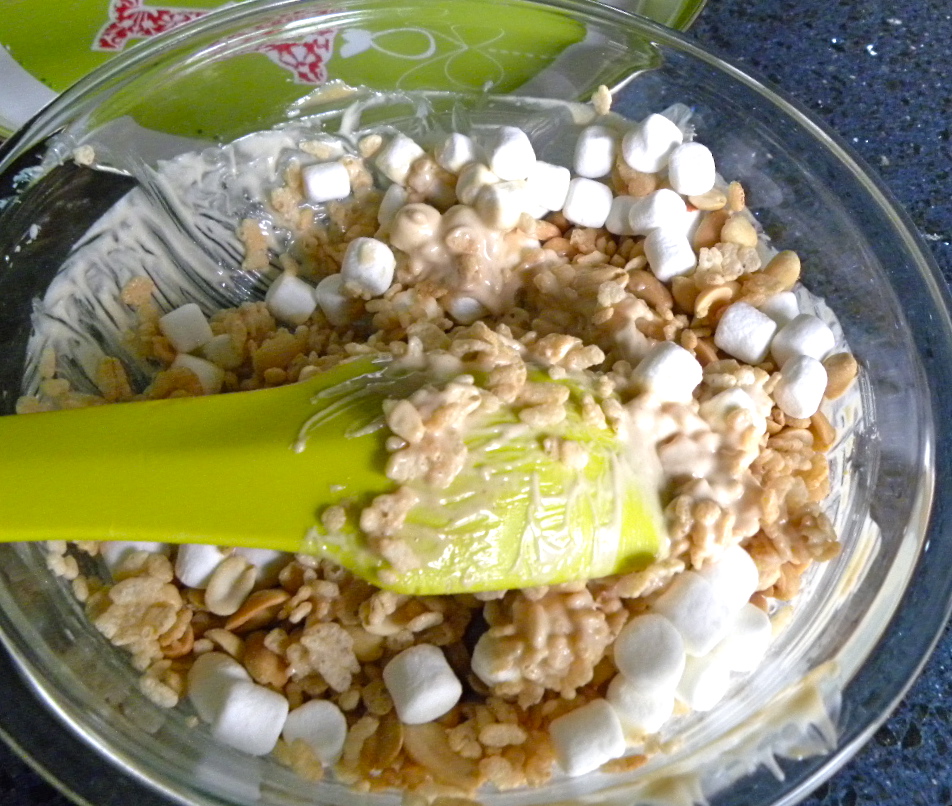 Sometimes I get wacky and I overdose on the marshmallows, but the recipe calls for 1 cup. Add one cup, or more if you wish, of marshmallows and fold all the ingredients together.

Using a small scooper or a regular teaspoon drop in balls onto parchment paper.  Sometimes these little guys have a tendency to fall a little, that's ok, they will firm up and be just fine.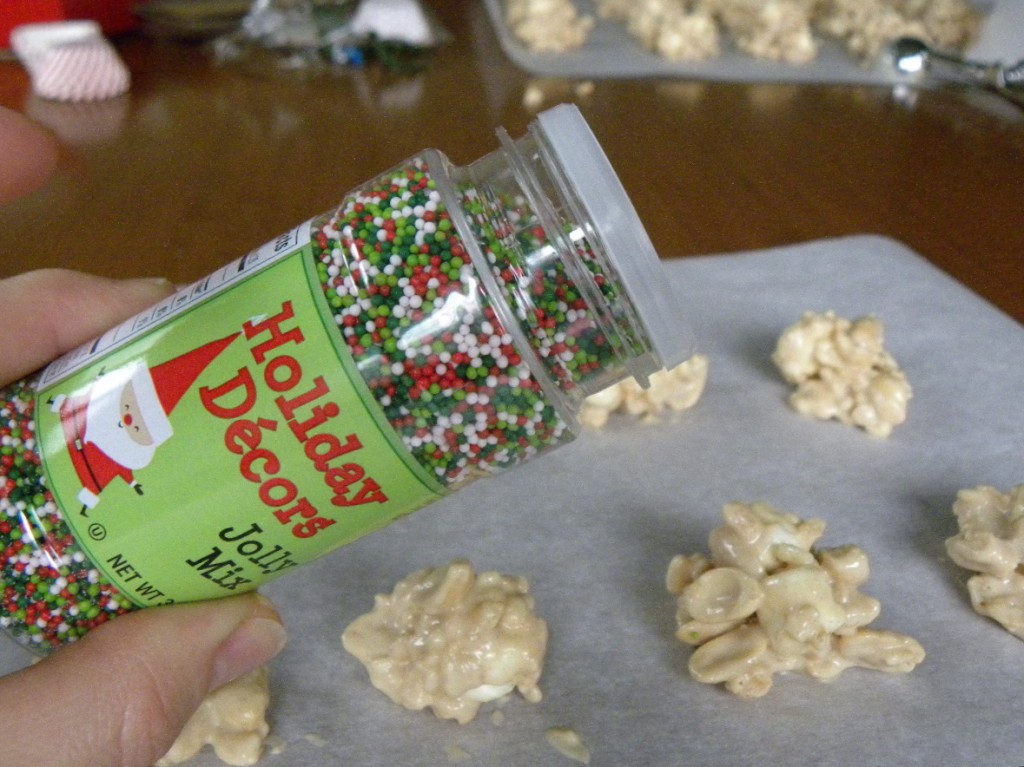 If you want to give them a little Christmas cheer, sprinkle them with some Jolly Mix before they set up.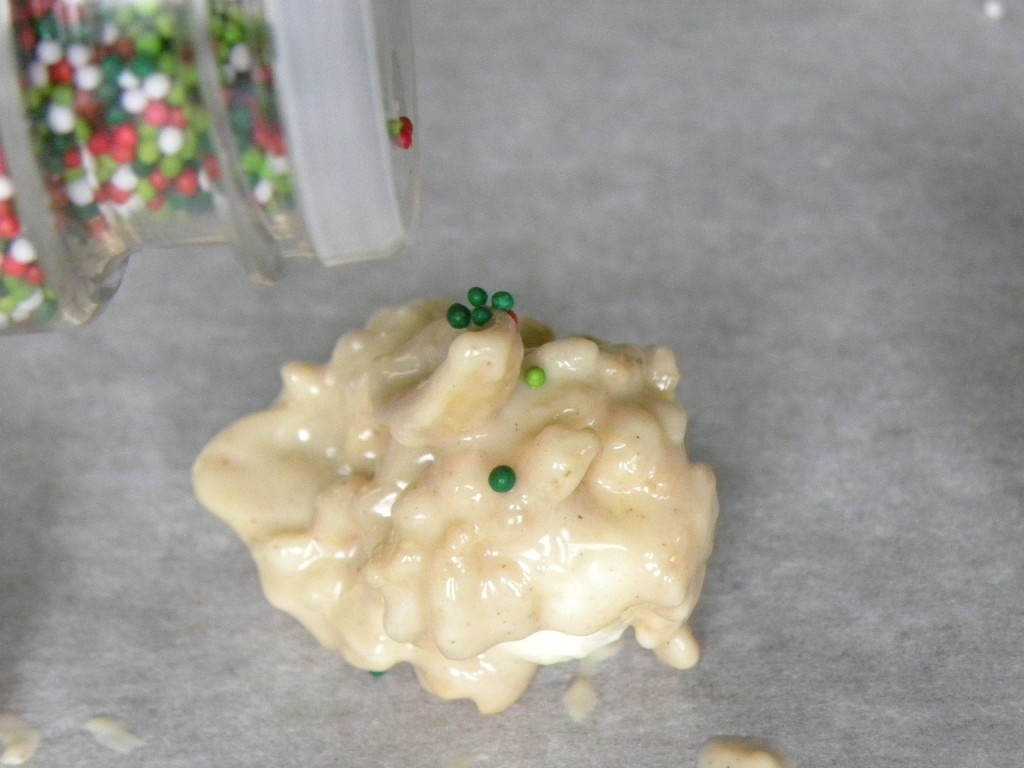 The colorful sprinkles will cling to the warm chocolate and when they harden they will look so purdy!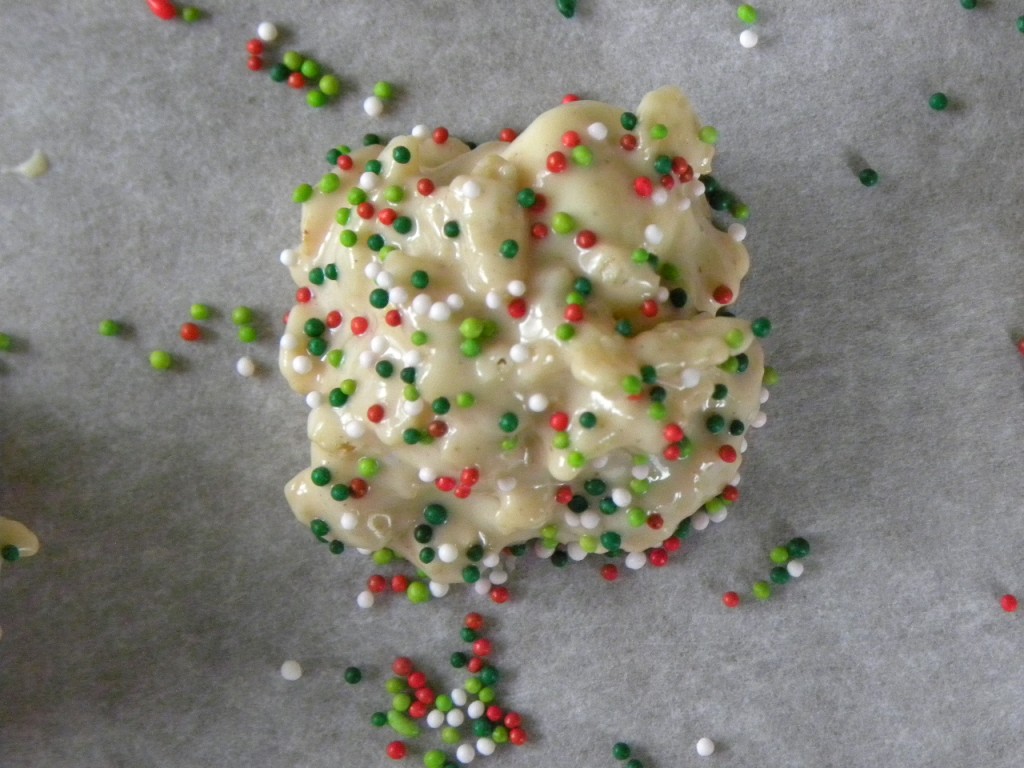 Awe see, so cute, and festive.  These are not only easy, they keep really well.  Once they have cooled and set up if you layer with parchment paper in an airtight container they will keep for up to 2 weeks.  If you have unexpected guest drop by they are great for a little sumthin sumthin sweet!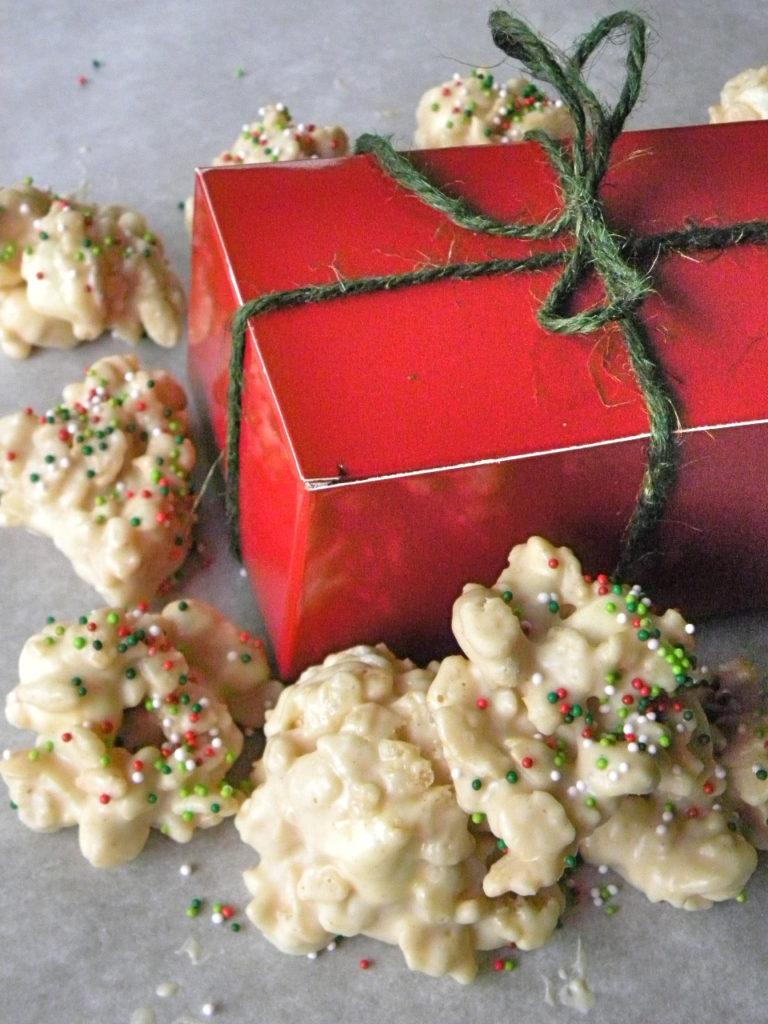 I bought these confectioners boxes at World Market, you can pile some inside, tie it up with colorful twine. Voila! A sweet gift! I bought this fun green twine at the Tractor Supply Store, while I was there looking for snow reflector thingys for my driveway.  Just never know what you'll find at Tractor Supply!  I swear it's worse than Target….I go in for driveway stakes and come out with $50 bucks of  who knows what!
Stay tuned for more yummy Christmas traditions!
[print_this]
White Chocolate Christmas Candy
makes 25 pieces
1 12 ounce package White Chocolate Chips
2 tablespoons creamy Peanut Butter
1 cup lightly Salted Peanuts
1 cup mini Marshmallows
2 cups Rice Crispies
sprinkles for decorating (optional)
In a microwave safe bowl add white chocolate chips and peanut butter.  Microwave on high for one minute, remove stir with a spatula.  Continue to microwave chocolate at 30 second intervals until melted and smooth.  Make sure you stir well to incorporate the peanut butter.  Fold in peanuts, marshmallows, and rice crispies so that peanut butter chocolate is covering all ingredients.  Drop by spoonfuls onto waxed paper.  Let stand for 30 minutes or until set up.  Store in an airtight container for up to 2 weeks. (psst they won't last 2 weeks let alone 2 days!)
[/print_this]