Cheesy Chicken Bacon Ranch Skillet is a one pan meal that comes together in a matter of minutes.  Your family will love it and you will love getting your family around the table!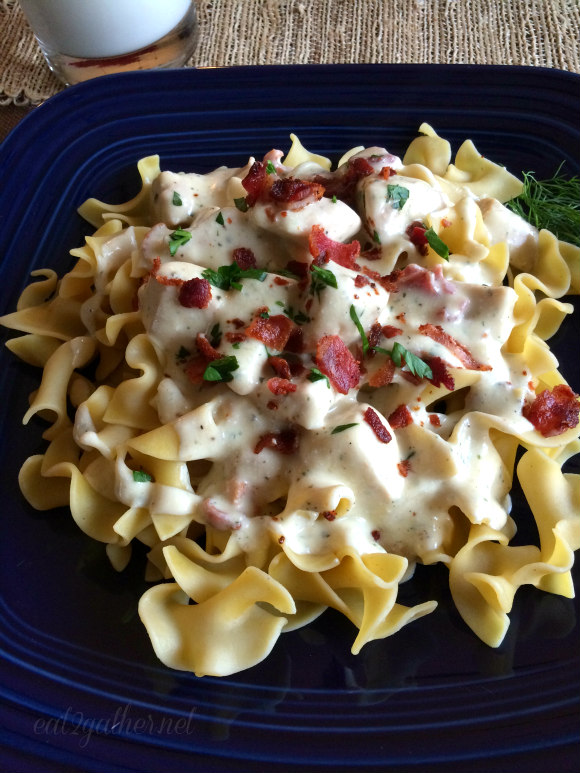 They're here…..and I'm not talking about aliens from outer space, I'm talking about the Holidays!!  They are upon us.  Thanksgiving, then Christmas, BAM! Then it's the New Year.  Good Golly Costco has had Christmas trees up since forever (or at least 2 weeks).  Stress me out!   If there is ever a season when I slack on cooking meals, it's during the holidays.  I think it's because I put all my energy into the big meals, the events and not the daily meals.  Which leaves us eating cereal and semi homemade pizza most nights.
What I need to do is make a list of all my quick and easy skillet meals, and crock pot recipes and have a plan.  That's what I need to do!  Have a plan.  A plan is aways good.  Right?  Right!  So here I go I'm making a plan….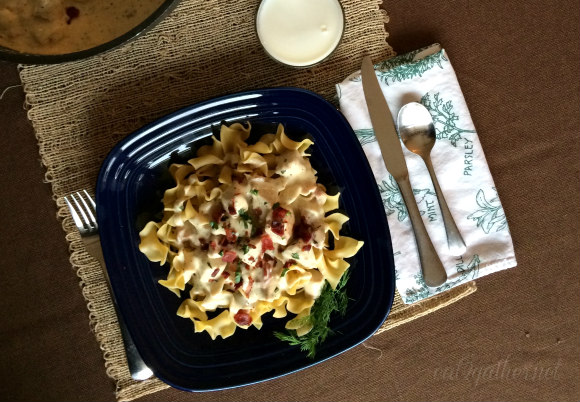 Have no fear I will share my plan slash list of easy meals with you!  We people need to stick together.  We need to help each other get food on the table, cherish this family meal-time thing.  It's important!!  Why is it that family meal time is always the first thing to go when we get busy?  And in case you haven't heard,  it's literally the most important thing you can do for your people.  Literally.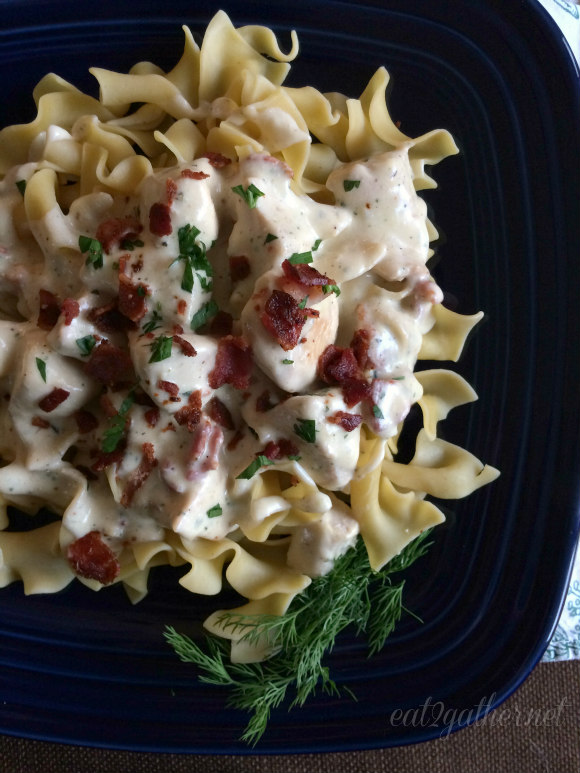 I'm not judging.  I let it slip too.  Often.  Oops there it goes.  Another week of not getting my family around the table 2gather.  So please don't think I've got it all together and my family is sitting like the perfect "leave it to beaver" family at the dinner table every night having this perfect conversation.  We're not.  I'm ecstatic if I can get us around the table one time a week!
Here's the deal.  Meal time is important.  Feeding your family should be a priority, and like anything that is important and needs to get done in your life you need to make a plan and stick to it.  So the same goes for meals.
 [This is a pep talk people.]  
Don't leave me now, huddle up!!
I realize not everyone likes to cook.  Everyone's schedules are different.  Dynamics can be challenging.  I get it.  I do.  Seriously.  I feel like a fraud most days because getting my family together is challenging, BUT I know its one of the most important, if not THE most important thing I can do for my people.  Get them around the table.  Take away the phones, the TV.  Slow it down for 15 minutes minimum.  Look each other in the eye.  Listen.  Breath.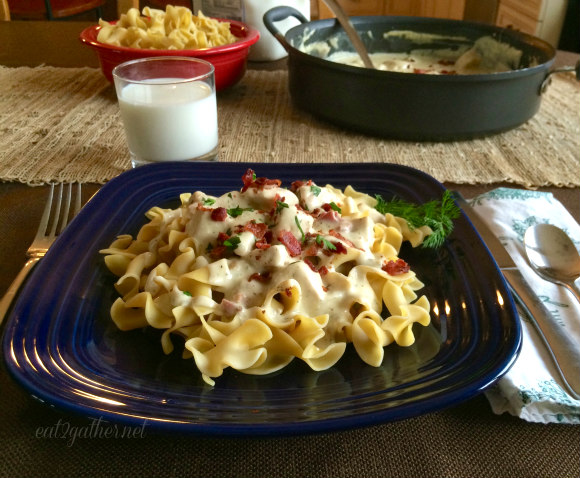 So here's a meal that is creamy, cheesy, has noodles, bacon, what kid doesn't love all those things???  Or what adult for that matter?!  AND it takes 20 minutes to make.  20 minutes, another 20 minutes at the table with your peeps, and you've just done it!  You've done the best thing you could do for your family, and it didn't even take a whole hour.
Eat together.
Amen.
[print_this]
Cheesy Chicken Bacon Ranch Skillet
Serves 6
Prep time: 5 minutes
Cook time: 20 minutes
Skill level: easy/beginner
3 Chicken Breast, approximately 2 pounds of chicken breasts cut into 1 inch cubes
1 tablespoon Butter
1 10 3/4 ounce can Cream of Chicken Soup
1 1 ounce package dry Ranch Dip seasoning
2 cups Milk
1 8 ounce block Cream Cheese
1/2 pound Bacon, cooked and crumbled
1 cup shredded Monterey Jack cheese
fresh pepper, plenty of it
1 12 ounce bag Hearty Homestyle Egg Noodles, cooked al dente
1. Melt butter in a large skillet, add chicken cubes to skillet and saute' until chicken is browned and cooked through.
2. Combine soup, ranch seasoning, and milk together in a bowl, pour over chicken, stir, and bring to a low bowl.
3. Cut cream cheese into chunks and add to pan, cover, turn down low and allow to cook for 10 minutes.
4. Remove lid, stir until cream cheese is incorporated and sauce is creamy, sprinkle in Monterey Jack cheese and half of the bacon. Stir until cheese has melted and sauce is creamy.
5. Serve over cooked wide egg noodles and sprinkle with remaining bacon crumbles.
Enjoy!
[/print_this]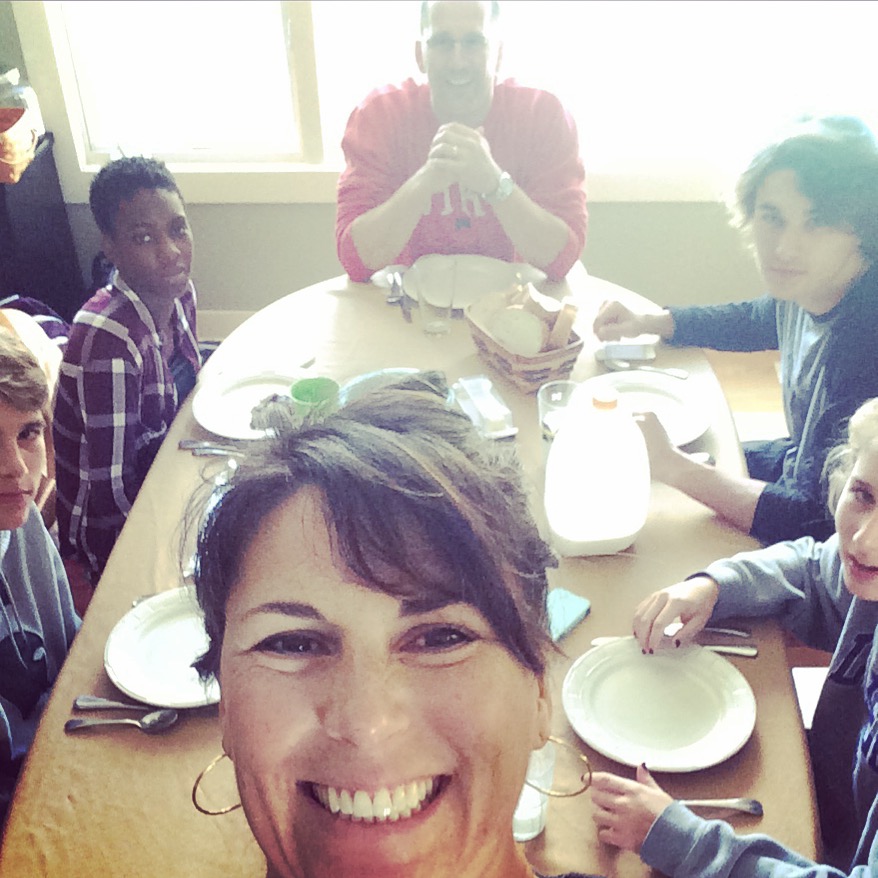 [photo from my instagram feed, can you tell how happy I am and how annoyed my kids are? LOL someday they will thank me]
Can you tell I'm passionate about this topic?  I am.  I always have been.  And I get that its overwhelming for some of you.  Even though I am passionate about it and I love to cook.  I honestly get it.  So I hope I'm encouraging to you.  I pray that you will see the importance and take the time.  I want to share easy, yummy, recipes that will not overwhelm.  YOU CAN DO IT!!
I hope you give this recipe a try.  My kiddos love it.  I will get busy making an easy meal plan, to help you through these busy months, and share it soon!
Love you guys, Sheila
Disclaimer:  I am proud to be a part of  blogger network that works with the United Dairy Industry of Michigan to help share recipes and ideas on how to incorporated protein and vitamin rich dairy products into your every day meal plan. Thank you for helping support Eat2gather by supporting your local dairy farmers!