Vanilla Bean Cardamom Scones
Easter morning always calls for a sweet treat of some sort, Vanilla Bean Cardamom Scones are the perfect sweet but not too sweet treat to enjoy with your Sunday coffee.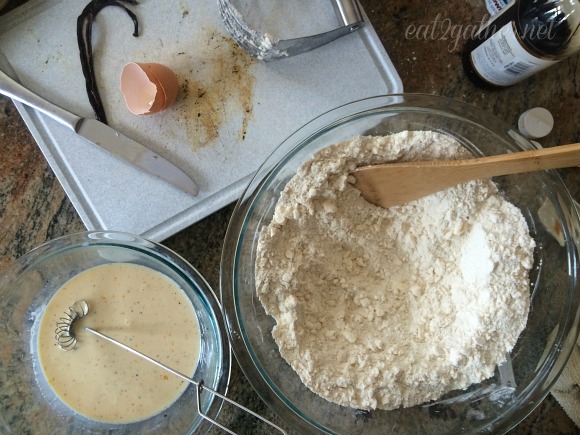 I made these scones with Easter in mind. I normally make Braided Cardamom Bread for Easter morning, however since we will be away from home this year,  over Easter,  I decided to try making a scone with the same flavors. Scones are so easy to make. If you can make biscuits you can make scones! A few simple ingredients, a bowl, a fork, and a baking sheet are all you need…hopefully the condo we've rented will have them, because hubby said NO to bringing kitchen gear with me this year. I think that was his way of saying I need to take a break, enjoy eating out, get off my feet…he's such a nice guy. (Or he is possible just sick of trying to figure out where to fit the pots and pans into the back of the van!….probably that and he's a nice guy.)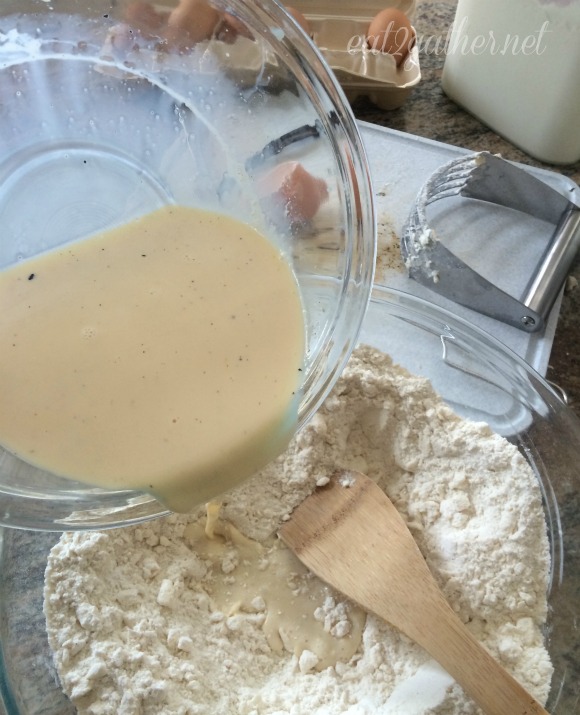 I love the smell of cardamom. MMM! It smells so dang good. I just want to rub it behind my ears. Nutmeg too! In fact, there are a few ingredients that I would love to make into a perfume. cardamom being one, then ginger, Oh and Basil, OMAGERD I LOVE BASIL, nutmeg, and let us not forget citrus. I think I may be on to something. I can see it now, I'm sitting at a volleyball game and the person next to me says "you smell so good, may I ask the name of the perfume you're wearing?" and I say "why yes, but it's not a perfume" and then I haul a scone out of my pocket…"scone anyone?" Or a little baggy with a hunk of ginger, basil, and a lime. I'm gonna bring back potpourri people, only it's for your body. Pocket Potpourri. Is that a thing?
If it's not, don't steal my idea. I'm calling that Sharks show right now.  That QVC chick is going to be all over this!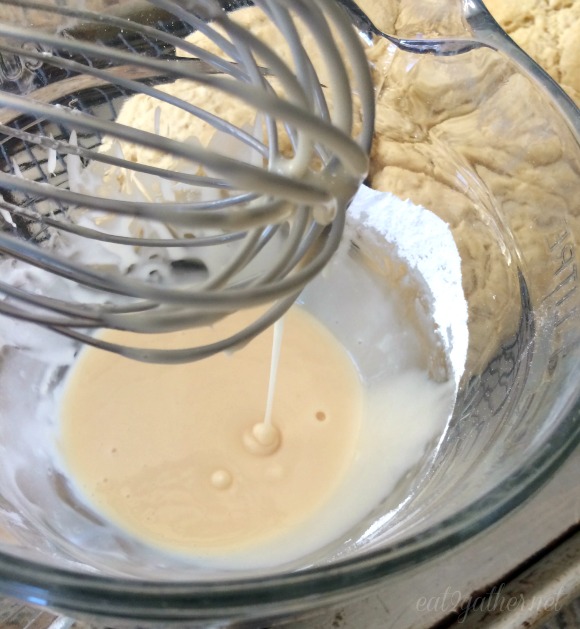 I just googled it. It looks like there is such a thing for stuffing in your drawers and such, but no potpourri for stuffing in your pockets. I'm not talkin' no grandma's drawer lavender vanilla smelling potpourri. I'm talking MMM you smell so good I want to eat you up pockpourri. (See what I did there?)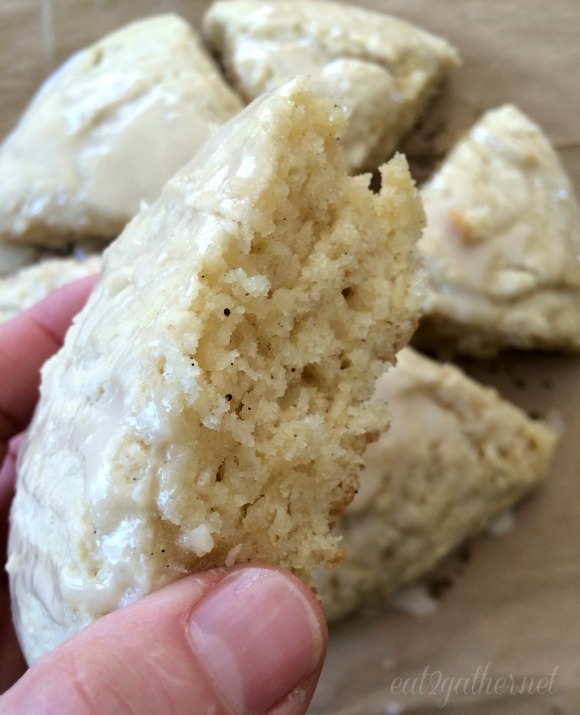 What flavors would you want to smell of?
Bacon?
Cheese?
LOL. Just kidding. "You smell like beef and cheese." Name that movie…GO!
I personally would like to smell like lemongrass, ginger, lime, orange, cardamom, nutmeg, vanilla bean, clove, maple, YES maple!! Not sugar. Have you ever smelled sugar…unless it's burnt it does not smell good. It smells like feet. Weird. But true.
Ok enough already, about my new business venture. These scones taste better than they smell and they smell heavenly! So I suggest you whip up a batch for your loved ones!
[print_this]
Vanilla Bean Cardamom Scones
makes 12-16 depending on how you cut them
3 cups Flour
1/2 cup Sugar
1 tablespoon Baking Powder
1 teaspoon Salt
1/2 teaspoon Cardamom
1/4 teaspoon Nutmeg
1 cup cold Butter (two sticks)
1 cup Half and Half
1 large Vanilla Bean, split down the center
1 Egg
1 teaspoon Vanilla Extract
Preheat oven to 350 degrees.
1. Combine dry ingredients in a large bowl.
2. Measure half and half into small saucepan, add split vanilla bean to cream, heat until just beginning to bubble on edge, do not boil. Turn off heat and set aside to cool. When cream is cool, take a sharp knife and scrape the inside of the vanilla bean out and add back to liquid.
3. Cut cold butter into small squares, add to dry ingredients, and cut in with a pastry cutter until mixture resembles oatmeal. Set aside.
4. Whisk egg and vanilla extract into vanilla bean cream.
5. Create a hole in the middle of the dry ingredients, add liquid to hole, gently combine until dough comes together.
6. Place dough onto a lightly floured surface, split in half and create two rounds about 1 inches thick and 8-10 inches in diameter. Place dough on a parchment lines baking sheet and place in freezer for 10 minutes.
7. Remove from freezer and cut each disk like a pie, 6 pieces each. Place in preheated 350 oven for 25 minutes.
Vanilla Glaze
1/2 cup Powdered Sugar
1/4 teaspoon Salt
1/2 teaspoon Vanilla
1 + tablespoons Half and Half
Combine ingredients in a small bowl and whisk until smooth. Add more cream if glaze is too thick.
When scones have cooled drizzle glaze over scones.
Enjoy!
Note: Do not skip freezer step this helps tremendously with the texture of the scone. Also store any leftovers in an airtight container.
[/print_this]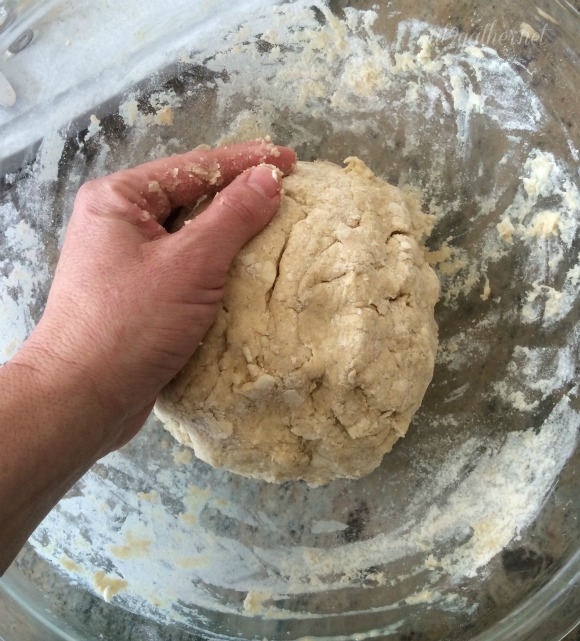 I wanted you to know that you don't have to form your scones in to two disks you can also roll them out into a rectangle and cut them as seen below.  This will allow you to get a few more scones out of this recipe.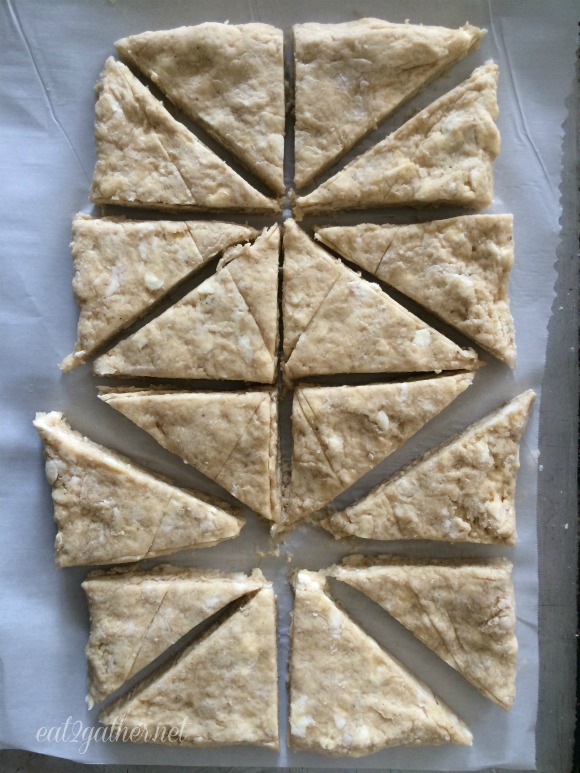 Vanilla Bean Cardamom Scones
Hey guess what? There's a Pinterest Board for that! For more simply delicious scones FOLLOW my scone board ->->->-> 😉