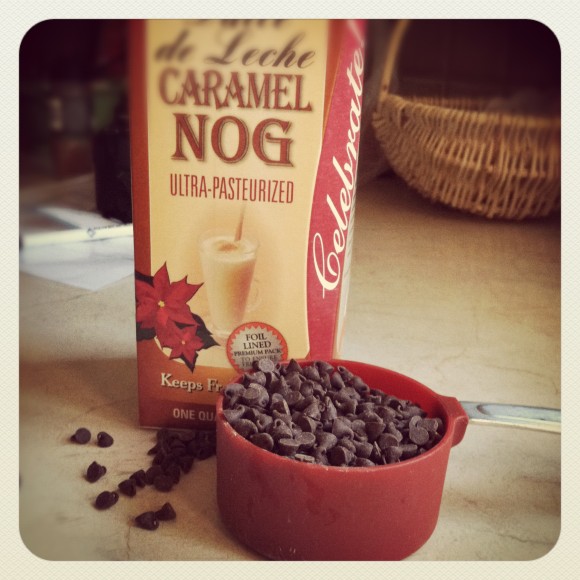 I spotted this luvery liquid while searching for my annual dose of Egg Nog.  Caramel Nog.  Genius!  Surely some spectacular yummyness had to be made with this substance.  Tres Leches Cake…mmm nah.  Cheesecake, not so much.  Ice Cream, too cold outside to eat ice cream.  Bread Pudding….BINGO!
Warm, oohey, gooey, bread pudding, covered in homemade caramel and chocolate sauces.
Oh Baby!  You know what I'm takkIN bout! MMMh MmmMa.
Caramel Egg Nog Bread Pudding is the perfect dessert to accompany any Holiday meal.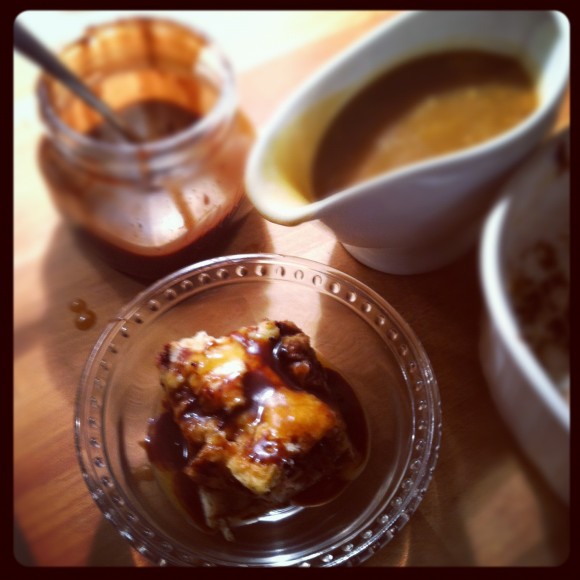 [print_this]
Caramel Egg Nog Bread Pudding
Makes 6-8 servings
2 1/2 cups Caramel Egg Nog
2 whole Eggs
1 teaspoon Vanilla Extract
1/2 teaspoon ground Cinnamon
1/4 teaspoon ground Nutmeg
10 cups Italian Bread, torn in to 1 inch pieces
1/2 cup Mini Semi-Sweet Chocolate Chips
1 tablespoon Butter Softened
Caramel Sauce
1 1/4 cup Brown Sugar
1 stick Butter
1/2 cup Heavy Whipping Cream
Chocolate Sauce
1 stick Butter
1/2 cup Corn Syrup
1/2 cup Sugar
1/4 teaspoon Salt
1/4 cup Cocoa Powder
1 tablespoon dark brewed Coffee (optional)
1 cup Heavy Whipping Cream
1 teaspoon Vanilla Extract
PREPERATION FOR:
Bread Pudding~ Preheat oven to 350 degrees.
Whisk caramel egg nog, eggs, nutmeg, cinnamon, and vanilla extract together in a bowl. Tear one loaf of Italian White Bread in to 1 inch pieces, (this should measure out to be 10 cups of bread cubes). Fold bread in to egg nog mixture. Let stand for 15 minutes to let bread fully soak up liquid. Stir in mini chocolate chips. Transfer mixture to a buttered 11×7 baking dish, cover with aluminum foil. Bake at 350 degrees for 1 hour.
Chocolate Sauce~ In a heavy medium saucepan melt butter, corn syrup, sugar, cocoa powder, and salt together. Whisk until smooth. Stir frequently, let cook at a low boil for 2 minutes. Whisk in heavy whipping cream, coffee, and vanilla. Bring temperature back to a boil, let boil for 2 minutes whisking continuously. Remove from heat, let cool for 15 minutes before serving. Store any leftovers in a mason jar, or plastic container in the refrigerator.
Caramel Sauce~ Whisk brown sugar and butter in a heavy medium sauce pan over medium heat until butter melts. Whisk heavy cream into sugar/butter stir until sugar dissolves and sauce is smooth, about 3-4 minutes.  Store any leftovers in a mason jar, or plastic container in the refrigerator.
Serve warm bread pudding with both caramel and chocolate sauces.
Enjoy!
[/print_this]
Did you notice the fun pictures?  I got an Instagram account!  (Well and yes I finally got an iPhone too! YaHoo yippey  heal click heal click!!)  I love Instagram, it is such a fun way to share and edit pictures.  If you are an Instagrammer and would like to follow me you can do so at Eat2gather.
(pssst I shared this at Sixsistersstuff.com ~ Strut your stuff Saturday week #34)
Hope to see you there!