Craving a restaurant style wet burrito?  Smothered in smooth, spicy red sauce and mountains of melted cheese??  Me too!  Always!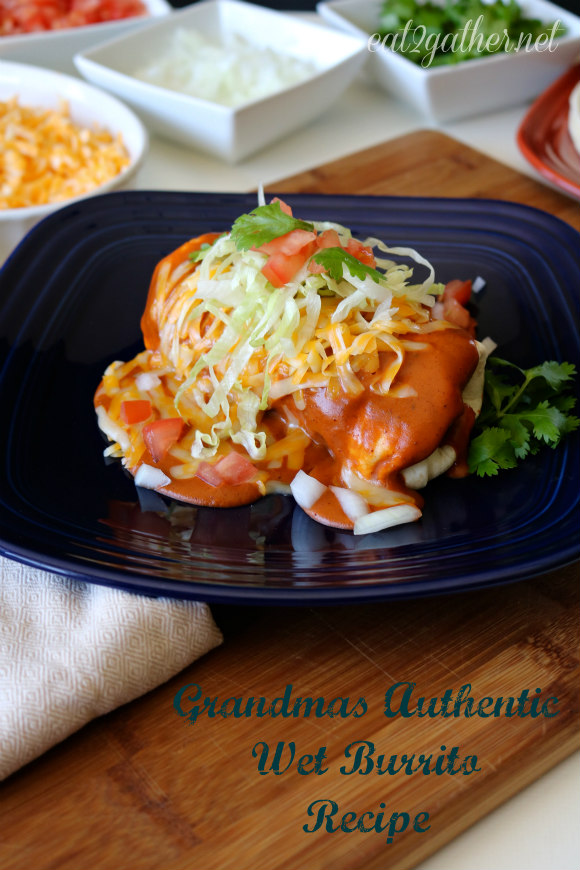 My grandma Beatty, (who was actually biologically my great aunt, but that's a story for another day, families are fun aren't they?!) was quite a lady.  She was the epitome of sassy, right up to her very last days she was putting people in their place and speaking her mind.  One thing I have in common with Grandma Beatty other than the occasional sassy episode was that she loved feeding people, and she loved Mexican food!  When she made wet burritos she would always let us know, and insist we come over.  She was hard to say no to.  And well, saying no to one of these burritos is basically just loco, so there you go!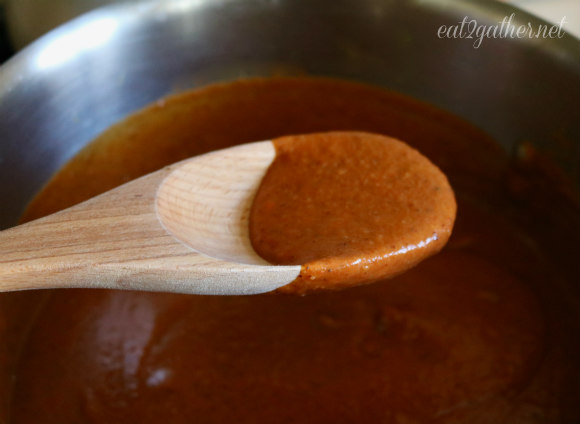 This recipe makes a lot, so you sort of want to either plan on freezing some of it, or having a wet burrito party.  The sauce can be made ahead of time and reheated, as well as the meat, and all the toppings can be prepped ahead too.  So it's basically the perfect party food!  Add some chips, pico de gallo, guacamole and you are basically the best party thrower everah!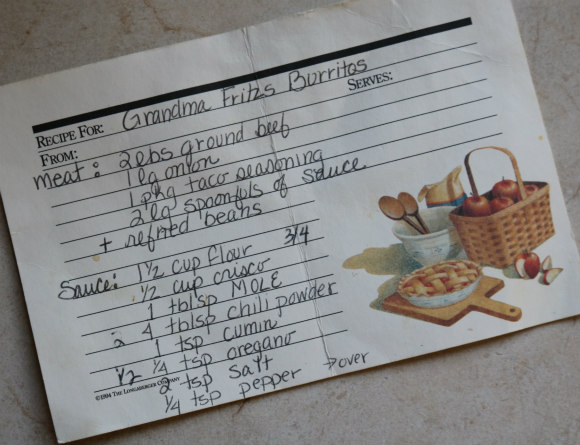 I've made a few adjustments over the years, I think when grandma gave me the recipe she was reciting it from memory so this recipe card isn't what you want to follow, follow the printable version below. As you can see I've penned in a few adjustments.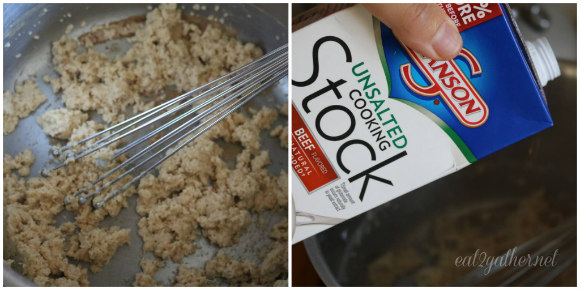 Start with flour and shortening whisk together in a large path until crumbly and starting to brown, then add in 4 cups of beef stock until smooth and thick.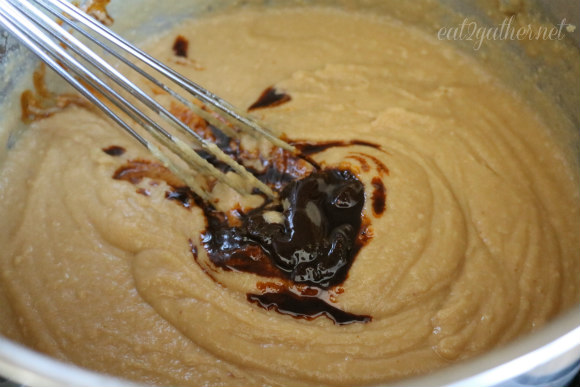 Next add in the mole and all the remaining ingredients and whisk until smooth, if it seems too thick just add more water 1/2 cup at a time.  Once sauce is smooth from a vigorous whisking, turn your heat down as  low as it will go, cover pot, and simmer for 1 hour, occasionally stirring to make sure sauce isn't burning on to the bottom of the pan.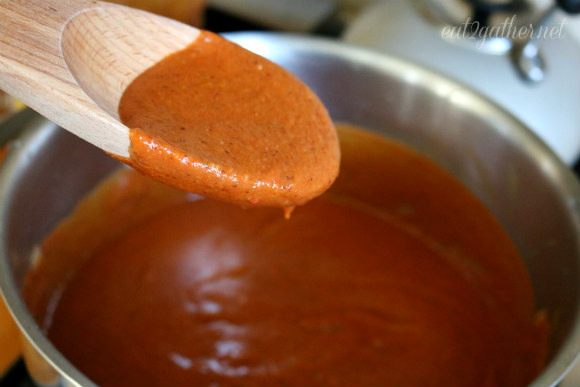 Sauce should slowly drip off spoon, not run.  This is more like a gravy or thick spaghetti sauce consistency.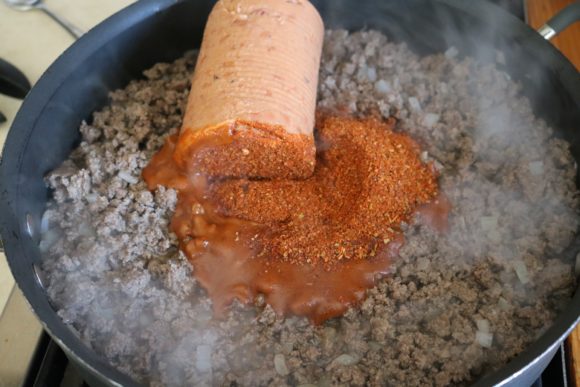 Well isn't that a lovely photo?  Meat is hard to make look pretty in a picture, then add beans, and a brownish red sauce and well……lets move on.
The meat is easy.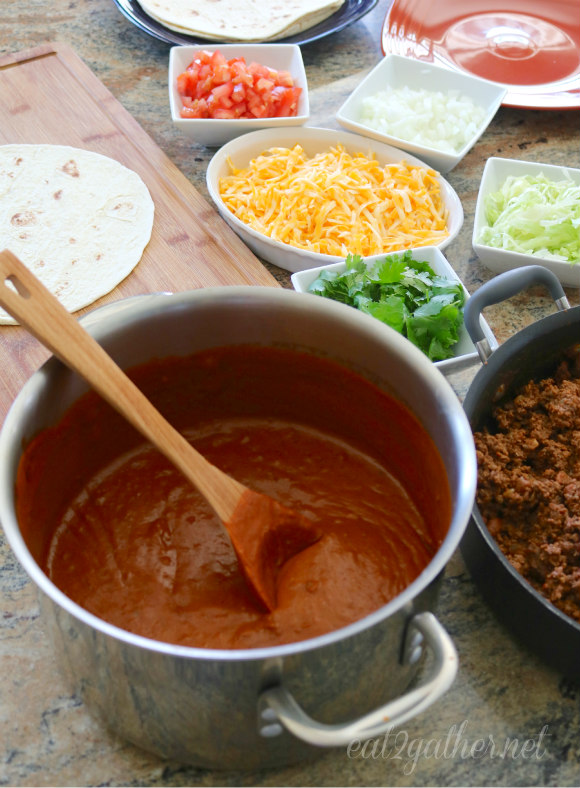 Gather all your ingredients, flour tortillas, meat, sauce, cheese, and any other toppings or add ons you like and start the assembly line!

I like to make each burrito to order.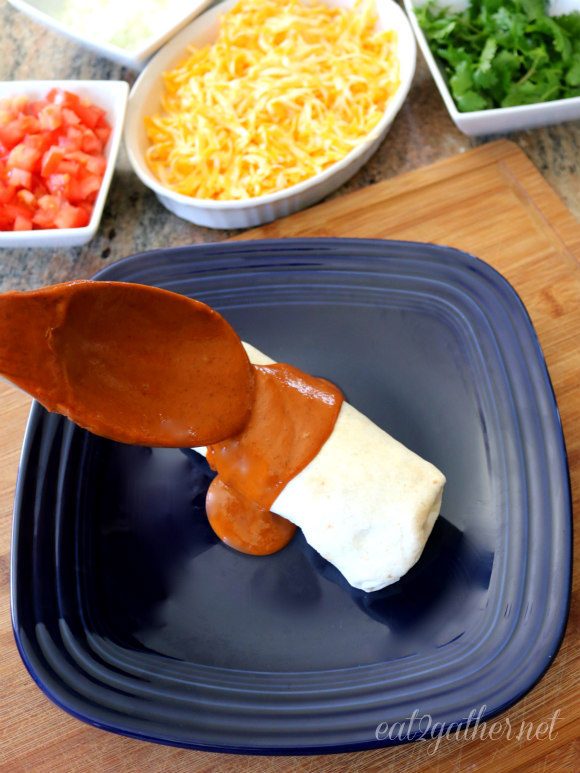 Cover with sauce and cheese and melt in the microwave.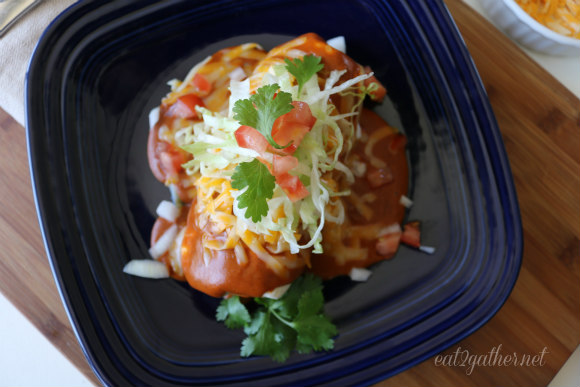 I let my peeps top with their favorite toppings, and now sink your fork into that bad boy!!  Sooo good, makes me want to sing.  But I won't because that would totally ruin everybody's appetite.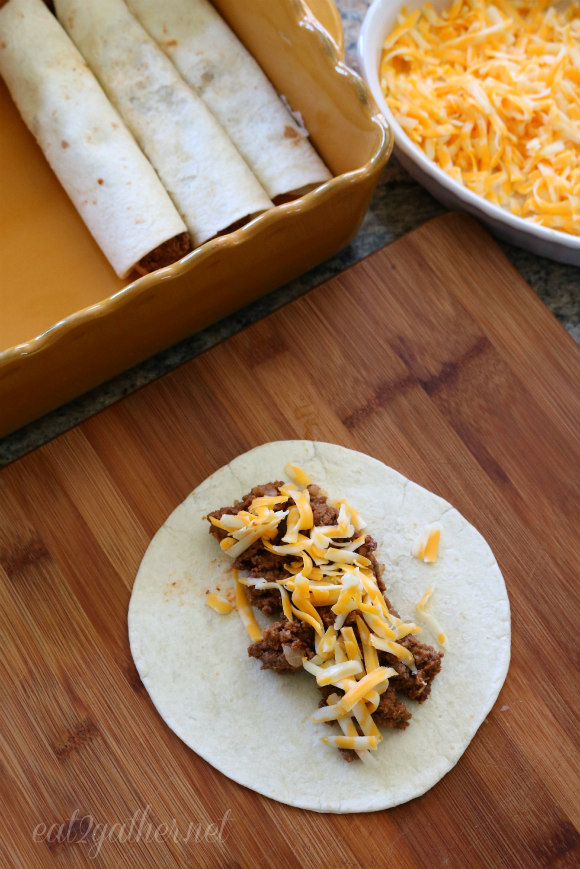 However I don't always have time for all the special order stuff, so then I make the burritos smaller (more like enchiladas) lay them in a baking dish smother them with sauce and cheese and bake them.  Voila!  Good both ways!
So below is Grandma Beattys Burrito recipe, I'm entrusting it to you.  It's near and dear to my heart so treat it well, love your peeps with it, and in remembrance of Grandma Beatty get a little sassy while your cooking it, let your inner Beatty free!  Say it like it is, no holds bar, get down with your badself!  You know these burritos are good, because we (the family) despite grandma being a bit of a pill, all came running when she called and said she was making wet burritos.  LOL.  She loved us.  Her words may not have shown it, but her food did!  She also made Kens favorite peanut butter pie. I do miss her.
[print_this]
Wet Burrito – Red Sauce recipe
servings: makes 10-12 large wet burritos
3/4 cup Flour
1/2 cup Crisco shortening
3 tablespoon Mole Sauce
4 cups Beef Stock
3 tablespoons Chili Powder
1 1/2 teaspoon Cumin
1/2 teaspoon Oregano
1 teaspoon Salt
1/2 teaspoon ground Pepper
1/4 teaspoon Garlic Powder
1/4 teaspoon Red Pepper Flakes
1/2 cup Milk
16 ounces Tomato Sauce (2 cups)
1 6 ounce can Tomato Paste
2 cups Water
Burrito Meat:
2 pounds lean ground Beef
1 cup diced Onion
1 package Taco Seasoning (I prefer Trader Joes)
2 large ladles of Red Sauce (approximately 2/3 of a cup)
1 can Refried Beans
10-12 large Flour Burrito Tortillas
5 cups shredded Cheddar Cheese
accompaniments: sour cream, extra shredded cheese, lettuce, onion, tomato, pico de gallo, guacamole
Sauce:
1. Melt shortening in 6 quart pot. Whisk in flour, let flour and shortening get bubbly and start to brown. Gradually whisk beef stock in to flour mixture. Cook on medium high for 3-5 minutes until sauce thickens. Whisk in mole.
2. Add in chili powder, cumin, oregano, salt, garlic powder, red pepper flakes, and pepper, and milk, whisk until smooth.
3. Whisk in tomato sauce, paste, and water turn heat down to low. Let cook on lowest heat for 1 hour. Continue to stir occasionally, making sure sauce is not burning or sticking to bottom of pot.
**Sauce can be made up to 2 days ahead of time, and stored in refrigerator. Sauce also freezes well allow it to cool,  freeze in a Zip-loc freezer bags to use up to 3 months later. Sauce is also good for Enchiladas!
Meat:
Brown ground beef with onion, when completely browned add packet of taco seasoning and 2 ladles of red sauce. Add can of refried beans into beef. Mix to combine.  Cook on low for 5 minutes.
**You could also freeze the meat. Or assemble burritos and freeze them wrapped in plastic wrap and sealed in a Zip-loc freezer bag. Thaw burritos in refrigerator, microwave to reheat.
Burrito Assembly:
You can do this two ways. 1.) assemble and bake together on a baking sheet or 2.) assemble individually per each persons taste and microwave to melt cheese on the top.
-Remove burrito tortillas from plastic and, heat individually, in microwave for 10-15 seconds.
-Lay tortilla on a flat surface, place a large spoon full of burrito meat in the middle of tortilla, spread out slightly. **Feel free to add cheese, onion, lettuce, tomato into your burrito. Get creative per your tastes.
-Fold bottom of tortilla up over meat, fold sides in (kind of like a diaper), then roll tightly upward so that the seam is on the bottom.
-Place on a baking dish or if making individually place on a plate. Ladle sauce over top, sprinkle generously with shredded cheddar cheese.
-Cover (so your microwave doesn't look like a massacre scene) and microwave for 1 minute. OR bake at 350 degrees until cheese is melted and bubbly.
Serve with sour cream, extra cheese, guacamole, pico de gallo, and tortilla chips.
Note: this can also be made enchilada style.  Roll meat and cheese up in small flour tortillas, line them up in a baking dish, cover with sauce and cheese, bake at 350 for 30 minutes.
[/print_this]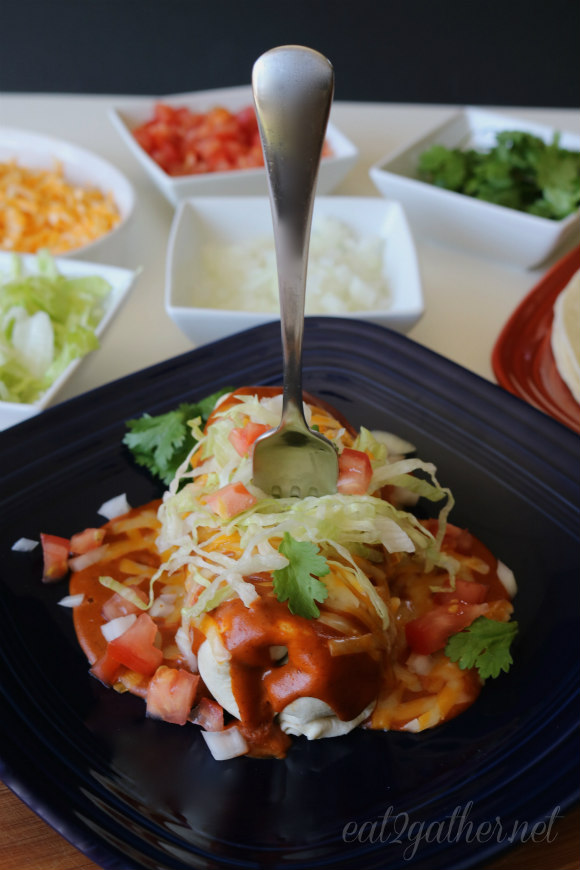 Oh one more thing I should tell you, especially if you are from Grand Rapids, is that Grandma claimed this to be the secret wet burrito recipe from the Beltline Bar, so if you are a fan of the Beltline Bar burritos well then guess what?  Today is your lucky day!
Feliz Cinco de Mayo!
Sheila