Every get together when I was growing up included these two appetizers. I actually forgot about the pickle variety until this Thanksgiving when my sweet Seestor revived them for our pre-dinner snack fest. We've never had a name for them. I think we just called them "onion thingys", or "pickle and ham thingy's", cause we are a real classy bunch, and we like to eat lots of thingys.
This summer I brought the onion thingys to a picnic and my girlfriend called them Polish Roses, that was a new one on me. But she is right they do kinda look like roses!
To make these old school appetizers you will need to:
Dry 6 gherkins on paper towel I realize there are only 5 here I ate one. Polka-dot period. End of story well not really I ate about 5.
The key to quick food prep, is…well…is prep. Get your stuff prepped and your life will be easier.  The fancy French term is 'mise en place'.  As in Me's got my stuff in place and I'm ready to go!
Cut each piece of ham in half.
Spread with a thin layer of cream cheese. Cheese will spread easy if it's room temperature.
Lay onion on ham slice, and roll her up.
Now for the Pickle Thingys.
Roll it up nice and snug.
Slice in half, this gives you a nice "pop in the mouth" size portion.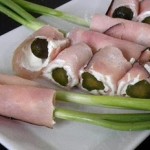 Print Recipe
Polish Roses
This delicious old school appetizer made with simple ingredients is sure to be a hit at any party!
Ingredients
1 - 8

ounce

package cream cheese, room temperature

needs to be easily spread

12

green onions

cleaned, and trimmed to 8"

6

sweet gherkins

more if they are small

9

slices

smoked deli ham
Instructions
Clean, and trim onions. Dry off gherkins on a paper towel. Cut each piece of ham in half.

Spread a thin layer of cream cheese on each piece of ham. Cheese will spread easier if it's room temperature.

Lay onion with on ham slice with green stem hanging out and roll it up. Repeat with all onions. Do the same with the gherkins. Cut gherkin ham rolls in half.

Place on a platter and serve immediately or keep in refrigerator until ready to serve.

If you are lacking for table space you could stick your roses, sans the water, in a glass. Kind of a fun presentation.
Or a platter works great too!