Scones are a slightly sweet biscuit, perfect for sharing and always great with a warm cup of tea or coffee!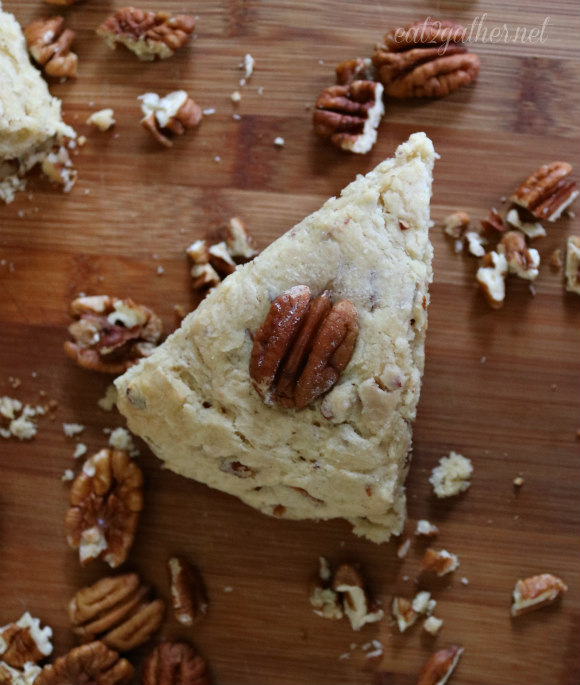 I'm a sucker for a good scone.  Not just any scone, it cannot be crumbly.  No scone of mine is crumbly.  Dense. Yes.  Slightly sweet.  For sure.  Pie shaped.  Not necessary, but pie shape does make me happy!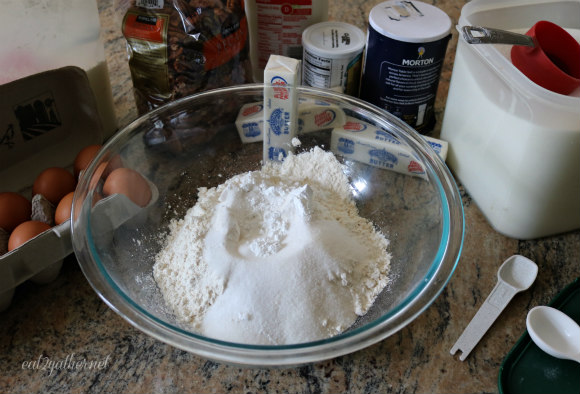 I haven't made these scones in a long time.  I actually had to take a wee break from scones.  They were, at least I am mostly certain, they were, the cause of my knickers not fitting.  Yes when I eat scones I say knickers, cause you see scones are a Scottish, and I'm pretty sure the Scotts call their underwear knickers.   Which I find odd, because I always thought knickers were the style of pants that came down to your knees and had a cuff with a button.  You know what I'm talking about?  I believe I had a corduroy pair back in the day, that I wore with ruffled high collar shirt…who remembers this style?  I think it's best forgotten.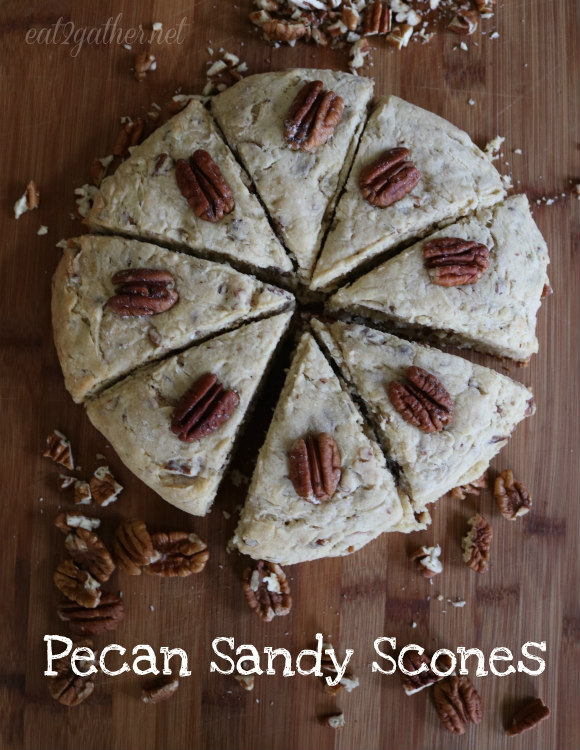 So as I was saying I was partaking of a few too many scones and my skivvies were binding a bit, so I took a scone sabbatical.  Yes that's a thing.

Brown some butter, add some chopped pecans and let them bubble around in the butter for a few minutes.  Ooh what's better than toasty butter pecans?  Nuttin!

Cut the butter into the dry ingredients, add the buttery pecans.  Add the wet ingredients and stir just enough to form dough ball.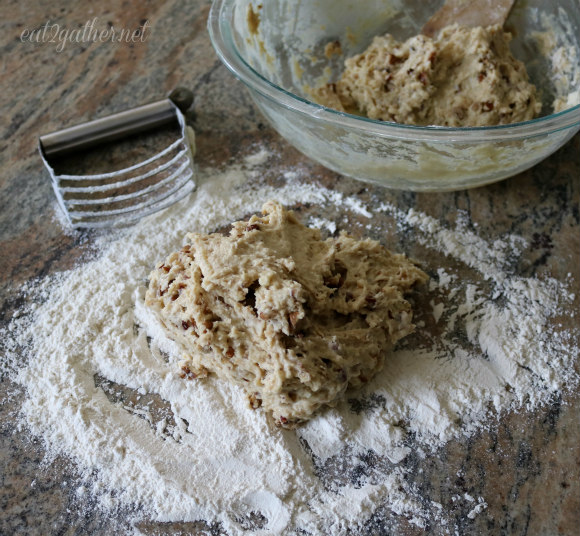 Take half scone dough and place on a well flour surface, form into a round about 1 inch thick, place on parchment lined baking sheet.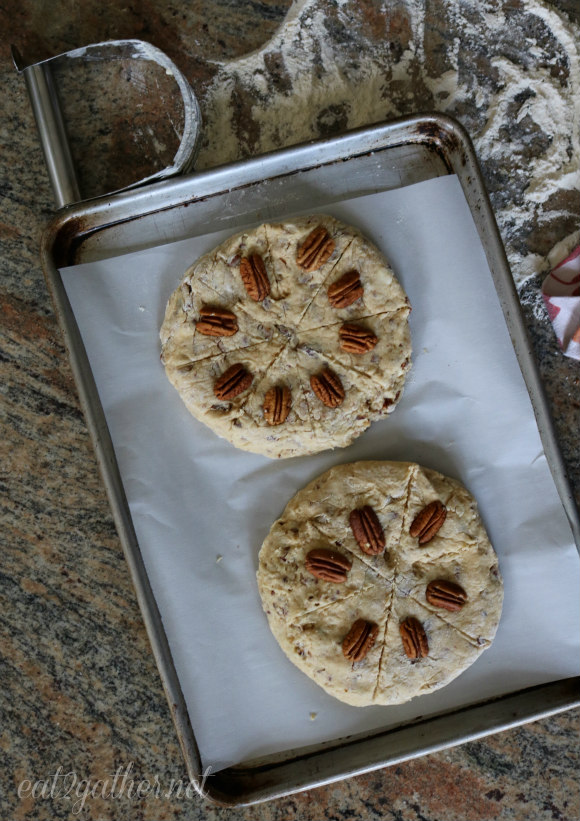 Place in freezer for 10 minutes.  Remove and score each round into either 6 or 8 pieces and top with a whole pecan, bake in a 400 degree oven for 25 minutes. (this freezer trick is not to be skipped, it gives the scones a firmer, moist texture)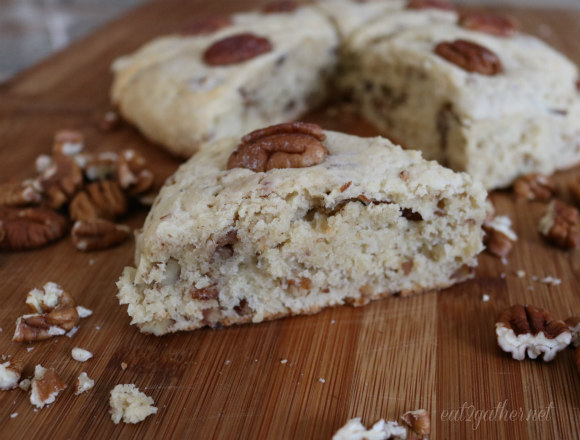 I decided to bake these for my Friday morning book study gals, Pecan Sandy Scones seemed like the perfect treat for the ladies to have with their tea and coffee.  Sabbatical over!
** I quite often will make a glaze for scones, but I decided these were perfect as is.  That's not to say a simple maple glaze wouldn't be fabulous on these pretty lil ladies!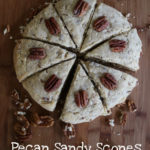 Print Recipe
Pecan Sandy Scones
Slightly sweet buttery biscuit, perfect for sharing and always great warm with a cup of coffee!
Equipment
1 pastry cutter

forks be used if you don't own a pastry cutter
Ingredients
3

cups

all purpose unbleached flour

1/2

cup

granulated sugar

1

tbsp

baking powder

1

tsp

salt

1

cup

butter, cold

(2 sticks) I used salted butter.

1

cup

whole white milk

1

egg

1

tsp

vanilla extract

1 1/2

cups

chopped pecans

16

whole

pecans

for decorating the top of each scone
Instructions
Preheat oven to 400 degrees.
In a small skillet melt 1/2 cup butter (1 stick) over medium heat, do not stir, allow butter to melt completely and when butter starts to turn a golden brown add chopped pecans and stir around for 1 minute. Remove from heat and let cool.

Whisk together milk, egg and vanilla, in a small bowl. Set aside.

Combine dry ingredients in a large bowl. Cut the remaining 1/2 cup butter into small cubes add to dry ingredients and cut in with a pastry cutter (or forks work too) until mixture is a fine crumble about like dry oatmeal.

Add in cooled butter and pecan mixture into dry ingredients, combine.

Create a hole in the middle of the dry ingredients pour wet ingredients in to hole. Gently combine with a large spatula or wooden spoon. Do not over mix. When dough has mostly come together dump out on to lightly floured countertop, and use your hands to form into a ball. (try not to over handle the dough because the butter will start to melt and the dough will get sticky and hard to work with. If this happens place back in bowl and pop in refrigerator for 30 minutes.)

Split dough in two, create two rounds about 1 1/2 inches thick and 8 inches in diameter. Place dough rounds on a parchment lined baking sheet and put in freezer for 15 minutes.

Remove from freezer, and cut each round into 8 pie pieces. Decorate the top of each scone with a whole pecan, push in slightly to the dough. Place baking sheet in preheated 400 degree oven for 25 minutes. Remove and allow to cool slightly before eating.

Do not skip freezer step this helps tremendously with the texture of the scone.

Store any leftovers in an airtight container or wrap tightly in plastic wrap and freeze for up to 6 weeks.
If you like scones you should give this scone pinterest board a peeksy!
Disclaimer:  I am proud to be an ambassador for the United Dairy Industry of Michigan.  Thank you for helping support Eat2gather by supporting your local dairy farmers!