Texas Sheet Cake made the Michigan way!  With the creamy rich frosting poured over top marshmallow fluff and swirled around with the melting marshmallow.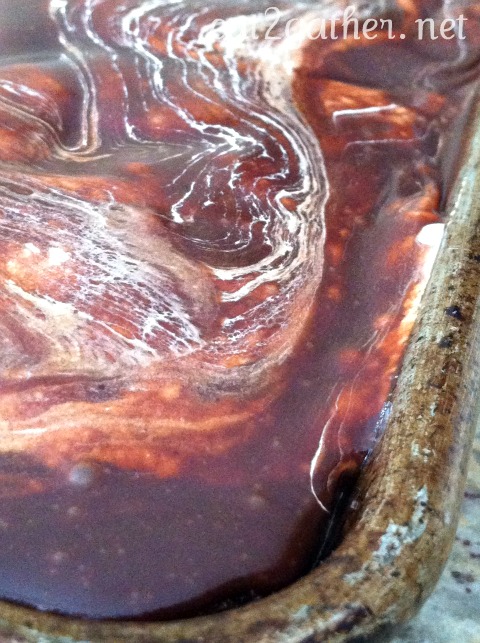 That's the way we do it baby……(sing it with me).
No chopped pecans.  We don't grow those up here.  But we do have a lot of white stuff! Egads!  You Texans want some?  Do you Texans get snow?  Should I google that?
Googling……Texas, snowfall, weather.  Hmmm still not sure.  If you are from the great state of Texas, let me know if you get snow, like lots of snow, not just a dusting.  I'm talking inches or even feet people.
In my opinion…and mind you I'm a pecan lover….this is the best way to make Texas Sheet Cake.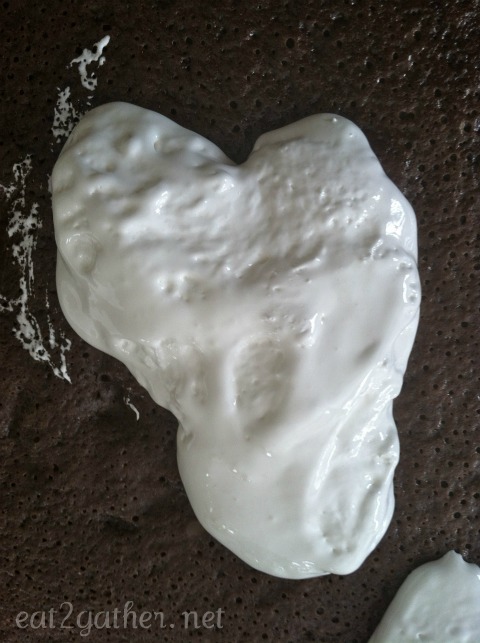 Yup!  I heart marshmallow fluff!  That heart was a total ko-winky-dink.  I didnt' even notice until I edited.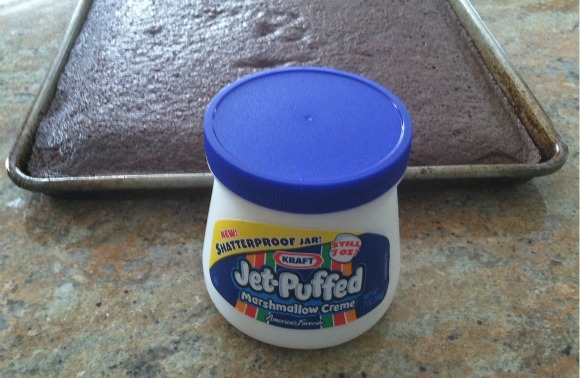 Super simple.  Here's how it goes.  Make your sheet cake.  The recipe is below.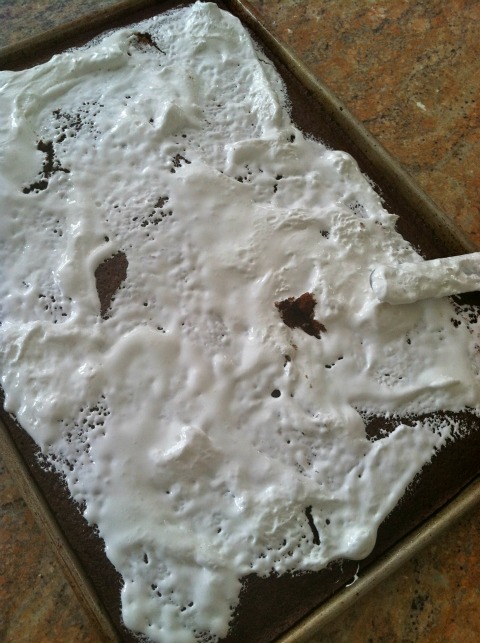 Plop the marshmallow fluff on the cake hot out of the oven.  It will melt and then you can spread it around easily.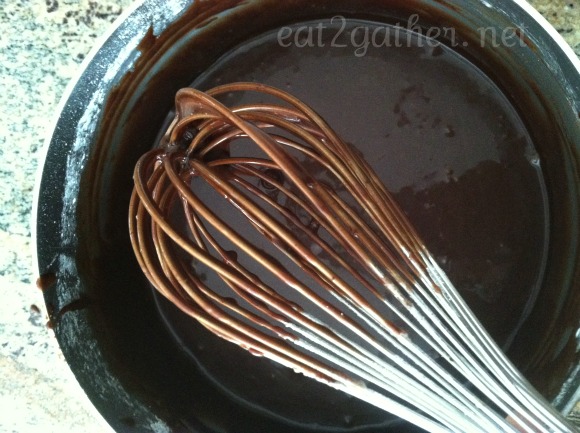 Then comes the warm chocolate icing.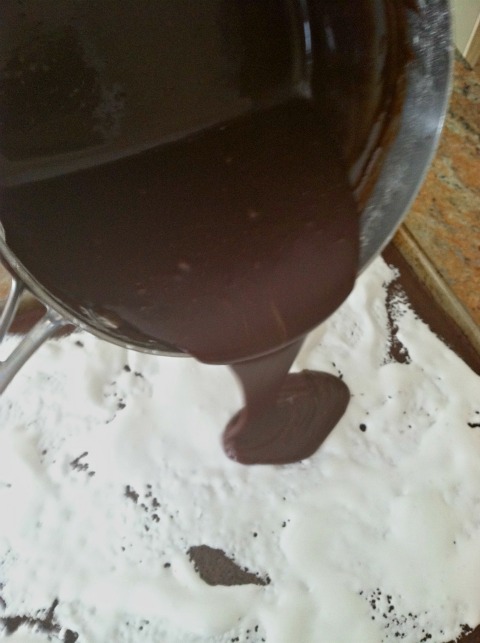 Pour that right over the marshmallow.  It's going to get all floody and look like it wants to run over the edges of your sheet cake pan.  This is no time to panic. Spread it around,  pour more, let is seep in around the edges.  It's going to be just fine….more than fine actually!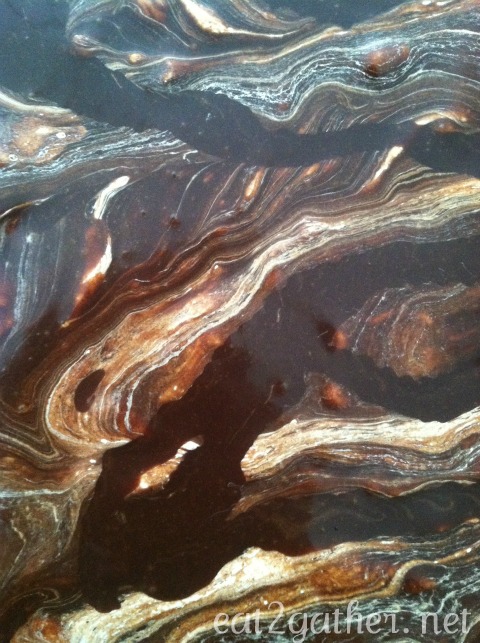 It's a masterpiece!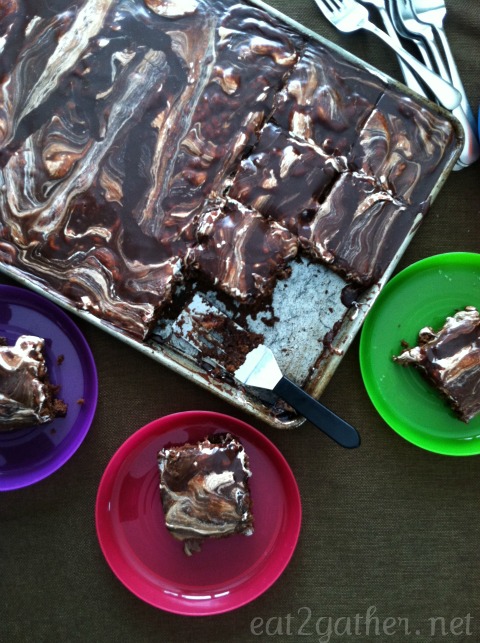 Now is that an after school snack er what?!
Because her cookbook is always finger tips away I usually make the chocolate sheet cake from The Pioneer Womans cookbook these days, however I thought I would share the recipe that we always had growing up, made from a recipe in our church cookbook.
[print_this]
Texas Sheet Cake "Michigan style" 
2 sticks Butter
1 cup Water
4 tablespoons Cocoa
2 cups Flour
2 cups Sugar
1/2 teaspoon Salt
1/2 cup Buttermilk
2 Eggs
1 teaspoon Baking Soda
1 small jar Marshmallow Fluff (7ounces)
Icing
1 1/2 sticks Butter
4 tablespoons Cocoa
1/3 cup Milk
1 pound Powdered Sugar (approximately 3 1/2 cups)
1 teaspoon Vanilla
Preheat oven to 350 degrees.
Cake: In a saucepan melt butter with water and cocoa powder, bring to a boil and remove from heat. In mixing bowl combine flour, sugar, and salt. Add warm chocolate mixture to flour combine. In a separate bowl whisk together buttermilk, egg, and baking soda. Add this to cake batter, mix well. Pour into a (15×10″)jelly roll pan. Bake at 350 degrees for 25 minutes or until toothpick comes out clean.
Dollup marshmallow fluff on top of cake as soon as it's out of the oven. Let the marshmallow sit a minute and start to melt, then it will be easier to spread.
Frosting
While cake is baking, combine butter, and cocoa in a saucepan bring to a low boil. When butter has completely melted remove from stove top add milk vanilla, and powdered sugar whisk until smooth. Pour over marshmallow covered cake making swirl patterns in the icing with spatula so that the marshmallow shows through.
[/print_this]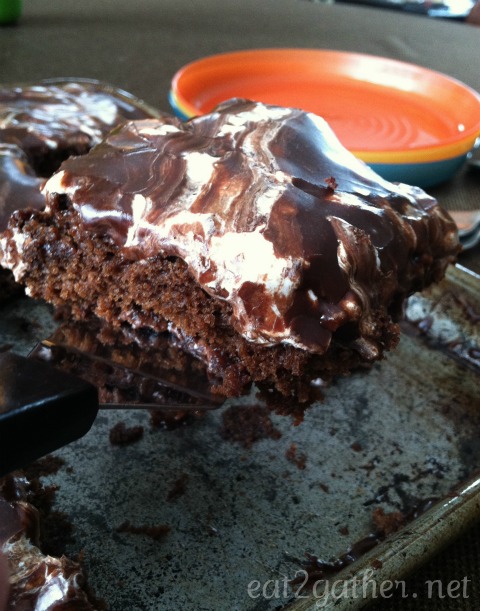 Who could refuse a piece of this cake!  Please dont' tell me if you said "I could".  I'm not sure my heart could take it!
Did you grow up munching on Texas Sheet Cake?  How did your momma make it? Do you call it Texas Sheet Cake, or maybe Yummolicious Chocolate Cake…or maybe just Chocolate Sheet Cake?
Whatever you call it it's good chompin'!
Enjoy! Sheila