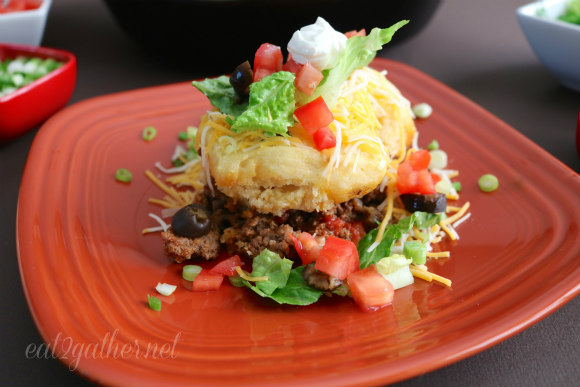 One of my absolute favorite parts of being an Ambassador for the United Dairy Industry of Michigan is when I get invited to the dairy farms.  Having the opportunity to meet the farm families, and experience first hand how tirelessly they work to put quality milk and dairy products on my table.  I'll tell you what, my milk tastes so much sweeter knowing the care and hard work that goes into getting it to my table!!
Did you know that by drinking milk and eating cheese and other dairy rich products, you are also actively supporting your local farmers?  Milk in Michigan doesn't travel farther than 100 miles from cow to table, and it gets to the grocery store in 48 hours or less!  That's fresh!!  Being that Michigan milk is so local, you are quite possibley crossing paths on a daily basis with the farm families that are supplying you with dairy products.  Is there a better way to support your community?!  If you want to learn more about the journey of milk from farm to table check this out!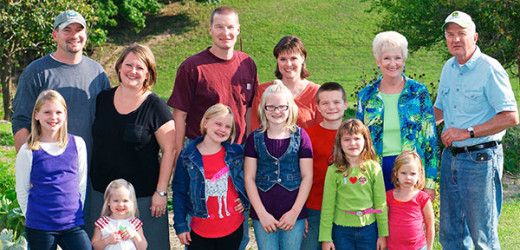 June is Dairy Month and as an Amabassador I am honored to be able to introduce you to one of Michigan's finest farm families.  The Crandalls of Battle Creek.  Brad and Monica (back row middle) are the fifth generation to own and operate Crandall Farms.  Every day they care for 330 milking cows and 240 heifers.  Crandall Dairy farm is a 100% family, owned and operated, all hands on deck farm.  Brad and Monica, Brad's brother Mark and his wife Sara, and Brads parents Larry and Gloria all live on or in the very near vicinity to the farm. As dairy farmers that live on and near the land they farm, the Crandalls take very seriously what it means to be good stewards of the land, by doing everything possible to protect, and conserve natural resources.
On top of working on the farm Brad also is active with the Michigan Milk Producers Association, as well as serving on the county Farm Bureau, these are just a few of his commitments outside of working the farm full-time.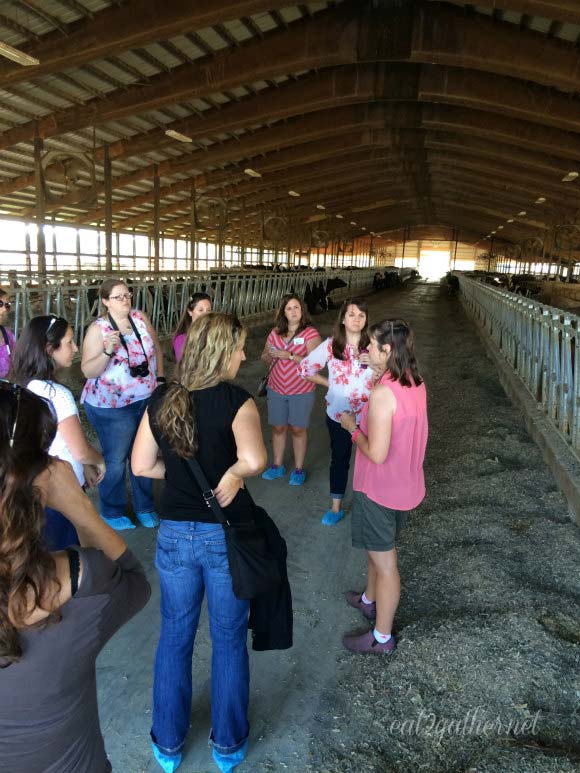 OK lets talk about Monica a minute….I had the opportunity to spend the afternoon, last fall, getting a tour of Crandall Farm from Monica.  She is genuine, smart, and one of the hardest working women I think I've ever met.  Not only does she maintain a household, raising three children, do the books for the farm, fill in were needed when farm hands are short, Monica also works outside the home as the school secretary.  And all of that with a smile on her face!   I thoroughly enjoyed spending the day with her family along with the other ambassadors, I think we would all agree dairy farmers are some solid people, forgive me if I'm repeating my self but I am honored and proud to be able to work for them!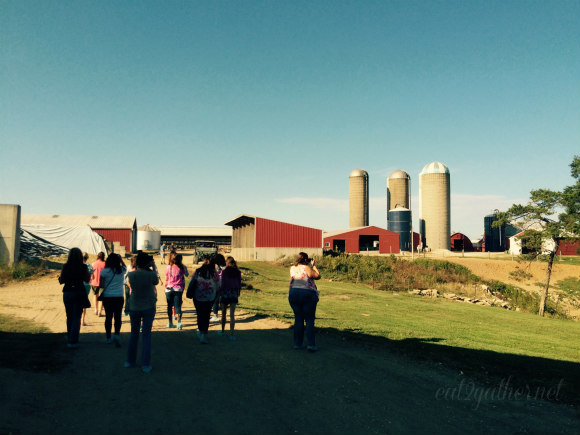 Monica grew up on a farm in Marshall, Michigan, so as a child growing up on a farm that her parents ran, while both working full-time jobs outside of farming, she saw just how hard farming could be, and vowed she did not want to have anything to do with farming once she moved out.  Little did she know she would meet Brad in the fall of 1994.  Brad had just signed to be a partner in the family farm a few months prior….the rest is history!  I believe, it couldn't have worked out any other way, and I'm sure Monica would agree that her up bringing set the mold for making her a fantastic farmers wife and partner.
Monica's top 3 favorite things about the farm are:
Raising her kids on the farm. (Brad and Monica have three children ages 14,12,10)  She says, " They all have started working and helping more, they take dairy calves to the fair to show and sell for college money and they have pride in that the farm is theirs."  I'm confident these kids will be hard workers, and better people for growing up on a farm.  Farmers are our future!
Monica loves showing people the farm, and teaching them about how everything works.  The Crandalls have hosted Breakfast on the Farm, which is an event run by Michigan State University to help people learn where their food comes from. 3300 people came to their farm in one morning for a tour and  breakfast!!  Add this to your summer bucket list!!
The fact that they get to take care of God's land.  "We are preserving the land and producing a high quality, safe product."  This is something to be proud of, and Monica holds it as a privilege.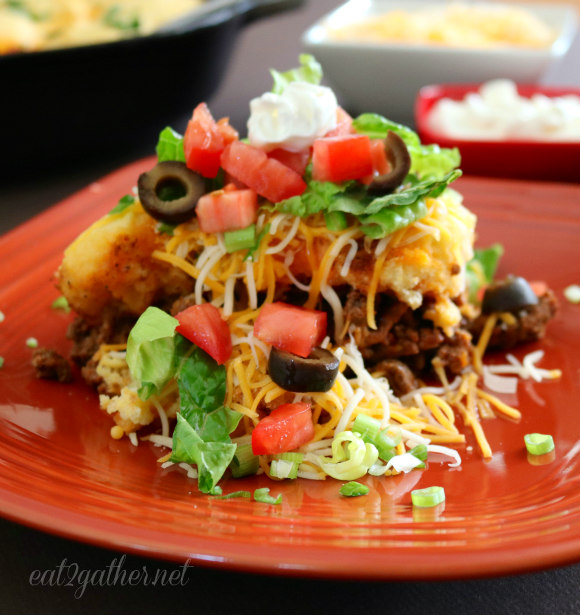 On top of all she does Monica still manages to get dinner on the table for her family, we chatted a bit about the logistics of how this works for her, she said it all boils down to planning, and sticking to simple, quick, recipes that she knows won't keep her in the kitchen for too long.  I decided to share one of my families favorites, One Pan Taco Pie, in honor of Monica, hopefully it makes its way on to her meal plan menu!!
Food for thought:  Next time you set down to a leisure Holiday meal think about all the farmers who have been up since before sunrise working.  Because farmers don't get a day off people!   They get a break to clean up enjoy their holiday meal, and it's right back to the barn, no netflix or 2 hour food coma naps for them!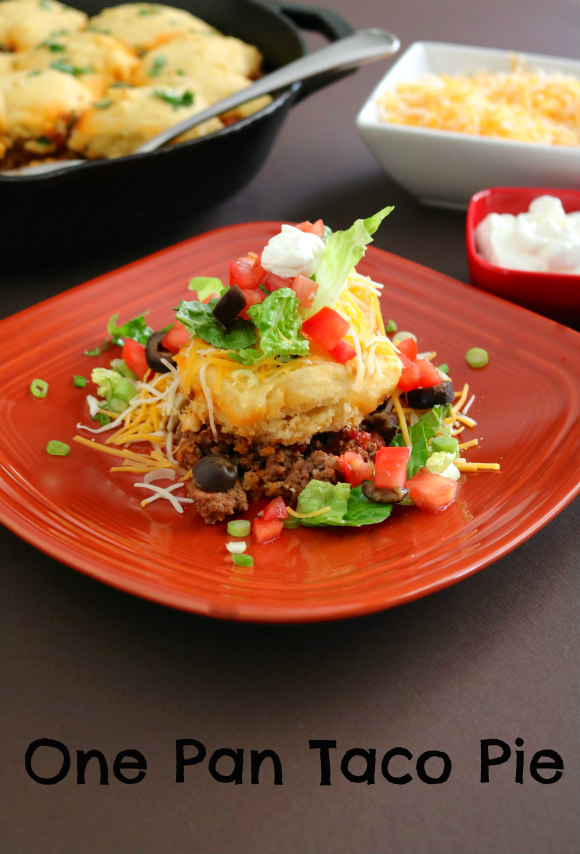 All you need is one oven proof pan, a few other kitchen utensils, 30 minutes, the ingredients of course, and you've got yourself a delicious meal that I guarantee will be one of your new gotos.  The leftovers are the best, that is if there are any!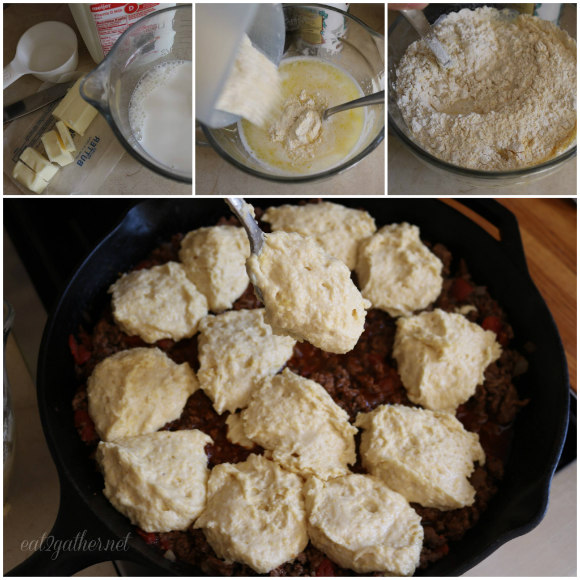 Brown the meat with and a few pantry ingredients, make a quick cornmeal biscuit batter, spoon over top of meat, bake for 15-20, top with piles of cheese and your favorite taco toppings, dinner is served.  You're welcome!!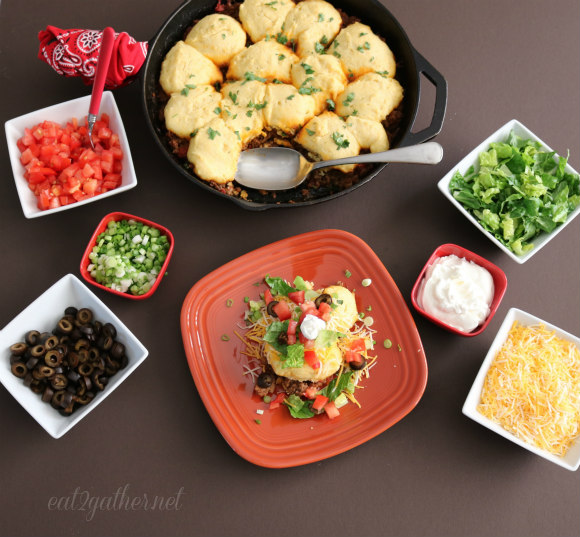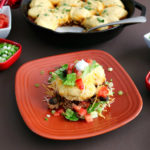 Print Recipe
One Pan Taco Pie
This one pan meal is Quick and Easy on your table in less than 30 minutes!
Ingredients
Meat Filling
1

cup

onion

chopped

2

lbs

ground beef (90%lean)

1/2

tsp

salt

2

tbsp

taco seasoning

any brand or homemade will do

10

ounce can

Rotel tomatoes

original

1- 8

ounce can

tomato sauce
Biscuit Topping
1 1/2

cups

whole milk

4

tbsp

butter

melted

1 1/2

cups

unbleached flour

1/2

cup

yellow corn meal

1

tbsp

baking powder

1/2

tsp

salt

Toppings: grated cheddar cheese

sour cream, diced tomatoes, chopped lettuce, chopped onion, sliced black olives, cilantro. Anything you would top your taco with you can pile on top of this One Pan Taco Pie!
Instructions
Preheat oven to 400 degrees before starting on the stovetop.

1. Place chopped onion and ground beef in a large oven proof skillet, cook over medium high heat, using a wooden spoon or spatula to break up the meat, cook until meat is brown and all the pink is gone, approximately 5 minutes.

2. Add salt, taco seasoning (feel free to add more of either to your taste), 1 10 ounce can Rotel tomatoes, and tomato sauce to the cooked meat. Stir and let cook until good and bubbly for at 5 minutes.

3. While meat is simmering start mixing up your biscuit mixture.

Add milk and butter to a medium sized bowl, heat in microwave for 2 minutes, remove and whisk milk and butter allowing butter to melt and combine with milk.

Measure out flour, cornmeal, salt, and baking powder in measuring cup, give it a whisk. POUR dry ingredients into wet(milk and butter) combine with a spatula until batter is smooth and any flour lumps are out.

4. Remove simmering meat mixture from stove top and spoon corn meal biscuit mixture on top of the meat, place skillet in oven and bake for 15 minutes. Or until cornmeal biscuits are cooked through and lightly browned on top.

5. Top taco pie with your favorite taco toppings and Enjoy!
June is National Dairy Month, I want to encourage you to take time this summer to visit a dairy farm, do a Breakfast on the Farm, explore with your kids where their food comes from.  #MeetFarmFamilies It always amazes me, every dairy farm that I've ever toured  (I've probably toured at least 10 if not more.) how passionate the farmers are, and always thankful for the opportunity to be farming and producing food to feed people.  I always walk away feeling grateful, for where I live, and all the amazing people who labor everyday so I can have healthy protein rich dairy products on my table!
If you would like to find out more about why Milk Means More follow them on Twitter, Facebook, YouTube, Instagram and Pinterest !

I would also like to invite you to join us for a #MilkMeansMore Twitter party on Wednesday, June 22 at 8 p.m. ET to Meet #MIFarmFamilies and celebrate June Dairy Month!
Disclosure:  I am so proud and thankful to be an ambassador for the United Dairy Industry of Michigan 2016. Thank you for helping support E2g by supporting your local dairy farmers.  All opinions are my own. 
Image Source I'd like to thank Milk Means More for letting me use some of their photos for this post.