Caramel and Apples go together like popcorn and a movie!  They are fine alone but together they are perfect and comforting (and your fingers get messy too).  Caramel Apple Snack Cake is wonderful to share, bake a pan and take a warm plate of these squares to your neighbors.
Mmmm MMm!  Excuse me a sec while I go get me another caramel apple square with a cup of coffee.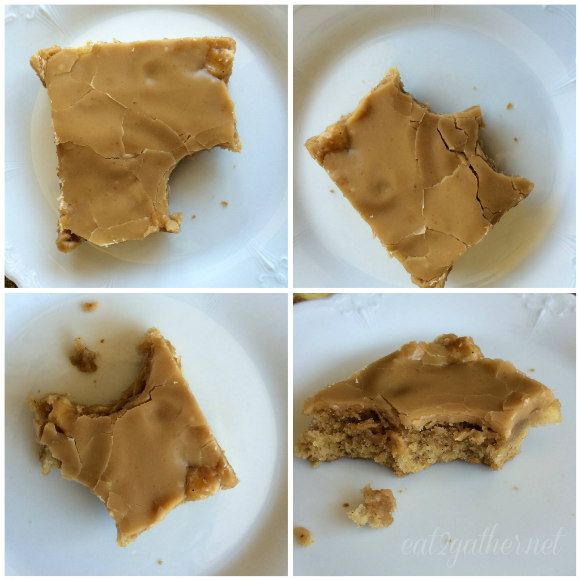 Hello!  I'm back.  It's 7:30pm, perfect time for sugar and coffee!  Ken and I are heading out of town tomorrow to meet up with his besties from college, now also some of my bestie-est people too, Mark and Ken turned 50 this year!  Yes I said Fif-T!!  Fifty.  Five-OH!  As in OH MY GOSH I can't believe my husbands fifty.  Anyway we said a while back that we needed to celebrate big when these boys turned 50, go on a once in a lifetime trip.  Life is short man, for heavens sake you only turn fifty once, so we said we had better do it right!  Dolgummit!   Celebrate good times.  Come on!  So this is the weekend we're going to Ohio.
Chirp chirp chirp.
I bet you thought I was going to say Italy or some far flung place. Nope, we are meeting them in Oxford Ohio is where they went to school together.  Have you been?  It's the home of Miami University.  It is literally one of the most beautiful college towns in the country!  We are going to relive our college days, party like we're 19 again, eat pizza at 2am, sleep till 2pm, eat bagel sandwiches for lunch.  Probably not, but it sounds kinda fun right?
Before we go, I've got one volleyball season video to finish, 2 blog posts to write, laundry, ironing, lists to write for kids, and people who are helping keep track of kiddos.  I need to vacuum up the 20 tons of dog hair that is on my floors so my brother-n-law doesn't have an asthma attack and meet his maker while he's at my house, what else??  Pack, oh hey I need to bring cloths with me.  Sheesh I need to think about what to wear.  I did get some awesome new boots today.  I digress.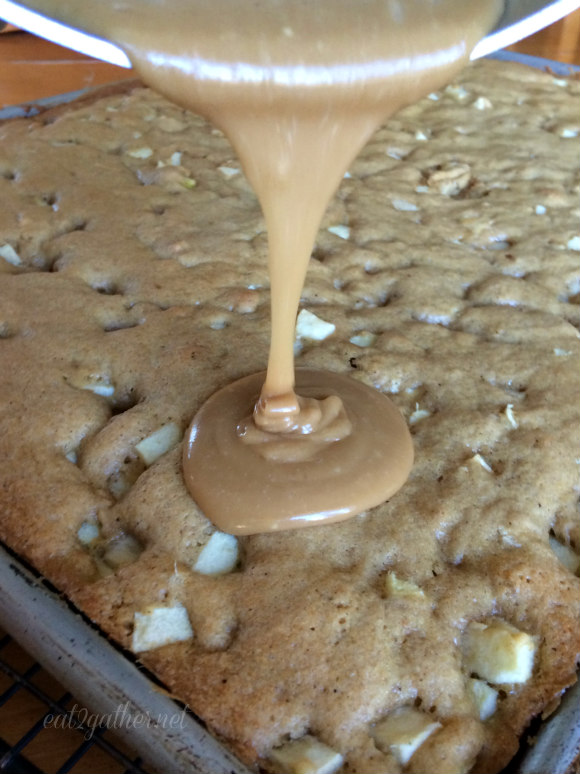 So anywho these bars were intended to be more like cookie bars with apples in them, but they turned out cakey, which is perfectly fine.  So I guess they are more like a bar than a cake.  The caramel frosting is quite literally my favorite frosting, if I had to take a bath in some sort of food stuff I would pick this.  If you're a caramel lover you are going freak out over this glaze frosting icingish stuff.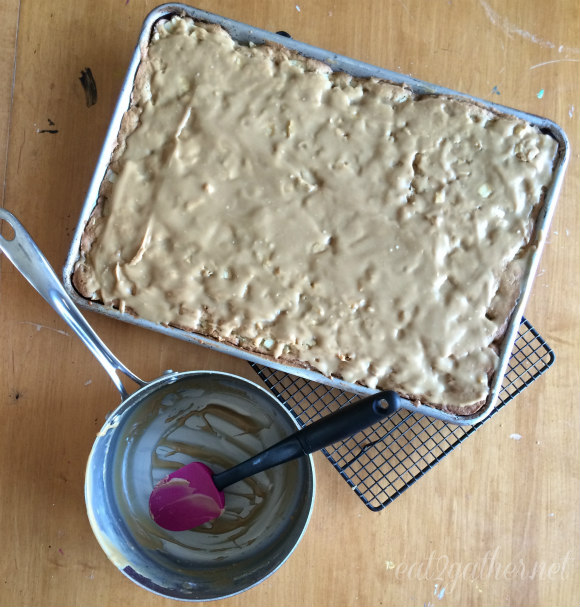 Ok I gots to fly people.  I'm going to plate up these squares for all the lovelies that are making this once in a lifetime 50th birthday adventure possible, pack, and all that jazz.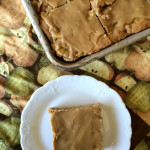 Print Recipe
Caramel Apple Snack Cake
Full of apples, warm spices and covered in rich buttery caramel frosting this snack cake is Fall in a cake.
Equipment
1 12x15 inch sheet cake pan
Instructions
Preheat oven to 350 degrees and grease a 12×15 baking sheet.
Cream together butter, and sugar in mixer, add vanilla, then add eggs one at a time being sure to mix well after each. Scrape down bowl. In a separate bowl combine flour, salt, baking soda, baking powder,and spices. Gradually add flour to butter mixture. Scrape down sides of bowl, add apple pieces, mix until combined. Dollop batter on to baking sheet and spread to edges with spatula, batter will be spread thin and there will be some holes that's OK when bars bake batter will rise and fill in the empty spots.

Bake at 350 degrees for 20 minutes, until just barely brown. Remove from oven. Make Caramel Glaze pour over bars and spread to cover. Let cool. Cut into squares.
Caramel frosting
Melt butter on stove top in a small sauce pan, add brown sugar and whisk until smooth, bring to a low boil, sprinkle in salt, whisk in half and half and then add vanilla, remove from heat and continue to whisk until smooth like caramel. Add powdered sugar and whisk again until smooth pour over warm cake and spread evenly with spatula.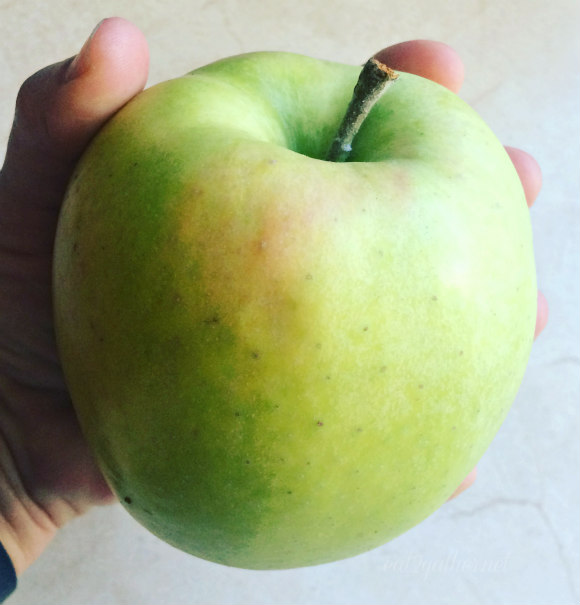 This is a Crispin apple, its crisp, sweet, huge, and tart.  Perfect for baking!
Hey I wanted to share with you a few facts about Michigan Apples.  Did you know that there are more than 9.2 million apple trees in commercial production covering 36,500 acres on 850 family owned farms.  I grew up right near an area called fruit ridge and that's just what it is apple, pear, peach, and cherry trees as far as the eye can see, miles and miles of rolling hills.  The climate is perfect for fruit trees, just far enough from Lake Michigan and the perfect elevation.  I heart this area of Michigan I live in!!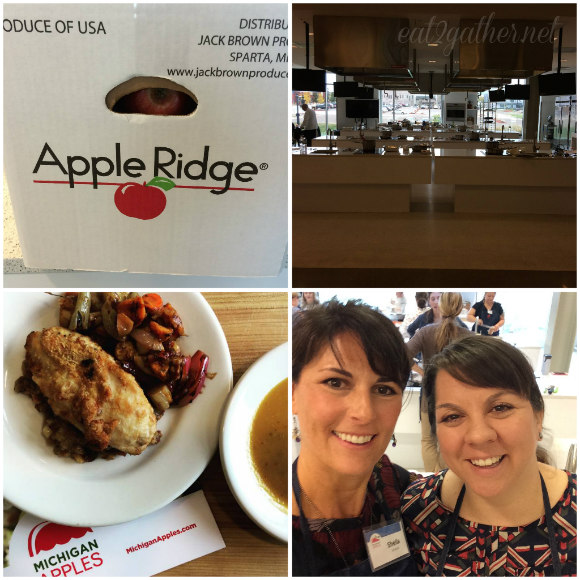 Recently I was lucky enough to spend an afternoon in Grand Rapids Downtown Market kitchens with Michigan Apples and Chef Paul and some other awesome Michigan bloggers (pictured above is my friend Sarah from The Chef Next Door)  we got to cook with apples, eat, learn about Michigan Apple varieties, and nutrition.  It was a blast.  Thanks Michigan Apple! Be sure and look for Michigan Apples in your grocery store, they are the best!!
I hope you enjoy this recipe!
Sheila