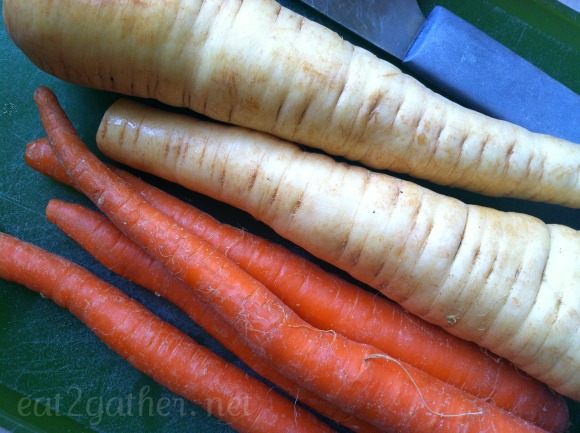 Oh MY G O S H!  Life is crazy lately.  This has been the busiest couple months ever.  How to get dinner on the table and feed my family a healthy non-fast food meal is a huge goal of mine!  A few months back I posted a question on Facebook asking which night of the week was the hardest to get dinner on the table.  By the overwhelming response I came to the conclusion that I am not alone in my Dinner Dilemma!  Every night of the week was mentioned, but Wednesday and Thursday came out on top of my little survey as the hardest for everyone.  Some of you said every night…I would have to say that I am in that party lately!
Because eating together is a priority for our family I have accumulated some quick fix meals and a few slow cooker "goto" meals that I plan on sharing with you every Wednesday for my new series Dinner Dilemma.  I am hoping to get other who have the same passion on board with me, so if you are a blogger and you would like to share one of your go-to recipes here on Eat2gather I would love to have you as a guest blogger!!!   We can't do this alone people we need all the help we can get…at least I do. 
As you can see I was so busy this week I didn't even get my first What's 4 Dinner Wednesday ~ Dinner Dilemma up on time….daggummit it's Thursday already!  So normally Dinner Dilemma will be on Wednesdays…but this week because I had a dilemma it's on Thursday! Ha!  I was thinking of waiting to launch this until the Fall when kids are back in school and things get busy with sports and "everything" , but seriously I think Summer is just as hard if not harder to get my family around the dinner table together, so I said to myself, Self.  No really I said to myself, "why wait?!".
Pork Roast in the crock pot is one of my family's favorites.  Really you can't go wrong with this meal. Here's how to put it together.

Season a 3 pound pork roast generously with season salt, on high heat olive oil in a large skillet, brown roast on all sides and place in slow cooker, pour cream of mushroom soup over pork roast.  Next….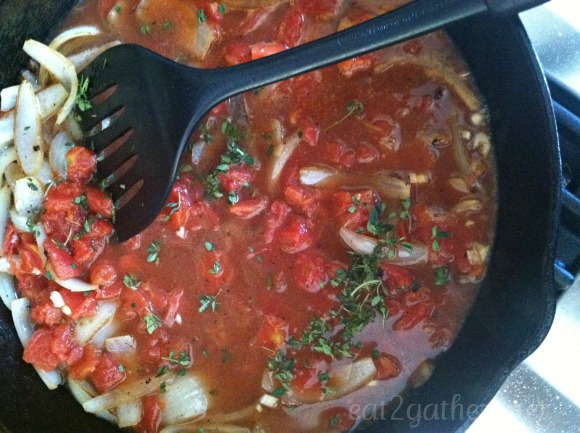 Add 1 sliced onion to pan, scraping up browned bits and allowing onion to soften, then pour in one can of diced tomatoes and 1 cup of  chicken stock add in 1 tablespoon fresh thyme leaves or 1 teaspoon ground thyme, allow to simmer for a few minutes.  While it's simmering you can be preparing your vegetables. Pour mixture over roast.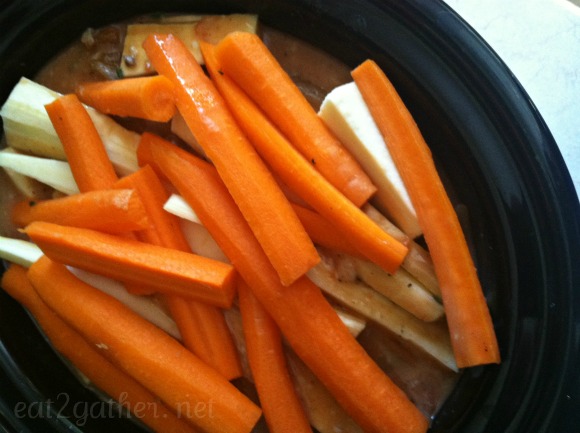 Now place carrots and parsnips on top, cover, and cook on the low setting for 8 hours.  Thirty minutes before you plan to eat (sooner if you are like me and just don't have time and are rushing) make a paste with 1/2 cup of chicken stock and 1/4 cup flour drizzle it in around the edges get your fork in there and stir it in the best you can, cover and allow to cook for another 30 minutes.  There you have it!  you can eat as is or serve over noodles or mashed potatoes.  OH and don't forget to taste the gravy  and add salt and pepper if needed!
Two rules to live by right there people!
1. Taste the gravy.
2. Add spice when needed!
[print_this]
Slow Cooker Pork Roast
serves 6-8
1 3 pound Pork Roast
1 tablespoon Olive Oil
Season Salt
1 medium sweet Onion, sliced
1 can of Diced Tomatoes
1 can Cream of Mushroom Soup
2-3 cups Chicken Stock
1 tablespoon fresh Thyme, (or 1 teaspoon dried ground Thyme)
1 pound Parsnips, peeled and cut into long pieces
1 pound Carrots, baby carrots work or peeled and cut into long pieces
1/4 cup Flour
Salt and Pepper to taste
Heat olive oil in large skillet on high heat, generously season pork roast with season salt, brown on all sides in pan about 5 minutes a side. Remove browned pork roast to slow cooker. Add sliced onions to pan and allow to soften scraping bits from bottom of pan add in can of diced tomatoes and 1 cup chicken stock, and thyme bring to a simmer. Back to the roast pour cream of mushroom soup over roast, now pour onion tomato mixture over that, place parsnip and carrots on top, cover and cook on LOW setting for 8 hours. Thirty minutes before eating, mix flour with a 1/2 cup of chicken stock making a paste, drizzle in to slow cooker using fork stir thickener in as good as possible. Taste add salt and pepper if needed.
Note: I stated 2-3 cups of stock but only mentioned 2 cups in the directions the extra cup is in case roast gets dry and you need to add more liquid, you could also use water in this case. Also you can substitute potatoes for the parsnips, 5 small cut in half,
Serve as is or over noodles or mashed potatoes.
Enjoy!
[/print_this]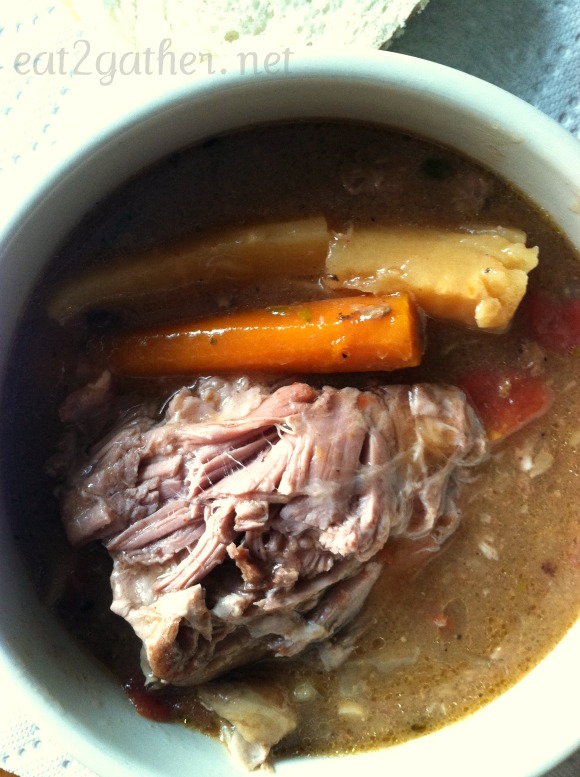 There she is.  Plain and simple in all her glory.  A hearty meal on the table. Insert pat on the back.  Let me just say that even though I strive to feed my family home cooked meals, we don't always have the time to ALL sit down together,  but I will say if there is food that I have prepared for my family waiting for them in the oven, crock pot, or on the stove  they fill their plates they sit down usually with at least one other family member and they are nourished.
I love words so I'm going to bore you right now with the definition of nourish. Nourish = to feed, to care for.  The antonyms of nourish are abandon, deprive, neglect.  OOOo man dems harsh words.
So peeps I'm here to help you nourish your loved ones with quick easy go-to recipes…every Wednesday, and maybe sometimes Thursday!
If you want to contribute to Dinner Dilemma shoot me an email I'd love to have you as a guest blogger or if you don't have a blog and just want to share your ideas in the comments the more the merrier! Yeah!
Bear Hug! Luvya, Sheila