If I could give one DINNER DILEMMA tip it would be this:
Learn to improvise on recipes.
I think most people look at a recipe and see the specific ingredients and say oh I don't have that, er um nope don't have that either.  Take a closer look at the recipe and see how you can make it yours.  I have readers comment all the time telling me how they changed up one of my recipes, or should I say improvised!  I love that.  I am not offended in the least.  I want you to get around the table with your families!  That's my passion, that's my goal…if I can jump start that by giving you an idea of what to make for a meal, well then HOWDY!
If you don't have a certain ingredient, then what is the next best thing.  Can't find El Pato sauce then use enchilada sauce.  Only have whole canned tomatoes, not diced then use the whole and mash them up.  Don't have a certain spice, well use another one of your favorite spices.  For example: no rosemary, use thyme.  No tarragon, use dill or cilantro.  No cumin use some chili powder.  Don't have any saffron or it's too expensive use turmeric. You get what I'm sayin'?
I want you to learn to trust your cooking, taste it, fiddle with it, and for God sakes always add salt!!
I understand, not all of you love food and cooking like I do.  It's not your thing.  Eating is just what you do to stay alive. You eat to live. WHO ARE YOU PEOPLE? Just kidding. Well not really.  Who. Are. You. People.  I live to eat! I love to eat.  I know…some of you are my very bestest friends.  You know I love you.  I wish I had time to cook for you.  But I don't.  So I'm hoping you read this and learn…..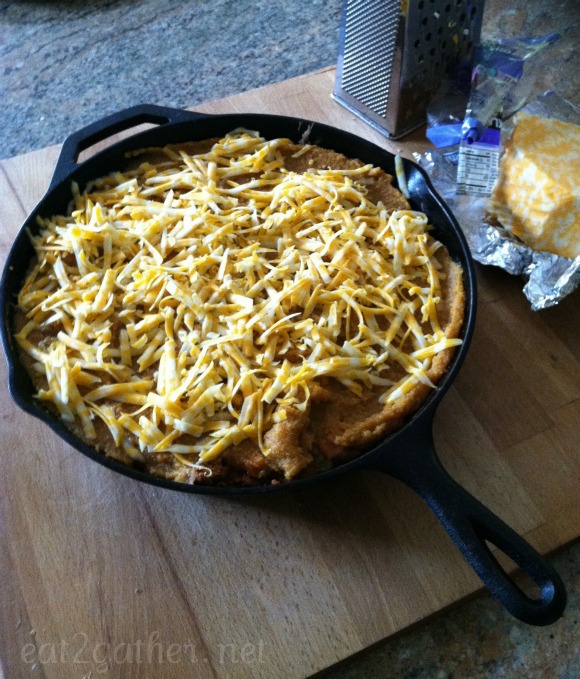 I'm going to give you a super duper, easy peasy recipe to start with.  You can build on it, or leave it as is.  I hope you love Mexican food like I do.  Tamale Pie makes regular appearance at our dinner table. The original recipe is from Pam Anderson's (not that Pam Anderson!) cookbook Perfect One-Dish Dinners.  I've made it so many times that I don't even look at the book anymore I just sort of toss it together.  It's always good, and filling, and my family loves it.  Score!
Here's what you need:
Filling
1 pound of ground meat (This can be beef, chicken, turkey, pork, emu, camel…get what I'm saying any meat. If you like the meat you'll like the end product. Use what you have on hand.)
1 16 ounce can of beans (Any beans. Black, Northern, Pinto. Or if you make your own beans 1 pound of cooked beans. You could even use a can of refried beans.)
1 16 ounce jar of salsa (Any salsa will do use what you have. 16 ounces = 2 cups)
1 cup shredded cheese (What ever you have. I have used sharp cheddar, Monterey Jack, Colby, Colby Jack, plain old cheddar, white cheddar….)
Tamale topping
1 cup yellow corn meal
3 cups of water
salt
1 tablespoon chili powder, if you have it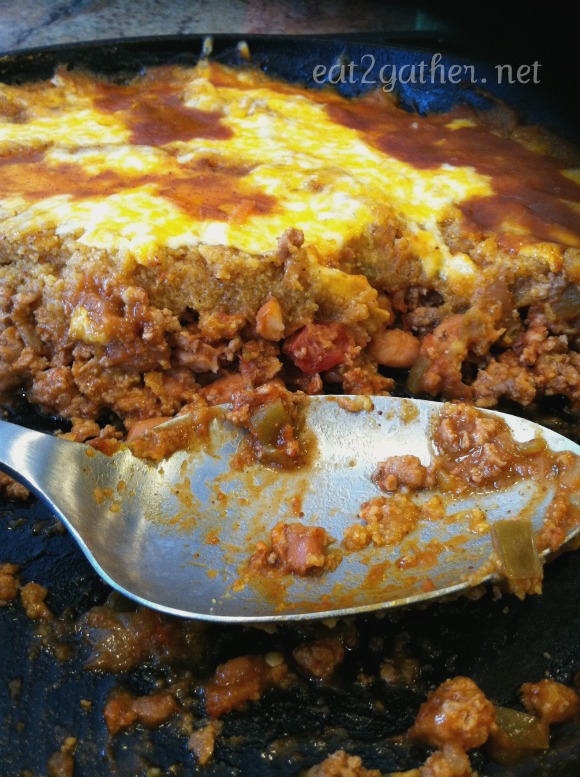 That's it!  Five ingredients.
Now of course you can get fancy by adding garlic, onions, and peppers while browning the meat. Seasoning the meat with some cumin, and some more chili powder, or oregano.  Sprinkling the finished dish with chopped fresh cilantro, and serving with a side of guacamole, sour cream, and pica de gallo.
Just so you know we have eaten this dish simple with no bells and whistles and on nights when I have more time and the extra ingredients we have made it a Mexican feast.  Do what works for you.  This right here is easily a 30 minute meal or less start to table time.
I hesitate to give you a printable because I don't want it to be a crutch for you, but I realize it may take you a few times of making this before it becomes second nature for you.  So here are a few step-by-step photos and a printable to get you started.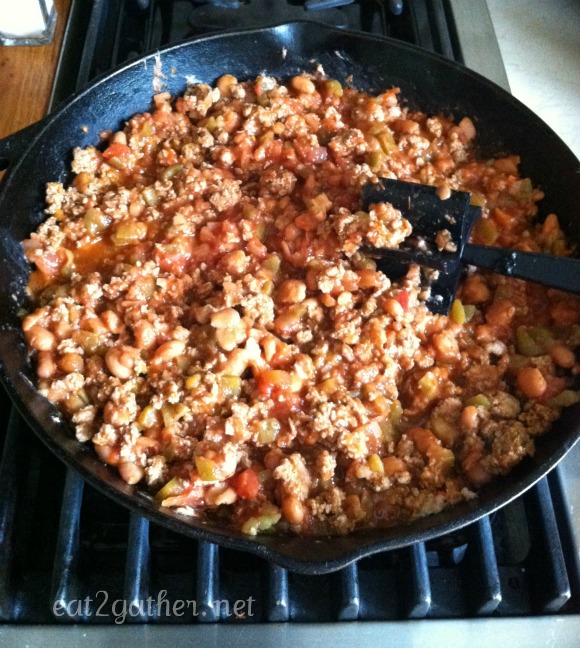 Brown one pound of ground meat, add in a can of beans (I usually drain and rinse mine, but you don't have to for this recipe.), add 16 ounce jar of salsa.  Use your favorite, I have used salsa verde for this too! Let these ingredients simmer for about 5 minutes.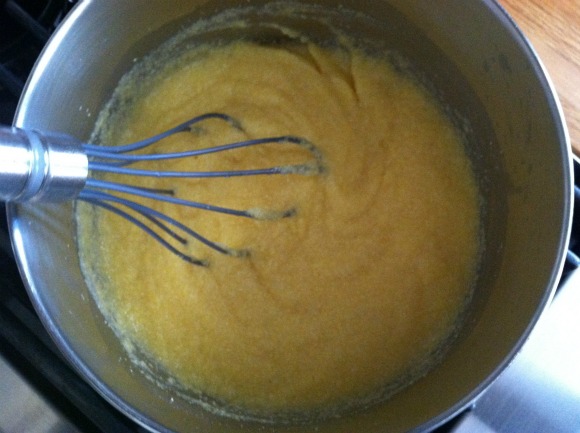 While your meat is simmering, bring 3 cups of salted water to a boil whisk in 1 cup of yellow corn meal.  Cook until thick, if you like add in 1-3 teaspoons of chili powder to corn meal mixture.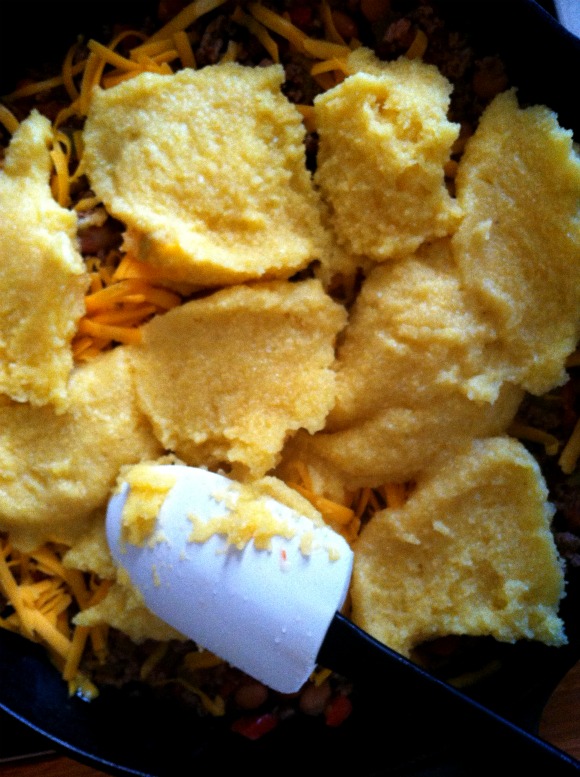 Spoon cornmeal over meat mixture. As you can see I put cheese underneath my cornmeal topping, this is how I made it my own.  We love cheese so I add it under the corn meal as well as at the end 😉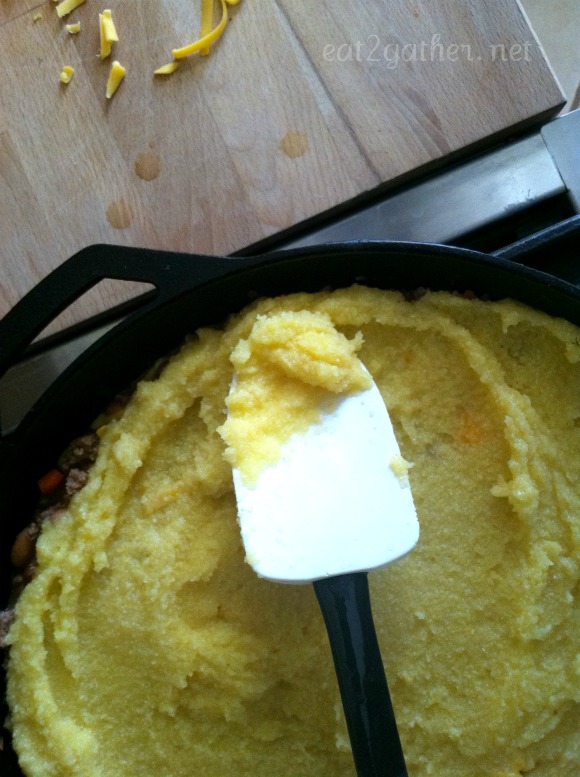 Smooth cornmeal over top of meat.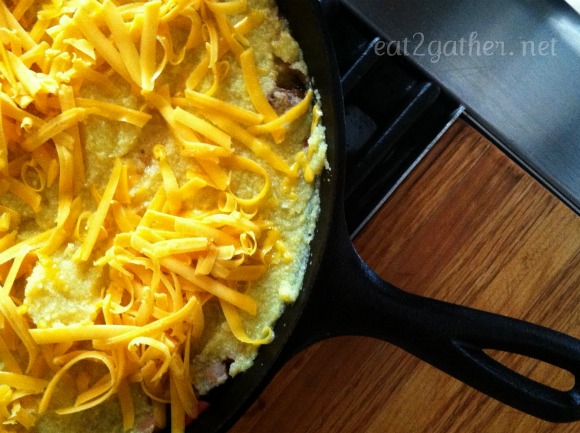 Sprinkle with one cup of cheese, and bake in a preheated 375 degree oven for 15 minutes or until cheese is bubbly and cornmeal begins to get a crust.  If you do not have an oven safe pan then you can transfer the meat to a casserole dish, cover with cornmeal, and cheese and bake it in the casserole.  Hopefully you have an oven safe pan because this eliminates dirtying another dish.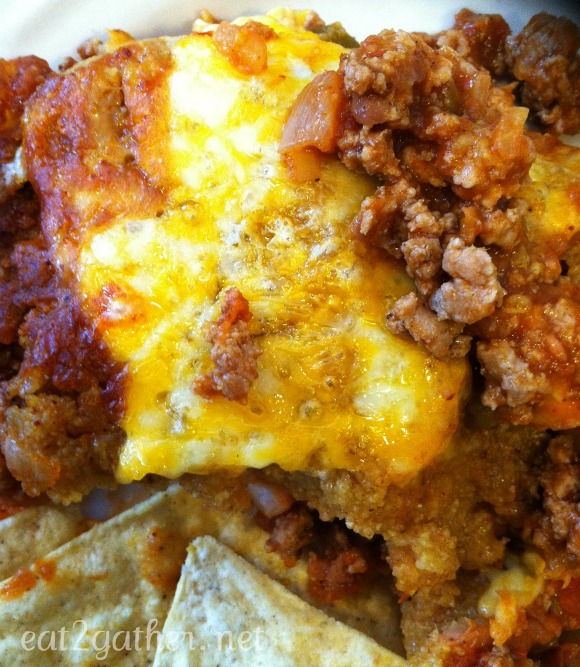 There you have it.  Dinner Dilemma solved.  We love to use tortilla chips as eating utensils for this casserole!  Who needs a fork, just scoop it right on the chip.  Mmmm so good!
[print_this]
Tamale Pie
serves 6
1 pound Ground Meat (beef, chicken, turkey)
1 16 ounce can Bean (black, pinto, refried, great northern)
1 16 ounce jar Salsa (use whatever is your favorite, we like Pace)
1 cup of shredded Cheese, or more if you are a cheese lover
1 cup Yellow Corn Meal
3 cups Water
1-3 teaspoons Chili Powder
Brown meat in an oven proof skillet, drain off any excess grease, add in beans and salsa, let simmer. In a sauce pan boil 3 cups of water whisk in 1 cup of yellow corn meal stir until thick add in chili powder. Spoon cornmeal mixture over meat, sprinkle with cheese, bake in a 375 degree oven for 15 minutes or until cheese is bubbly and cornmeal is begins to get a nice crust.
Note: Extras that can be added and are good would be a can of green chili's, bell pepper diced, green pepper diced, onion, jalapeno pepper minced, can of sliced black olives. I'm sure there are more.
This meal is also easy to make ahead, as in earlier in the day, or even the day before (keeping it in the refrigerator) and then bake when ready.  The bake time will be longer if the casserole is cold I would allow 30 minutes for baking if you've made ahead.
Enjoy!
[/print_this]
I hope this helps you get an idea of how you can start to improvise with recipes to get dinner on the table.  If you have any advise or tricks I'd love to hear it!! Leave your 2cents below.  I would also love to have you as a guest blogger, if you have a recipe that is a go-to for busting the dinner dilemma blues, I would love to feature you!
Stay cool! It's a scorcher out there.
xoxox, Sheila