I wanted to title this Quick and Easy Homemade Mac-n-Cheesy, but I was afraid it might mess up my rise to the top of the mac-n-cheese google search.  Ahah ahaha that was sort of an inside joke.  Sorry.   All kidding aside this mac-n-cheese is quick and easy and really cheesy.  I came across it on Rebecca Crumps site Ezra Pound Cake, last fall and have been making it ever since.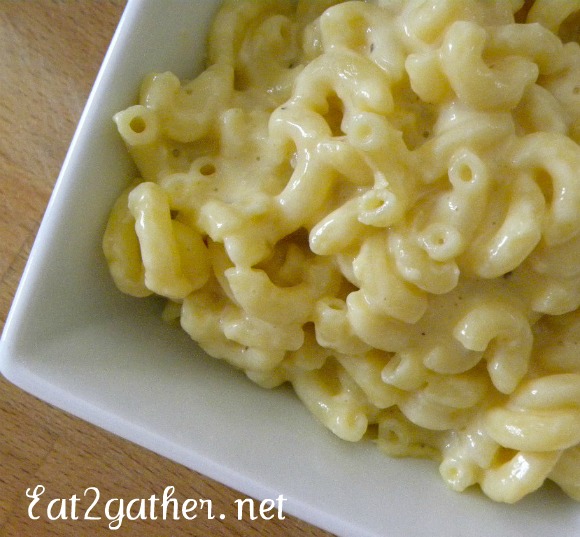 I love that, like the kid favorite box version, this too can be made on the stove top.  However, unlike the boxed version, I know exactly what's in this mac-n-cheese. No intensely orange powders are involved. After making this a few times I've made only one adjustment to suit my family.  All in all this stovetop mac-n-cheese screams comfort food!
Here's how easy it is!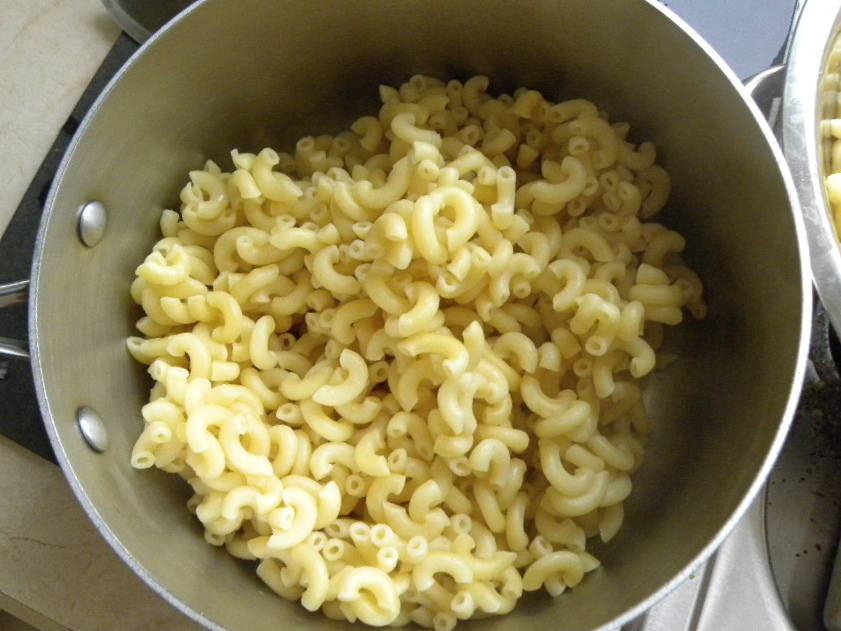 Boil 1/2 pound Elbow Macaroni. (approximately 2 cups dry noodles).  Drain and return to pan.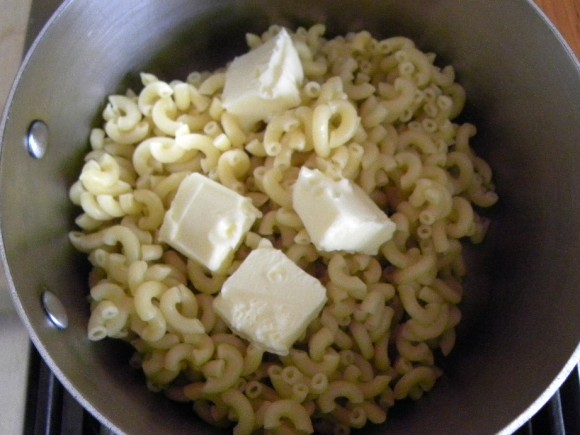 Add 4 tablespoons of Butter, stir around until melted into noodles.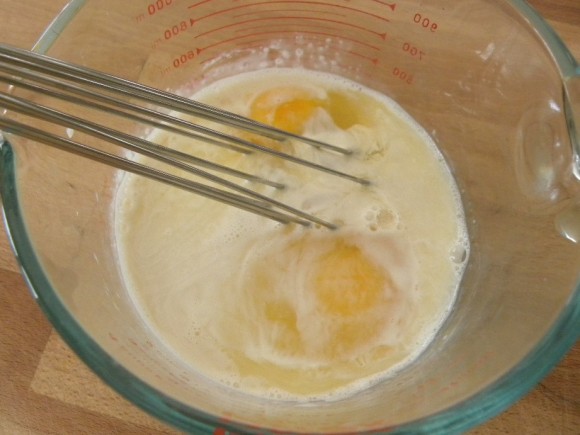 Whisk together 2 eggs and 1 cup Evaporated Milk (Any milk can be used really, but evaporated or whole milk makes it creamier.)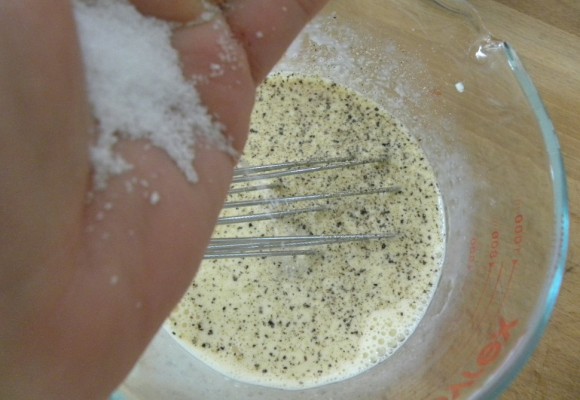 Add Salt and Pepper to taste.  Here is where I deveated from the original recipe, which called for dry mustard, my kiddos said, "NO way Jose!".  So after the first time I left it out, and they have been happy campers every since!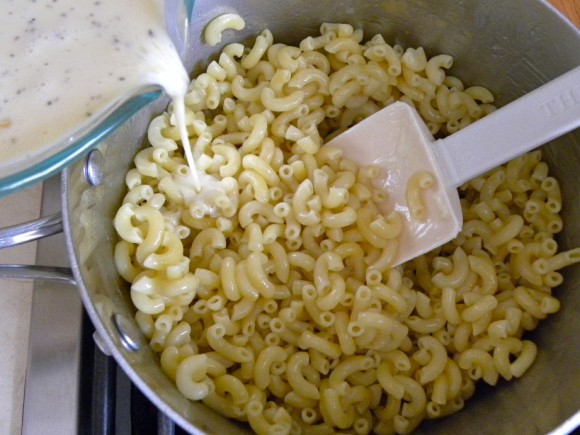 Turn stove top back on medium-low, pour egg/milk mixture in with noodles, and stir.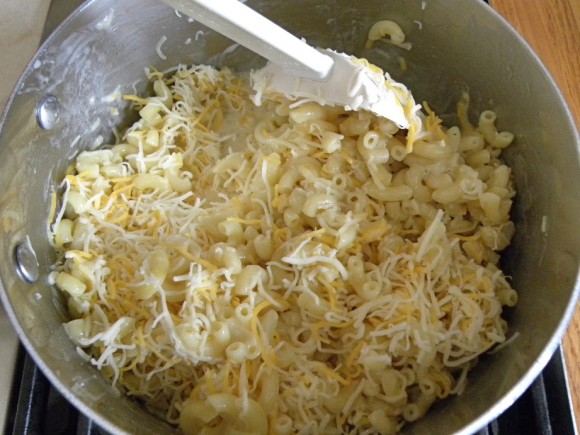 Stir in 2 cups shredded Cheese, your choice.  This particular day I happen to use a Mexican blend, usually I shred my own mild cheddar.  Continue to stir until cheese is melted and starts to bubble.
That's it!  Yumma lumma ding dong!
[print_this]
Stovetop Mac-n-Cheese
adapted from Ezrapoundcake.com
1/2 pound Elbow Macaroni (2 cups)
4 tablespoons Butter
2 Eggs
1 cup Evaporated Milk
salt and pepper to taste
2 cups shredded Cheese, your choice
Boil noodles and drain, add butter until melted. Whisk together eggs and milk, add salt and pepper to taste. Return pan to medium low burner, pour in milk/egg mixture, add cheese, continue to stir until cheese is melted and mixture is bubbly.
Enjoy!
[/print_this]
Just in case you forgot how creamy and cheesy and mouthwateringly comforting this looks, here it is again.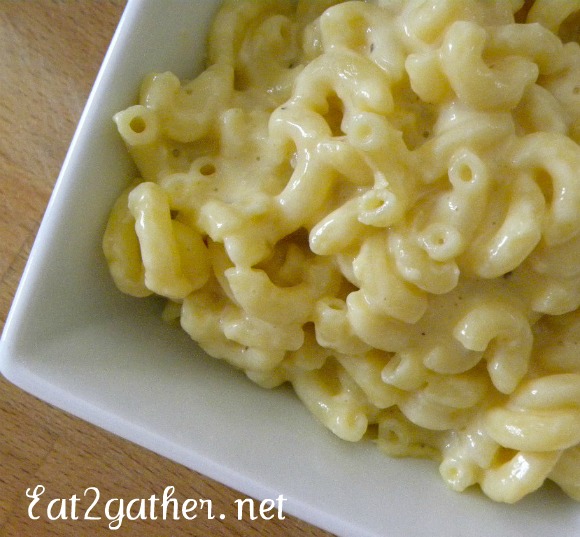 Enjoy!
Sheila