I really have no words for these cookies.  They are so amazing.  Chewy, sweet, salty, full of good for you ingredients, like dates, and dried cherries, and granola, every bite is a surprise!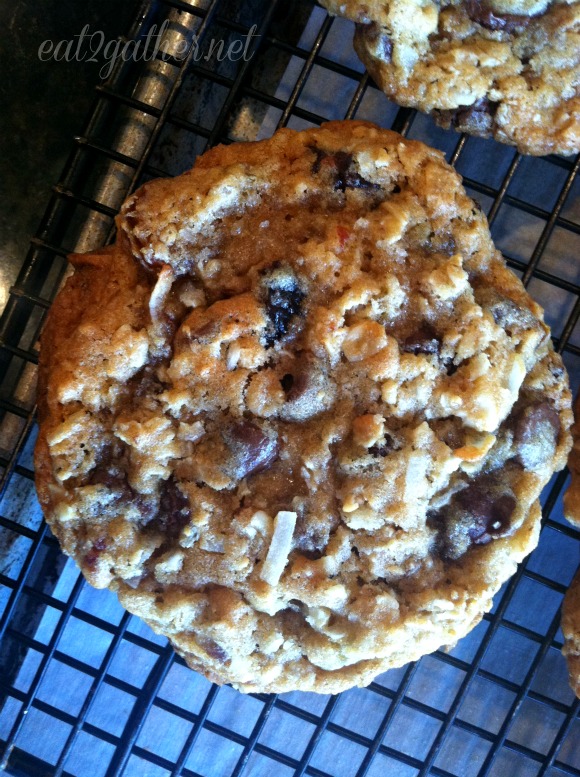 My favorite cookie in all of Grand Rapids is from a surprisingly little known vegan/vegetarian restaurant.  The Gaia House has been around forever (25 years?) and they make the most amazing cookies that I have ever tasted anywhere! (And believe me I have had more than my share of cookies around the world.)  There is really no duplicating them but these come pretty darn close.  Thanks to Shauna Niequist for also loving these cookies and making her own version of them and sharing the recipe in her book Bread & Wine.  I subsequently had to tweak them and made them somewhat my own, they are now a favorite of my families, my husbands partners, and office staff, and really anyone who ever partakes of them!  I have made these cookies so many times I barely even look at the recipe anymore.  Maybe I should have re-named them Damn Good Cookies!!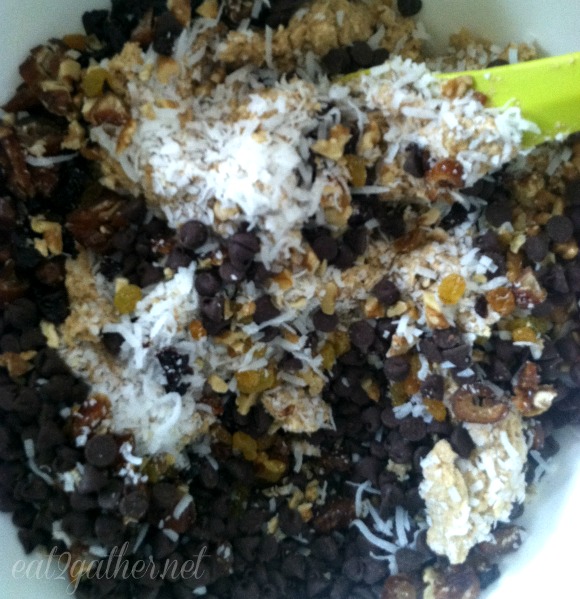 I think I make them so often because I feel like they are healthier for my kids than just your basic chocolate chip cookie.  As you can see they are chocked full of goodies!  My kids love them…they "call them".   Do you know what "calling" is?  If not, I'll try to explain.  If there is something yummy at our house, and there are only a few of whatever it is that's yummy left, the kids "call it", it's like putting your name on it, your claim to it; and let me tell you if someone has claimed one of these cookies and someone else eats it….you better be sure there will be somthin' goin down round hee-ah!  And it won't be purdy.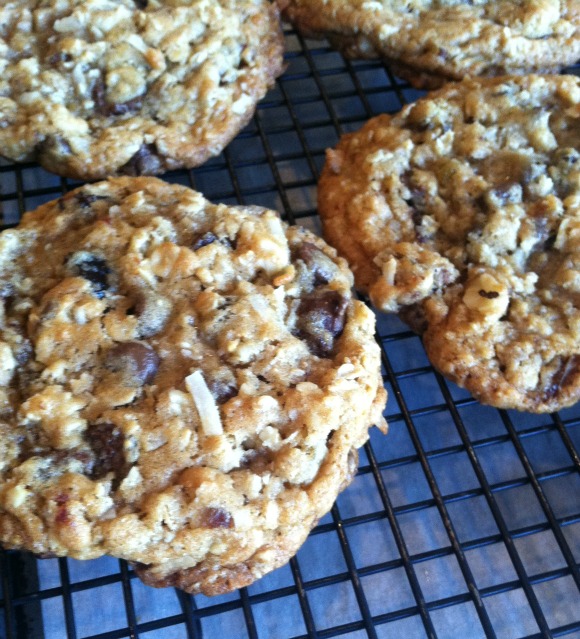 The ingredient list is long, but believe me these cookies are worth every penny!  I do have to tell you that if you are thinking about leaving the dates out of these cookies….THINK AGAIN!  The dates make these cookies rich and chewy.  They really are what sets them apart from any other cookie!
[print_this]
Chocolate Chips Dump Cookies
I am renaming these cookies dump cookies because I dump whatever I have good in them, if I don't have granola I use oats.  Walnuts or pecans can be interchangeable.  Don't have dried cherries then just use raisins or cranberries but all of them together are best!  This recipe is adapted from the recipe for Gaia Cookies in Shauna Niequists book Bread & Wine. 
 2 sticks Butter
1 1/2 cups Brown Sugar
2 Eggs
1 tablespoon Vanilla
1 1/2 cups Whole Wheat White Flour
1 1/2 cups Granola or Oats (use your favorite granola any type works)
1 teaspoon Baking Powder
1 teaspoon Baking Soda
1 teaspoon Salt
1 cup Coconut
1 cup chopped Pecans or Walnuts
2 cups Chocolate Chips
1 heaping cup chopped Dates
1 cup Raisins, dried Cherries, or Cranberries or any combination
Preheat oven to 350 degrees.
1. Cream together butter and brown sugar. Add eggs in one at a time and cream ingredients together well, then add vanilla.
2. In a separate bowl combine dry ingredients: flour, granola, baking powder, baking soda, and salt. Gradually add dry ingredients to butter mixture, when dry ingredients are fully incorporated then add in coconut, nuts, dates chocolate chips, raisins, cherries, and cranberries. Mix until combined.
3. I use a large cookie scoop to form my dough into large balls, approximately 1 1/2-2 inches in diameter. I make all my dough balls at one time and place them on a parchment lined baking sheet, then I put the baking sheet in the freezer, after 5 minutes you can remove the cookie dough and place it on another parchment lined sheet and bake for 14 minutes. If cookies appear to be not quite done, that's ok remove and allow to cool on the cookie sheet they will continue to bake with out getting over done, then remove to cooling rack.  Repeat with the rest of the cookie dough.
This recipe makes 12-20 cookies depending how large you make them.
Enjoy!
[/print_this]
What goodies do you make that your family fights over?
Hope your week is off to a good start!
XOX, Sheila