School started today!  Holy cow!  Where did the summer go?  I say this every year, but this summer really did fly by.  So much good stuff, great memories, fun times!  Now it's back to business as usual.  Back to schedules, homework, sports,  a regular bedtime, and most importantly eating regular healthy meals!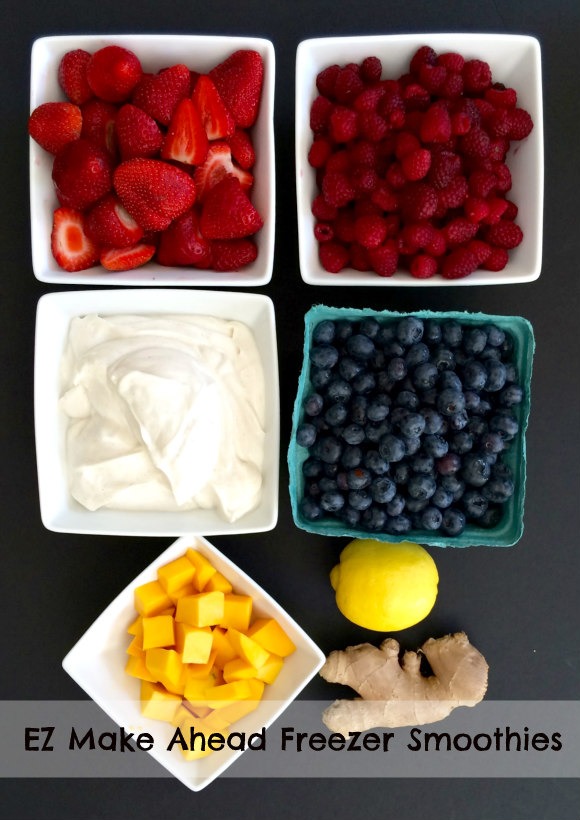 We all know what the most important meal of the day is! Breakfast.  Although, make ahead smoothies can be the perfect after school snacks as well; my Ainslie loves to quick whip up a smoothie after she gets home from volleyball practice.  Freezer smoothies makes it so much easier for my kids to make themselves a quick healthy breakfast or after school treat!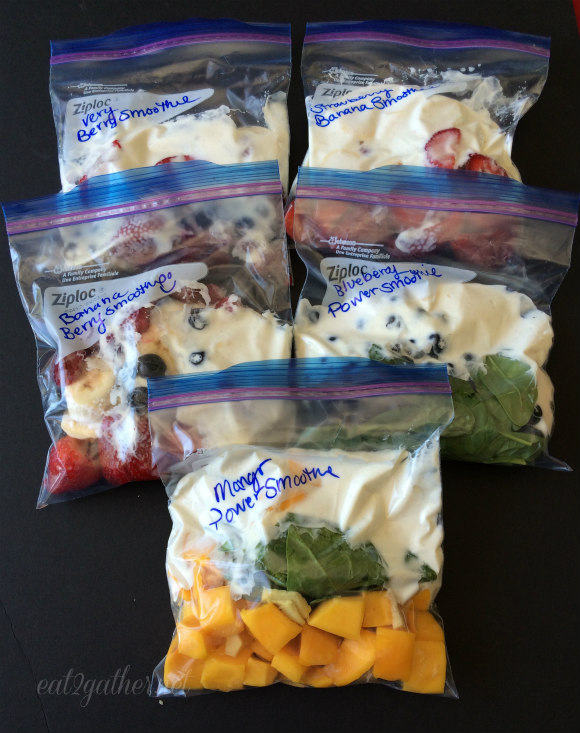 We love smoothies, but I have to admit, I do not love making them.  I am not a morning person, so the less I have to think in the morning the better, by having all the ingredients bagged up and in the freezer ahead of time,  the only decision I need to make is which flavor smoothie I want!  I just need to open my freezer grab a bag, add some milk, blend, and Voila!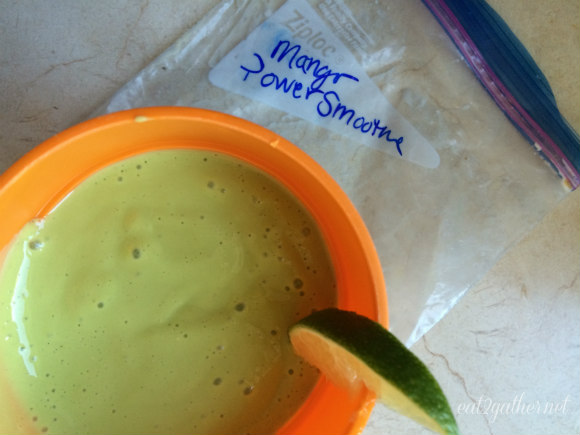 The recipe below is a basic guideline for the typical smoothie that we make in our home, I'm sure there are so many more combinations that you could come up with and keep on hand in your freezer for a quick vitamin and protein packed breakfast!  Honestly the sky is the limit with this one!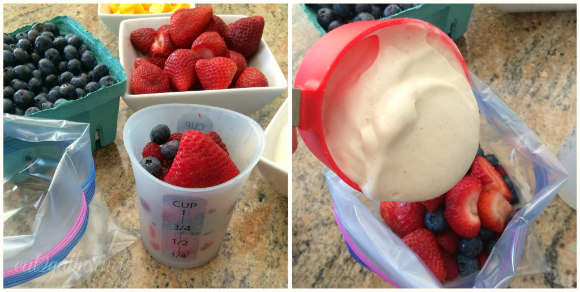 Decide what you want in your smoothie, label the bag before placing ingredients in bag.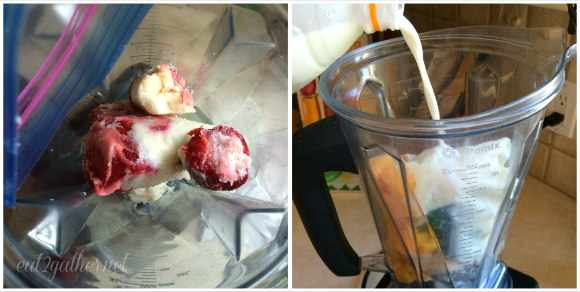 When your ready to make yourself a smoothie, empty contents of bag into blender, add milk and blend.  If you prefer your smoothies thinner take the bag out of freezer and place bag in a warm bowl of water for 10 minutes before placing in blender.  I usually just dump mine in my blender straight from the freezer, but I like my smoothies cold and thick.  I always use cows milk in my smoothies because it is high in the protein and nutrients for strong muscles and to give you the energy you need to get through your day!
To learn more about why cows milk is best visit the United Dairy Industry of Michigans website MilkMeansMore.org
[print_this]
Easy Make Ahead Freezer Smoothies
Serves 1; make as many as you like
Serving size: 2 cups
Prep time: 10 minutes
Blend time: 3 minutes or until smooth
Ingredients:
1 cup Fruit
1/2 cup Yogurt
1/2 cup Spinach (optional)
1 tablespoon Honey
1 tablespoon Lemon Juice
1/3 cup Milk
optional add ins = wheat germ, flax seed, protein powder, fresh ginger, banana, nut butter, coco powder, cinnamon,
Instructions:
Add first five ingredients, in no specific order, to quart sized freezer bags. Remove as much air as possible. Freeze.
Blending Smoothie: Remove frozen smoothie ingredients into blender add milk. Blend until smooth. If you like your smoothie less frozen, take out of freezer and place bag in a warm bowl of water for 10 minutes before blending.
Enjoy!
[/print_this]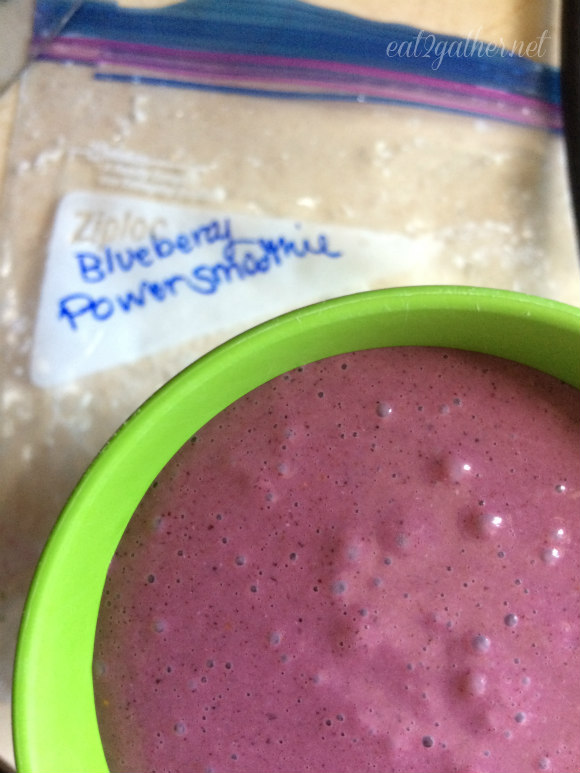 As I sit here and reflect on the past few weeks, sending Noah off to college and preparing for the regular school year to start again for the younger three, Ken turning 50…me getting closer to 50, many things come to mind.  Mostly how thankful I am.  Thankful for our health, safety, freedoms, family, friends, church, food in our bellies, eyes to see, ears to hear, arms to hug, people to hug, all the resources available to my family.  All of my basic needs are met everyday, most of the world cannot say this.  I'm the minority.   There are so many people who work behind the scenes, of my life, to make my easy life happen.  I pray that as I go through each day I wouldn't take one person for granted; grocery clerks, public servants, my pastor, physicians, mail deliverers, teachers, mechanics/handymen, technicians, scientists, and farmers.  Let us not forget our farmers and the many farm families that work so hard everyday to bring healthy foods and dairy products to our tables.  Dang imagine if every farmer was yanked from the earth??!! We'd be in a heap of trouble…and super hangry.
I'm pretty confident that won't happen…another thing to be thankful for!
What are you thankful for today?
I'm also thankful for you!
Sheila
Disclaimer: And while were at it I'm also thankful for my partnership with United Dairy Industry of Michigan!  Because of these great partnerships E2g is able to bring you and your family around the table to enjoy great food!  As always all opinion and ideas are 100% my own.