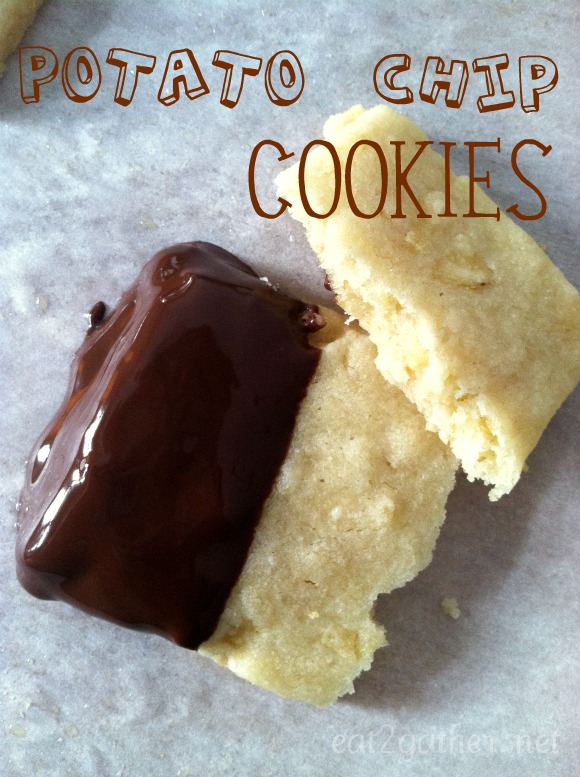 Growing up nothing went to waste I swear my mom could make Beef Bourguignon out of thin air.  Because we didn't have many extras when we did, such as potato chips, every last morsel was used.  Which meant potato chip cookies!  We were doing sweet and salty before it was in people! Now sometimes my mom would just throw the last crumbs of potato chips in with chocolate chip cookies and this was my favorite.
This recipe isn't my moms original Potato Chip Cookie recipe,  it's a play on my moms chocolate chip cookie version.   I'm telling you these cookies are dangerous and easy…and eggless.  If you happen to be one of those bakers like myself that runs out of eggs in the middle of recipes…or maybe you can't eat eggs, well then this cookie is for you my friend. ; )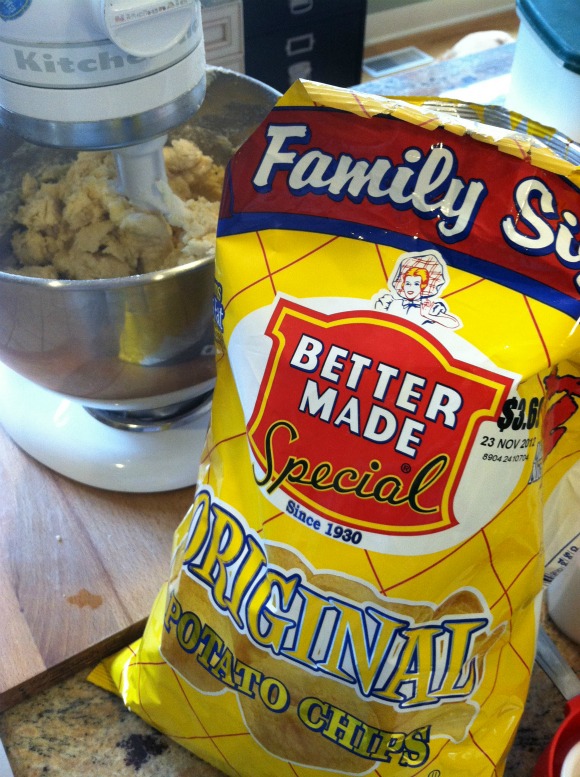 You need the good old fashioned potato chips, not the baked variety which I happen to love, but won't work in this recipe.   Combine the shortbread ingredients and at the very end throw in 2 cups of crushed potato chips.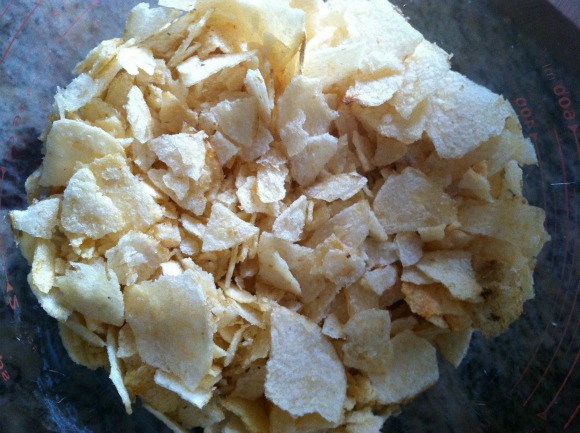 Tater chips oh how I love thee.

This dough comes together quickly and easily.  You can do drop cookies or you can roll out and cut into squares.  Can you see the wonderful crunchy flecks of chip in the dough?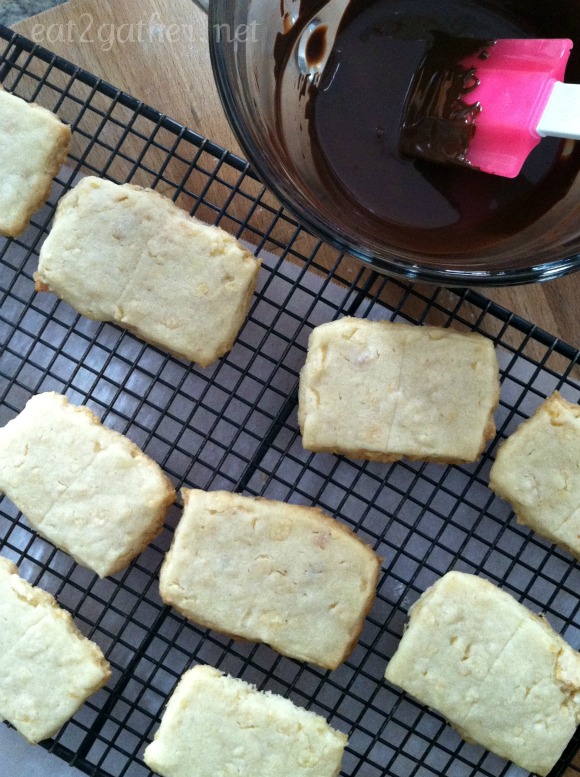 After baking remove to a cooling rack, and melt chocolate in microwave.  I used Hersheys special dark chocolate chips, but you can use regular ol' chocolate chips they work perfect too!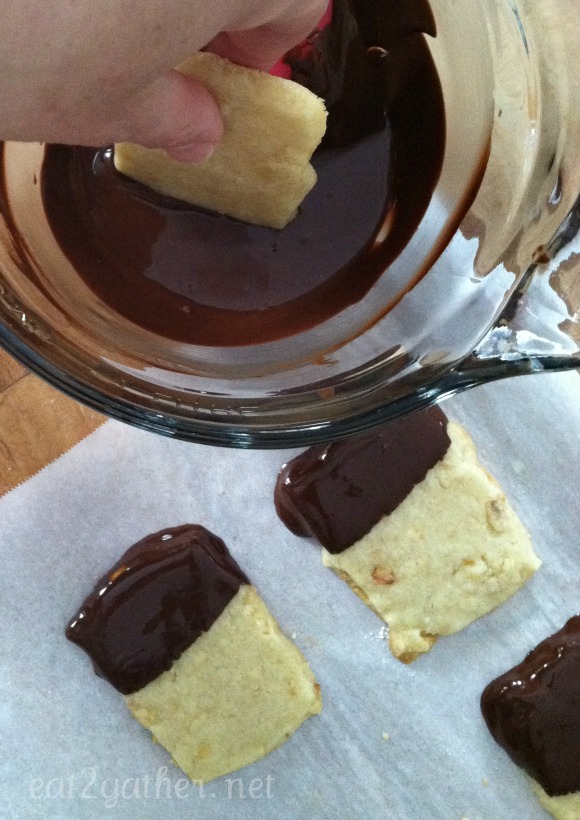 Once the cookies are completely cooled, dip one end in the melted chocolate, and lay on parchment paper until chocolate sets up.  That's it.  They look fancy, but they are really easy, and addicting!
[print_this]
Potato Chip Shortbread Cookies
24-30 cookies
1 1/2 sticks Butter, room temperature
1 cup granulated Sugar
1 teaspoon Vanilla
3 1/2 cups all-purpose Flour
2 cups crushed Potato Chips
2 cups Semi Sweet Chocolate Chips
Preheat oven to 350 degrees.
Cream butter and sugar together. Add vanilla. Gradually add flour to butter mixture, dough may seem dry keep mixing it will come together. When all of the flour is incorporated add the crushed potato chips and give your mixture a couple turns. Turn cookie dough out on to a lightly flour surface, using your hands to bring dough together if it seems crumbly. Roll out into a rectangle and cut into 1 1/2 by 2 inch rectangles or what ever shape you wish. Transfer to parchment lined baking sheet. Bake for 15 minutes at 350 degrees, or until just slightly browning around the edges. Let cookies rest on sheet for a few minutes before removing to cooking rack.
Melt chocolate: place chips in a microwave safe bowl microwave at 1 minute intervals stirring in between until chips are melted and smooth.
When cookies are completely cooled dip in chocolate. Return to parchment paper until chocolate sets, about 30 minutes. Shortbread cookies can be delicate so be careful when dipping them not to break them off in the chocolate.
[/print_this]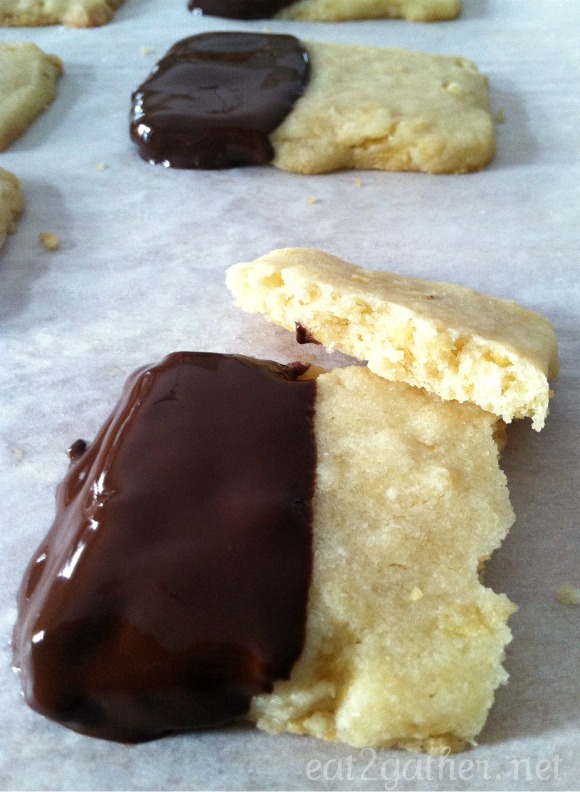 Oh my gosh!  I'm so HUNGRY!  I want one (or 12) of these cookies now!  I went off my diet while we were on vacation…now I feel like I'm starving to death.  It's worse than before.  OMG what's my problem?!  Hoping tomorrow is better.  I think I best not post anymore baked good posts for at least a week, until my body had regulated it self back to the land of minimal fat, sugar and only 1200 calories.  Hep meh.  Me want KOOKIE!
Signed,  Hungry in the Mitten