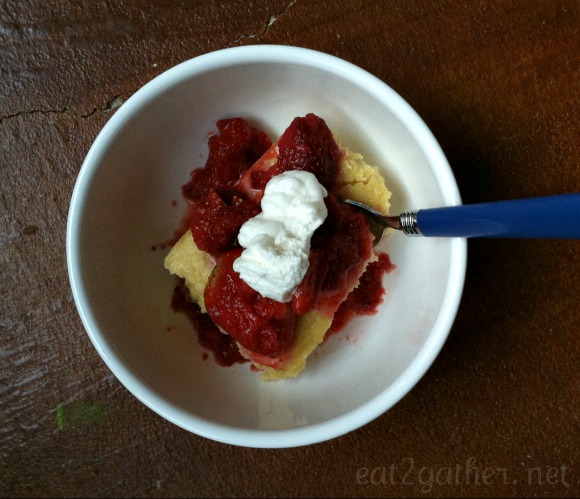 Strawberries are my thing. I love them. If I could only eat one fruit for the rest of my life it would be with out hesitation strawberries. Strawberry season is finally here! I missed it last year because of a vacation that fell right during the two week strawberry season window. Poor planning on my part.
So this year we were strawberry poor. There was nary a berry in our freezer and the jam ran out around November. Devastating.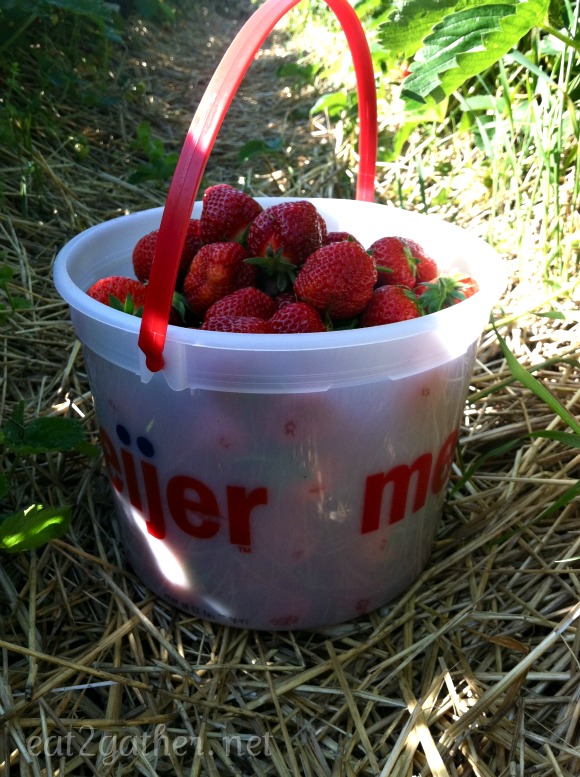 This year I'm home. I vowed never to travel during strawberry season again! We will be eating strawberries for every meal. My kids will have the scent of strawberry seeping from their pours.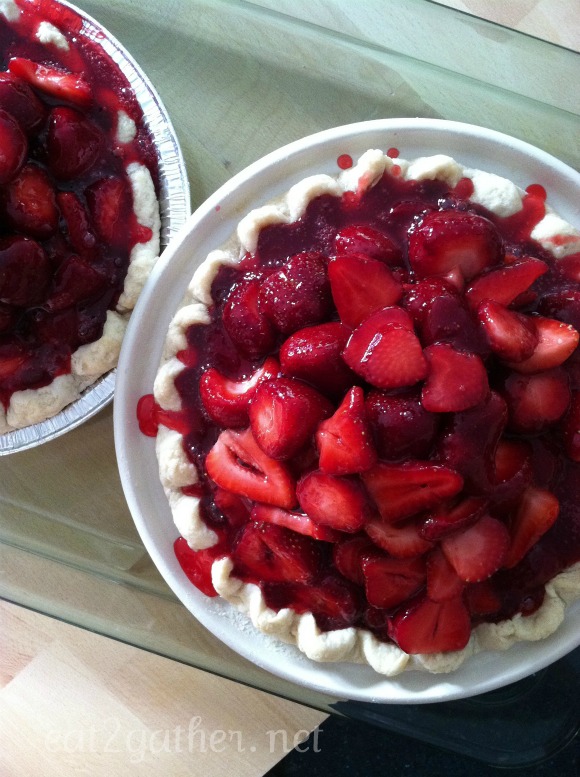 My dear father brought a flat of strawberries to my home Saturday, with the request that I make him a fresh strawberry pie to take home with him.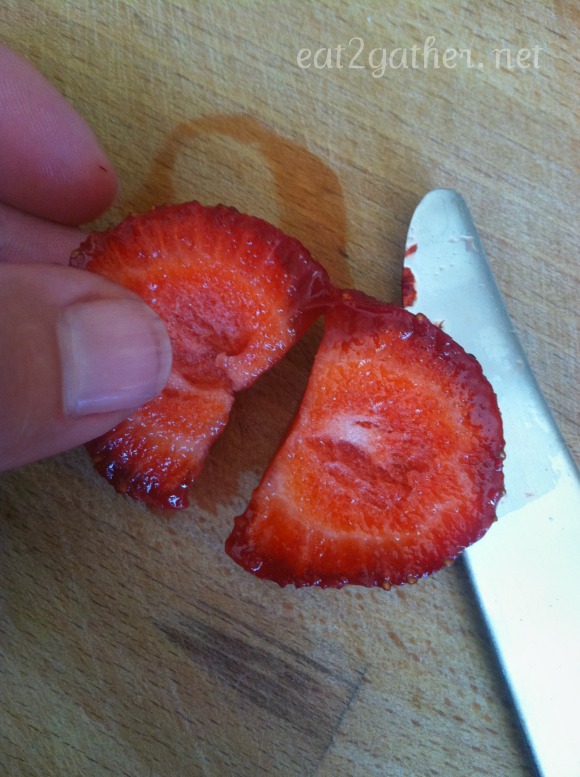 The berries where perfect. Red all the way through. Not white when you cut them open, but deep blood red. Staining my fingernails beyond cleaning.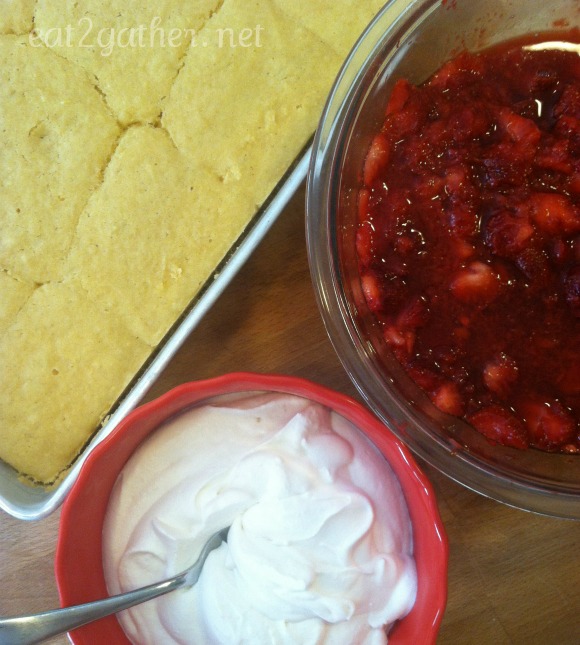 When I was a kid we had our own strawberry patch, as well as an enormous garden. It's what fed us. It fed us in the summer and the whole year through. I can remember having straight up strawberry shortcake for dinner. My mom always served it over biscuits that were just a touch sweeter than her everyday dinner biscuits.  Smashed strawberries over warm buttery sweet biscuits.  The perfect dinner if you ask me!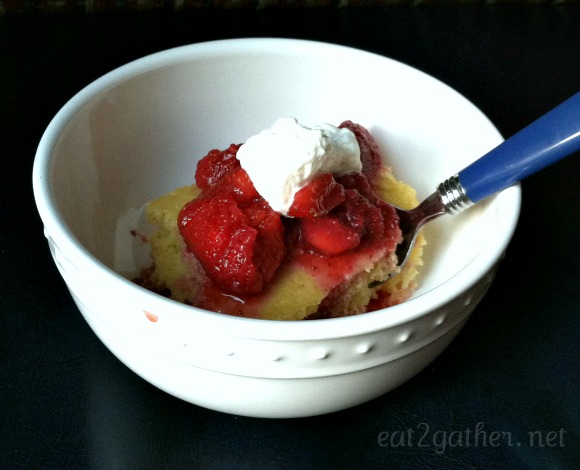 A few months back I ordered strawberry shortcake for dessert in restaurant it was good, but I thought it was a bit dry or the ratio of strawberries to cake was off….I'm not sure which, but it wasn't perfect.   The biscuit/cake that the strawberries were served over was some sort of a corn cake.  I loved the idea of using corn bread as short cake, so I set out to perfect it, to make it right.   Plus I have some corn bread lovers in my house, so I knew if I got this right it would be a crowd pleaser.
It took a few times and the decision to use whole grain corn flour instead of corn meal, but I finally nailed it!  I actually like it better than the traditional short cake I grew up with.  My oldest daughter is the only one hanging on to tradition in this house, everyone else has abandoned the tradition ship for warm buttery, moist corn cake with smashed strawberries with me.
Bon Voyage.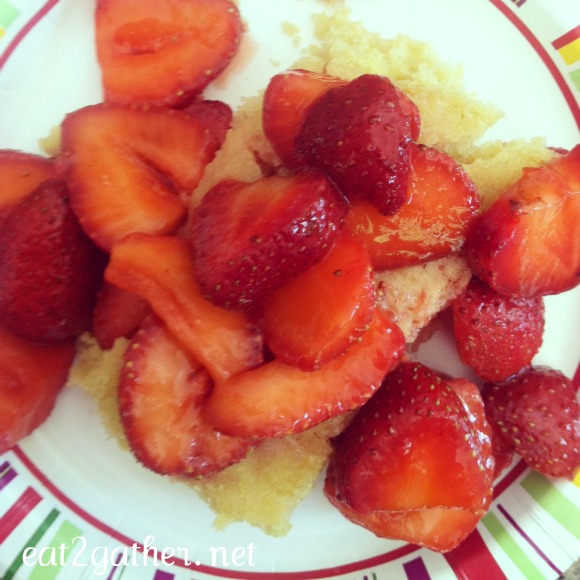 Oh my goodness I can hardly write about it with out heading out to the kitchen and making my self a big ol' bowl of it. It's calling my name!  I'm going….. excuse me for just a minute…….
So darn good! I warmed up the leftover cake in the microwave and spooned the berries over top…..heavenly.
[print_this]
Corn Cake (aka shortcake) with smashed strawberries
serves 8-12 depending on how you cut it
1 stick Butter + 1 tablespoon for greasing the pan
1 cup Sugar
1/2 cup Sour Cream or plain Yogurt
1 1/2 cup Whole Wheat White Flour (I prefer King Arthur, all purpose works too)
1 1/2 cup Whole Grain Corn Flour
1 teaspoon Salt
1 tablespoon Baking Powder
1 cup Buttermilk
2 Eggs
6 cups smashed Strawberries (smash strawberries with the juice of 1/2 lemon and enough sugar to your liking)
Whipping Cream (One pint heavy whipping cream whipped with 2 teaspoons sugar and 1/2 teaspoon vanilla)
Preheat oven to 350 degrees.
1. In a mixing bowl beat together butter and sugar, add sour cream, beat until smooth.
2. In a small bowl combine flour, corn flour, salt, and baking powder. In another measuring cup measure out buttermilk add eggs to buttermilk and whisk with a fork.
3. Alternate adding flour mixture and wet mixture to butter and sugar. Beat until just combined. Scrape sides of bowl and beat for another 15 seconds.
4. Butter baking dish with 1 tablespoon butter. Pour or drop spoonfuls of batter into pan. Bake at 350 degrees 25 minutes for 9×13 35 minutes if you bake it in smaller deeper pan like a 10″ round or an 11×7″.
Cut cake into squares and serve warm with smashed strawberries and whipped topping.
Enjoy!
[/print_this]
So thar ya have it!  I suggest you give this version of shortcake a try, the texture is phenomenal and the flavors are perfect for  fresh berries.  If you run out of berries before you run out of cake, no worries this corn cake is perfect for snacking all on it's own!
Are you a strawberry fanatic like myself? Are yo eating strawberries morning noon and night?  Is your body odor reminiscent of the Strawberry Shortcake doll?
When is it strawberry season in your neck of the woods?
xoxo, Sheila