I was in the mood to bake the other night so I asked my son who happened to be in the kitchen what I should make, usually I get an Idunno, but he shot back with make the chocolate chip cookies you always used to make when we were little, the ones with the butterscotch chips.  I had to think for a minute and then I remembered.  Did they also have oatmeal in them I asked, and peanut butter?  YUP I think so, he answered.
Cowboy Cookies!
I seem to have eras of chocolate chip cookies.  I find a recipe and I make it to death, then I find another and do the same, I think I need to loop back and revisit some of the oldies but goodies!  No pun intended. 😉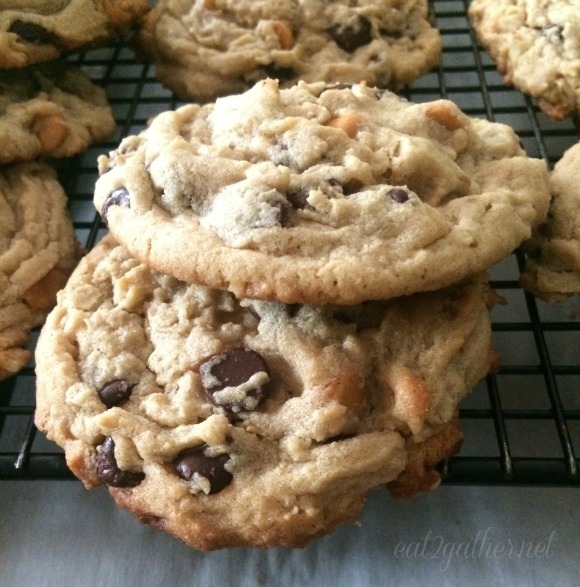 Why are they called Cowboy Cookies?  I really have no idea.  This was a goto recipe of my Moms, she made this recipe often.  When I was a kid I always envisioned a cowboy on a horse saying HI-ho Silver away with a cookie held high in his hand as he trotted away across the open plain.  Maybe they are called cowboy cookies because….UM I really have no idea, so lets just stop while we're ahead  and move on to more important things like sharing cowboy cookies with friends.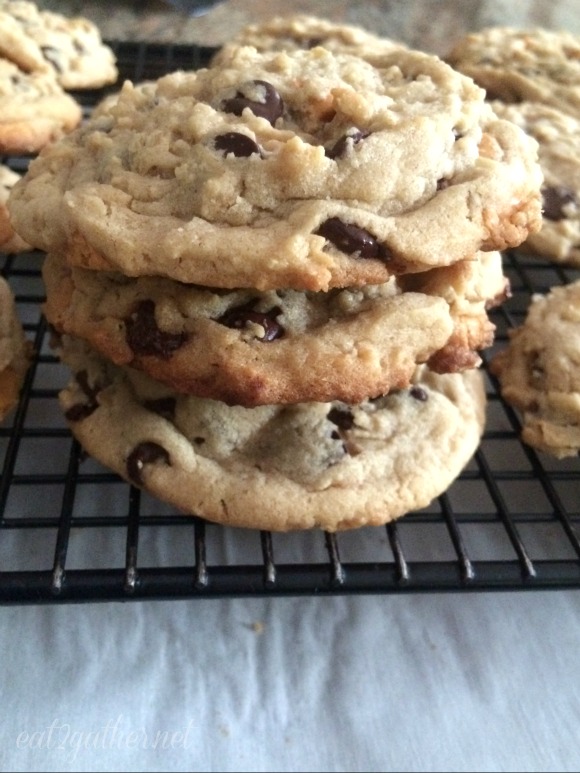 So I made the cookies, and I had them out on a rack on the counter to cool, I stepped into my office to get the recipe on my blog, so I would remember to share it.  I heard my oldest son in the kitchen, then he said Mom I'm leaving to meet friends, Ok I said.  I watched him drive away. Then heard him drive back in, run in the house slam a few kitchen drawers and rustle around for a minute; then I watched out the window to see what he was heading back to his truck with.  I couldn't see.  So I called him….I know he was driving, but our driveway is long and I knew he wouldn't be out on the road for a minute.
me "what ya sneaking off with?"
him "cookies for Matt's family"
me "K, love you"
him "K…..love you too"
me "drive safe, wear your helmet"
him "mom I'm driving my truck not my moped"
me "I know"
him "bye"
me "arrivederci"
Be still my heart.  My kid decided to share food with his friends family, without my prompting.  All on his lonesome he loved on others with the gift of food!  My work here is done people.  Here's the cookie recipe.  Make them.   Go forth and multiply.  I'm not sure why I said that, it just seemed to flow.
[print_this]
Cowboy Cookies
makes 2 1/2 dozen cookies
1 cup Butter, softened
1 cup smooth Peanut Butter
1 cup Sugar
3/4 cups Brown Sugar
2 eggs
1 teaspoon Vanilla extract
2 cups Flour
1 cup Old Fashioned Oats
2 teaspoons Baking Soda
1/2 teaspoon Salt
2 cups semi sweet Chocolate Chips
1 cup Butterscotch Chips
Preheat oven to 350 degrees.
In a mixing bowl, cream together butter, peanut butter and sugars until light and fluffy. Add eggs, one at a time, beating well after each. Beat in vanilla. Combine flour, oats, baking soda, and salt in a separate bowl; gradually add the dry ingredients to the butter mixture. Scrape sides of bowl and continue to mix until cookie dough comes together. Add in chips and combine. Drop 1 1/2 inch balls of dough onto a parchment lined baking sheet. Bake at 350 degrees for 10-12 minutes. Cool for 1 minute before moving cookies to a wire rack.
Enjoy!
[/print_this]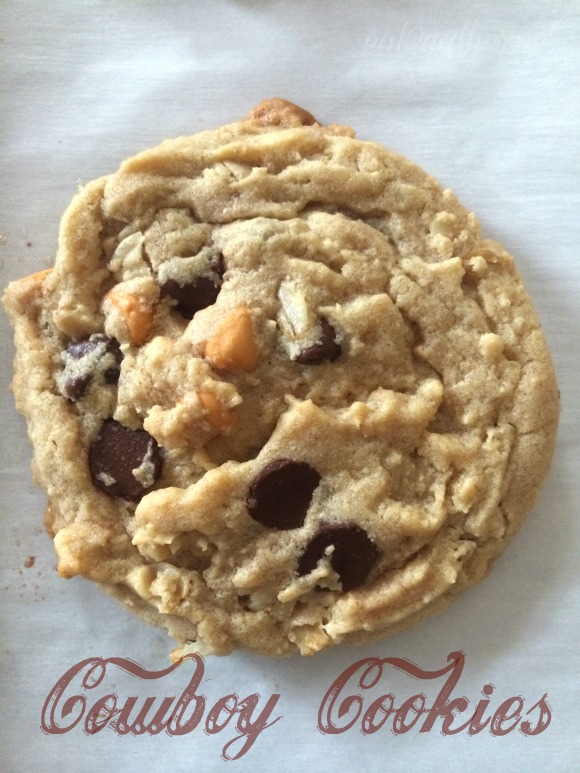 Have you loved on others with the gift of food lately?  If not I say you should do so by making some of these here Cowboy Cookies ya'all!
Much Love, Sheila
More oldie but goodie Chocolate Chip Cookie Recipes:
Triple Chocolate Oatmeal Cookies
Chocolate Chip Cookie Bars ~ these are a favorite with my kids friends!
Norma's Chocolate Chip Cookies ~ I think this was the first chocolate chip cookie recipe I posted.