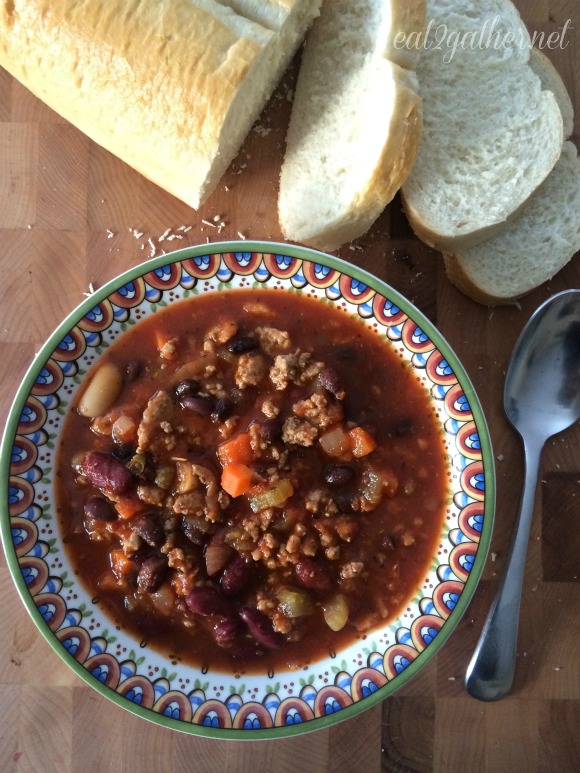 It is so blasted cold out right now, you have no idea, you people in the south who have  never lived in the north.  Yah you!  I'm talkin to you.  It's cold up here!
Just thought you should know.  I'm not complaining or anything.  Wouldn't want your warm butts to feel guilty in the least.
This cold blustery weather makes me want to stay in, eat soup and read. I need to go out and run some very necessary errands today.  I can't put them off another day.  But I'd rather not.  I'd rather make some more soup and not go out.  My kid can wear her glasses a few days…who needs contacts.  Zit prescription, who needs it…wash your face and quick picking kid!  Mail picked up at the post office…ugh. People please quit sending mail at least until April.  I promise we will pay all our bills in April.  Groceries we have plenty in the cupboards, cereal for days!  Dog to the groomer…who needs a clean hound?!
By the way,  did you hear that the last two times I went to the grocery store I forgot to buy butter?  It made the news.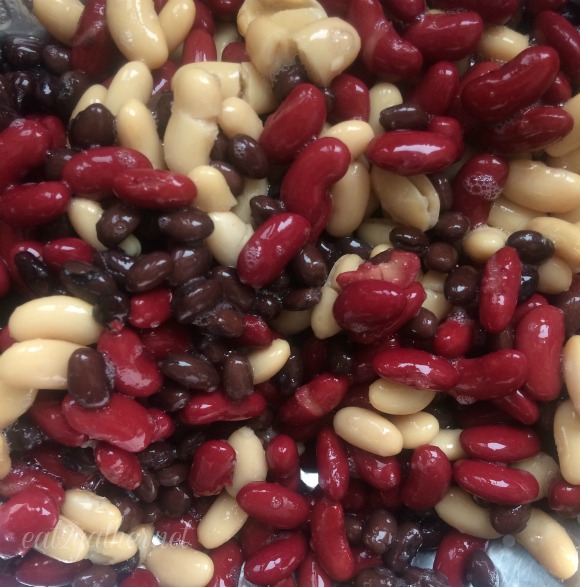 Lets talk about beans for a minute.  We eat a lot of beans.  Beans are good for you.  Beans taste good in soups, chili's, in burritos, quesadillas, and with rice.  Beans are the musical fruit.  Beans for president!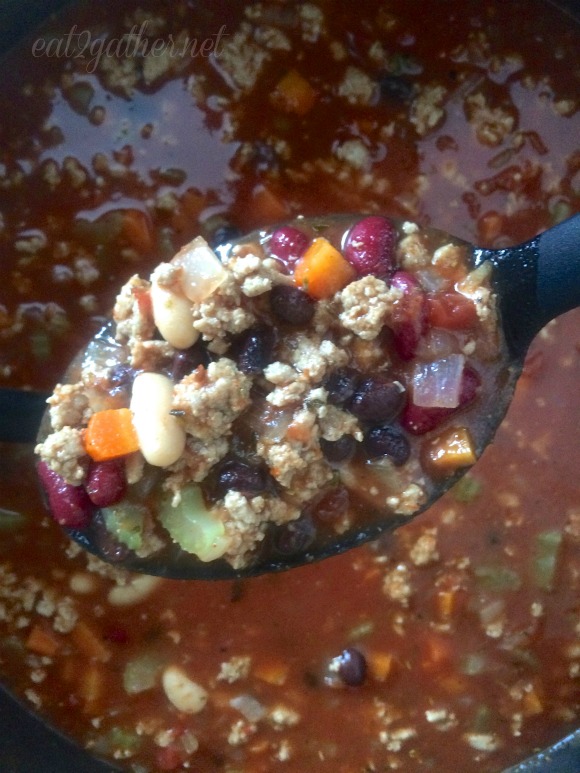 I often add beans when making soup.  It beefs up the protein with out adding meat. (pun intended)
My work out buddy was salivating over the copy cat Panera turkey chili she made, so I had to see what the fuss was about, so I googled Panera Turkey Chili and from the dozen recipes I found I came up with my own version, but it seemed more like a soup to me.  My chili is pretty thick,  this is chocked full of ingredients but it's more brothy not gravyish at all, if that makes any sense.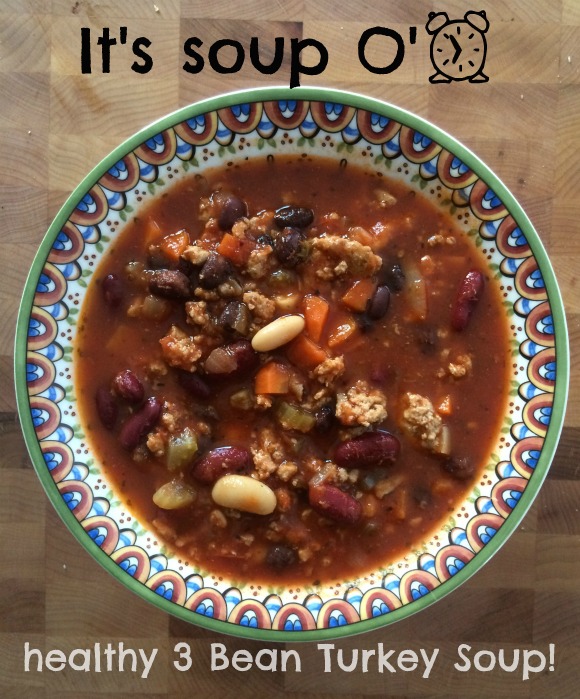 Back to the weather:  We are expected to get a foot of new snow, coupled with heavy winds, and negative 80 below temps tonight.
I'm just saying I'm glad there are leftovers from last night!  This soup makes enough for 6 hearty eaters, leaving you with leftovers.  Don't like leftovers?  Share with your neighbor, have your in-laws over….that's right ask grandma to get out in this weather, but you stay in.  Ok maybe not, maybe you should just take grandma the leftovers and save her from a hip fracture, which would be all kinds of awful.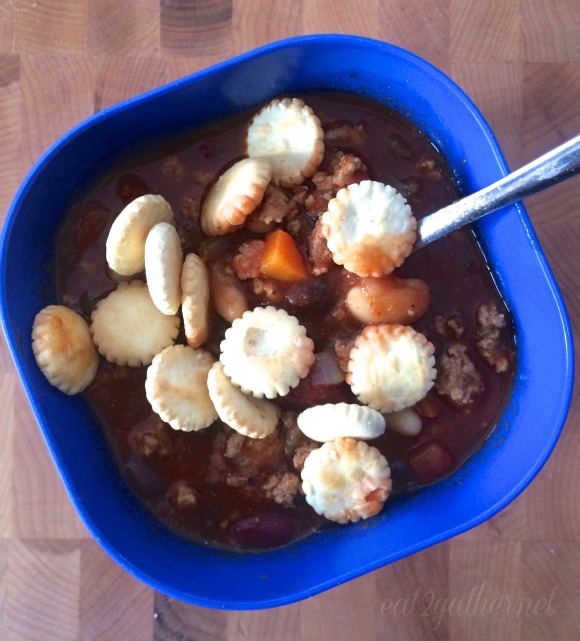 Have you heard?  I'm watching my calorie intake.  That was on the news (Live at 5 channel WBUTR) as well, they mentioned it right after the report of my forgotten butter.  So the above bowl is my ONE cup of soup.  Today is day 4 of being back to My Fitness Pal.  I'm thinking of purchasing another fitness gadget since my fitbit died, do you recommend something different?  My son thinks I should get the Withings Pulse…I dunno I will probably just go with what I know.  I'm not super adventurous when it comes to gadgets or upgrades or any technological change.  However, I would still like to hear your thoughts.  Did you make any new healthy goals for 2015?  If you need some ideas for staying healthy as well as accountability my friend Liz has started a 6 Week Challenge you can join the Facebook group with me if you'd like.   It could be thuper fun!
OK no more stalling I need to get out and take my mutt to the groomer, and do my errands.
Have a warm day! ♥ Sheila
[print_this]
Three Bean Turkey Soup
serves 8 
allow 1 hour from start to dinner time!
2 tablespoons Olive Oil
2 pounds ground Turkey
1 Spanish Onion, peeled and diced
3 stalks Celery, diced (It's Ok to chop up some of the leaves, they add flavor!)
3 Carrots, diced into small cubes (approximately 1 1/2 cups)
1 tablespoon Italian Seasoning blend
2 teaspoons Chili Powder
1 teaspoon Cumin
1 teaspoon Smoked Paprika
1/2 teaspoon Red Pepper Flakes
1 28 ounce can Crushed Tomatoes
1 15 ounce can Tomato Sauce + 1 can of water
3 15 ounce cans of Beans, drained and rinsed, I used Black, Kidney, Cannellini
32 ounces of Vegetable or Chicken Stock
1 tablespoon Sugar
1 teaspoon Salt
+ more salt and pepper per your taste
1. Add olive oil to a large stock pot, mine is 10 quart, turn heat on medium high add ground turkey and brown.
2. While meat is browning prep vegetables, add diced onion, celery, and carrots to pot with meat. Mix together and allow to cook for about 10 minutes or until vegetables are tender.
3. Drain and rinse your beans. Set aside.
4. Go back to your meat and vegetables add spices at this time. Allow to simmer for a minute more before adding tomato sauce (+1 can of water) and crushed tomatoes followed by beans, stock, sugar, salt, and pepper to taste.
5. Turn heat down to low and allow to simmer for 30 minutes.
Serve with bread, oyster crackers, or tortilla chips, and most of all ENJOY!!
Note: I made this the day before put it in my crock pot dish, refrigerated it, the next I turned my crock pot on low; and let it cook for 4 hours before serving.
Soup was inspired by Panera Bread Turkey Chili
[/print_this]