Pecan Crumble Sweet Potato Muffins
These sweet potato muffins are full of flavor and good for you.  You can have two!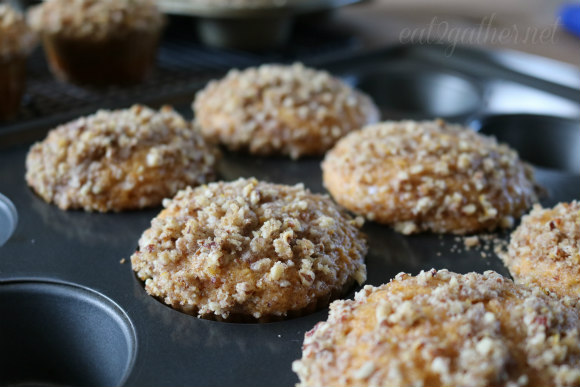 I bet you can't guess what the secret ingredient is.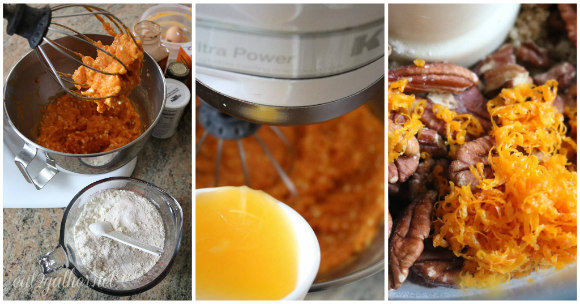 Give up?  It's cottage cheese!  There isn't any butter or oil in this recipe.  Sweet potato puree and cottage cheese give this muffin a dense yet fluffy texture.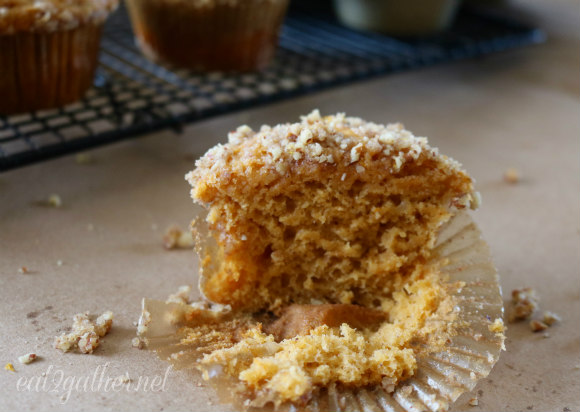 No one in my family guessed what the secret ingredient was!   Frankly my people are do not love it when I shove something at them and say "Try it! You'll never guess what's in it!"  For the most part they are good sports and are often up for the challenge.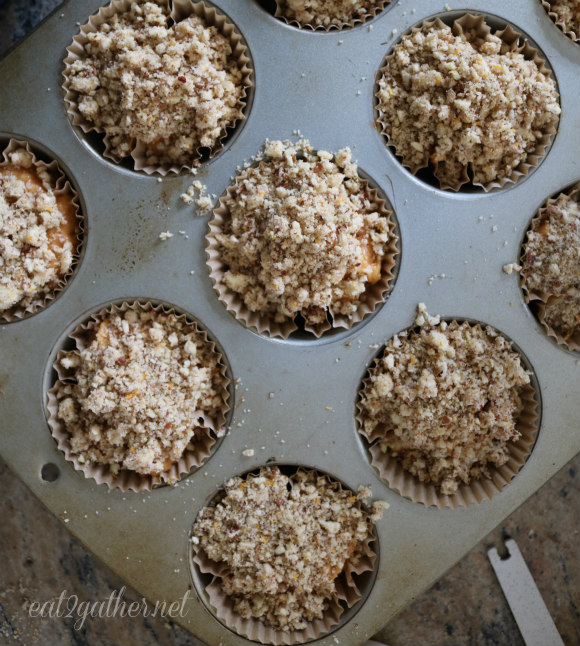 Cottage cheese is so good for you, low in fat, yet high in protein; 25g of protein per cup.  It's the perfect midday snack.  Add cottage cheese to a muffin, and hey whats wrong with a muffin packed with protein, and lots of vitamins and minerals from both the cottage cheese and the sweet potato?!  I say it's the perfect treat!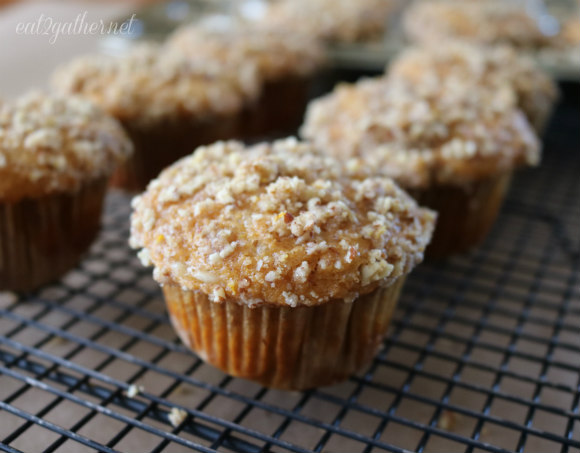 I like to package muffins and cookies up individually and freeze them for lunches or after school snacks.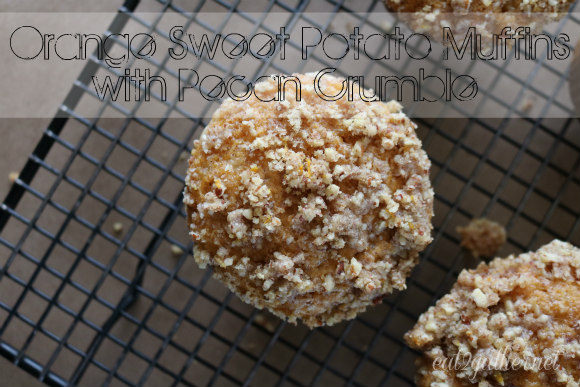 If you are watching your sugar and fat calories, one option would be to add the pecans and orange zest to the batter of the muffin, and leave off the crumble topping, saving on some sugar and fat calories.  But really it's such a small amount, I say you deserve a little treat!!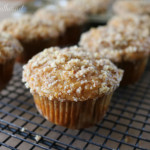 Print Recipe
Pecan Crumble Sweet Potato Muffins
These muffins are perfect for breakfast or a snack!
Equipment
1 12 cup muffin tin

18 cupcake papers
Ingredients
2

cups

sweet potato puree

approximately 2 sweet potatoes, you can use canned sweet potatoes as long as they are unsweetened

1

cup

1% small curd cottage cheese

2

whole

eggs

1/4

cup

orange juice

2

cup

all purpose unbleached flour

1

cup

granulated sugar

1

tsp

baking powder

1

tsp

baking soda

1/2

tsp

salt

1

tsp

ground cinnamon

1/2

tsp

ground ginger

1/2

tsp

ground clove
pecan crumble
1/4

cup

all purpose unbleached flour

1/4

cup

brown sugar

1/2

cup

chopped pecans

4

tbsp

butter, cold

1/2

tbsp

orange zest
Instructions
Preheat oven to 350°.
**Bake sweet potatoes for 1 hour in a 350 degree oven or until fork tender.  Let cool.  Cut in half and scoop out sweet potato, measure, you should have about 2 cups if it's a little less no problem, if its more cut it back to 2 cups and eat the leftovers for lunch!  You can also purchase canned sweet potato puree, make sure it is unsweetened.

1. Combine sweet potato puree, cottage cheese, orange juice, and eggs in mixer, blend on high speed for 2 minutes. Taking time to scrape the sides of the bowl at least once.

2. In a separate bowl combine all dry ingredients for the batter.

3. Gradually add dry ingredients to wet ingredients mix until just combined, scrape sides of bowl, and mix another 30 seconds to a minute.

4. Place muffin papers in muffin tin, if you do not have muffin papers make sure you grease tins well. Fill tins 2/3 full with muffin batter.
crumble
Add flour, brown sugar, pecans, cold butter, and orange zest to food processor and pulse until mixture is consistency of oatmeal. If you do not have a food processor you can get the same results by chopping pecans and  cutting ingredients together with a fork or a pastry cutter.

6. Place 1 tablespoon of crumble mixture on top of muffin batter before baking.

Bake muffins in a preheated 350 degree oven for 25 minutes. Allow to cool for 5 minutes before removing muffins from tins to cooking rack.
Notes
These muffins freeze well. Wrap individually, and place in a zip-loc freezer bag. Freeze for up to 6 weeks. 
Disclaimer:  I am proud to be an ambassador for the United Dairy Industry of Michigan.  Thank you for helping support Eat2gather by supporting your local dairy farmers!