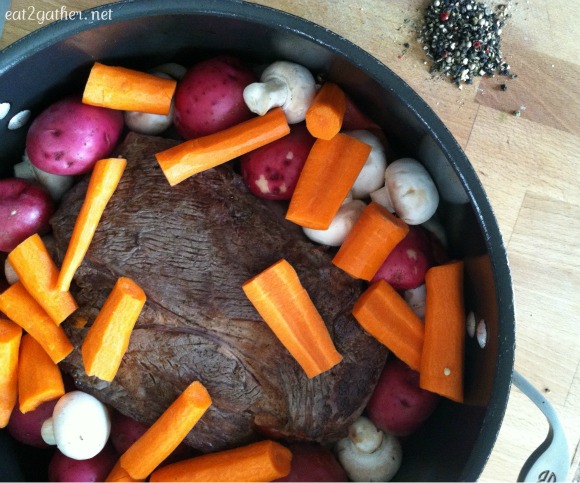 Have you had enough chocolate yet this Holiday season??  Can one have too much chocolate?  My answer to that is, NO!  You can never have too many chocolates!  And yes you read that correctly, this is a Beef Stew recipe with Chocolate Stout in it!  And if I may say so myself…..it's AAh-may-ZING!
Because I am such a chocoholic, I was drawn to the Brooklyn Chocolate Stout in the cooler at my favorite little beer & wine store…The Copper Vine.  It's a delicious brew, don't get me wrong, its just very rich and heavy so after drinking one, I was like, Hokey Pete, this stout is heavy, but yummy…so what am I going to do with the other  three beers I have left?   I decided to make my beef stew and use the Brooklyn Black Chocolate Stout instead of red wine.  OH my….or in the words of my 7th grader OMG mom this is awesome! Why haven't you made this before?  The rich chocolatyness of the stout made this stew so amazing I may never go back to red wine again….in my stew anyway ;)!
Can't find chocolate stout?  No worries I think Guinness would be awesome in this stew too, or any dark stout.  But if you can find Brooklyn Black Chocolate Stout then by all means use it!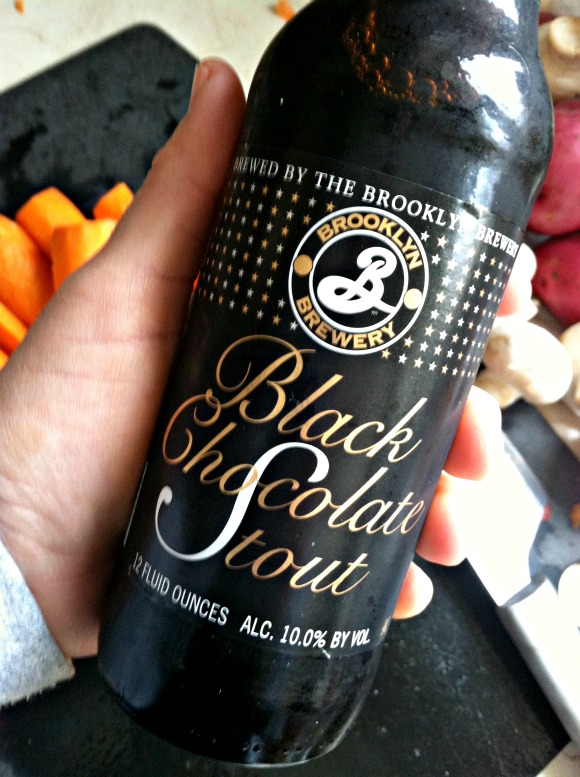 See that 10%!! Yowza that can do a number on this gal…Ima Lightweight is my given name you know.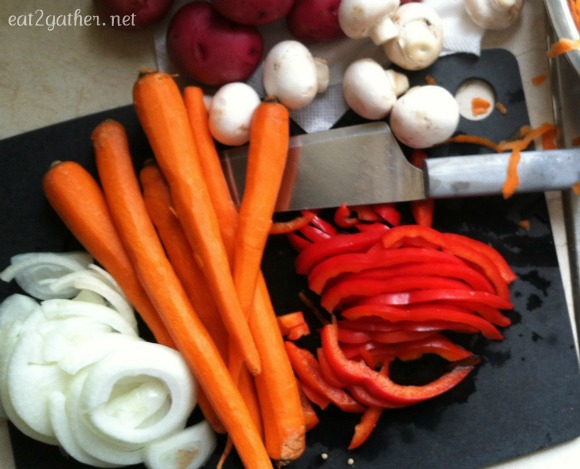 This stew can come together quick with just a few minutes of prep, pop it in the oven and forget about it for 3 or 4 hours, and Voila! Dinner is served!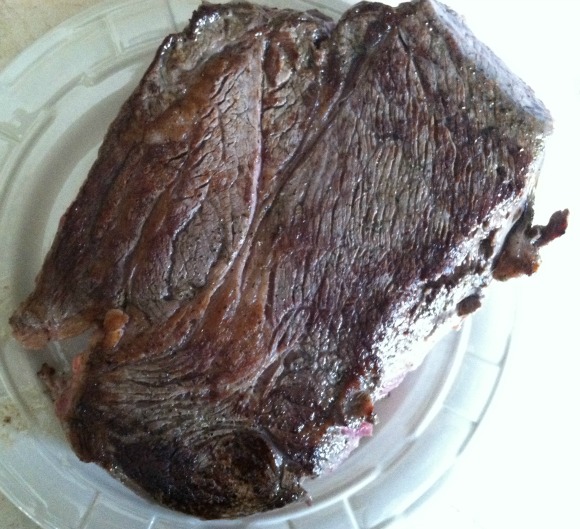 First you want to start by browning your roast.  A 3 pound roast works good for our hungry team of 6.  There were no leftovers.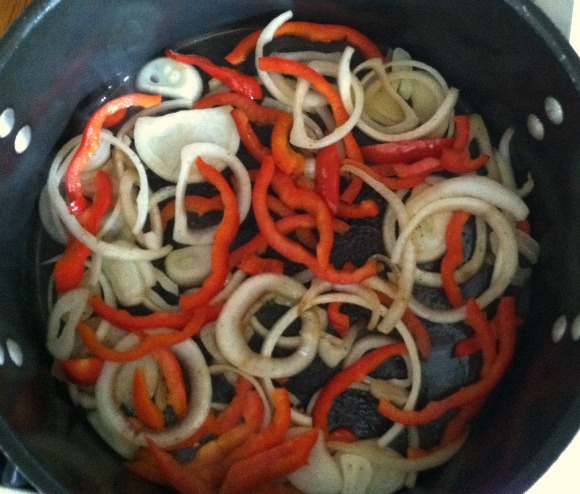 After you've browned your roast and set it aside, add the onions and peppers in the pan for a few minutes until they start to soften up. Just a little while….and to to be honest if you are pressed for time, then keep moving right on to the next step.  They will have plenty of time to get familiar with each other in the oven.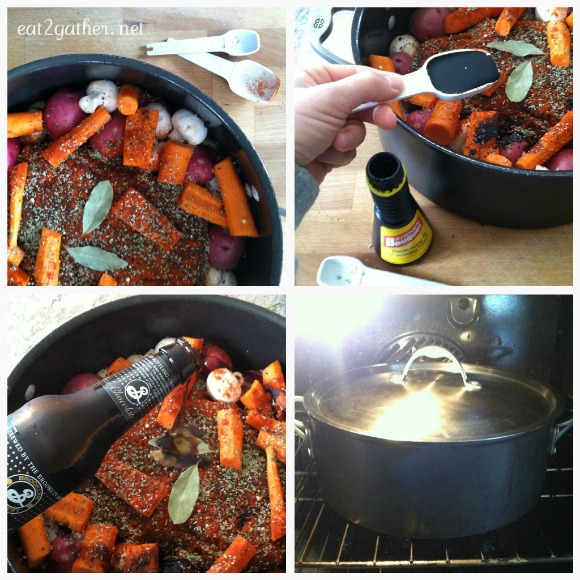 Next put roast back in your dutch oven, or large oven proof pan, surround it with the carrots, potatoes, and mushrooms (mushrooms can be optional), sprinkle with seasonings, tomato paste, and Kitchen Bouquet, now for the good stuff +water….drum roll please!  Cover and place in a 300 degree oven for 3-4 hour.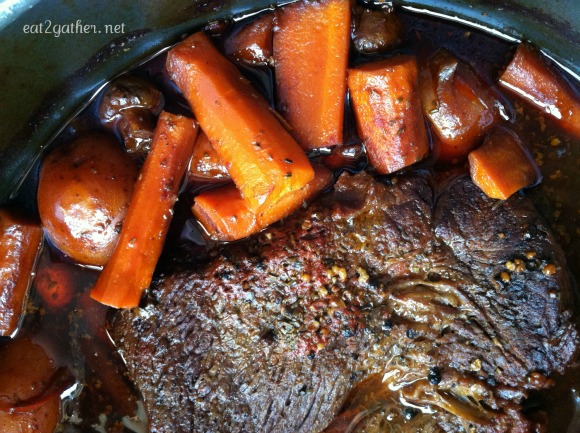 Hmmmm, Gasp!  Meat is hard to photograph…but you've got to admit, that looks pretty dern mouthwatering.  I bet you wish you had smell-o-blog, dont-chah!:
[print_this]
Chocolate Stout Beef Stew
1 3lb Chuck Roast
Salt and Pepper
1 tablespoons Vegetable Oil
1 pound Carrots, cut into chunks
10-12 small Red Potatoes
1 Onion, sliced
1 Red Pepper, seeds removed and sliced thin
1 tablespoon Vegetable Oil
1 6 ounce can Tomato Paste
2 tablespoons Beef Bouillon Granules
1 tablespoon peppercorns, cracked
1 tablespoon Smoked Paprika
1 teaspoon dried Rosemary
1 teaspoon dried Marjoram
2 Bay leaves
1 tablespoon Kitchen Bouquet (this can be found near the sauces, and ketchup in grocery store)
1 12 ounce Chocolate Stout + 1 bottle water
Preheat oven to 300 degrees.
Sprinkle chuck roast generously with salt and pepper, heat 1 tablespoon of oil in a large dutch oven. Get pan nice and hot, brown roast on both sides. Remove roast, add 1 tablespoon of vegetable oil add in onions and pepper heat through for a minute or two. Remove from heat, place roast back in pan on top of onions and peppers. Add tomato paste to the pan, place potatoes and carrots around roast. Sprinkle bouillon, peppercorns, smoked paprika, rosemary, marjoram, and bay leaves over the meat and vegetables. Drizzle 1 generous tablespoon of Kitchen Bouquet over roast, pour Chocolate Stout over the roast, fill bottle with water and add  to the pan.  Place lid on top, pop  in oven and cook at 300 degrees for 3-4 hours.
Serve meat on platter surrounded by vegetables, pour sauce over top, or serve on the side in a gravy dish.
Enjoy!
[/print_this]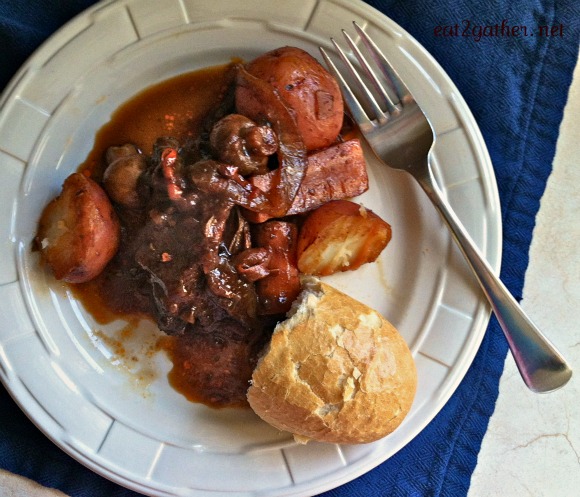 There she is again, so comfortingly scrumptious. Perfect for a cold winter day, busy day, Sunday dinner, you name it!   This stew will be a new favorite in your home guaranteed!! Just make sure the kiddies don't think the chocolate stout is for ice cream floats er sumthin'.
Happy New Year!
Enjoy,
Sheila