Hello! It's me again from the sunny state of Florida. Did you think you were going to get a vacation from me? Not on your life people! Although I did bring a few of my favorite kitchen things with me, and of course PW's blasted cookbook….that thing is totally ruining my chances of getting in a bikini this trip. Ree you ever consider a getting into exercise video's? Kind of a Jane Fonda meets cowgirl type a deal…….well you think about that Ree girl and get back to me, I'll help ya work it out…get it?  Work it out…..
So anyway….what was I sayin, OH yeh…I'm not doing much cooking, some breakfast, and lunches, all dinners must be eaten out, on this vacation. So I thought I would share with you one of my kiddos favorite lunches. Tuna Salad, on crackers, and then my favorite version, Tuna Noodle Salad with Peas.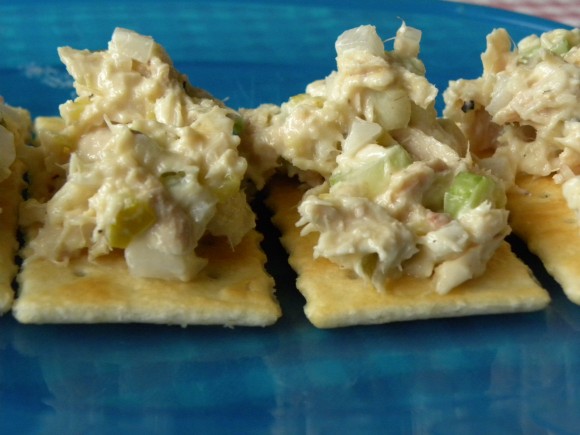 [print_this]
Tuna Salad
1 12 ounce can White Chunk Tuna in water, drained
1 teaspoon Lemon Juice
1/3 cup Celery chopped fine
1/4 cup Onion, minced
1 heaping tablespoon Sweet Relish, or Sweet Pickle minced
1-2 dashes Celery Seeds (optional)
1/3 cup Miracle Whip
12 Ritz or Club Crackers, crumbled
salt and pepper to taste
Open and drain can of tuna, drizzle lemon juice over tuna in can, set aside. Add celery, onion, relish, Miracle Whip, and celery salt to a medium sized bowl, add in tuna, combine. Crumble crackers into bowl, mix in. If it seems too dry add a tablespoon of extra Miracle Whip. Taste add salt and pepper as needed. Serve on crackers or as a sandwich.
Enjoy!
[/print_this]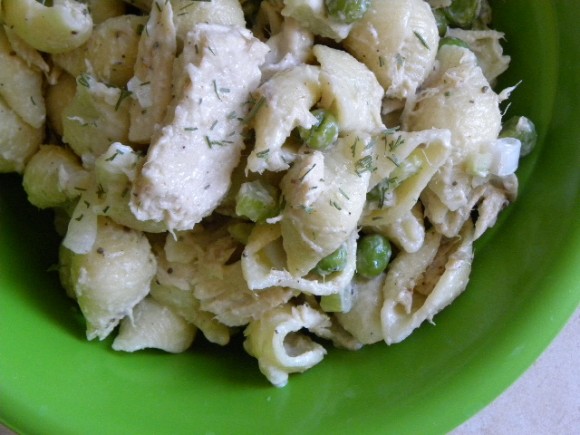 [print_this]
Tuna Noodle Salad
1 pound Shell Macaroni
2 cups frozen Peas
1/2 cup Onion, minced
3 stalks Celery, chopped
1 12 ounce can Solid White Tuna, packed in water
1 teaspoon Lemon Juice
1 cup Miracle Whip
1 teaspoon Lawrys Season Salt
1/2 teaspoon Pepper
1/2 teaspoon Celery Seed
1/2 teaspoon dried Dill (optional)
Measure peas out and put in colander in sink. Cook pasta, when al dente pour drain past over frozen peas in colander, this will perfectly blanch your peas without using another dish. Pour peas and pasta in a large bowl. Add the remaining ingredients to bowl, combine. Taste for seasoning add salt to taste. Cover and refrigerate for at least one hour before serving. Keeps in refrigerator for up to 3 days.
[/print_this]
I grew up on canned tuna. My momma could make a mean Tuna Casserole, in the summer we often had this Tuna Noodle Salad with Peas, or Tuna Salad Sandwiches, and another Fritz family favorite Shit on a Shingle….yes I did just say that, and yes we did call it that. It was some sort of tuna slop on toast, not one of my favorites as a child. My parents lived pay check to paycheck and I think Tuna was a inexpensive way to get protein into a meal.
What is your mayonnaise salad of choice? Chicken, Egg, Tuna, or Ham?
I hope you enjoy.  Have a great day!
Sheila