I love a quick easy meal, but I have to admit, rarely resort to prepackaged seasoning mixes or boxes to make short cuts in my meal preparation.  This spice packet happened to catch my eye recently in the grocery store.  I looked at the ingredient list and I could pronounce every word!  It claims to be  naturally flavored on the front, and the ingredients proved that to be true.  So I thought why not give it a try!
Bourbon Spiced Pork from McCormicks was extremely easy, and flavorful. Sweet, spicy, the perfect amount of acidity from the addition of orange juice. My family gave this meal 6 thumbs up!
I followed the directions on the package nearly to the letter. (wink) Prep time was 10 minutes max, cooking 35 minutes. In less than an hour you'll have dinner on the table!  Leftovers where gobbled up the next day, by my non leftover eating boys! What does that tell you?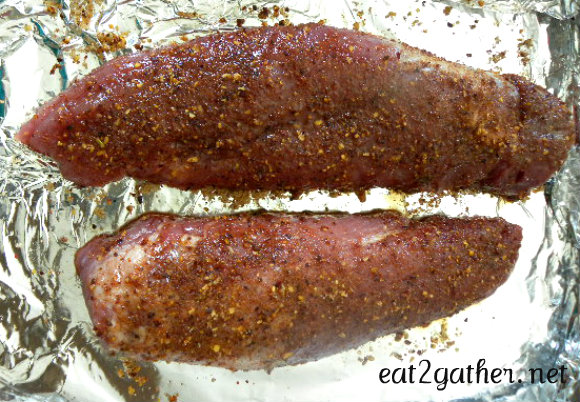 Combine the spice packet with 1/3 cup Brown Sugar, reserving 1/4 cup of Sugar/Spice mix for later. Rub remaining Sugar/Spice mix all over two 1 pound Pork Loins. Set aside.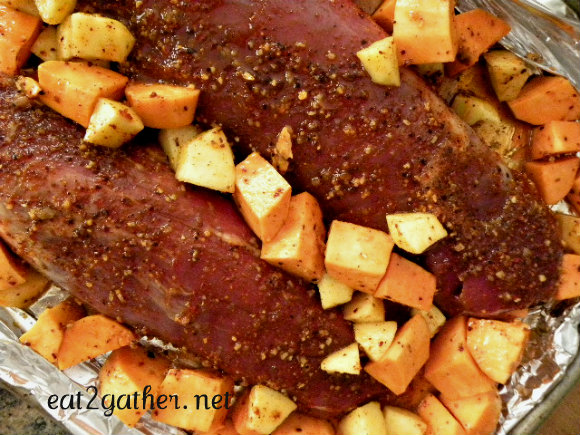 Skin and cube 3 medium Sweet Potatoes, and 1 Granny Smith type apple mix in bowl. Take 1/4 cup reserved Sugar/Spice mix and whisk in 1/4 cup Orange Juice, and 1 tablespoon Olive Oil pour over Potatoes/Apple mixture and toss, place around pork loins. Bake at 425 degrees for 25-40 minutes depending on the thickness of the loin.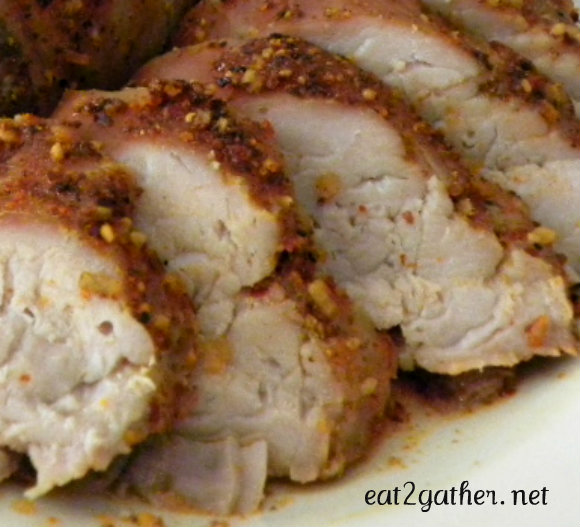 Let the pork loins rest for 10 minutes, before slicing them.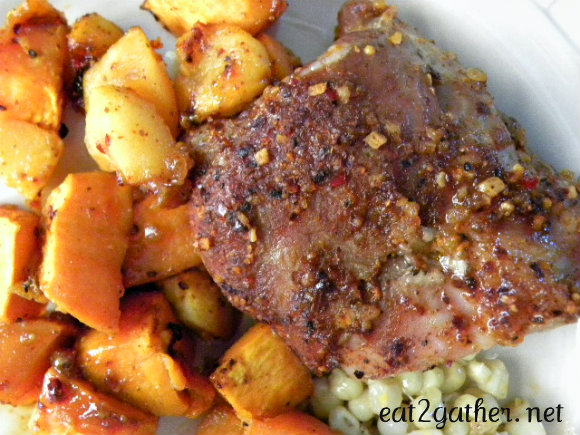 There was corn on the cob that needed to be used up, and since I have 3 out of 4 kiddos in braces I cut it off the cob, and pan fried it in butter and olive oil.  That was it, I could have added a salad, or bread, but I didn't have salad fixin's and I burned the bread….go figure!
Just so you know McCormicks has no idea who I am, I just wanted to share this with you because my family loved it, it was quick and easy!
And who doesn't like a quick simple delicious home cooked dinner?
[print_this]
Bourbon Spiced Pork
from McCormicks all natural Gourmet Seasoning Mix
2 pounds Pork Loin
1 packet McCormicks Bourbon Spice Mix
1/3 cup Brown Sugar
3 medium Sweet Potatoes, peeled and cubed
1 Apple, peeled and cut into small pieces
1/4 cup Orange Juice
1 tablespoon Olive Oil
Preheat oven to 425 degrees.
Combine seasoning packet with brown sugar. Reserve 1/4 cup. Place pork loin on a foil lined baking sheet, rub seasoning mixture all over pork loins.
Peel sweet potatoes and apples, place in a bowl. Whisk reserved 1/4 cup of seasoning mixture with 1/4 cup orange juice, pour over potatoes and apples. Toss to coat. Place vegetables around pork loins on baking sheet.
Place in preheated 425 degree oven for 30-40 minutes. Or until pork is desired doneness and sweet potatoes are tender.
Remove pork to a platter and allow to rest 5-10 minutes before slicing. Toss potatoes and apples with pan juice, and serve with sliced pork.
Enjoy!
[/print_this]