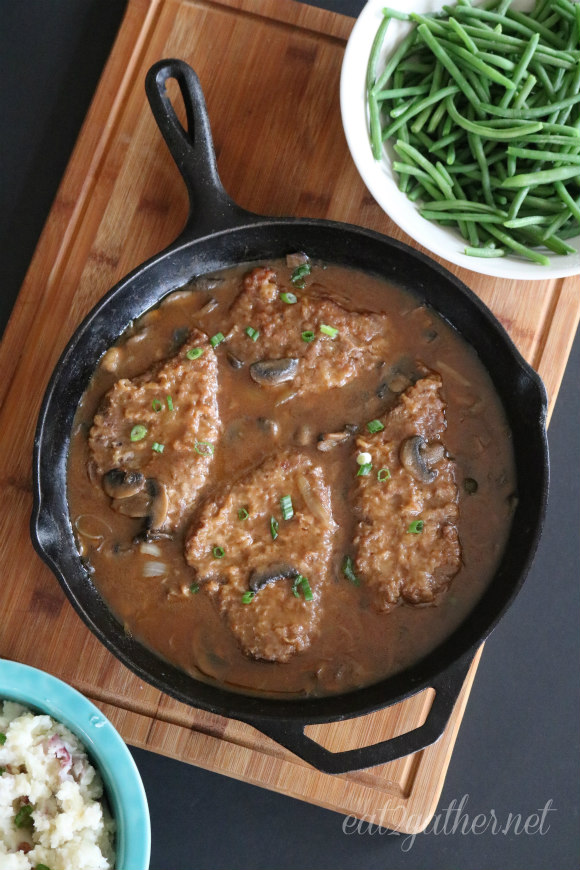 Everyone around here is pretty adventurous when it comes to eating, but honestly when I ask them for dinner suggestions it's always comfort food.  Swiss Steak is the ultimate comfort food, smash some redskins, add green beans or any favorite veggie and you are good to go!!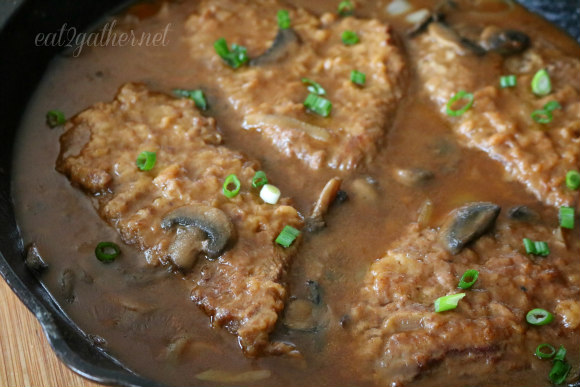 Creamy, saucy, meaty, gravy, buttery, custardy, luverly all words that come to mind when I think of comfort food.  Swiss steak was a pretty regular member of my moms dinner rotation when I was growing up, along with spaghetti, bbq chicken legs, chop suey (which I have never made), chicken pot pie, pot roast, chili and many more saucy dishes!  Ya know what else about comfort food, it always seems to be just as good or better the next day!  Which is good if you have a busy schedule and your family will eat leftovers!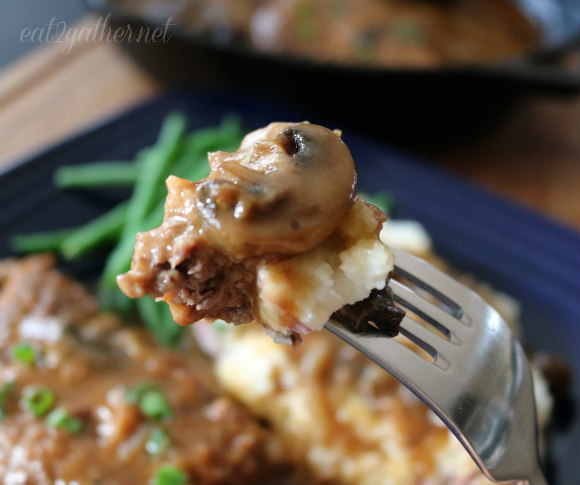 Come to momma!!  I'm not sure how you are feeling about the state of the union, but it's state is making me cringe and run for cover.  What is going on?  If home for you is not the good ol' US of A, well then let's just say some comfort food is going to be much needed come November 2, 2016.  I'm going to make a buffet of comfort food.  Come one!  Come all!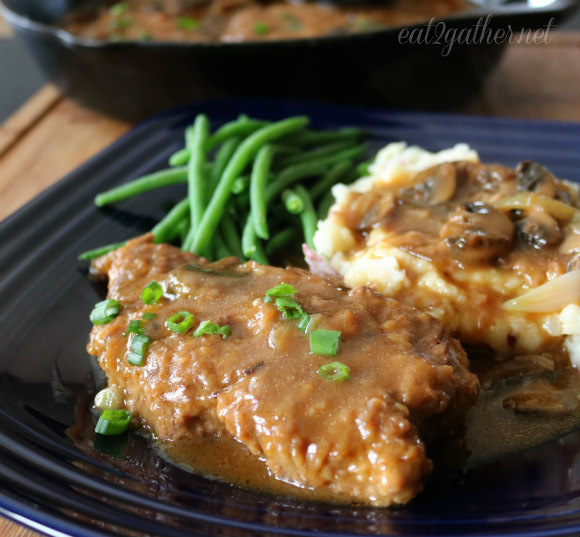 Enough about politics, let's get back to the Swiss Steak….wondering why they call it Swiss, is this a common dish for the Swiss?  Hold on I'm going to googliscious this factoid.
It's a mystery.
I could not find any reliable information on where Swiss Steak got its name.  Wikipedia did say that in Switzerland this same dish would be called Roast Mincemeat or Braten Hackfleisch. So there you have it!! Senseless information served up with delicious comfy food.
Did I mention that this meal is actually quick and easy?  If you can fry a hamburger or cut up a few mushrooms then this recipe is all yours!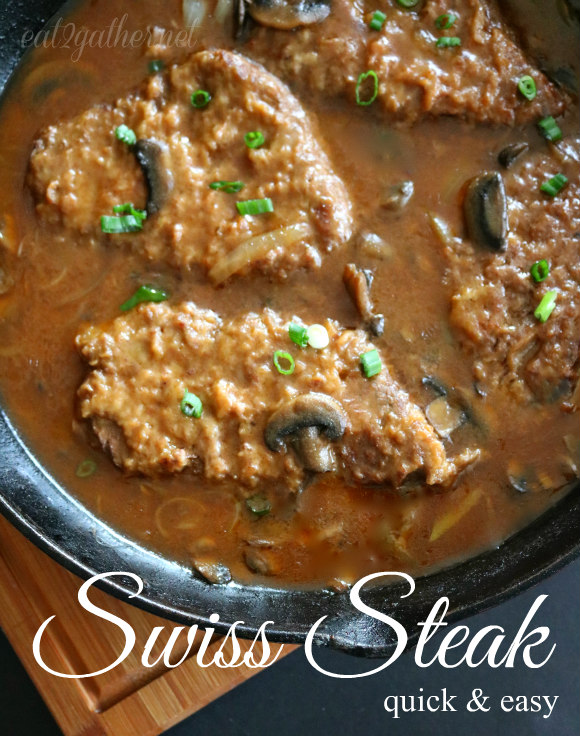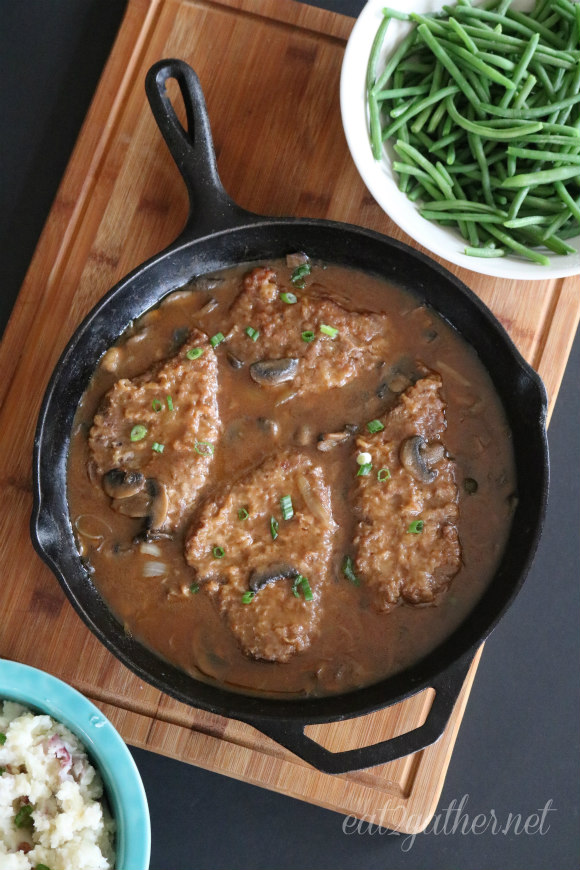 Swiss Steak
Ingredients
2 1/2-3

pounds

tenderized Round Steak or Swiss Steak

1

teaspoon

Lawrys Season Salt

1/2

cup

All Purpose Flour

1

stick Butter

1

medium Sweet Onion

sliced

8

ounces

White Button Mushrooms

cleaned and sliced

2

teaspoons

Better Than Bouillon

vegetable or beef

2

cups

Beef Stock or Broth
Instructions
Cut steak into 4-6 portions, sprinkle with 1/2 teaspoon Lawrys Season Salt, set aside. Toss flour with remaining 1/2 teaspoon Lawrys, dredge steaks in flour, return to plate. **reserve 2 tablespoons of leftover flour for gravy**

Melt 1/2 stick butter in large skillet, when butter is bubbling and starting to brown add steaks to pan. Cook for 3 minutes on each side, making sure pan is hot enough to give steaks a nice crisp layer on outside. Remove steaks to a clean plate.

Add second 1/2 stick of butter to hot pan, add in sliced onions and mushrooms, sauté for 5 minutes, over medium high heat. Add bouillon, stir into vegetables, continue to cook for a minute longer.

Sprinkle reserved flour over mushrooms and onions and move around in pan allowing flour to form a paste and start to bubble up with vegetables. Pour in beef stock. Stir until smooth.

Return steaks to pan, pushing down into gravy. Cook over low heat for 15 minutes turning steaks over once in gravy.
Notes
Serve with mashed potatoes and a green vegetable.
What is your kind of comfort food?  Your 2 cents is appreciated!!
XOX, Sheila