Cheesy Chicken & Spinach Stuffed Pasta Shells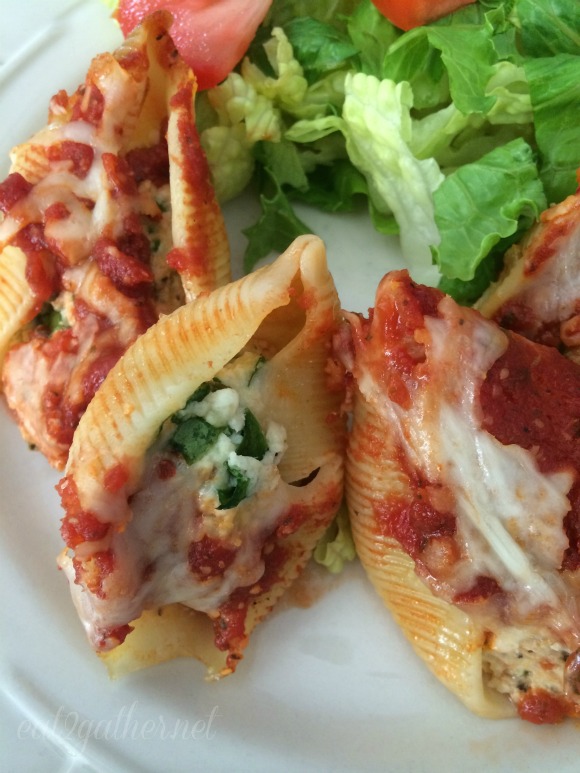 I cannot believe I am talking or even thinking about back to school already!  I know some of you are already a week or more into the new school year,  Michigan doesn't go back until after Labor Day so I am trying to milk as much summer fun out of every day as I can!!  Today I am partnering with the ADA Mideast and a gaggle of other bloggers, we have put a Dairy Fuel for Back to School Recipe Exchange together to help you with preparing healthy dairylicous recipes for your families!
Cheesy Chicken and Spinach Stuffed Pasta Shells is an easy meal to make ahead for busy after school evenings, it can be made up to 2 days in advance or you can make it and pop it in your freezer for further down the road.  Better yet if your family is smaller than mine, this recipe can be split in to two 4 serving meals, make one….freeze one!  Voila!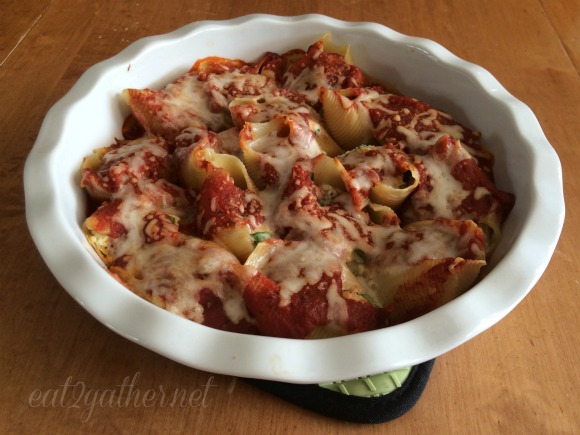 After a busy day of work, school, and possibly sports I'm sure you want nothing more than a healthy hearty meal that won't break the bank!  This recipe includes ricotta cheese, which is a cheese that is higher in calories but it also contains the most protein, calcium and minerals per half cup serving of any other cheese so pairing the ricotta with lean chicken breast, and fresh spinach definitely delivers a well-balanced healthy meal to your table!  My kiddos gobble this meal right up there is never any leftovers when I make this meal.
Just a few helpful tips on how to make Cheesy Chicken & Spinach Stuffed Pasta Shells……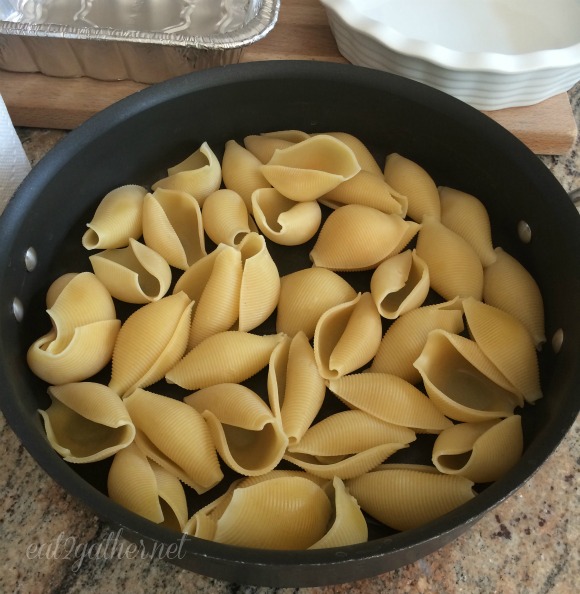 I like to boil the jumbo shells in a shallow pan so that they spread out and don't get clumped up on top of each other.  Notice I cooked the shells for only 5 minutes, the shells are easier to fill when they are still firm, also they will continue to cook in the oven.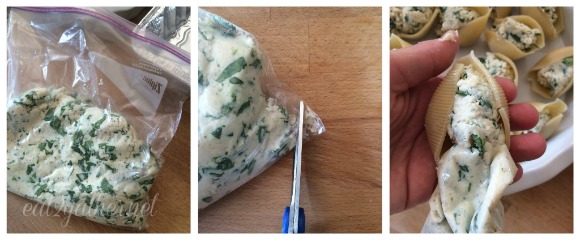 If you have a pastry bag you can use that to fill your shells, but I think a large zip-loc bag works best!   Fill it up with the cheesy chicken filling, make sure it's zipped, cut off a corner and pipe the filling into each pasta shell.  It's really easy, and it doesn't need to be perfect at all!  Ainslie, my oldest daughter did these for me!  When all your shells are filled just throw the bag away.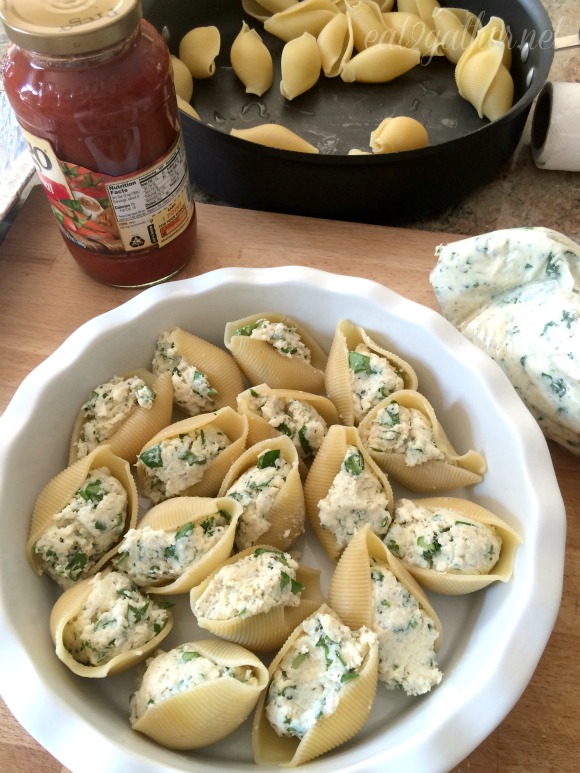 Spoon marinara sauce over the stuffed pasta shells, sprinkle with cheese, cover with aluminum foil, and bake for 30 minutes.  Uncover and bake for an additional 10.  That's it!  I use a jarred marinara sauce making this recipe even easier!
[print_this]
Cheesy Chicken & Spinach Stuffed Pasta Shells
6-8 servings (or 2 meals for 4)
This good for you back to school meal makes one large pan of stuffed shells or two smaller pans. Pop one in the freezer for later or share the extra meal with someone you love!
1 12 ounce box Jumbo Shells pasta
2 Chicken Breasts boiled and shredded
1 15 ounce container Ricotta Cheese
1 Tablespoon Italian Seasonings
1 8 ounce bag Italian Blend Shredded Cheese, reserve 1/2 cup cheese for garnish
2 cups fresh Spinach, chopped
2 tablespoons Milk
1 24 ounce jar Marinara Sauce
Preheat oven to 350 degrees.
1. Fill a large shallow pan with water and a dash of salt and bring to a boil. Place pasta shells in boiling water and let cook for 5 minutes. Drain water from shells and set aside. (you want pasta to be slightly under done)
2. Place boiled and cooled chicken breasts in a food processor, give it a few pulses to get chicken chopped into fine pieces. (If you don't have a food processor use two forks to pull the chicken apart into small shredded pieces) Add ricotta, italian spice blend, italian cheese blend, and milk to the bowl and give a few more pulses until ingredients are incorporated. Remove mixture to a bowl and add in chopped spinach and stir, once you have spinach stirred into the filling mixture add filling to a zip-loc bag and snip one of the corners.
3. Filling the shells: place a pasta shell in palm of hand squeeze cheesy chicken filling into each shell being careful not to over fill then place filled shell slit side up in a baking dish. When all shells are filled spoon marinara sauce over the shells, and sprinkle with reserved shredded cheese. Cover with aluminum foil and bake at 350 degrees for 30 minutes remove foil and bake for an additional 10 minutes.
Make ahead meal: This meal can be made up to two days in advance, store in refrigerator until ready to bake. Enjoy!
Freezer directions: If you are making this meal to freeze you will want to put in a disposable pan cover tightly with foil. Remove from freezer and pop in a preheated 350 degree oven cook for 40 minutes with foil on, remove foil and cook for another 10 minutes.
[/print_this]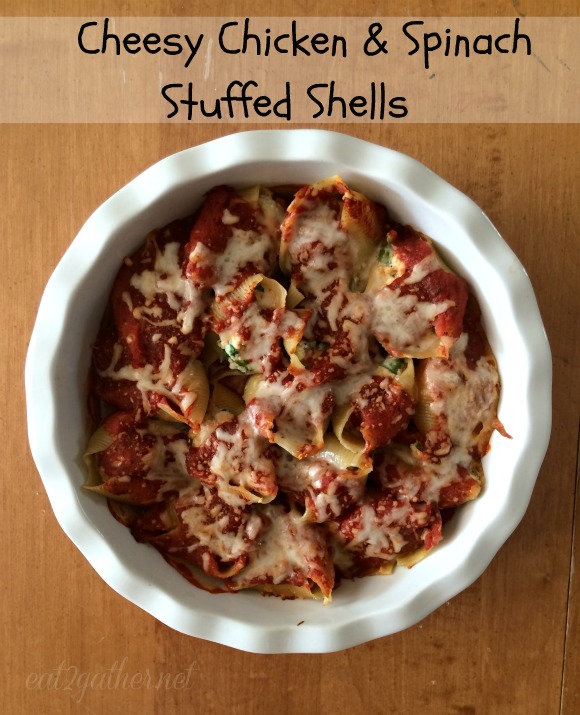 Want to know more about why and how cheese is so good for you? You can find more information HERE.  Sometimes if we are super-duper busy, this is all that makes its way to the table, but usually I will serve Cheesy Chicken & Spinach Stuffed Pasta Shells with roasted broccoli or a green salad  and of course bread.  We have a huge weakness for bread round these parts!!
Are your kiddos back in school?  How are you making sure everyone gets their 3 daily servings of dairy?  I know it's not always easy, that's why I like to sneak dairy into yummy recipes such as this.  I hope you give this recipe a try, I'm sure your family will love it!
Check out these great blogs for more Dairy Fuel for Back to School Recipes!!
You won't want to miss the Fuel Up for Back to School TWITTER PARTY on August 20 9-10 PM EST, for more great recipes and moovulous inspiration on how to healthily feed your kiddos!! FOLLOW the hashtag #DairyFuel!! 
Thanks for stopping by! XO  Sheila
Disclaimer: Many thanks to ADA Mideast for sponsoring my healthy back to school meals post.  With amazing sponsors like the ADA Mideast I am able to keep my blog up and running.  As always all thoughts, ideas, and recipes are my own!