Comforting Italian Pot Pie is a one pan meal that is so easy you'll keep checking your ingredient list to make sure you didn't forget something. You didn't! Trust me! It's so easy. Bonus it's mouth waveringly scrumptious too!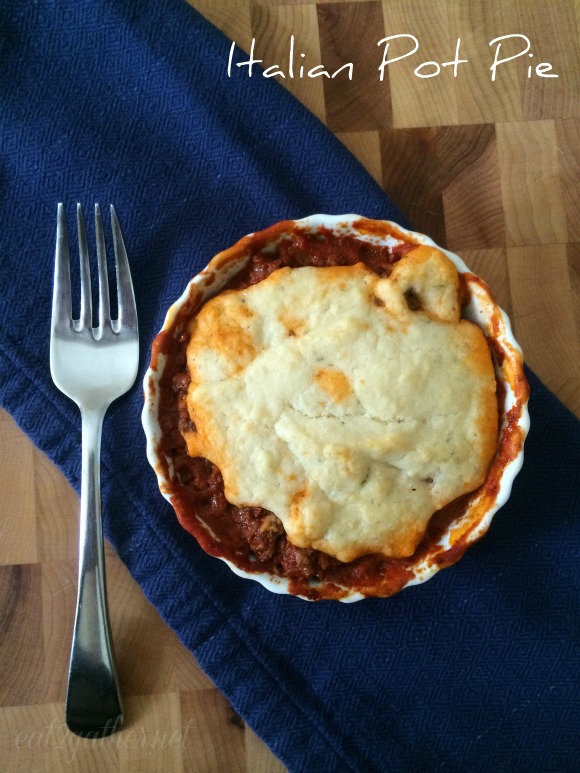 I have some catching up to do here regarding book club.  It has been too long since I've shared what we've been reading, that's going to have to wait for now I am going to share with you a scrumptious recipe that we partook of at our last BUCs (Babes Under the Covers) gathering.  Italian Pot Pie.  Kristi made it in these cute little ramekins.  It was so delicious I wanted two, but I refrained because I didn't want anyone to think I was an Oinker or anything!  No self control.  Insert laughing till I'm crying emoji, because my book club babes pretty much know I have zero self control when it comes to good food!
You can make this recipe in ramekins if you like, but I modified it so that I could make it in one pan and not have so many dishes and I adjusted the volume so it would make enough for my hungry brood.
Here's how!

Saute onions and carrots, brown the meat, add tomato sauce to meat, let that simmer a few minutes, whip up the parmesan rosemary biscuits, plop them on top, place pan in oven. Voila!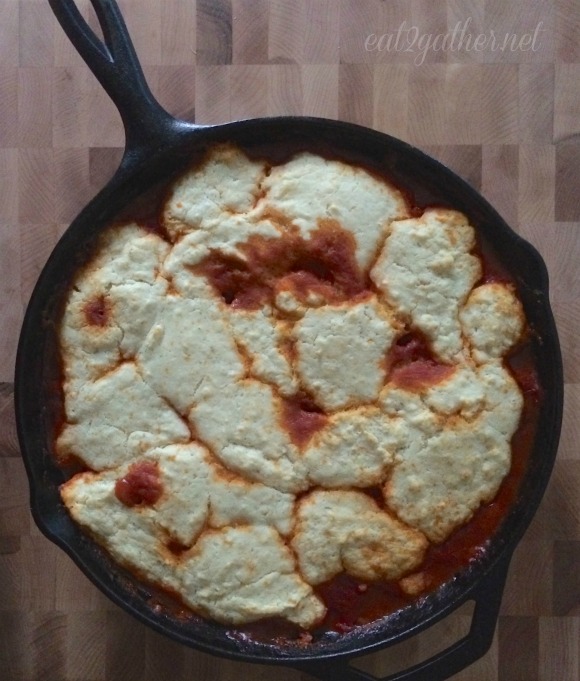 That's it!  I know.  How can that be it? That's it. I can hardly believe it myself.  The original recipe stressed that you need a really really really super duper good tomato sauce.  Not exactly sure what a bad tomato sauce would be, maybe one from the dollar store?  I used Hunts brand.  I think if you stick to a pretty reputable brand you should be golden!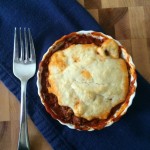 Print Recipe
Italian Pot Pie
adapted from a recipe on MarthStewart.com
Equipment
1 12" cast iron skillet

1 medium mixing bowl
Ingredients
1/2

tablespoon

Vegetable Oil

1

medium Onion

diced

1

cup

match stick Carrots

or shredded carrot

1

teaspoon

Salt

1/2

teaspoon

fresh ground Pepper

2

pounds

lean Ground Sirloin

1 33.5

ounce

container Tomato Sauce

2

cups

Flour

1/2

cup

finely grated Parmesan Cheese

1

tablespoon

Baking Powder

1/2

teaspoon

crushed Rosemary

1

stick Butter

melted

1 1/2

cups

Milk
Instructions
Preheat oven to 400.

Heat oil in a large oven proof skillet (a cast iron skillet works best if you have one) add onion and carrots to oil, cook over medium high heat until soft. Season with salt and pepper. Add ground beef to the pan and brown. When there isn't any pink left add tomato sauce, let simmer for 5 minutes.

While meat sauce is simmering mix up biscuits.

Combine flour, parmesan cheese, baking powder, and rosemary in a bowl create a hole in the middle add milk and melted butter, stir to combine. Dough will be sticky.

Remove meat sauce from stove top, dollop biscuit dough on top of sauce.  It doesn't need to be pretty or perfect just plop the dough evenly over the top.  Bake in 400 degree oven for 20 minutes or until toothpick comes out clean when stuck in middle of biscuit.
Notes
This recipe be can be divided up into individual ramekins bake for 15 minutes at 400 degrees or until toothpick comes out clean when poked into biscuit.  Depending on the size of you ramekins you may get 8 or more servings when you make it this way.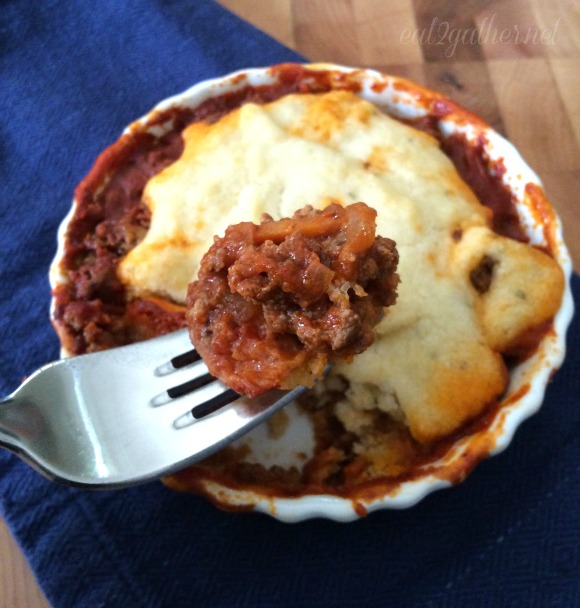 I hope the carrots don't scare your kiddos off, if it does, then grate them nice and fine and they will never know they're there!
I hope you're able to get around the table with your family this week.  If it's a busy week maybe that table is at a restaurant, or in your van eating sub sandwiches.  Where ever that table is savor the moments with your family, take a breath and enjoy the moment!
Enjoy!
Sheila