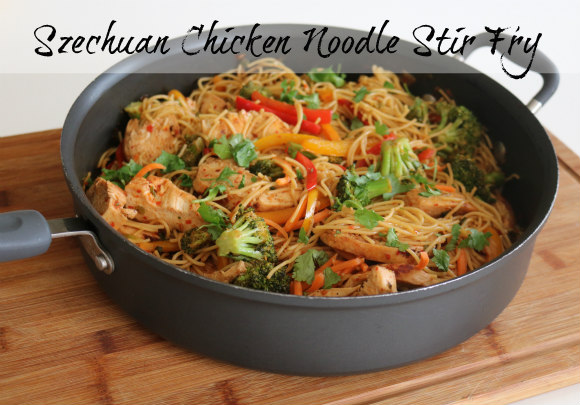 Hey Ho!  Hows it going?  I feel like I've been a huge slacker lately.  The main reason for my slacky behavior is that we have been without internet since the beginning of February.  Truth.  It is pretty stinky actually, but honestly how can I complain?!  Life could be much worse.
The truth of the matter is, we have never had high-speed internet.  GASP, I know right?!   We have lived in our home for 15 years this month, and when we built our house high-speed internet wasn't really a thang.  Well not for us anyway, we were like "you want to charge us what to run a line for what? Nah who needs that?".  Being ahead of the technical curve has never been one of our strong points.  Last to get cell phones.  Literally last people on the planet to get high-speed internet.  I'm pretty sure there are kids in the slums of Calcutta with faster internet than us.  Ok maybe not.  So we have been paying astronomical prices for broadband internet through that company with 5x more coverage…you know the one that has a map with a gazillion red dots.
So why are we without internet…if we actually can get broadband through previously mentioned company that rules the air?   Well, sometimes life can push you to your limits, and when we received our bill for January's internet that equaled the amount of one ticket to London (and not a cheap ticket to London) my sweet natured husband sort of lost his cool, and took the hedge clippers to the cable line.
God love him!!
Side note: incase you have never had anything but unlimited high speed internet, bless your heart,  let me tell you that for broadband internet you pay per the giggaschmigga, and if you have unlimited regular high speed internet you would probably be shocked at how many giggaschmiggas you use!  YouTube, netflix that stuff ain't happening in this house with broadband people.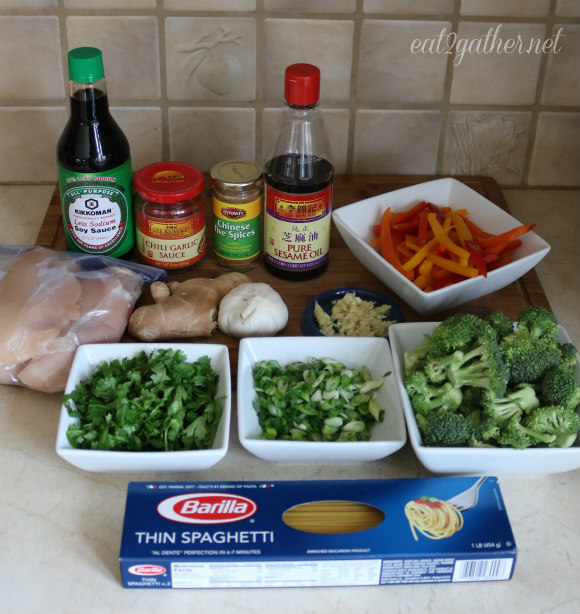 I'm getting hungry telling this story, you mind if we take a weensie break and make some din din?  I'll tell you the fairytale ending to my internet saga after dinner.   Above is what you will need to make this delicious one pan meal  (well you need another pan to cook the noodles, but because it's just water and the pan doesn't get too dirty I'm calling it a one pan meal).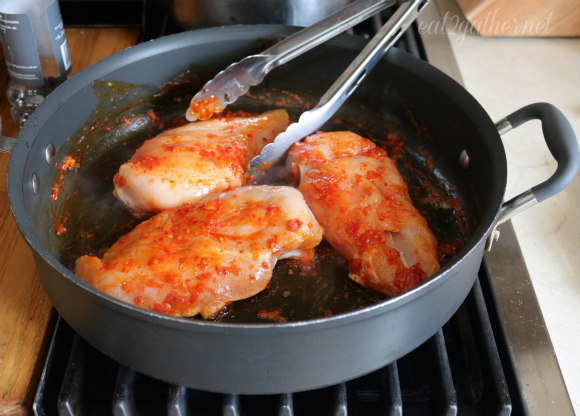 Start by adding sesame oil and some chili garlic sauce to pan and swishing the chicken breast around in it to coat, then cook chicken breasts in the pan for 6 minutes on each side.  Remove from the pan, and let rest, the chicken not you!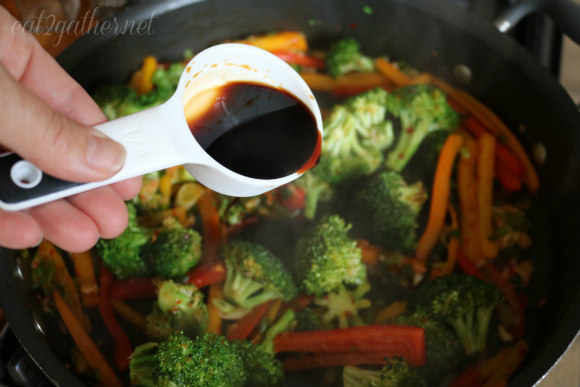 Next add more sesame oil (all the directions are down yonder, you can print this baby out and keep it right by your side as you cook!)  then add all the veggies to the pan along with garlic, ginger, more chili garlic sauce, Chinese 5 Spice (ancient Chinese secret haww) and soy sauce.  Toss it around, making sure vegetables are coated with all the yummy flavors.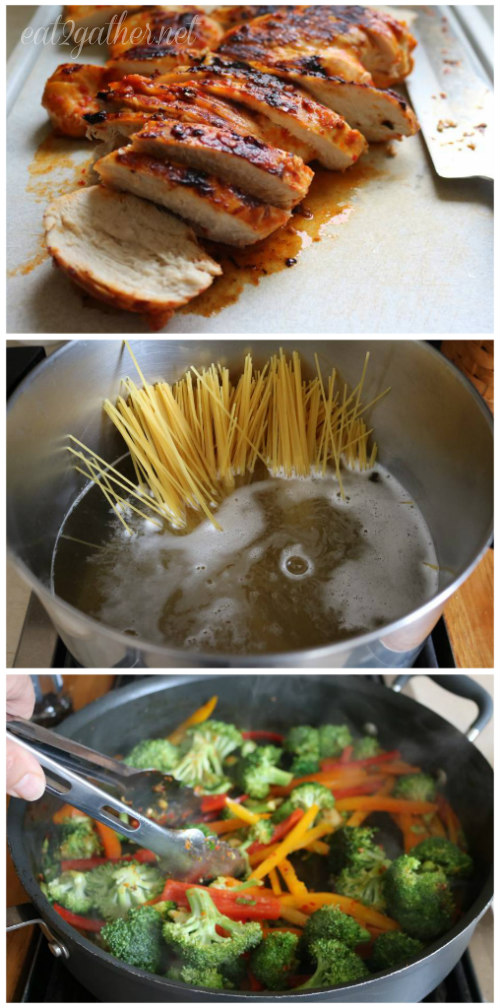 Now slice up your chicken, cook the pasta, and add them to the pan with the saute'd vegetables!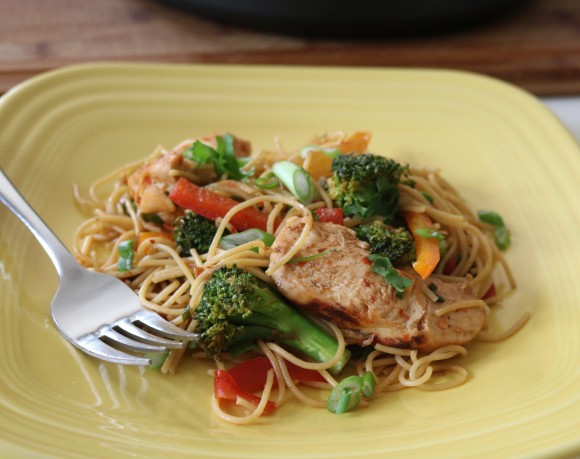 Voila!  Dinner is on the table!  And it's super good, easy, and dare I say healthy?!  Healthy, there I said it.  Now back to our regularly scheduled saga.  Print off recipe, get dinner started,  and pick up saga where you left off below.
[print_this]
Szechuan Chicken and Noodles
Serves 4
2 tablespoons Sesame Oil
3 Tablespoons Chili Garlic Sauce
3 boneless, skinless Chicken Breasts
1/2 pound thin Spaghetti Noodles, broken into short pieces, cooked per box directions (or angel hair pasta)
1 head Broccoli, cleaned and florets cut from stems
1 Red Bell Pepper, cut into strips
1 Yellow Bell Pepper, cut into strips
10 Green Onions, thinly sliced
1 clove Garlic, minced fine
1 tablespoon grated Ginger
1/2 cup low sodium Soy Sauce
1 teaspoon Chinese 5 Spice
1/4 cup Cilantro for garnish, optional
1. Place large frying pan over medium high heat add 1 tablespoon sesame oil, and 2 tablespoons chili garlic sauce to the pan. Take chicken breasts and smear each breast around in oil and chili garlic sauce cook, in skillet, on each side for 6 minutes, and remove to a clean plate. Allow to cool for 10 minutes and then slice into thin strips across the grain.
2. Add remaining tablespoon of sesame oil to the pan, add in broccoli florets, peppers, green onion, ginger, and garlic, saute over medium high heat for 5 minutes. Add in remaining tablespoon of chili garlic sauce, Chinese 5 Spice, and 1/2 cup of soy sauce. Toss to coat.
3. Add sliced chicken back to the pan along with cooked pasta, toss to coat, turn heat down low and cover pan, cook for another 5 minutes, allowing flavors to meld.
Enjoy!
This recipe was adapted from Paula Deans Szechuan Chicken recipe.
[/print_this]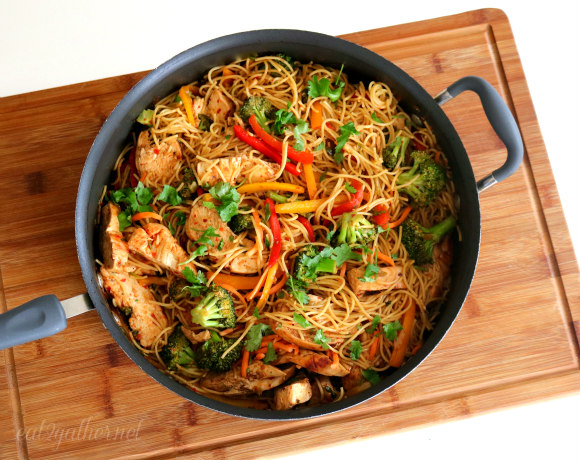 Okee so where was I?  Oh yes the hedge clippers.  So it was a blustery evening sometime in late January and I was trying to get some work done at my desk, the kids were all trying, I can't stress the word trying enough,  to get homework done and throughout the house you could hear mumbles and minor cuss words, along with computers being turned off and on, as well as the router being reset 5000 million times(by yours truly), as well as unplugged, and replugged, because sometimes this works miracles.  Finally after my mumbles turned into loud groans and the kids were resorting to their data hotspots for internet (which is super dee duper cheap, NOT) my husband came out from under the couch cushion and stood in my office and looked very sheepishly at me.
Lets stop there, because my husband is anything but sheepish, or wimpy, or one to hide under couch cushions.  This is a man with a purpose, who takes action, stands behind it, and gets the job done, (with hedge clippers, apparently!)  very rarely does he doubt his actions, nor does he need to.  I married a very kind, straight forward, and wise man.
But this day he was doubting his actions.
So there he stood all sheepish, and as I cussed under my breath I looked up to see him standing there,  shoulders slumped, wringing his hands,  and I was like "dude wasap whitcha badself,our internet sucks, I need to get this stuff printed for taxes and it's not connecting, ugh I'm so sick blah blah blah bladiddy blah blah."  I rambled and he stood wringing and slumping.  Finally I stopped whining long enough for him to interject these words "I might have done a really bad thing."  Well, these are words I have never in 22 years of knowing my husband heard him say.  I thought I was going to pass out, my goodness!!  What could he have done?  Seeing that I am a woman, and I can tend to be a bit dramatic at times, of course I forgot all about the internet and my mind went to the netherworld of bad things, all ridiculous of course!!!  Then he said "I got the internet bill and I cut the wire with the hedge clippers, I'm so sorry, I just couldn't pay that bill one more month, people are starving and we are paying ticket prices to London for our slow speed!"
GASP!!!  You did what?? Then I started to laugh hysterically, the thought of my husband losing his cool and taking the hedge clippers to the internet wire outside our house was so absurd, and awesome!  Finally, done, done done done.  Done with that darn slow speed internet!!  I couldn't wait to call them and tell them we were done!
Phew!  It was actually a relief, and the truth is, I had met a Comcast executive at a blogger event in December, she said she would attempt to work her magic and get us a line run back to our house, which is about 1/3 of a mile off the main road, not crazy far, but far enough that anytime I called Comcast to see if they would service us, they would say it's not available in your area blahdiddy blah.   It took meeting this one sweet angel of a women and her taking the time to make a few phone calls, and us paying a pretty penny (which we should have paid 15 years ago! and we would have the money to go to London for crumpets sakes!)(oh well, todays pretty penny will pay for itself eventually) to get a line run back to our home.  So we knew that high-speed internet was in our future, eventually, finally.  So it wasn't exactly like my man when ape shit without a plan.   We just didn't have an exact end date in mind. Which is now April 11.  Yes April 11 is the day The Johnsons will remember forever, as the day we stepped into the 21st Century!   Answered prayer.  I truly had been praying for this.  Praying for high speed internet may sound ridiculous, but its been stressful, having to pay so much money each month, and these days kids need it for school work, I need it for my blog, and Ken could get so much more done from home if we had it.
So that is why I have been slacking and not blogging as much!
Right now I'm at my dads using his internet, that he doesn't ever use, he doesn't even have a computer, nor will he ever, but high-speed came with his cable package,  thank goodness cause we have been hanging out here a LOT!  Once in a while I go to Starbucks, but I am too easily distracted to get anything done there!  People talk loud, about their stuff, and I can't not listen.
Ok go make your fam some of this awesome stir fry for dinner.  Thanks for listening.
love ya, Sheila