I would have to say this is the most asked for recipe that is not on my blog. Well now that problem is fixed! Here it is, the Breakfast Burrito recipe.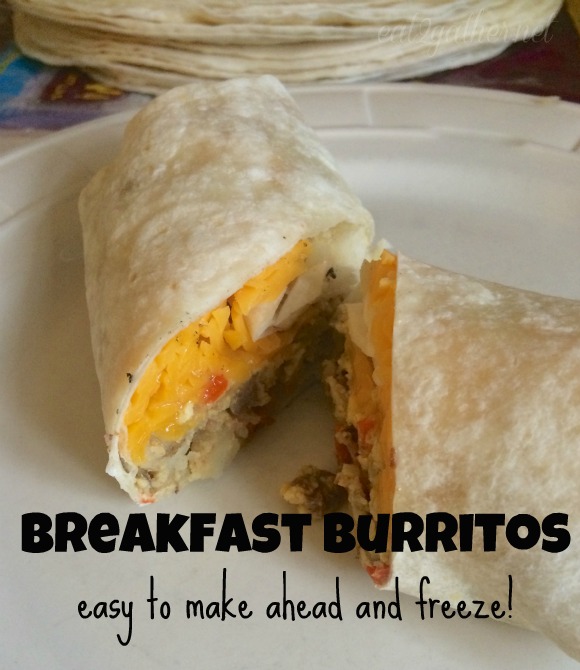 I make breakfast burritos about once a month and freeze them.  My kids love them, and they work for every meal,  it's nice to know there is something homemade in the freezer, that can be reheated in the microwave in a matter of minutes, for the many times we need a quick meal.
Breakfast Burritos, cinnamon rolls, and fruit make the best team dinner ever!  Kids love it!  I have taken them to my boy's team in the morning while they watch game film, and just recently I made them for my sons basketball team for team dinner in the evening.  It was a hit!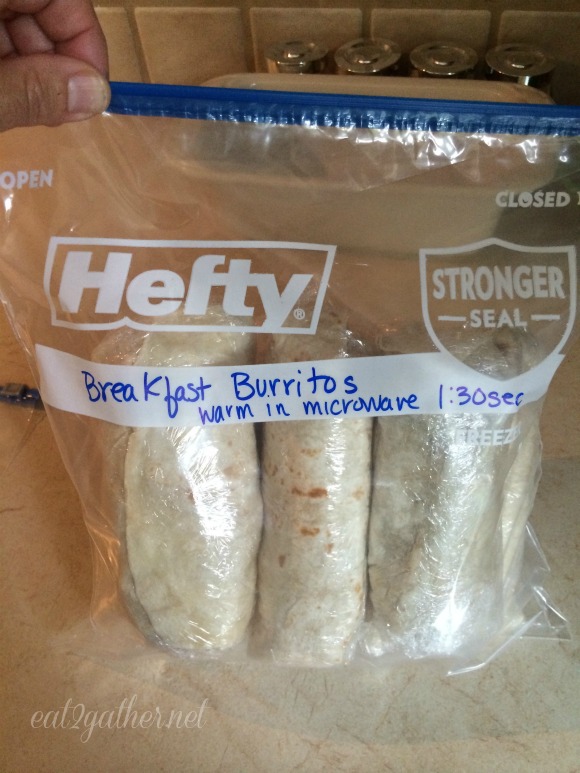 The recipe below is a guideline.  You could add black beans to yours, add more peppers or leave them out, add hot peppers, just make them with sausage or leave meat out all together.  Get the idea?!  These babies are versatile!  After skimming through this post you may think YIKES, but have to no fear, Breakfast Burritos are honestly easy to make.  I realize the recipe has a few steps, but nothing complicated.  I've been known to enlisted my kiddos to help me roll them up at the end, making the job go much faster.
Lets get started: First you want to clean and dice potatoes, toss them in olive oil and salt and pepper bake for 30 minutes at 400 degrees or until browning and crispy.  Remove from oven and allow to cool, while you get started on the rest of the burrito filling.

A large non stick skillet works the best for this task.  If you do not have a pan big enough you may want to use two pans.  Brown the sausage, drain off excess grease and add in peppers and onions, sauté  for about 5 minutes until vegetables are soft and starting to brown.  Add potatoes to the pan and using your spatula or spoon break them up a bit.  Keep pan heat at medium high and add egg mixture….

After adding egg mixture to vegetables and meat continue to move filling around, when it looks like most of the egg has been cooked, place cover on pan and turn temperature down low and let cook for 5 minutes.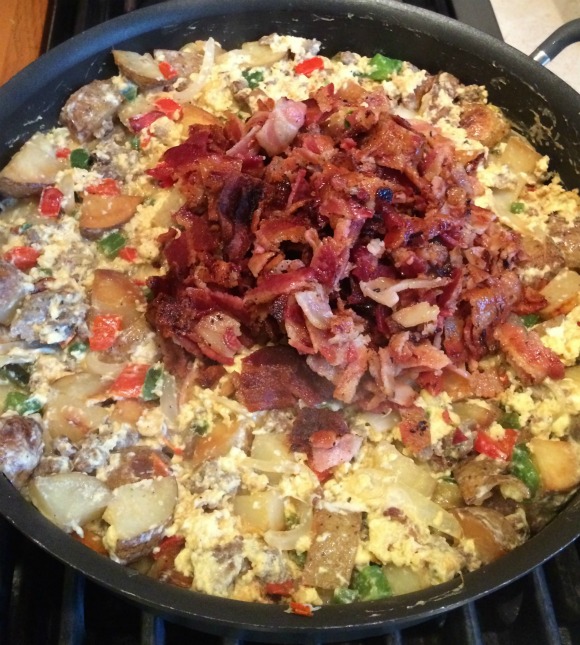 Remove from heat and add in chopped bacon, or ham, or both! Or neither, this is where you could add the beans if you like.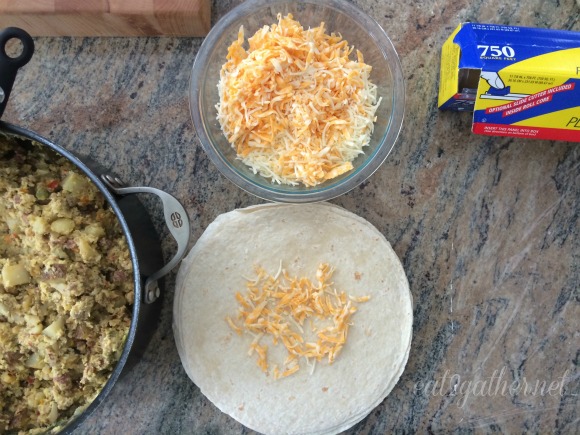 Now it's time to get the assembly line going.  Cheese on the bottom?  Cheese on the top?  It doesn't really matter. Just don't forget the cheese 😉 unless you can't eat it for some reason, well then by all means forget the cheese.

I use the large burrito sized flour tortillas, you could use any flavor wrap you like.  Place a large spoonful of filling in the center of the tortilla, about 3/4 cup.  Add cheese, and start the wrap.

Fold one side over mixture, then tuck in the sides while you continue to roll.  It might take a few times to get it right, and your tortillas might crack under pressure, have no fear, keep rolling you'll get the hang of it! (The the burrito at in the picture below.  It cracked.  I kept rolling, and wrapped it up.  It is fine.  Just fine 😉 )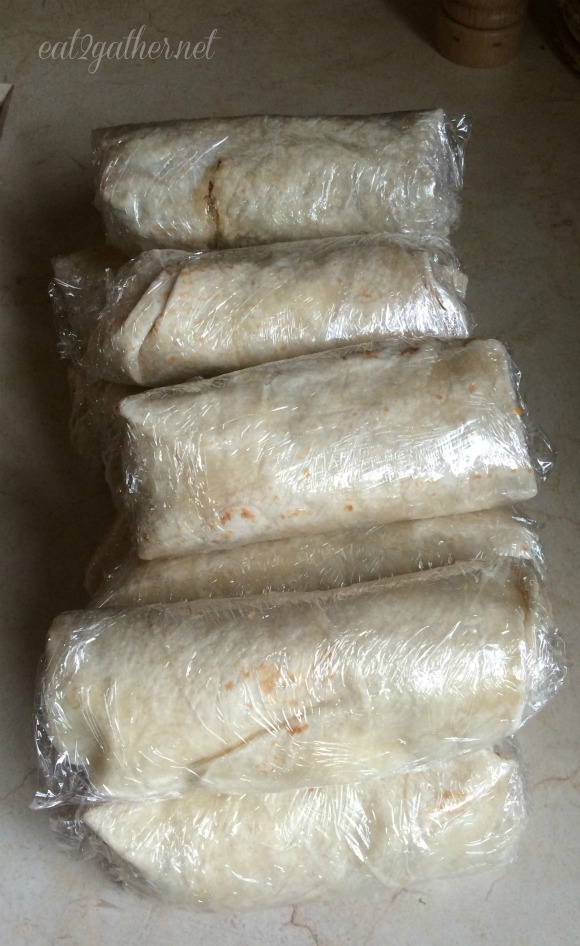 If you want to freeze the burritos wrap them in plastic wrap, and place them in a freezer safe zip-loc bag (see the picture above).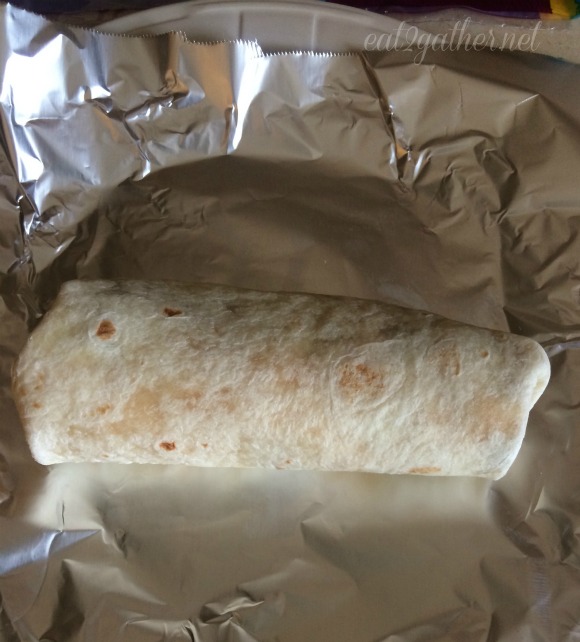 Or if you are planning on eating them soon after you make them and just want to keep them warm, wrap them in aluminum foil and place them on a baking sheet and place them in the oven on a low temperature 250ish.
[print_this]
Breakfast Burritos
makes 16 burritos
2 1/2 pounds of Idaho Potatoes, diced and roasted
1 pound Breakfast Sausage
1 pound Bacon, cooked and chopped into small pieces
1 Green Pepper, diced
1 Red Pepper, diced
1 large Onion, diced
12 Eggs
1 cup Half and Half
Salt and Pepper to taste
3 cups shredded Cheese (cheddar, Colby, Monterey jack, Colby jack, mozzeralla….pick your favorite)
16 Burrito sized Flour Tortillas
Directions: In a 5 quart non stick skillet brown sausage.  Remove excess grease with a spoon.  Add in peppers and onion and saute for 5 minutes until vegetables are soft and starting to brown, add in potatoes and break up with spoon or spatula.
In a separate bowl whisk together eggs, half and half (you can use milk instead) and salt and pepper to taste.  Use more pepper than salt, because the meats have salt in them.
Slowly pour egg mixture over sautéed vegetables, move the eggs in from the sides to the middle continuing to do this until most of the eggs look like they have been cooked.  Flatten burrito filling out in the pan, place a cover over the pan, turn temperature down low, and let cook for 5 minutes, without peeking!
Remove lid and in additional chopped meats like ham or bacon, or if you are going for meatless add in a can of drained and rinsed black beans or add them in addition to the meats. Skies the limit.
Assembly line: Burrito filling,  cheese, flour burrito sized tortilla wraps, plastic wrap/aluminum foil
Place wrap on counter top or place, place 3/4 cup or a large spoonful of filling in the middle of the burrito shell, sprinkle with cheese (about 2 tablespoons more or less whatever your preference).   Fold burrito shell over filling, tuck in both sides and continue to roll away from you.  Wrap tightly.  Set aside and move on to the next one.
Eat immediately.
Or wrap in foil and keep warm in oven on a baking sheet for put to 1 hour.
Or if frozen reheat in microwave for 1 minute 30 seconds, on high.
Enjoy!!
[/print_this]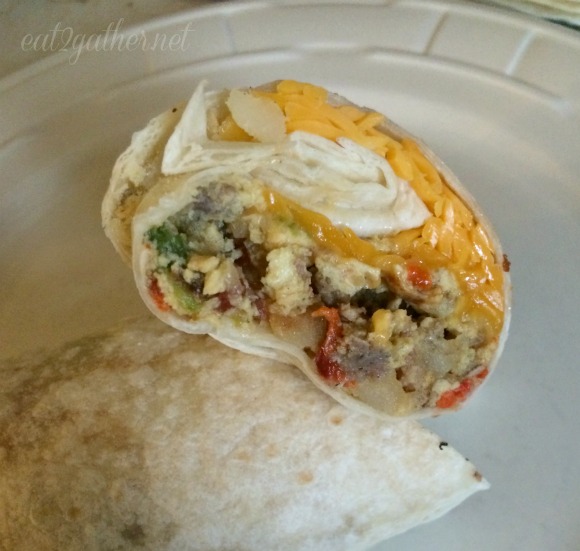 There you have it!  The most requested recipe in my everyday life.  Now it's on the blerg for all the world to see, have, use, and eat!
Happy weekend!  Stay warm! ♥ Sheila
More recipes that are easy to freeze:
Annettes Chicken Verde Enchiladas
Beef and Bean Enchiladas
Shepherds Pie
Spaghetti Sauce
Three Bean Turkey Soup