Crunchy smashed potatoes are hands down my families favorite way to eat potatoes at home, now if I made french fries at home that would be their favorite, but I don't so these tasty taters take the number one spot!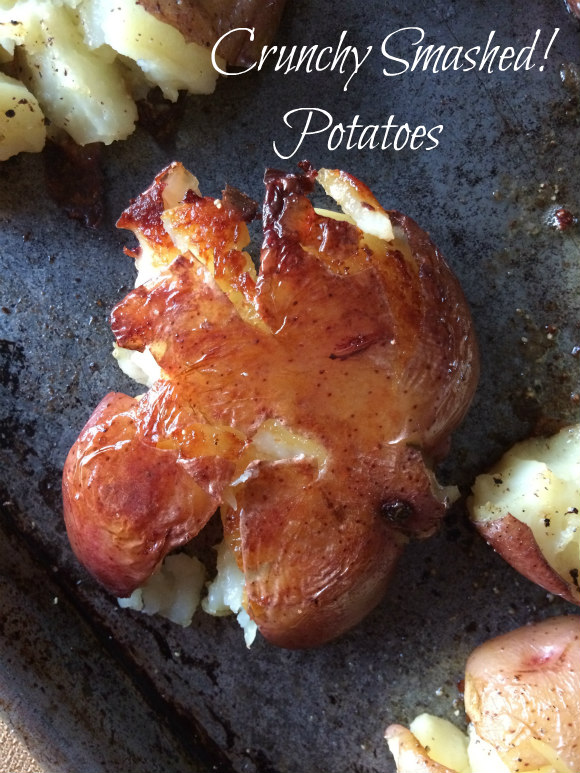 I am often stumped when it comes to side dishes.  I'm not sure why, because honestly sides dishes can be as simple as slicing up some fresh tomatoes, to making a quick fresh salad, which companies like Dole and Earthbound Farms have made super easy with all the great prewashed and packaged salads they offer.  There are so many great products in the produce section these days there really is no reason to leave out the veggies!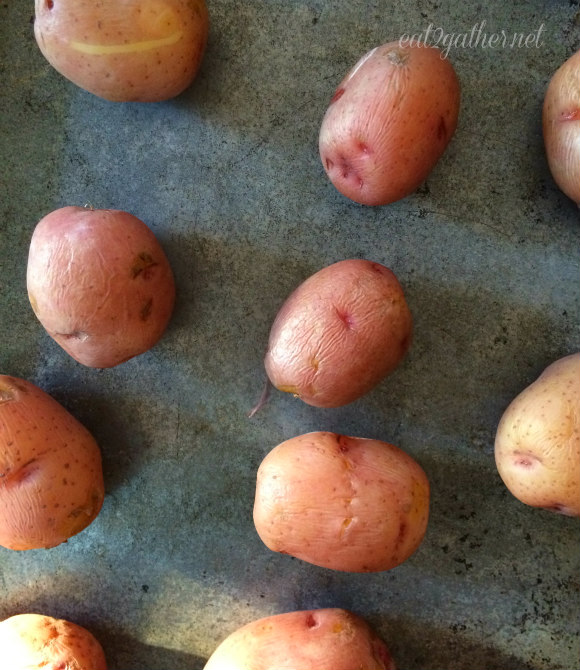 I swear the people around here, a.k.a.my family, would eat these taters every night!  I usually try to make extra so we have leftovers for breakfast potatoes, or egg scrambles.  In my opinion potatoes get a bad rap.  In the words of my Ainslie "POTATOES ARE SO GOOUUUD!".  She's right they are so good and they are actually so good for you! Let's see…. they are chocked full of potassium, vitamins C, B-6, iron, and magnesium!  I'm telling you wars have been waged over these spherical morsels!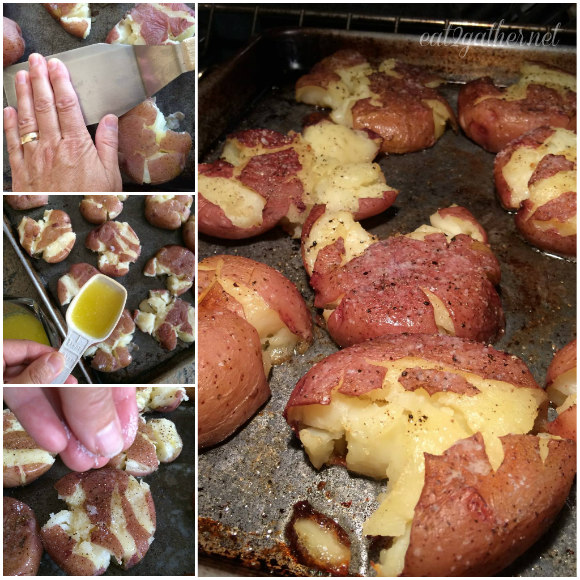 I'm excited to be partnering again with Produce for Kids!  They are once again joining forces with Meijer (where I do 99.9% of my grocery shopping) and Jump with Jill to raise funds so that local schools can utilize the Jump with Jill nutrition education program.   This campaign is running from August 30- September 26 it is supported by nine fresh fruit and vegetable companies.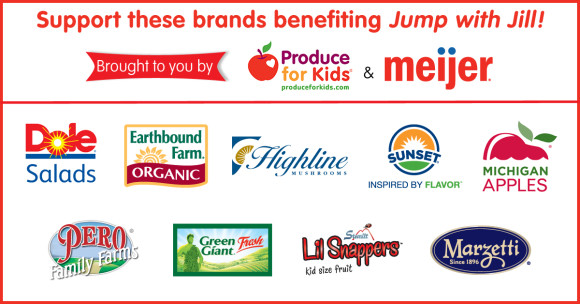 I'd like to encourage you to incorporate more fresh fruits and vegetables into your diet and support the above food brands, making it possible for many children in our area (West Michigan) to learn about the nutritional benefits of eating fresh fruits and vegetables daily!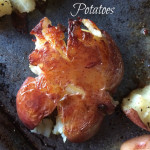 Print Recipe
Crunchy Smashed Potatoes
Crunchy on the outside, creamy on the inside with just the perfect salty crust.
Equipment
1 medium pot

for boiling potatoes

1 12x15 sheet pan
Ingredients
3

pounds

Red Potatoes

4

tablespoons

Butter

2

tablespoons

Olive Oil

1

teaspoon

Kosher Salt

fresh ground pepper to your taste
Instructions
Boil potatoes in salted water until fork tender, about 20 minutes.

Drain water off potatoes and allow to cool enough so you can handle them. (At this point you can place in refrigerator for up to 4 days before baking or smash and bake right away.)

Melt butter and whisk in olive oil.

Drizzle a tablespoon of oil on a 12×15 baking sheet.

Place potatoes on a baking sheet, take a large metal spatula and smash each potato flat.

Drizzle remaining butter/olive oil mixture over potatoes, sprinkle with salt and pepper and bake at 425 degrees for 30 minutes or until potatoes are crunchy and crispy around the edges.
Notes
If there happen to be any leftover these potatoes make great breakfast potatoes, chop up leftover smashed potatoes, add some sliced mushrooms, bell pepper, and onions, fry it all together in a frying pan. If you like egg scrambles you could add a couple of eggs and cheese and you'll have yourself a hearty delicious breakfast!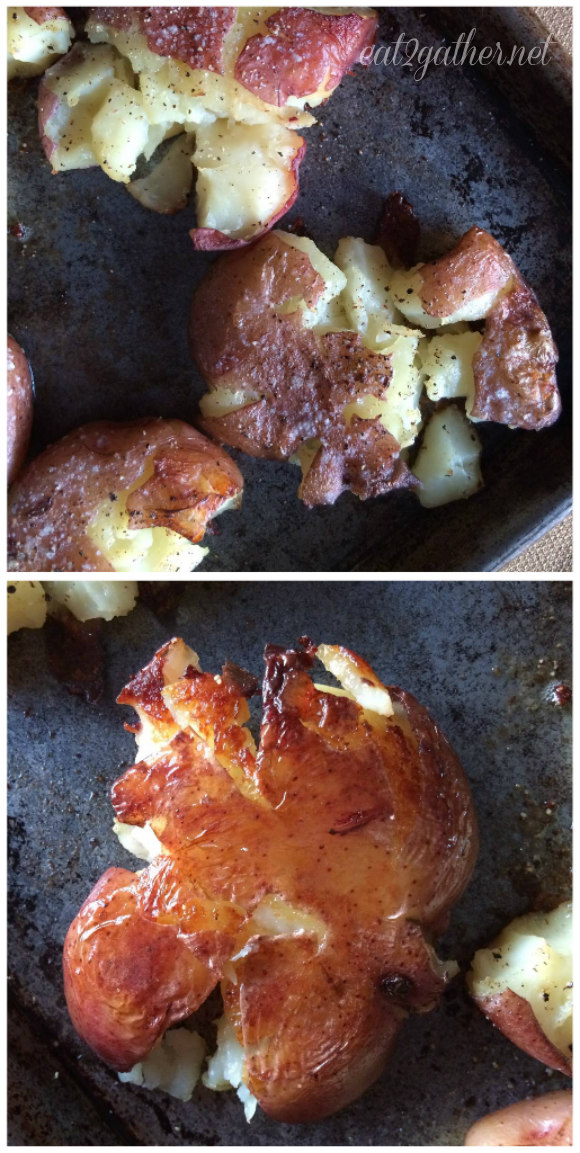 Nom nom num.  I made these potaters tonight just for this post so I could get some pics.  It's 9:07pm.  My kiddos are doing homework.  I'm on my computer, in my office just off the kitchen.  I hear a child stomping toward the kitchen as I'm editing the above photo; sounds like Ainslie.  I hear a squeal.  It is Ainslie.  Weeeeee I was gonna have ice cream but now I'm just going to have smashed potatahs, she says!!  LOL.  And she wants them in her lunch tomorrow too.  Cold.  I told you they're a favorite round these parts.
Remember to get to Meijer and purchase fruits and veggies to help out Jump with Jill and Produce for Kids!
Have a great weekend!  Sheila
Disclaimer:  I did accept  payment in the form of a gift card for promoting this campaign.  Please know I would never promote or accept compensation for anything that I did not think was beneficial to my community or my readers!  I value your time way too much.