Red White and Blueberry Pie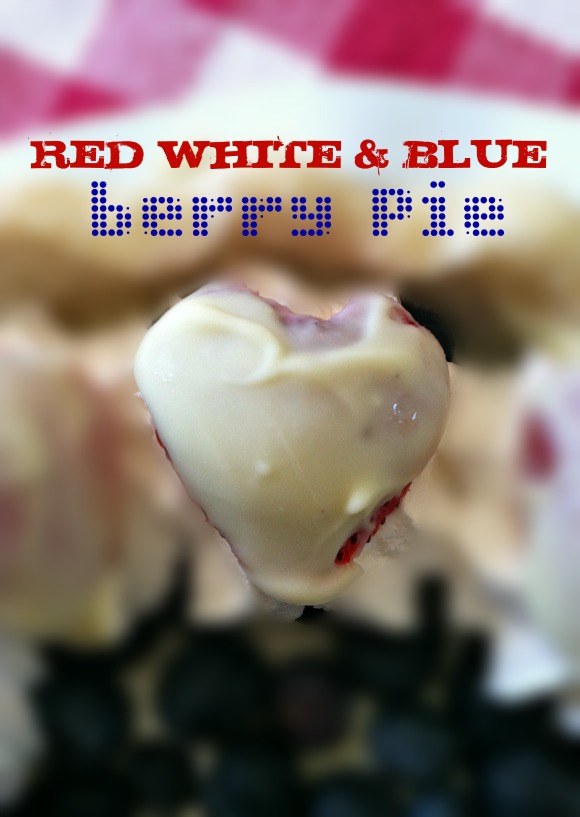 I heart berries!  And you all know I heart pie!  Red, White, and Blueberry Pie is just the pie you need for that dessert you've been assigned to bring to the picnic!  Oh this pie will impress foe sho.  You can thank me now.
And later….
Red White and Blueberry Pie is not only pretty it tastes out of this world!  The fresh berries and the creamy filling make for the perfect summer time dessert!  The white chocolate lined crust pushes this pie over the top!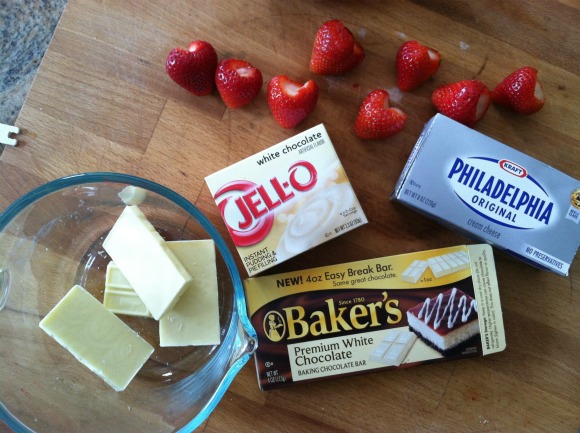 Here are the main players in this pie to end all pies.  I know what your thinking….YUM!
I can't take credit for this pie….the recipe is from my friend Tina.  Tina my work out buddy who makes killer desserts.  Isn't that an oxymoron or somethin er another?!  Remember Tina's Caramel Apple Crunch Pie…yeah, see what I'm saying?  This girl knows how to get her pie on!!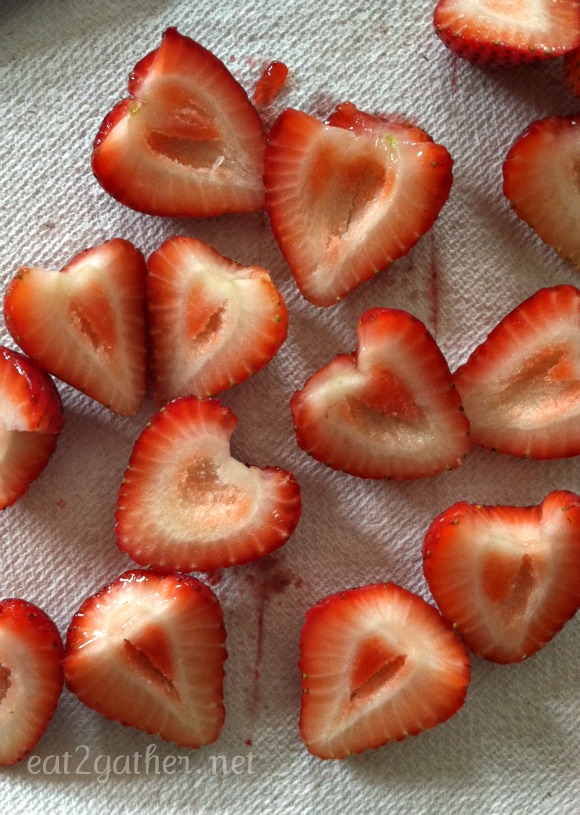 Who remembers my first blog Strawberry Cake?  I love me some strawberries.  I can't wait until the Michigan berries are ripe, the season in Michigan is short, and last year I missed it because I was out West with my boys…so watch out this year I might just o.d. on strawberries.  If all of the sudden it seems I've dropped from the face of the world wide web…send help I'm probably face down in a strawberry patch somewhere.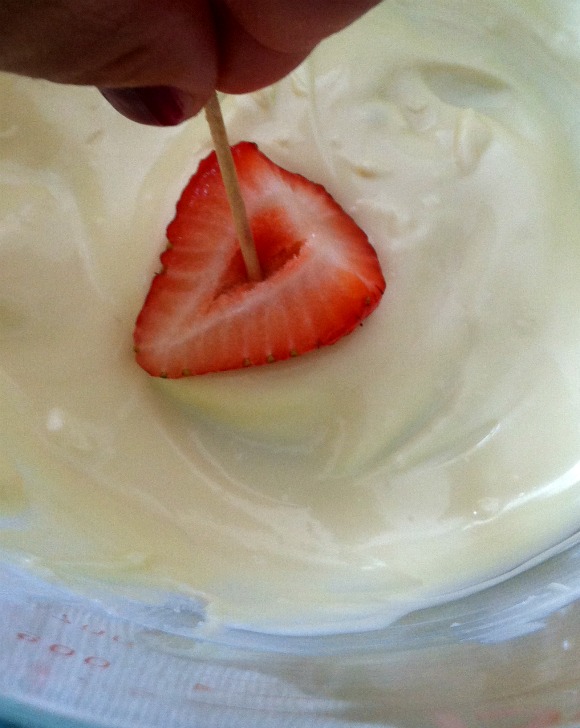 I'm not going to lie this pie is a bit fussy, but it's worth it.  Wash clean and dry the strawberries.  Choose out 6-8 that are similar in size, cut them in half, dip them in melted white chocolate, and place them on waxed paper to set.

Ok let's do this thing!  You've got your white chocolate covered strawberries setting up.  The detailed recipe is below but here's the quick how-to!
1. Now take the remainder of the white chocolate and spread it in the bottom and up the sides of your baked pastry crust.
2. Line the bottom of the pie with the remaining strawberries that you've sliced.
3. Now for the White Chocolate Cream filling…yupper spread that over the strawberries. MMMhmm.
4. Place the blueberries you washed, and dried in a nice layer over the cream filling.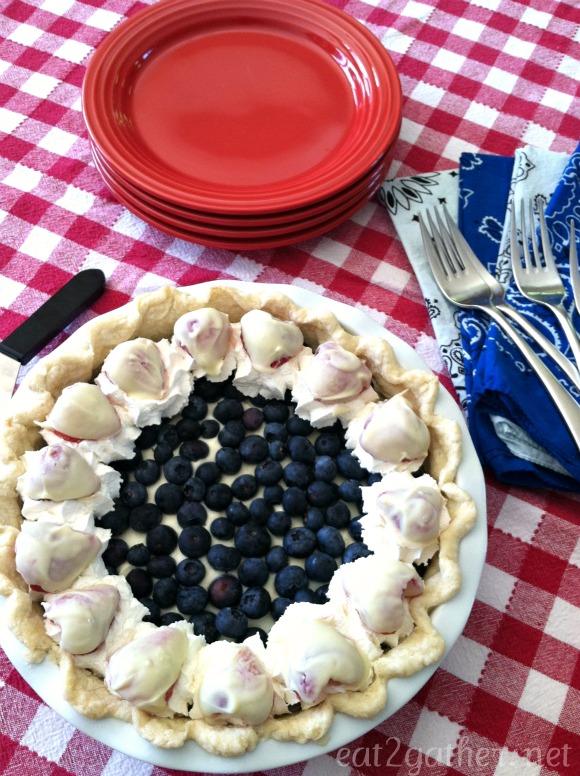 Pipe the whipping cream over the edge, or cover the whole gol dern pie with it.  Pick your poison.  I like to pipe it around the edge and decorate with the white chocolate covered strawberries.  Two per piece.  Please and thank you!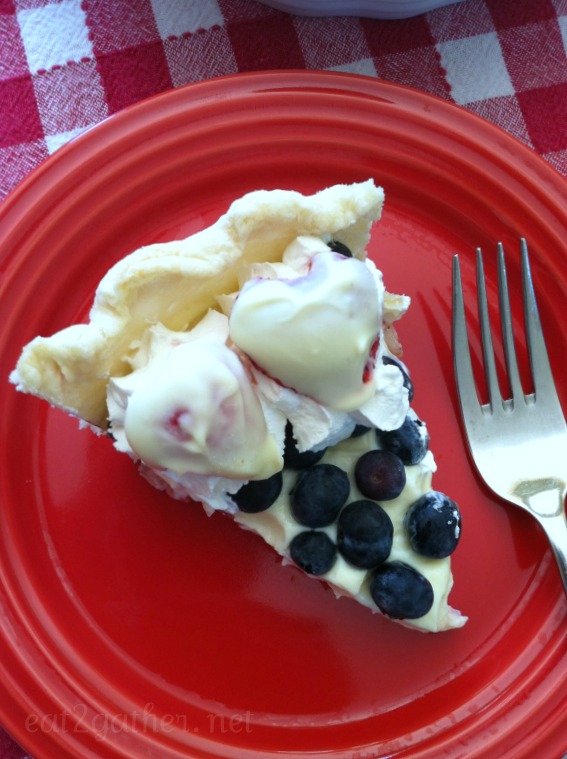 What's your go to dessert for summer?  I've got a few.  I'll be sharing one of my kids favorites summer treats later this week to celebrate National Dairy Month.
[print_this]
Red White and Blueberry Pie
9″ pie serves 6

1 pastry Pie Crust, baked and cooled
1 quart or 2-3 cups Strawberries, washed and dried
1 4 ounce package Bakers White Chocolate Squares
1 brick Cream Cheese
3/4 Milk
1 small package Instant White Chocolate Pudding mix
1 1/2 cups Blueberries, washed and dried
2 cups Whipped Topping ~ using blender whip together 1 pint heavy whipping cream, 1 tablespoon sugar, and 1/2 teaspoon vanilla
1. Prepare pie crust, let cool.
2. In a microwave safe bowl melt white chocolate on high for one minute, stir with spatula, if not completely melted after one minute, return to microwave for 15 seconds, stir and repeat until chocolate is melted and smooth.
3. Dipping Strawberries: Cut 6-8 same sized strawberries in half using a tooth pick dip them in the melted chocolate set them on foil or parchment paper to dry, I like to pop them in the refrigerator to speed up the process of the chocolate hardening.
4. Spread the remainder of the melted chocolate in a thin layer over the bottom and up the sides of your crust.
5. Slice strawberries and layer evenly in bottom of pie over the white chocolate.
6. With your mixer whip together cream cheese, and instant pudding, gradually drizzle in milk. Continue to whip until smooth and fluffy, about 1 minute. Spread cream filling over strawberries.
7. Layer blueberries on top of cream filling.
8. Lastly pipe whipped topping around the edges and decorate with chocolate covered strawberries. Place in refrigerator for 1 hour before cutting and serving.
Enjoy!!
Note: Feel free to use Cool Whip if you don't want to mess with making your own whipped topping. Also this pie holds up great, so it's a great pie to make a day ahead and take some of the stress off the day of the party!
[/print_this]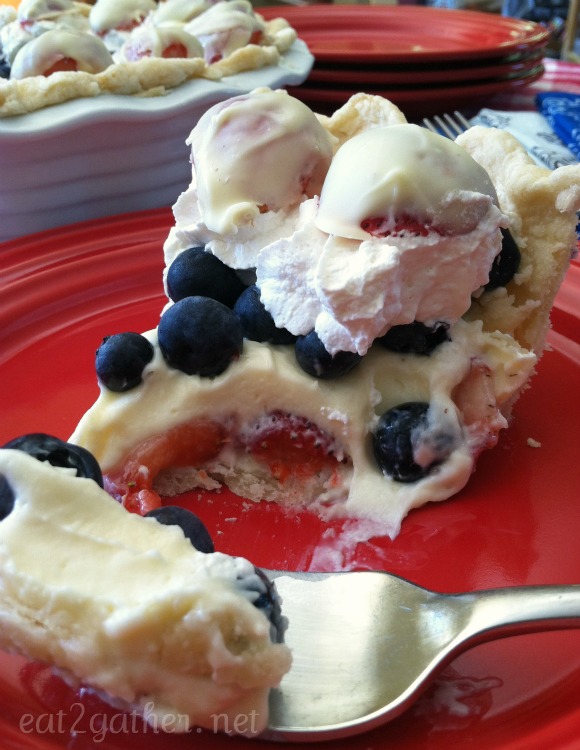 OMAGOLSHMAthispah is so delish!  Excuse my manners my mouth was full of pie…always.  That's why it's called a pie hole people!  So there you have it your summer time go-to dessert!
You are so welcome…you know I love ya!
xoxo Sheila
P. S. Becky (#25) you WON!!  the "It's Pie O'clock Somewhere" t-shirt!  We can work out the details over email.  xoxox Sheila