Rhubarb Strawberry Muffins ~ muffin mondays
Some people call themselves Cheese Heads, I on the other hand call myself a Muffin Head.  Next to pie, muffins are my next great love. Well I kinda like my cheese though too…
UGh! I know I've got issues!
Muffins are on my list of comfort foods; somewhere in between fried chicken and sushi…..I said I had issues.   Muffins are great for breakfast, perfect as a snack for the kids, and they freeze up easy too!  Which makes them great for that unexpected coffee time with a friend!
What is it about Rhubarb and Strawberries?  They are like ebony and ivory, marshmallows and hot chocolate,  the Lone Ranger and Tonto, chips and salsa, Sponge Bob and Patrick Star….well you get the idea.  Rhubarb and strawberries are perfectly paired.
A Rhubarb Bread recipe and a Strawberry Rhubarb Crisp recipe I have, both given to me by friends, inspired these muffins.  They are like the first breath of Summer in a muffin!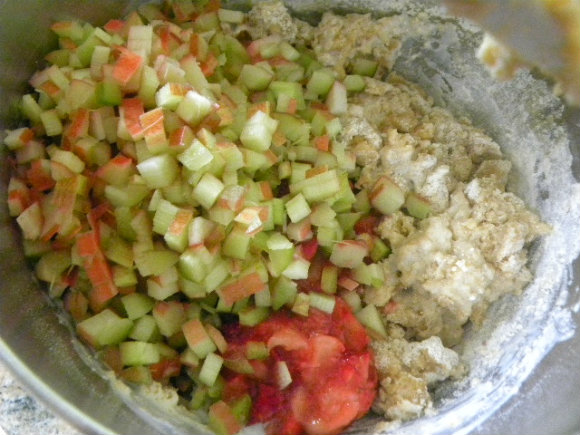 The batter comes together easily. All you need to do is throw the ingredients together, fold in the diced rhubarb and mashed strawberries, and your ready to fill your muffin tins.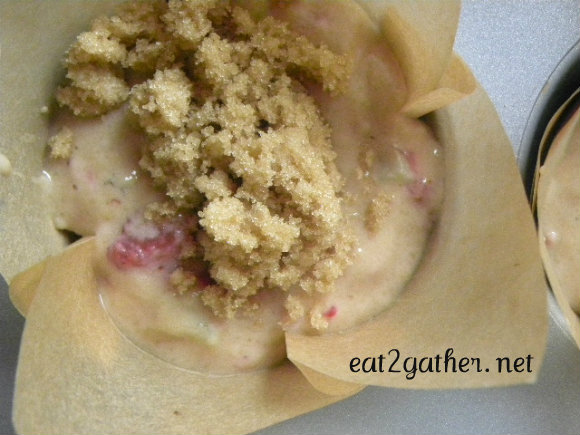 Fill greased muffin tins, or if you prefer to use papers that works too, fill 2/3 full and don't forget the topping!
[print_this]
Rhubarb Strawberry Muffins
18 muffins or 12 large muffins
3 cups Flour
1 teaspoon Salt
1 teaspoon Baking Soda
1 1/4 cup Brown Sugar
2 Eggs
2/3 cup Vegetable Oil
1 teaspoon Vanilla
1 cup Buttermilk
2 cups Rhubarb, diced
3/4 cup Strawberries, mashed
Topping: using a fork cut brown sugar and butter together until crumbly.
1/2 cup Brown Sugar
1 tablespoon Butter
Preheat oven to 350 degrees.
Combine flour, salt, baking soda, and brown sugar in mixing bowl. Whisk together eggs, oil, milk, and vanilla gradually add wet ingredients to dry ingredients, until combined. Fold in rhubarb and strawberries. Fill muffins tins 2/3 full, sprinkle with topping. Bake for 18-20 minutes, 22-25 for large muffins.
[/print_this]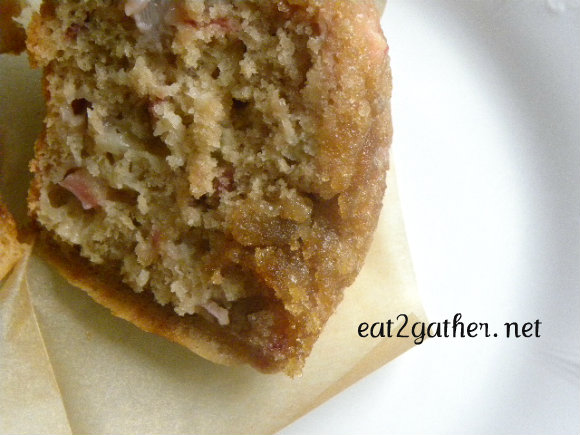 Now pour yourself a cuppa Joe and enjoy!