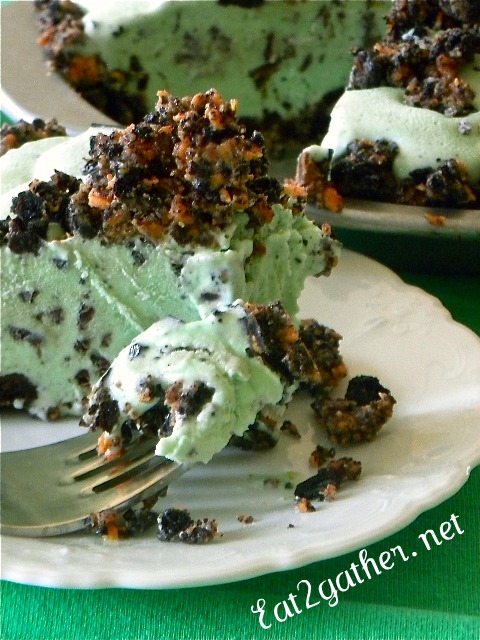 Green Dragon Dessert is a family favorite, but not just my families favorite.  You've heard me talk about a camp  in Northern Michigan that our family stays at for a week every Summer, and our kids spend a week at for kids camp, Green Dragon is traditionally  served the last night of  camp.  Over the years I've heard tell a cook or two have tried to switch up the menu the last night of camp, and have not served Green Dragon.  Those cooks were never to be seen again!  True story.
What does Green Dragon have to do with St. Patrick's Day?  NOTHING!   Except for it being green it has absolutely nothing to do with Ireland.   I love Ireland, I love St. Patty's Day, I love more than anything a Guinness.  But this year, unlike other years,  because of crazy schedules I won't be making my Chocolate Stout Stew or Soda Bread.  I think we'll be having Thai take-out and green pie.  However, I may just have to sneak in a Guinness for good luck!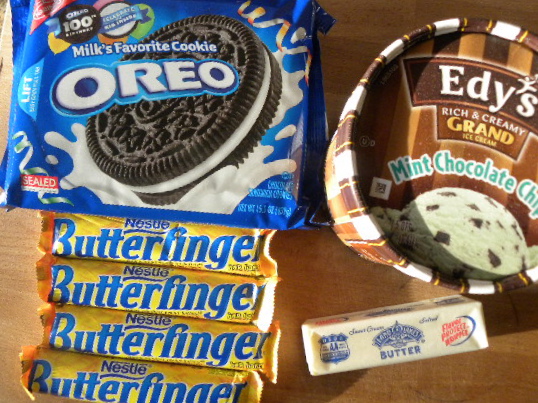 I'm sure you heard that the Oreo is 100 years old!  Oh my I do love me some Oreos.  Pre-40 year old muffin top I could put down a row or two of Oreos with milk in no time…..Ah those were the days!  That's it right there, four ingredients to this amazingly scrumptious ice cream pie, crazy easy!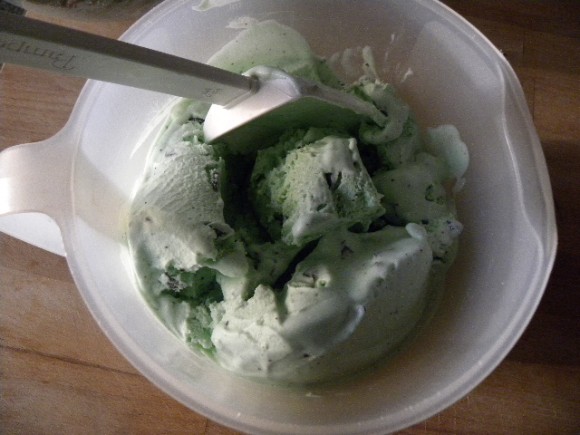 The first thing you will want to do is let the ice cream get soft.  One half gallon of your favorite Mint Chocolate Chip Ice Cream is needed.  You don't have to put it in another bowl to get soft, I just like to have extra room to stir it around a bit, but this can be done in the carton, if you want to spare yourself some extra dishwashin'.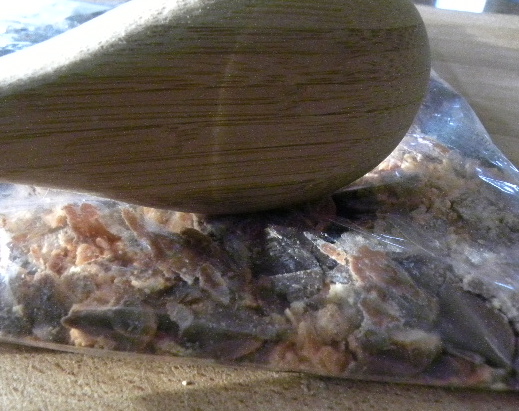 Toss 2 rows of Oreo cookies, and 4 regular sized Butterfinger Candy Bars in a Zip-loc bag.  Give them a whack with a wooden spoon, until they are smashed to smithereens.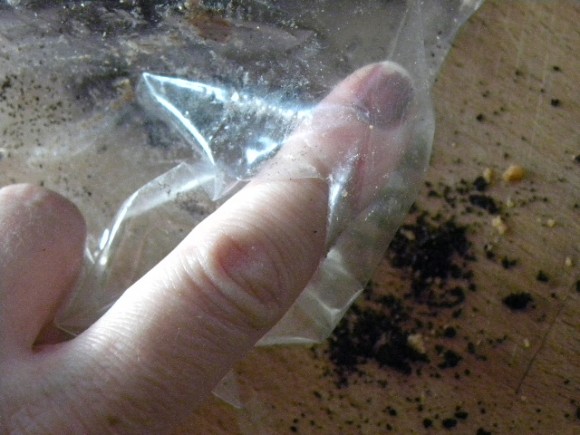 Be careful not to get overly zealous and pop a hole in the bag….as I did.  Oopsy daisy.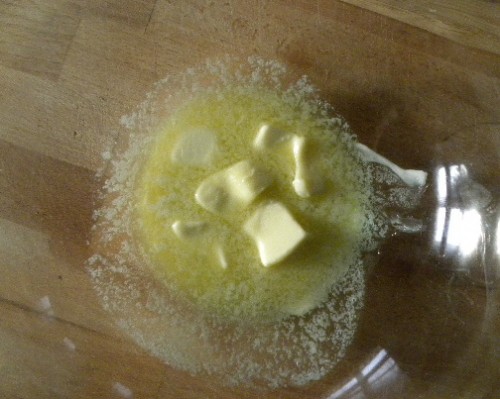 Melt one stick of butter in the microwave in a medium sized bowl.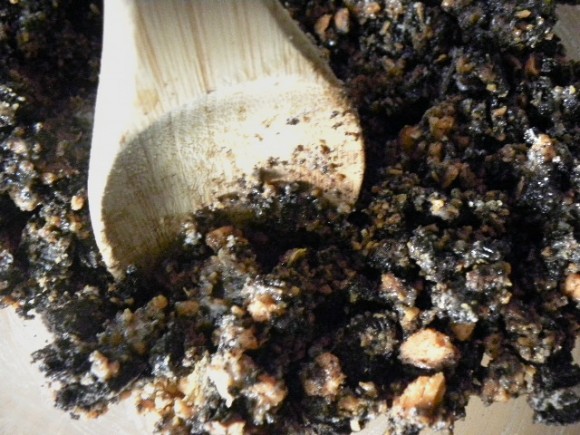 Pour the zealously smashed Oreos and Butterfingers into the melted butter and mix. As you do continue to break up any large pieces of cookie/candy bar.
Press 2/3 of the mixture into the bottom and up the sides of a freezer safe pie plate.  (Forgive me for failing  to take a picture of  pie shell pre-filling.)  BEFORE I add the ice cream in the pie shell, I like to pop it in the freezer for 20 minutes to get it good and cold, so that when you pour the softened ice cream in the shell it will start the freezing process again.  This step is not necessary if you are in a hurry.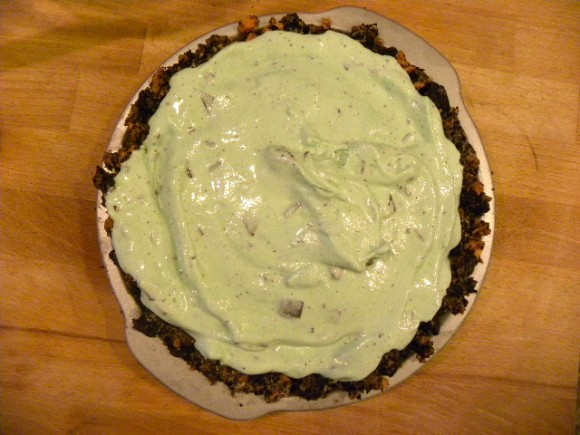 Spoon 1/2 gallon softened Mint Chocolate Chip Ice Cream into pie shell.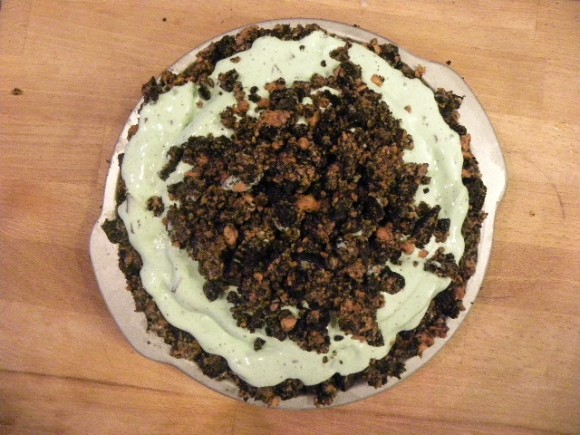 Pile the remaining 1/3 cookie/candy bar mixture in the middle.  Lightly cover with plastic wrap and pop in freezer  for no less than one hour and up to 3 days in advance of serving.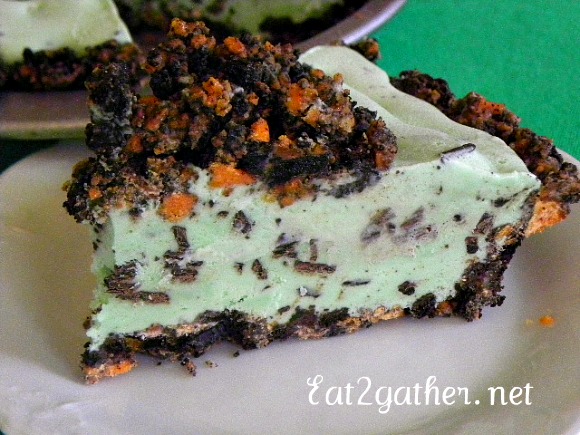 Until you try this pie you can't even fathom how scrumptious it is. Everyone I know, with the exception of one koo-koo bird, loves this dessert. Feel free to change it up.  I personally love to make it with Coffee Ice Cream….oh yeh baby that's what I'm talkin' bout! Peppermint Stick, Chocolate, Vanilla, Peanut Butter Cup Ice Cream are all delicious in this dessert, but Mint Chocolate Chip is everyones favorite!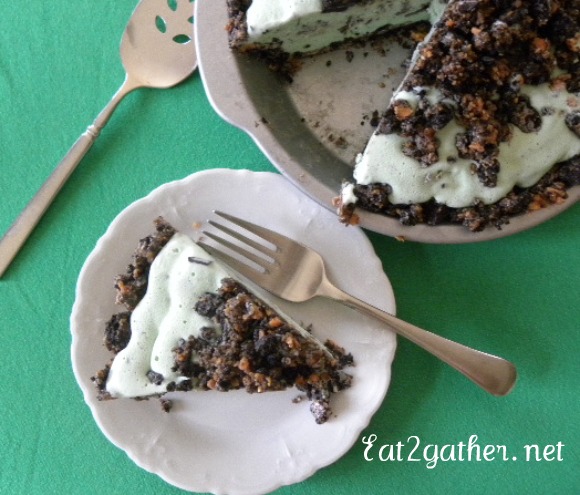 Why the name Green Dragon? No one knows…. Maybe because it's so dangerously delicious!!
[print_this]
Green Dragon Pie
makes one 9″ pie
2 rows Oreo Cookies
4 regular sized Butterfinger Candy Bars
1 stick Butter
1/2 gallon Mint Chocolate Chip Ice Cream
Leave ice cream out while preparing pie shell so it gets soft. Melt butter in a medium sized bowl, in the microwave. In a Zip-loc bag combine candy bars and cookies, smash to smithereens then add to melted butter. Combine butter and cookie mixture while continuing to break up any large pieces. Press 2/3 of crust mixture in freezer safe pie plate. Pop shell in freezer for 20 minutes, remove and spoon in softened ice cream pile remaining cookie/candy bar crust on top of pie. Cover with plastic wrap and return to freezer for a minimum of 1 hour. Pie can be made up to 3 days in advance.
Note: You can make this in a 9×13 pan and cut into squares, but using one whole package of Oreos, 1 stick of butter, and 5 Butterfingers Candy Bars. Still only use 1/2 gallon ice cream. Put half crust in bottom of pan, spread ice cream over top and then crumble the remaining half of cookie mixture over top. This is the traditional "camp" way to make Green Dragon.
Enjoy!
[/print_this]
I would like to leave you with one of my  favorite Irish Blessings.
I-rish you a very nice place to live,
I-rish God's greatest gifts he'll give.
I-rish you health, and wealth, and more–
I-rish your smilin' face were at my door!
ERIN GO BRAGH!