I was asked by ADA Mideast to help promote National Dairy Month




and to develop a recipe that would provide a daily dose of dairy.




Please know that I stand behind dairy 100% and all the opinions are my own.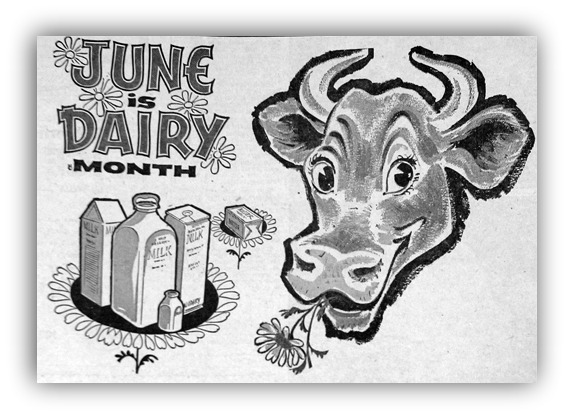 National Dairy Month  could not come at a better time!  Summer means change of schedules and with kids being out of school, this means different eating habits for our family.  June being National Dairy Month is a great reminder for us to get our daily servings of dairy in no matter what our schedule is!
Did you know?
~Milk contains nine essential nutrients, making it one of the most nutrient-dense beverages you can enjoy!
~Milk is the single greatest source of three of the four nutrients the Dietary Guidelines identified as lacking in the American diet – calcium, vitamin D and potassium.
~Experts recommend three servings of low fat or fat-free dairy foods every day!
~Studies show nutrient-rich dairy foods, when consumed as part of a healthy diet, may help to reduce the risk of diseases such as osteoporosis, hypertension, heart disease and type 2 diabetes.
One dairy serving a day is equal to:
* an 8 ounce glass of milk
* a 6-8 ounce container of yogurt
* 1 1/2 ounces of natural cheese or 2 ounces of processed cheese (such as soft slice sandwich cheese)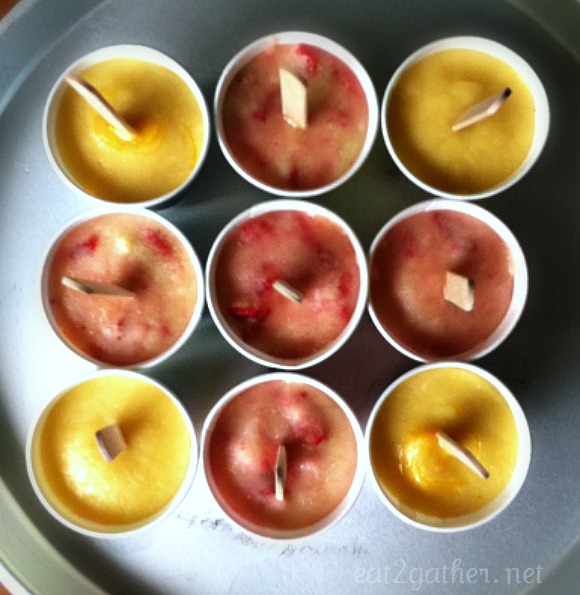 To help you get your daily recommended servings of dairy I've come up with three MOO-velous Creamsicle recipes for you to enjoy with your friends and family this summer!
I'm sure, like mine, your summer gets busy and it's easy to forget about eating properly.  Summer is all about splurging.  We never have pop in our house, but in the summer somehow it sneaks in, as do other not so healthy options.  So when the American Dairy Association MidEast asked me to develop a healthy snack that included dairy my wheels started churning….no pun intended, thinking of a fun and healthy summer snack that would provide one serving of dairy.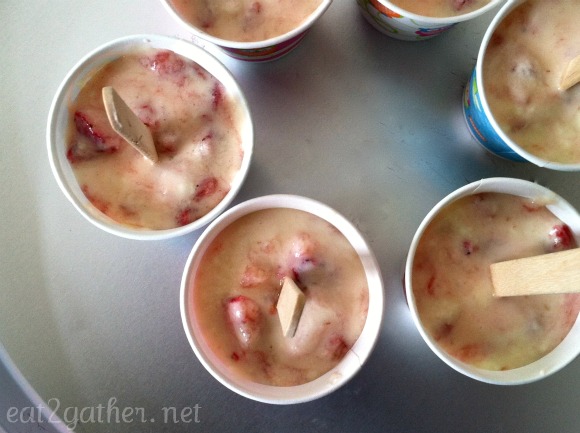 Creamsicles made with low-fat yogurt are the perfect treat to cool off, satisfy your sweet tooth, and get a serving of dairy in!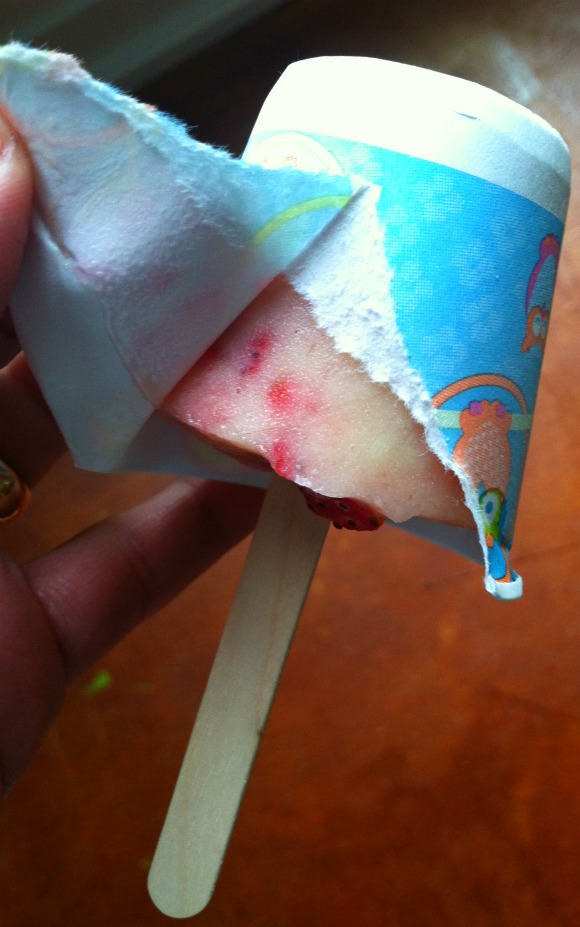 When I was a kid we would pour koolaid in to Dixie cups and place a popsicle stick in the center,  and freezing them.  We would rip off the paper cup and have ourselves a lick.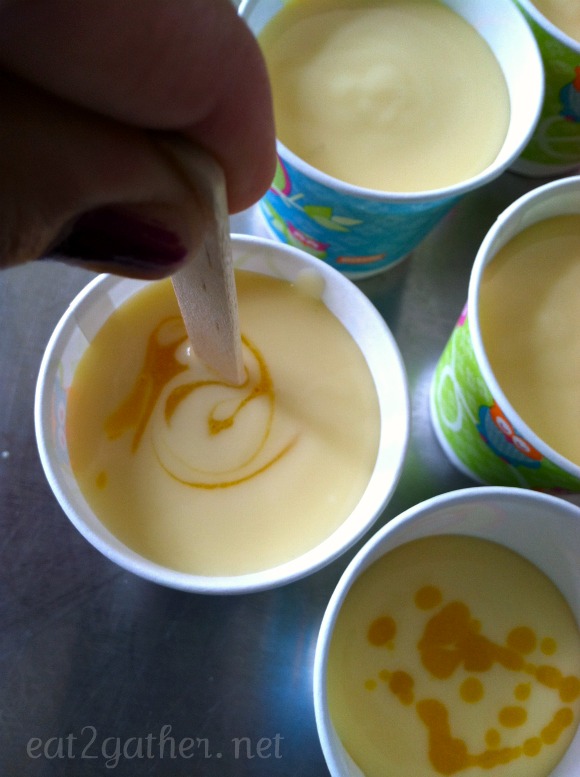 I took that idea, some yogurt, and fruit and ran with it….directly to my freezer.The first flavor is Orange Creamsicle.  Let me tell you what my husband and kids went crazy for these things!
[print_this]
Orange Creamsicle
makes 6
1 1/2 cups low-fat Vanilla Flavored Yogurt
1/3 cup Orange Juice Concentrate + 6 teaspoons for swirling
1 tablespoon Maple Syrup (optional)
6  5 ounce Dixie cups
6 popsicle sticks
In a bowl whisk together yogurt, 1/3 cup orange juice concentrate, and maple syrup. The maple syrup is optional. If you like sweet over tart add it, if you are just fine with the flavor then you can leave it out. Fill Dixie cups with yogurt mixture spoon a teaspoon of straight up orange juice concentrate on top. Place popsicle sticks in yogurt and swirl orange juice concentrate around. Leave stick in the middle, and place in freezer for 24 hours or until frozen solid. Peel paper cups off creamsicles and enjoy!
[/print_this]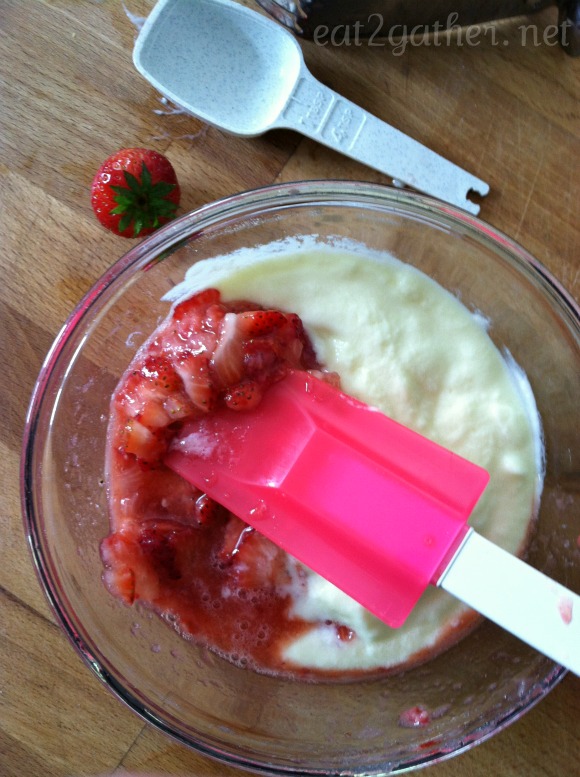 The next creamsicle recipe I'm going to share with you is Banana Strawberry Creamsicle.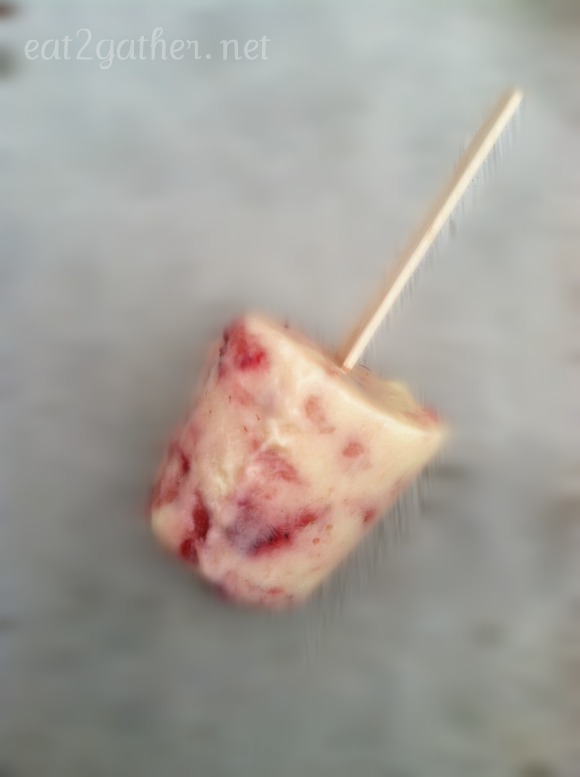 These recipes are really just a guide line.  Feel free to get creative with different yogurt flavors to make this idea your own!  The flavor combinations are endless. This flavor also made some heads spin.  I have to say I was shocked at the response this simple healthy snack elicited.
[print_this]
Strawberry Banana Creamsicle
makes 6-8 creamsicles
1 cup Strawberries, washed and hulled
1 tablespoon granulated Sugar
1 cup Banana Flavored Yogurt
Dixie Cups
Popsicle Sticks
Wash and hull strawberries. Sprinkle with sugar and mash. Mix banana yogurt and strawberries together. Fill paper cups with yogurt mixture place stick in the middle. Put creamsicles in freezer for 24 hours or until frozen solid. Peel back paper cup and enjoy!
[/print_this]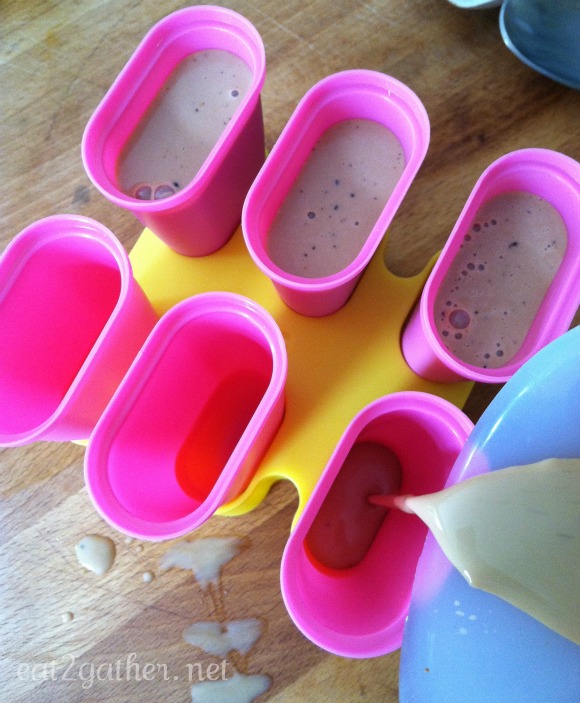 This one's for all you fancy shmancy coffee lovers out there!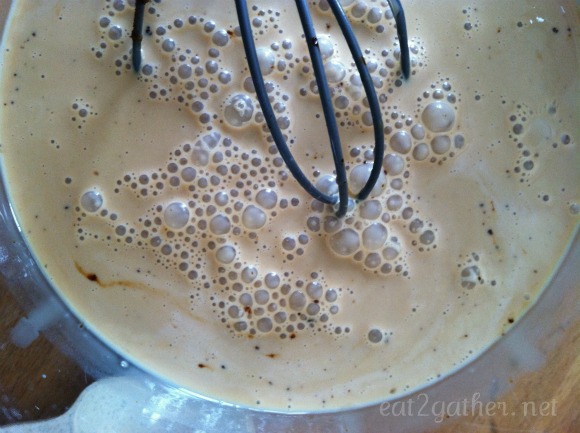 This creamsicle is not quite as "healthy" as the yogurt creamsicles.  But oh it is so good.  Sometimes you just need to indulge a little, and look at it this way you can get your fancy coffee fix for less money and less calories.  I used My Fitness Pal to figure out that each Caramel Macchiato Creamsicle is only 170 calories!
[print_this]
Caramel Macchiato Creamsicle
makes 6
1 cup Half and Half
1/2 cup Caramel Ice Cream Topping (I prefer Sanders)
1 tablespoon Instant Coffee Crystals
Measure half and half in to a mixing bowl. Warm ice cream topping in microwave until pourable but not too hot. Whisk warm ice cream topping and instant coffee in to half and half until coffee crystals have dissolved. Pour mixture in to popsicle molds place stick in and freeze for 24 hours.
Note: Dixie cups can also be used for this creamsicle recipe. Because the creamsicle mixture is fluid and not thick enough to hold a popsicle stick you will have to freeze for a few hours then place sticks in creamsicles, and return to freezer.  I purchased my popsicle molds from Ikea, very inexpensive, and they worked perfect!
[/print_this]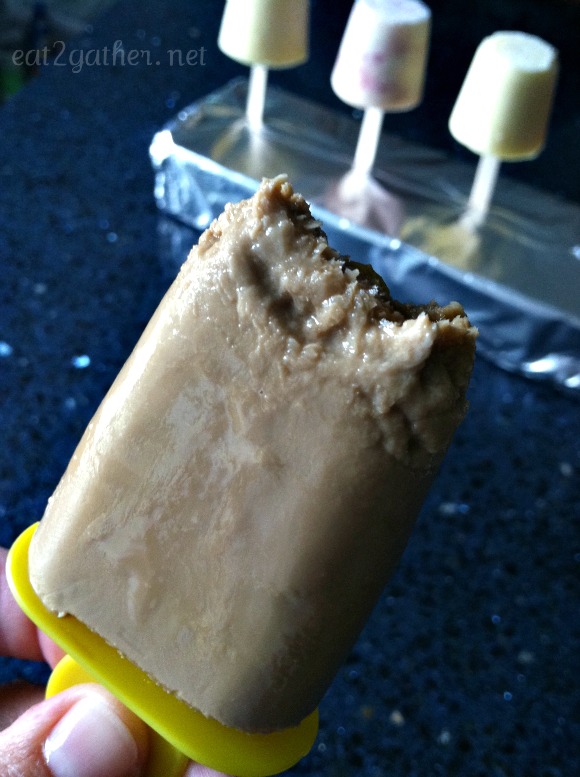 There you have it, three quick easy healthy snacks for summer!  If you have a child like my littlest that doesn't like milk, or yogurt you may be surprised to find out that they may eat it frozen!  Cece loves these creamsicles.  It's my new trick for getting dairy in her.
A few more ideas:  simply stick popsicle sticks right in yogurt cups freeze and eat.  The same thing works with pudding cups made with low-fat milk.  Pudding pops were my favorite growing up!  To release the frozen yogurt or pudding from the cup you will need to dip it in hot water.  Recycling your yogurt and pudding cups to make creamsicles is a great green idea for a summer treat!
If you want even more great Moo-licious Recipes from other bloggers around the country be sure to follow American Dairy Association Mideast on Facebook  and Twitter to get news and recipe updates. The ADA Mideast Pinterest Board is another great resource for healthy recipes and other fun ideas. Needing some visuals to help your kiddos eat their three much needed servings of dairy a day here are a couple great printables from the ADA, 3 a day tracker sheet also don't miss this one 33 Tasty Snack Ideas Both are great resources for you to pin on your refrigerator as a reminder to make smart eating choices. 
Lastly if you are on Twitter you will want to join us for:
June Dairy Moo-nth Twitter Barn Party on June 19 from 8 to 9 p.m. EST.  
Where we will be celebrating the start of summer and chatting about healthy summertime recipe ideas, ways to stay in-shape during the summer months, fun summer activities and more!  So don't miss out we will be using the #BarnParty.
I hope you enjoy these summertime snacks with your family and friends!
Much luv, Sheila
I am being compensated by ADA Mideast for the development of these healthy dairy snacks and the writing of this post to promote June as National Dairy Month.