Don't forget to enter to WIN a 12×12 Cafe Mount Print from Redletterwords. GIVEAWAY is here. I will be taking entries all week long and announcing the hot dog, oops I mean wiener on October 31!   Celebrating 31 days of Meals 4 Sharing and I wanted to say THANK YOU to everyone for your encouragement and for sharing your stories and giving me so many new great ideas. I love you all so much!


I have to admit just like with my own family, I get in a rut with the meals that I share.  I seem to share the same meals over and over again. One thing that I need to focus on more is keeping it simple, preparing meat and potatoes type meals. I feel like meat and potatoes is boring, but in reality it's most likely a meal that will please most anyone.  It probably depends on where you hitch your saddle, but in West Michigan, for the most part, I think, people are meat and potato, no frills type eaters. There are alot of meals that I make for my family, but would never dare bring someone. Spicy Thai Chicken Soup for example.
What types of cuisine are popular in your neck of the woods?
Today I want to quickly share with you a few really simple ideas of how to share a meat and potato meal.
THE MEAT:
Chicken~ the most versatile and well liked of all meats.  You can take chicken breasts and grill them or bake them.  Roast a whole chicken.  Even easier purchase a roasted chicken from the store.  I grilled this chicken and wrapped it in foil while it was still warm to keep the heat in and keep the meat tender and moist.  You could also use Ziploc bags.  Same goes from any of the other meat choices below.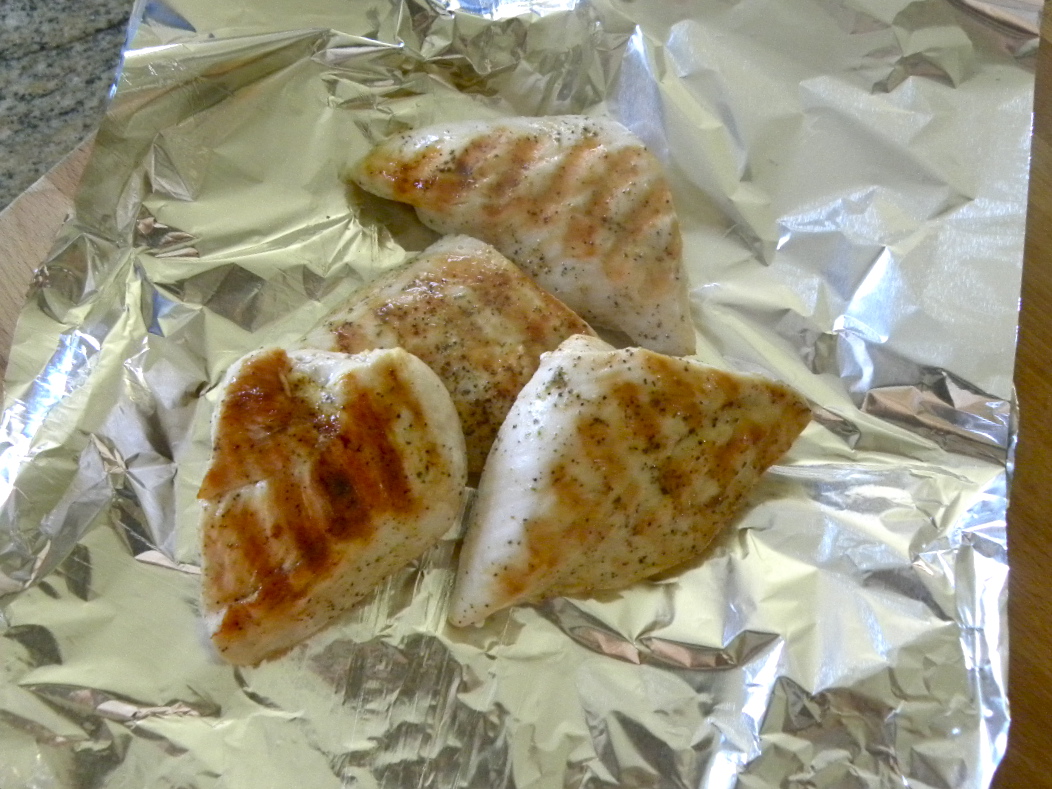 Pork~ grill, or bake pork chops or a pork loin.  You could also do pulled pork sandwiches or spicy pulled pork with all the taco fixings.
Beef~ beef comes in so many cuts the possibilities are endless.
-Make up some hamburger patties and bring them all the fixings to go with.  Precook the patties so all they need to do is reheat.
-Steaks with baked potatoes and salad. One of my dear friends shared with me how she brought the meal over earlier in the day, and then her husband swang by on his way home from work and grilled up the steaks for the family. I love this idea! Get your hubby's involved people!
-Roast Beast…brown your roast, then put it in a disposable roasting pan with some onions salt and pepper, and a can of beef consume, seal tightly with aluminum foil bake for 3-4 hours.
FISH~ I have never taken fish as a meal to someone.  But I don't know why you couldn't.  If you know that the recipient of your meal likes fish, it really would be a very quick and easy meal to bring someone.  In fact I think I'm going try this one out real soon. Make fish pockets in aluminum foil for them to bake in their oven.

These types of meals are usually more nutritious and low in calories than some of the delicious oohey goohey cheesy casseroles that are always a meal share favorite.
SIDES
I love Steamfresh frozen vegetables, they are great to give as a side when bringing someone a meal.  They can easily pop them in the microwave for 3 minutes and they have a vegetable to go with their meal.  Even a child could handle doing that.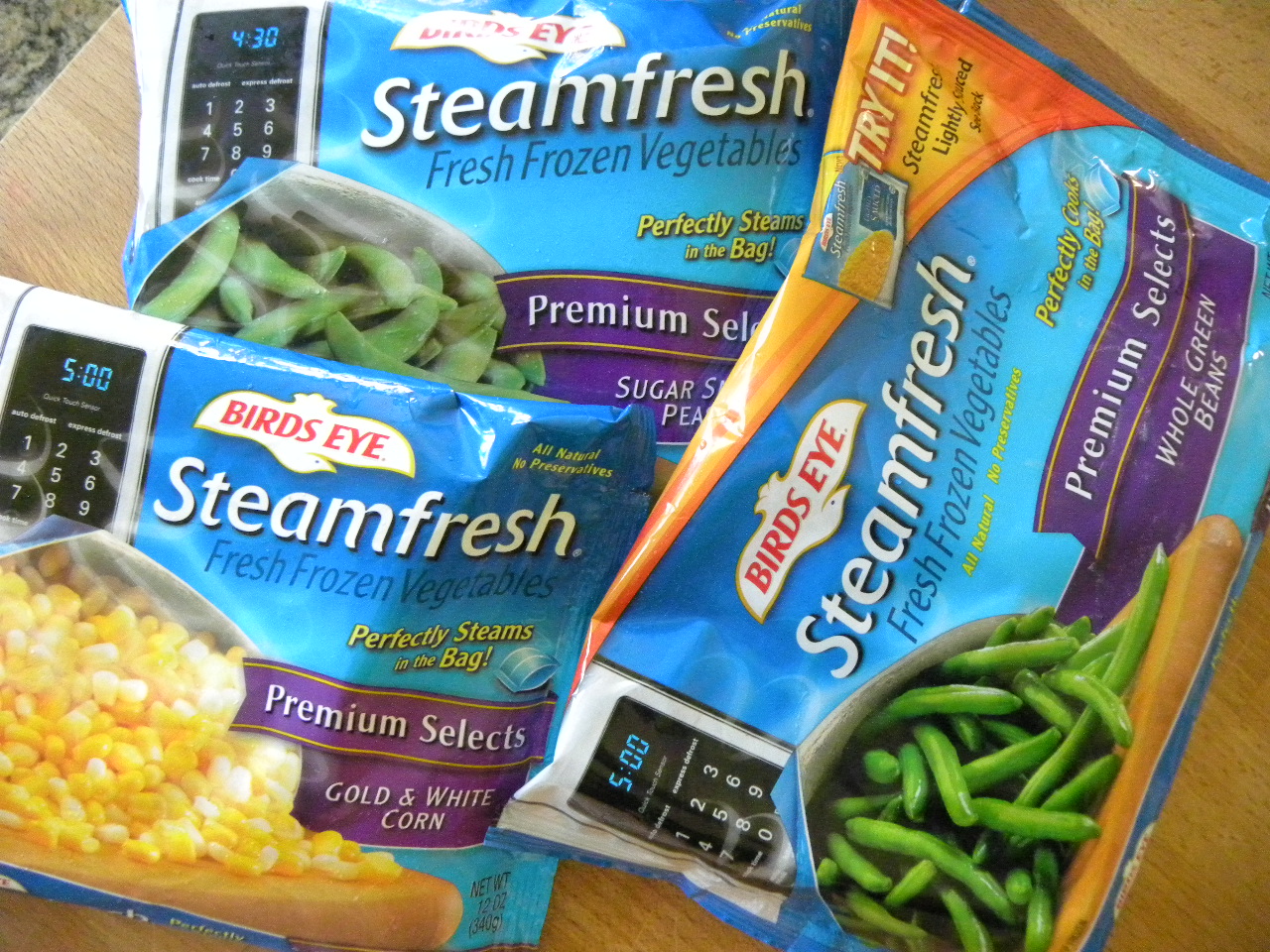 Don't be afraid to precook fresh vegetables like asparagus, corn, green beans, and broccoli. Store them in a serving containers that they can be reheated in the microwave.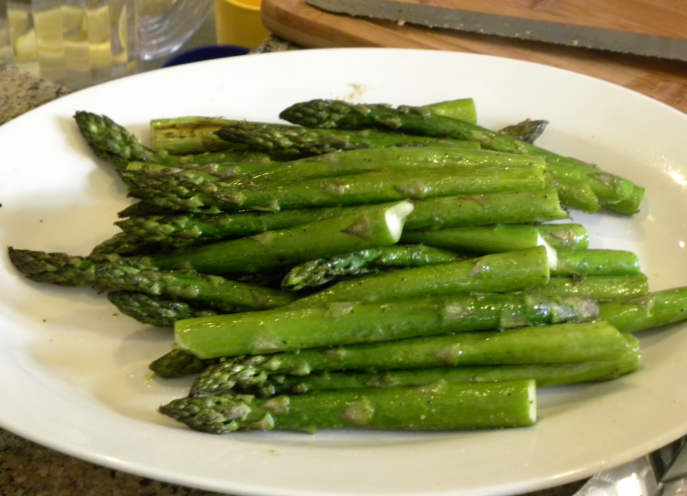 Potatoes are probably the most popular and most versatile.  You can give them boiled, mashed, baked, or roasted….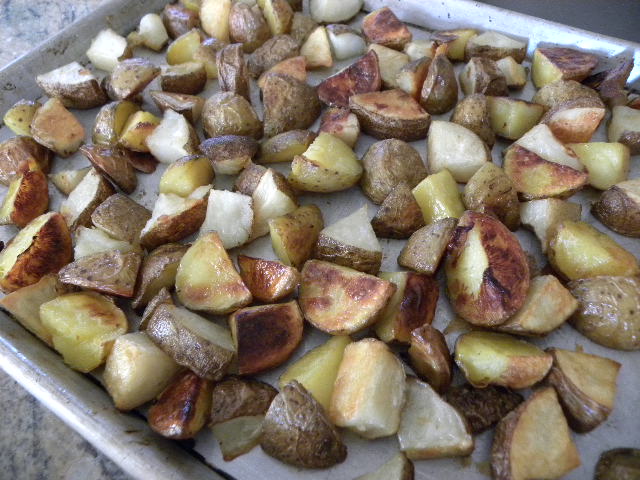 Salad is always a nice side to add to your meal. I like to cut everything but the tomatoes up and put it in a gallon sized Ziploc bag. It stays fresh for days, and it can be eaten for lunch, dinner, or just a snack. Note: I don't cut up the tomato because they diminish the longevity of the salad, and I have found alot of people don't care for tomatoes. So if I place them with the salad whole then they can make the choice. "To eat a tomato or not to eat a tomato that is the question…."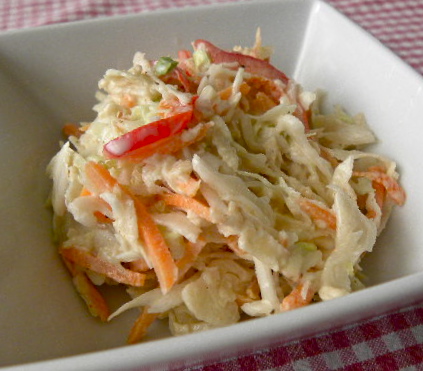 Coleslaw would be a great side with hamburgers, or really any grilled meat.
The options are endless, and simple. Meat, vegetable, a salad, and bread/rolls. Sounds like the perfect Meal 4 Sharing to me.
Would you say you are a meat and potatoes kinda eater or do you have an adventurous palate?
Don't forget to revisit Mondays post and enter to win the Redletterword GIVEAWAY.
See you tomorrow!
Sheila
If you missed any of  31 days of Meals 4 Sharing you can catch up below……
Day 1~ my Heart for Meal Ministry
Day 2~ "I'm not comfortable with bringing someone a meal"....
Day 3~ Reasons 4 sharing a meal.
Day 4~ Quick Easy Apple Sauce
Day 5~ Organizing a Meal Schedule
Day 6~ #1 reason -No reason at all!
Day 7~ #2 reason 4 sharing a meal - Baby...baby....baby..oooo
Day 8~ Chicken Supreme
Day 9~ It doesn't have to be home cooked to be a Blessing
Day 10~ partnering 2 SHARE a meal
Day 11~ Dare
Day 12~ #3 reason Hostess Meal
Day 13~ #4 reason Back 2 Work
Day 14~ Chicken Salad - the perfect meal 4 SHARING
Day 15~ Containers
Day 16~ reason #5 illness/injury
Day 17~ (#6) Loss & an update on BwoB JOPLIN
Day 18~ bring your NEW neighbor a meal
Day 19~ Swedish Meatballs
Day 20~ #8 reason 4 sharing-last minute dinner invitation
Day 21~ Holiday Giving
Day 22~ Pumpkin Gingerbread
Day 23~ Chicken Fontinella
Day 24~ Redletterwords GIVEAWAY