It's finally here!!!  
Nikki's Sweet Southern Boy Virtual Baby Shower.  
Oh how I love this girl!  Her blog Seeded at the Table is full of love and great recipes.
It was super hard for me to decide what I would make…you see Nikki and I have many of the same tastes in food.  It's like trying to buy my sister a birthday present there are so many things I want to get her it's hard to choose!  Same here.  I had all sorts of recipes running around in my head…what to bring, what to bring, so hard to decide!  The theme is Sweet Southern Boy….well ya can't get too much more southern than enchiladas can you?! ;D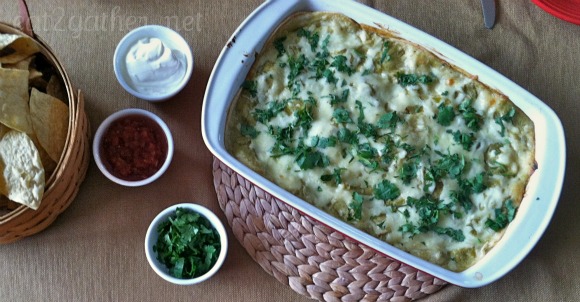 At the time I received the invitation to help contribute to Nikki's shower I was also reading the book Bread &Wine.  A book I know Nikki would love.  Bread & Wine is a collection of essays by Shauna Niequist about family relationships, friendships, and the meals that bring us together.  Shauna also shares many wonderful and comforting recipes that she makes for her family and friends, including the recipe for Annette's Enchiladas.  After the birth of her first child Shauna's friend Annette brought her a pan full of enchiladas and now it's a recipe she always shares with friends after they've had a baby.   This recipe is some serious comfort food!
"It's eat it with a fork straight out of the pan in the middle of the night comfort food." (a quote from Bread & Wine)
Because I know that Nikki, like myself, has a serious penchant for Mexican food I knew Annette's Enchiladas was the recipe I had to bring to the shower!!  This is one of the easiest dinners I have ever made, doubled with the fact that my family loves it, also freezes well making it a fabulous Meal 4 Sharing!
Heres how to throw it together: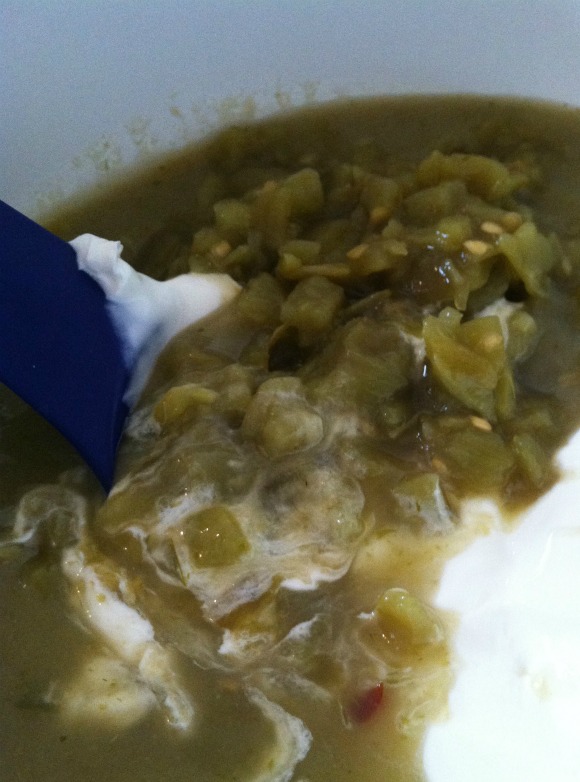 In a bowl mix together a 28 ounce can of green enchilada sauce (Las Palmas is the best), 1 cup sour cream, and two 4 ounce cans of diced green chilies.  Set aside.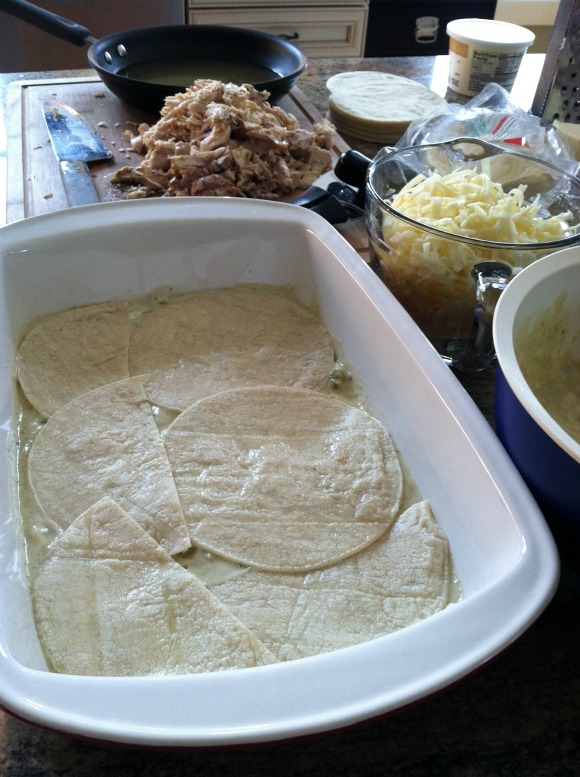 I've already started the process here but I wanted you to see how I've created a little assembly line with my shredded chicken (roasting chicken from grocery store), cheese, tortillas, and  sauce.  These enchiladas come together super quick.
Assembly: Sauce, dip tortillas in warm broth layer over sauce, then chicken, more sauce, cheese, tortillas, chicken, beans (optional), sauce, cheese, tortillas, sauce, and cheese!!!  Got that?  😉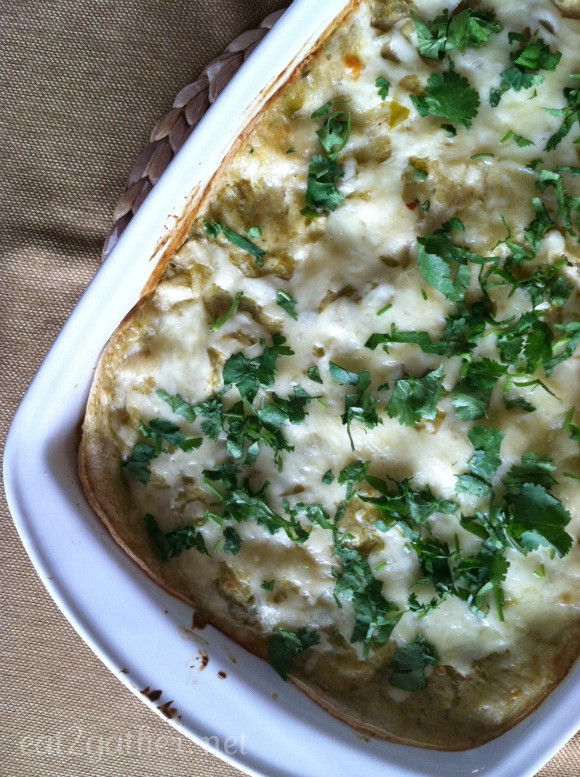 I love recipes that can be made ahead of time.  What better for a shower than a "make ahead" recipe…more time for other preparations!   Make ahead recipes are great for giving too.  After I had my babies it was alway nice to have a meal in the refrigerator that I could just pop in the oven.
[print_this]
Annettes Enchiladas
from the book Bread & Wine by Shauna Niequist
1 cup Sour Cream (8ounces)
1 large can Green Enchilada Sauce (28ouces, Las Palmas is the best)
2 4 ounce cans Green Chilies, diced
3 cups cooked Chicken, shredded (a roasting chicken from grocery store works great)
2-3 cups shredded Monterey Jack Cheese
12-15 Corn Tortillas
1 cup Chicken Broth
chopped Cilantro, for garnish
Preheat oven to 350 degrees.
~ Mix green sauce, canned chilies, and sour cream together in a bowl. Set aside.
~ Simmer chicken broth in a skillet. Have shredded chicken, cheese ready. Make yourself a little assembly line.
Assembly: Spread 1 ladle full of sauce mixture in bottom of a 9×13 baking dish. Dip tortillas in broth and layer over sauce. Next a layer of chicken, then cheese, sauce, repeat…tortillas, chicken, cheese, sauce. Last layer is tortillas, sauce and cheese.
Bake at 350 degrees for 30-45 minutes or until warmed through. I like my cheese to get bubbly and browned around the edges. Let sit at least 15 minutes before cutting. Garnish with cilantro.
Note: I also added 1 can of rinsed Cannelini Beans in the second layer. Shauna also noted in her book that this recipe freezes really well. I know from experience it can be made a day ahead. Also the leftovers are even better than the first day…making this a great recipe to make for a new momma who is eating at all odd hours of the day.
[/print_this]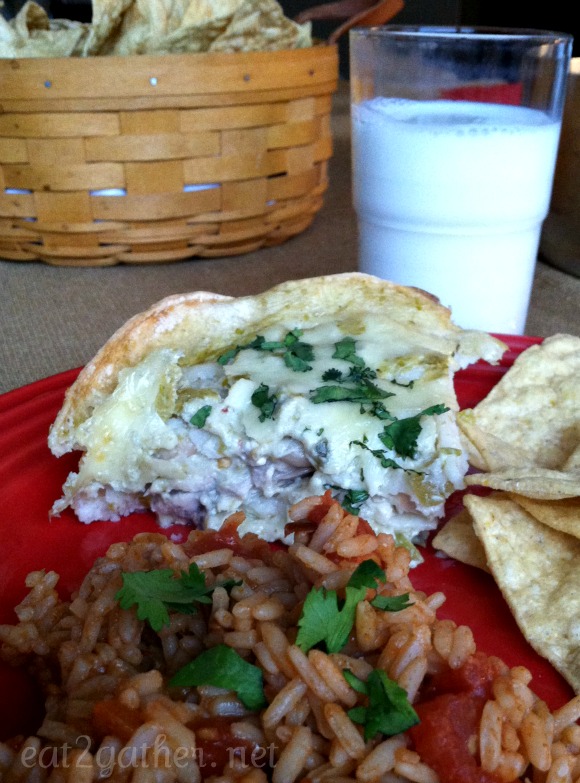 Annette's Enchiladas could be served with Spanish Rice, pica de gallo, guacamole, and Nikii's famous Queso Blanco Dip with chips , and for dessert her Mexican Brownie Bottom Cheesecake!
I'd like to thank Jessica of Sunny Side Up and Kelsey from Apple a Day for hosting!  Don't forget to stop by  their blogs to see what everyone else brought to the
Sweet Southern Boy Baby Shower!
Have a great weekend!  Luvya, Sheila