Not enough room in the oven on for all the sides on Thanksgiving day? I've got you covered, with this easy savory stuffing. Perfectly seasoned and crispy around the edges!
Doesn't it seem like there is never enough oven space come Thanksgiving Day?  Really who can accommodate it all?  I have never been a fan of cooking my bird with the stuffing in it.  I would rather bake stuffing in a separate dish.  The crispy edges are my favorite…but then my husband likes the middle.  It's kinda like a brownie thing.
Are you a corner or a middle eater?
I started making my stuffing in a crock pot when my sister and her husband lived in a smallish apartment in Detroit, and there was no room in her oven for the stuffing.  Or the turkey for that matter, but thats another story for another day!  

Crock Pot Stuffing is my traditional stuffing, I less liquid than I would if I were going to bake it in the oven.  It's that easy!!!  I think the key to really good stuffing, is herbs, herbs, and more herbs!  Topped off with garlic, onion, celery, mushrooms, and butter!  Who can go wrong with all that?!  My only warning about stuffing is to be careful with the salt.  I like salt, but it can always be added at the table, so tread lightly when salting  your stuffing.

Add onion, celery, garlic, and finely chopped mushrooms to a skillet with a tablespoon of olive oil, sauté until tender. I love the earthy flavor that portebella mushrooms add to stuffing, but I rather not have big chunks of mushroom.  Minced portabellas are my secret weapon for stuffing…..shhh don't tell anyone.  Turn off heat add 1/2 stick of butter to the pan, allow it to melt, then add herbs, toss this around, and pour over stuffing cubes in a large bowl.

Whisk egg with chicken stock,  pour over bread cubes, and vegetables, combine well.  You may  need to get your hands in there to make sure the stuffing is thoroughly combined.  Butter crock pot dish, pour stuffing in, and cover with lid.  Cook on high for 1 hour, turn down and cook on low for 4-6 hours.  Initially the stuffing mixture will puff up in the dish, but near the end it will settle down.  If you are afraid your stuffing is looking too dry feel free to sprinkle a couple tablespoons of chicken stock over it.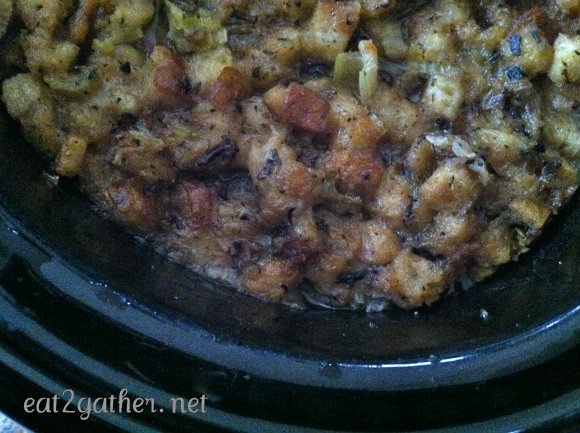 Stuffing can definitely be made the day before. So even though it's a bit prep intensive you can have it all prepared, just drop the crock pot  dish into the heating element in the morning and away you go!  More time to watch the parade!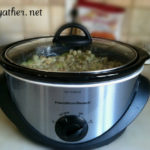 Print Recipe
Crock Pot Stuffing
This stuffing is savory and perfectly spiced with fresh rosemary, thyme, and sage.
Ingredients
1 - 12

ounce

bag Herb Seasoned Cubed Stuffing (I prefer Pepperidge Farms brand, but any band works!)

2

cups

diced celery

2

cups

diced onion

1

whole

garlic clove, minced fine

4

ounces

mini portabella mushrooms, finely chopped

1

tbsp

olive oil

1

sprig

of rosemary

1

spring

of savory

1

tbsp

fresh thyme

5

leaves

of sage

4

tbsp

butter

1

whole

egg

3

cups

chicken stock

salt and pepper to taste
Instructions
Empty croutons into large mixing bowl.

Saute onions, celery, garlic, and mushrooms in olive oil. Season with salt and pepper. When done sauteing, remove from heat add butter to pan and allow to melt. Add chopped herbs, combine. Pour mixture over croutons.

Combine chicken stock with 1 egg, whisk and pour over croutons and vegetables.

Mix using a large spatula, or your hands, to thouroughly combine.

Butter crock pot dish. Pour in stuffing mixture. Turn crock pot on high for 1 hour, turn down to low and cook for 4-6 hours more.
Notes
Note: I use a 5 quart Crock Pot. Sometimes I make this plus an additional 1/2 recipe then I make it in my 7 quart Crock Pot this makes alot of stuffing! Stuffing will puff up at first, but once it nears the end it will shrink back down and get the crispy edges. If you are afraid your stuffing is looking too dry feel free to sprinkle a couple tablespoons of chicken stock over it.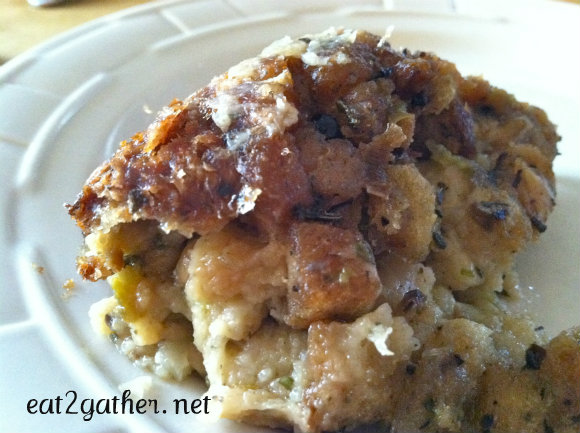 I took a poll on my Facebook Page to see what everyones favorites Thanksgiving sides where.  Stuffing was the winner.  Comfort food at it's finest!!  Savory bread pudding with gravy for the sauce.  MM mm mmm MMM!  Momma say YUM!
Love it!
There's still time to LINK UP your favorite Thanksgiving recipes and traditions!! Remember it's nice to share ; D !