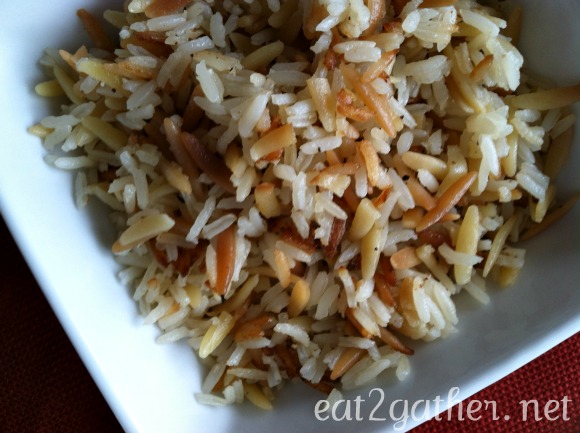 I have a few quick and easy side dishes in my arsenal of recipes. Dishes that I know my kiddos will eat, and will go with most any main dish.  A bonus to any side dish is if the leftovers can be used to make another recipe.   There is nothing worse than making a complicated side dish and then having leftovers that get thrown away.
Rice Pilaf has all that and more going for it!
Quick, check!
Easy, check!
Crowd pleaser, Check!
Leftovers are easily used for Rice and Beans, or an easy stir fry dish. CHECK!
Leftovers are happily gobbled up as is! CHECK!
Rice Pilaf goes with so many foods, Indian, Italian, Chinese, or simply grilled meat/fish.  It's a side dish that is easy to spice up.   Toss in some peas, or mini cubes of carrots.  Rice Pilaf is extremely versatile.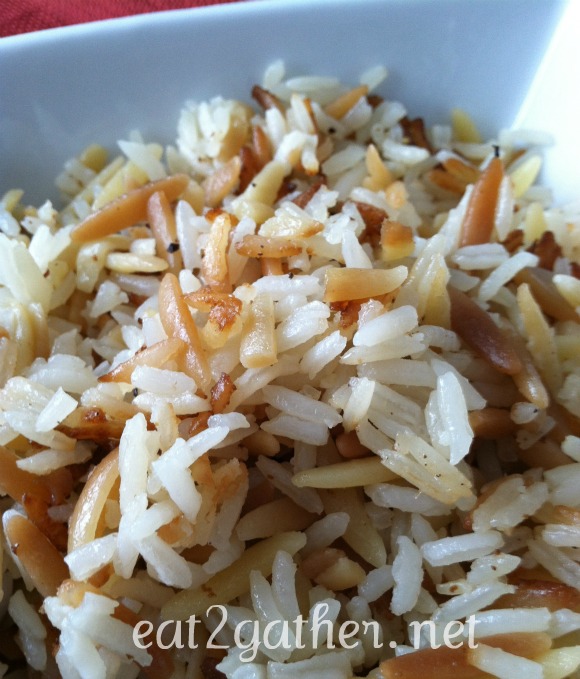 [print_this]
Rice Pilaf
6-8 servings
1 cup Orzo Pasta
2 cups Long Grain White Rice, I prefer jasmine rice
3 tablespoons Butter
4 cups Chicken Broth
1/2 teaspoon Salt
Pepper to taste
Melt butter in a medium sauce pan, add orzo to the pan saute until the pasta starts to brown.  Add in the rice and combine, add chicken broth, salt, and pepper to taste.  Bring rice to a bowl, reduce heat to low cover and let simmer for 18 minutes.  Remove from heat and let set for 5 minutes.  Remove cover and fluff with a fork.  Serve with just about anything!
Variations:
1. Add  1/4 cup onion or 1 garlic clove minced or both in with the orzo, continue with recipe as written above.
2. Add 1/2 cup small cubes of carrots at the same time as the chicken broth, continue with recipe as written above.
3. After removing rice pilaf from the heat toss in 1/2 cup frozen peas (more if you like) return cover and let the hot rice steam the peas, fluff with a fork and serve. I also like to add a 1/2 teaspoon of lemon zest with this variation and serve it with fish pockets.
4. Feel free to get creative with flavors you love, add pepper, a dash of cumin, chili powder, fresh chopped parsley, or a pinch of what ever tickles your fancy. I prefer to add dried spices along with chicken broth, and fresh herbs at the very end when fluffing with fork.
[/print_this]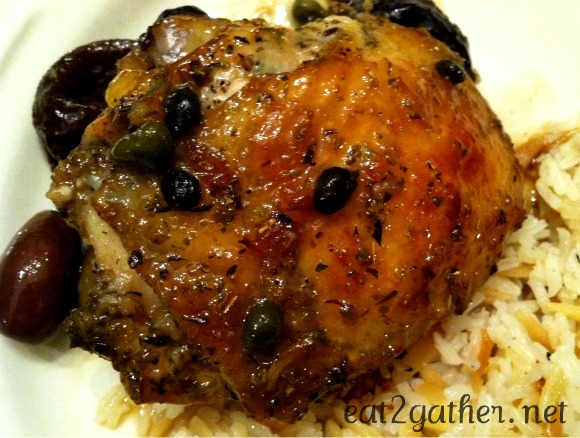 Recently I served Rice Pilaf with my newest favorite recipe Chicken Marbella.  It was the perfect side for this complexly flavorful dish.
Do you have a favorite "go to" side dish?
If not Rice Pilaf could be it!