Sweet Potato Pie is custardy and rich with just the perfect amount of spice. It will be the perfect ending to any meal.
Jump to Recipe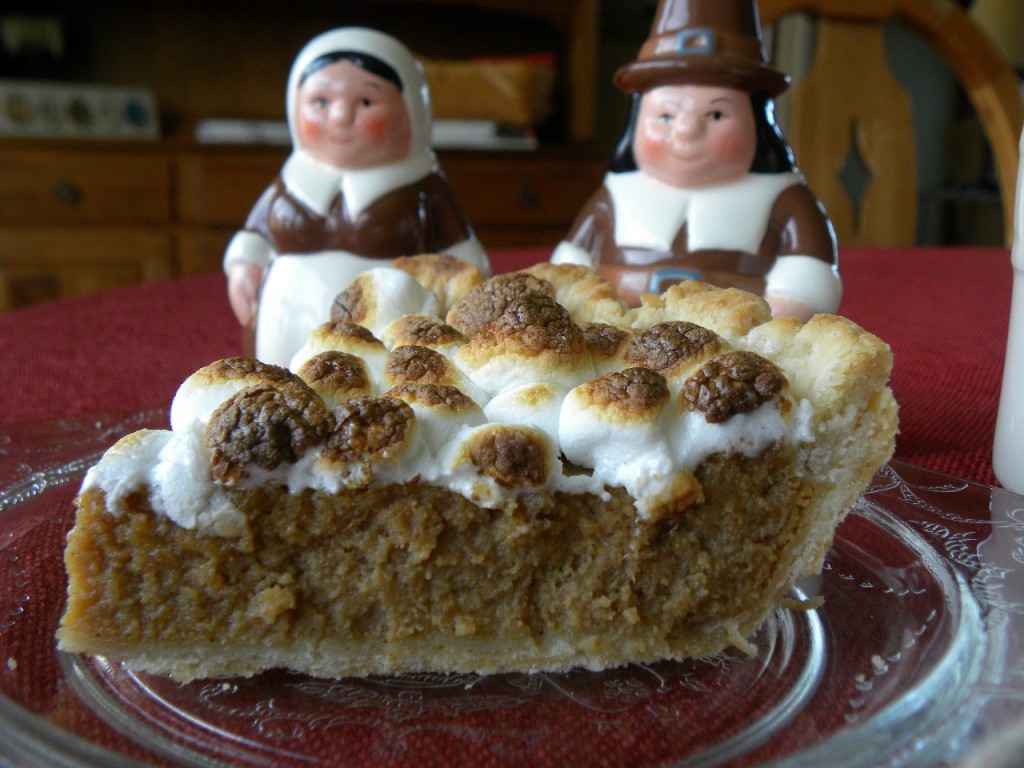 Sweet Potato Pie has been a journey for me.  I haven't met many that I like.  I wanted to like them, but usually they fell short in some way.  The best Sweet Potato Pie I have ever had was at Amy Ruth's in Harlem, NY.  It was over the top delicious. I've made a few different Sweet Potato Pie recipes over the years, but none live up to Amy Ruth's.  So I tried to think what was it that set hers apart from all the rest, and then I set out to duplicate that in my own recipe.
The Amy Ruths's pie had a delicious spice to it, it was smooth…no chunks, it had a custard quality also.  It was sweet, but not too sweet.  I could taste the sweet potato.  It felt good in my mouth, like I wanted to just hold it there on my tongue for a second…before I let it slide down.
When I eat pie, I want to savor it, and of course I want others to savor it too.  My worst nightmare is seeing someone pushing there pie around on their plate, like they just can't bear to take another bite.  I have to say that has never happened to me yet, with one of my pies.  However, I have felt that way about a few pies that I have had.    I want my pie to be so yummy divine that each bite is full of mmmhhs and yumms.  I want people to take small bites and savoring each one…hanging on to each delicious mouthwatering bite, like they never want it to end!
My daughter demonstrated this to me yesterday as she sampled my new Sweet Potato Pie recipe…lots of mmmmhhs, a couple yums, she made it last through her math lesson, and at the end she went back and cut herself "just a little sliver" more.  When someone goes back for another piece of pie, even if it's just a sliver you know you did something right!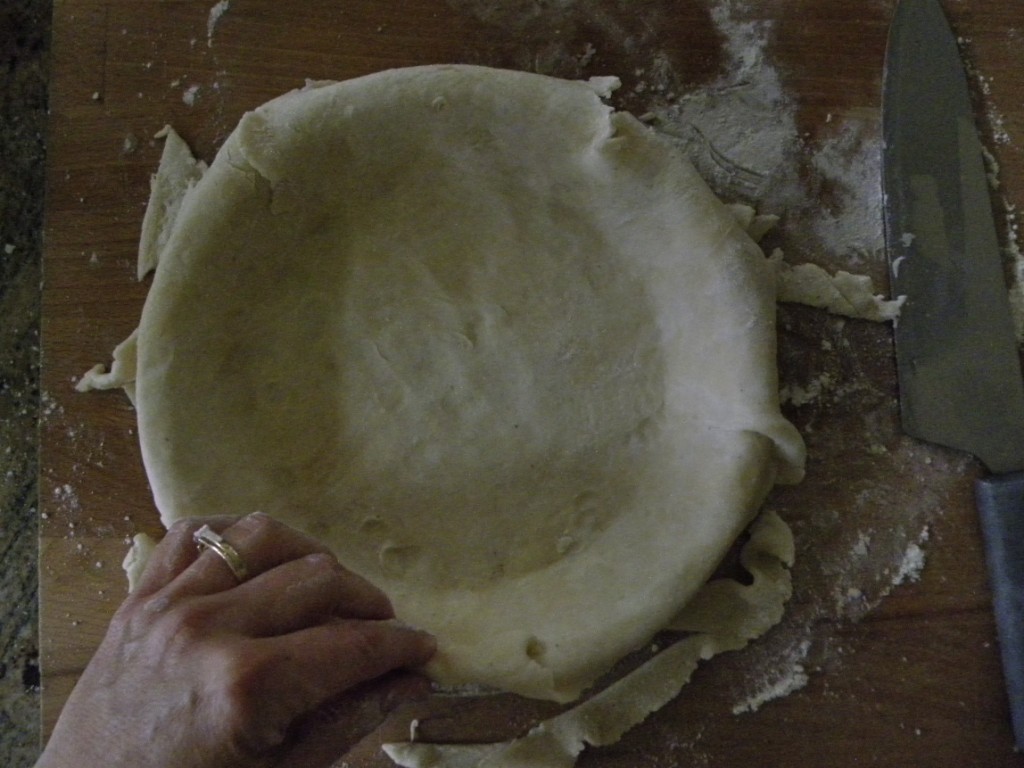 You will need to prepare one pie crust in a 9 or 10 inch pie plate.  You can find my crust recipe here. Preheat oven to 350 degrees.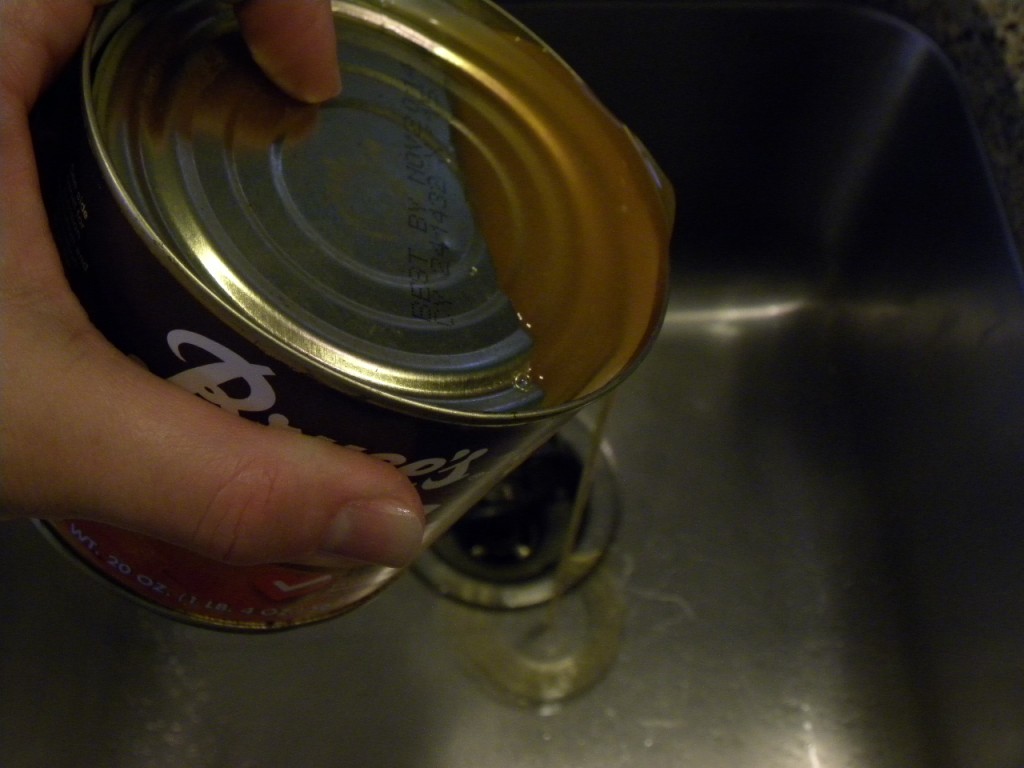 Drain a one pound can of Yams/Sweet potatoes.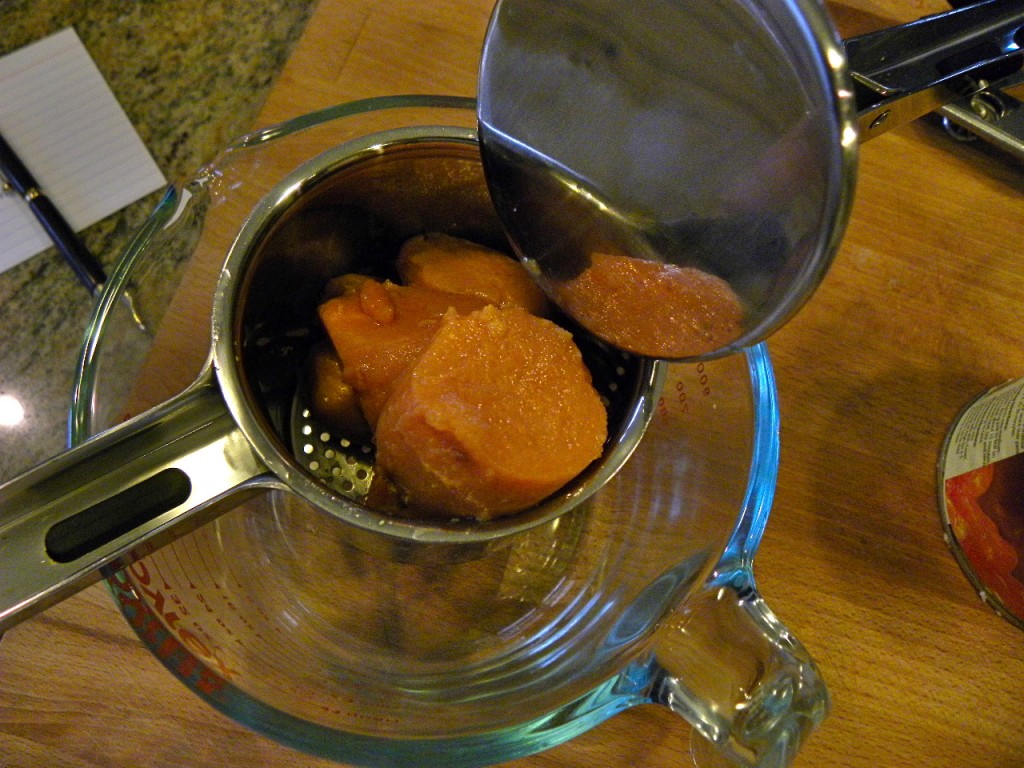 If you have a potato ricer this would be a great time to get it out and use it.  In order for the filling to be creamy the sweet potatoes need to be given a good smashing. You could also put them in a blender or smash them by hand with a potato masher.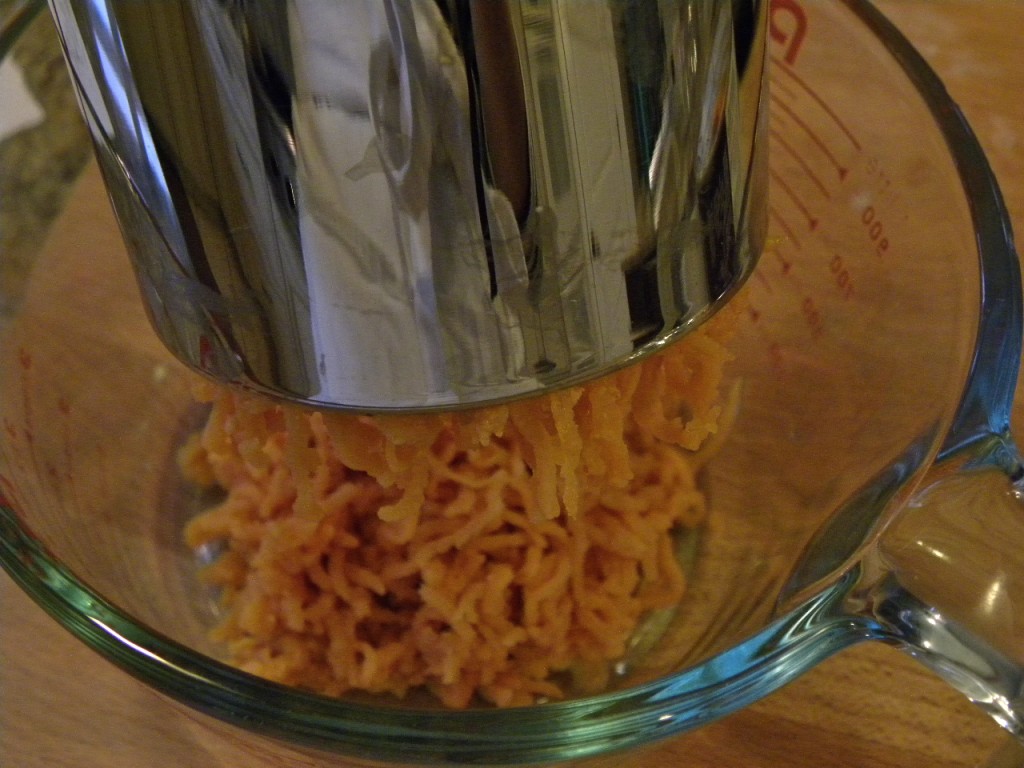 Squish.…a one pound can of yams is two cups of potato puree.  So if you decided you would rather, cook your own potatoes you will need two cups of sweet potato puree.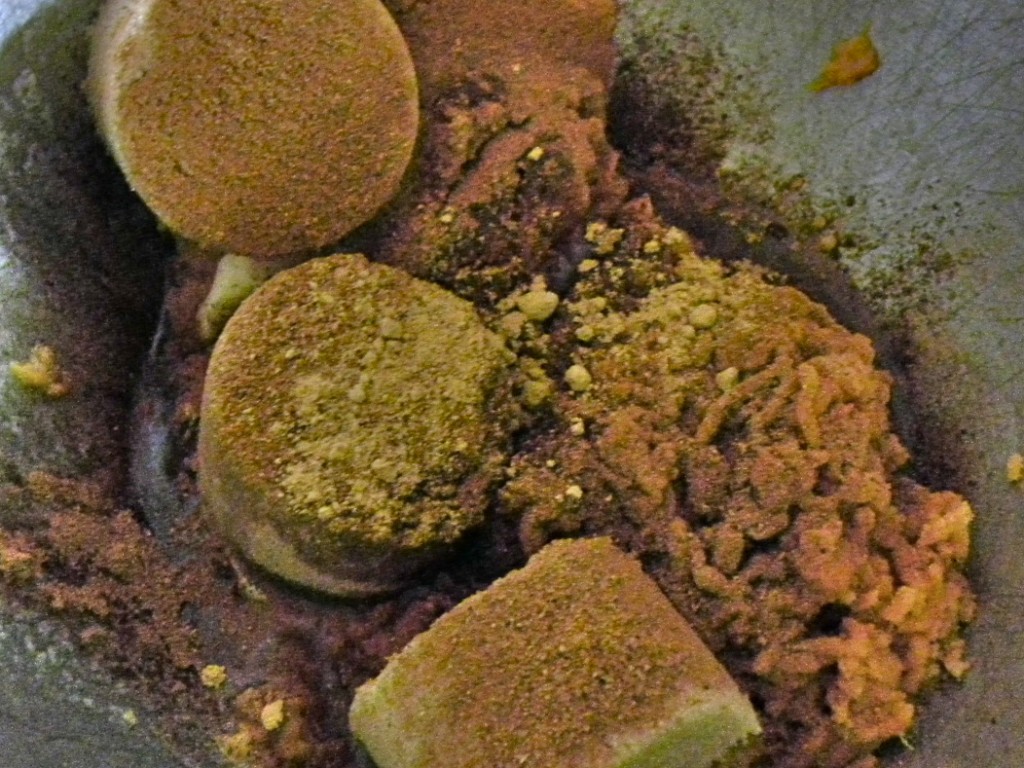 Add the squished sweet potatoes, 3/4 cup Brown Sugar, 6 tablespoons melted Butter, 1 tablespoon Vanilla Extract, 1/2 teaspoon Salt, 1 teaspoon ground Cinnamon, 1/4 teaspoon ground Nutmeg, and a scant 1/2 teaspoon ground Ginger to your mixing bowl.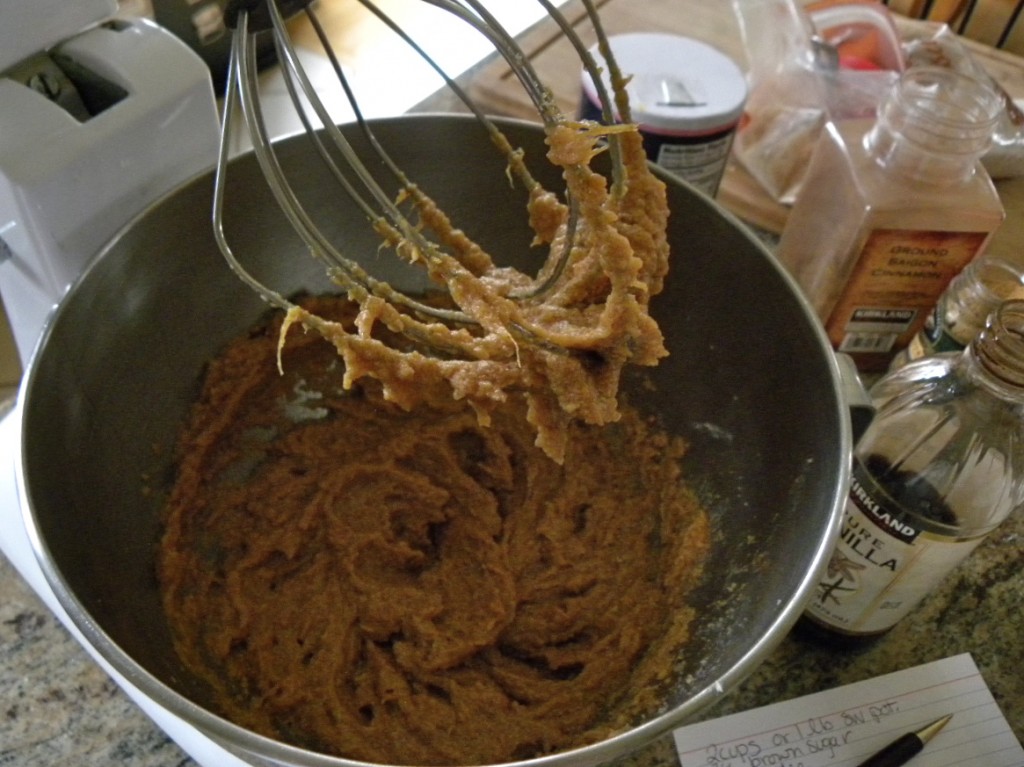 Beat the above ingredients to oblivian!  Beat on medium to high speed for 3-5 minutes.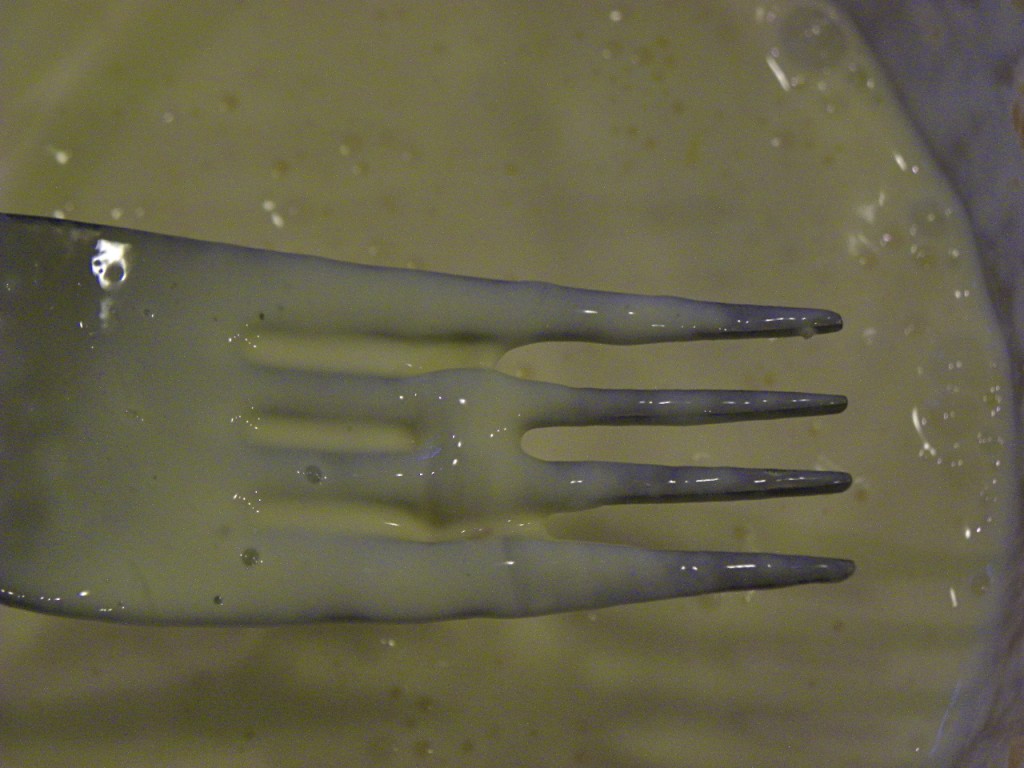 Crack 3 whole Eggs into 3/4 cup Heavy Cream….this is where the custardy comes in.  Beat the eggs and  heavy cream together with a fork.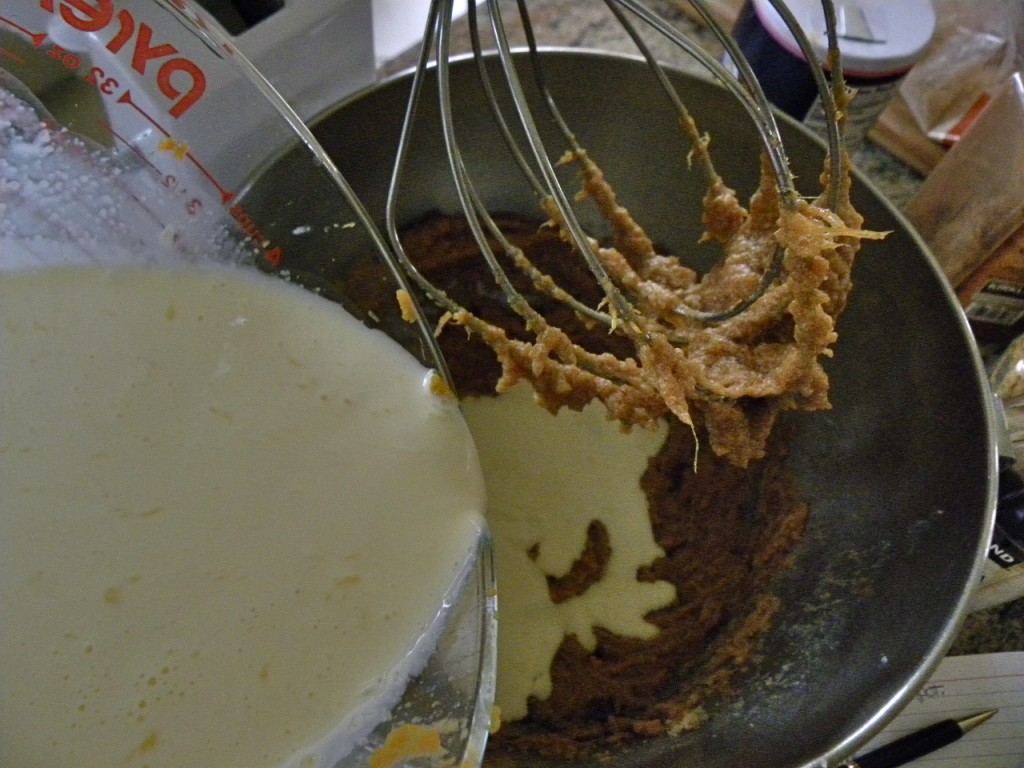 Pour egg/cream mixture in with sweet potato mixture. Blend this on medium high speed for 3 minutes or longer.  Take a break and scrape down the sides and mix for another minute or two.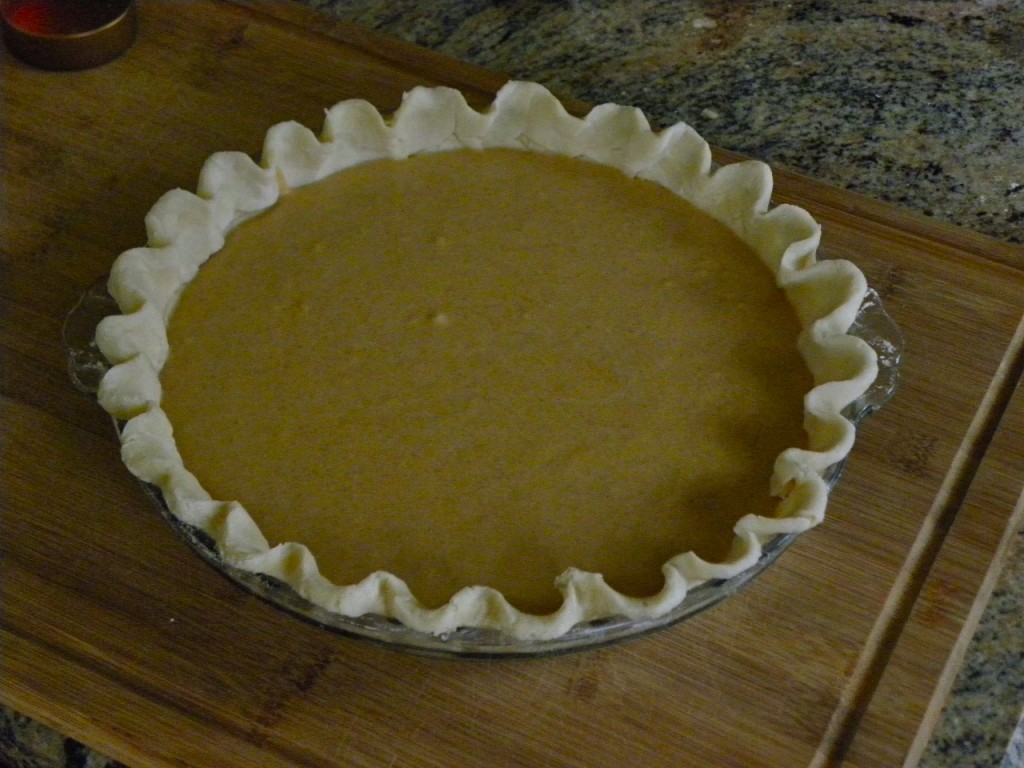 Pour into unbaked pie crust. Bake in a 350 degree oven for 50-60 minutes, until cake tester comes out clean and the center does not look fluid at all.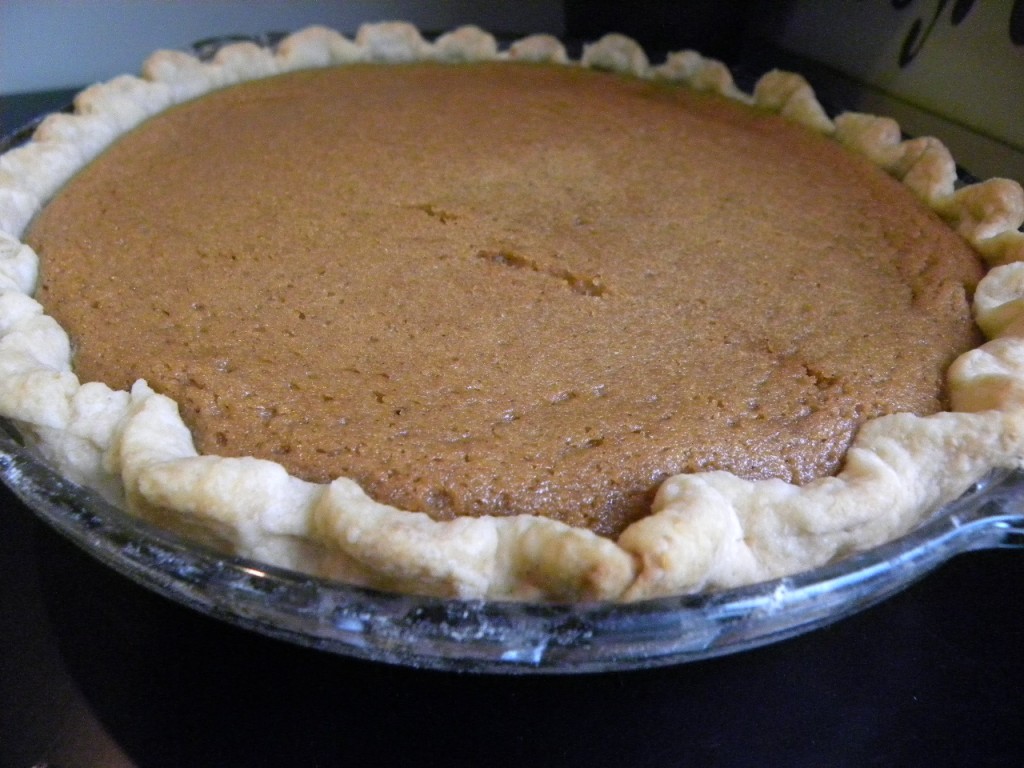 Your Sweet Potato Pie should look firm like the pie above.  This pie is scrumpdillyicious all on it's own.  No need to doll this pie up, BUT if you want to have a little fun….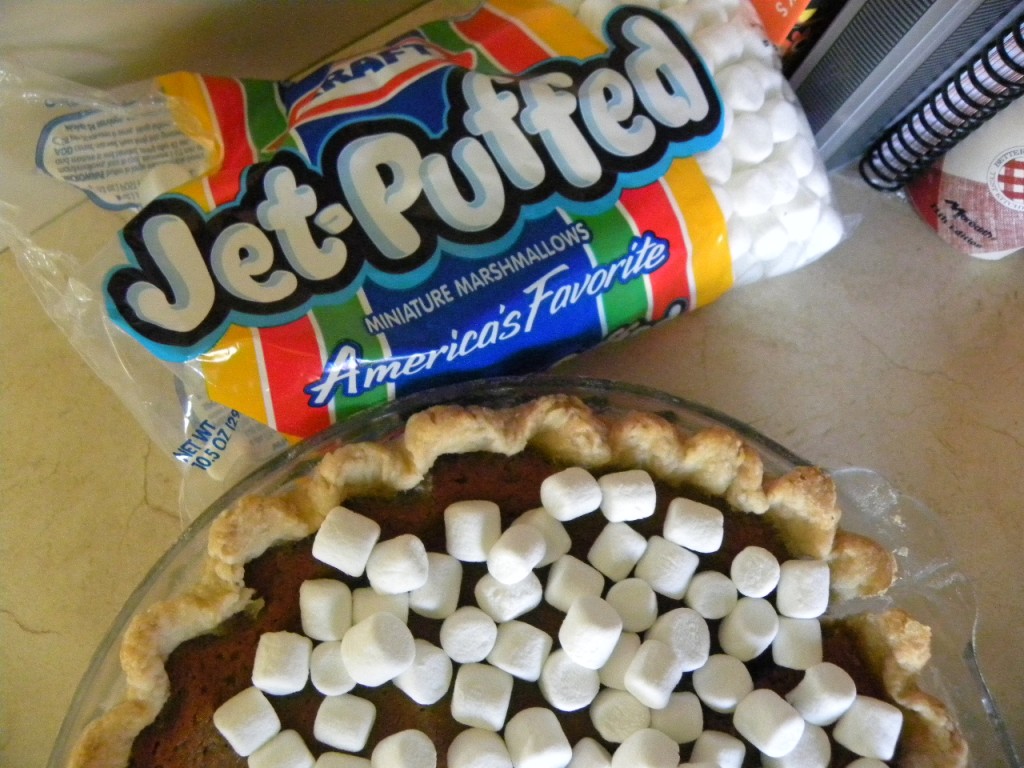 Spread a cup or two of miniature marshmallows over the top of your pie after you've baked it.   Turn the broiler on high,  pop the marshmallow covered pie under the broiler for less than one minute…stay close don't be throwing a load of laundry in or anything, because the marshmallows will brown very fast.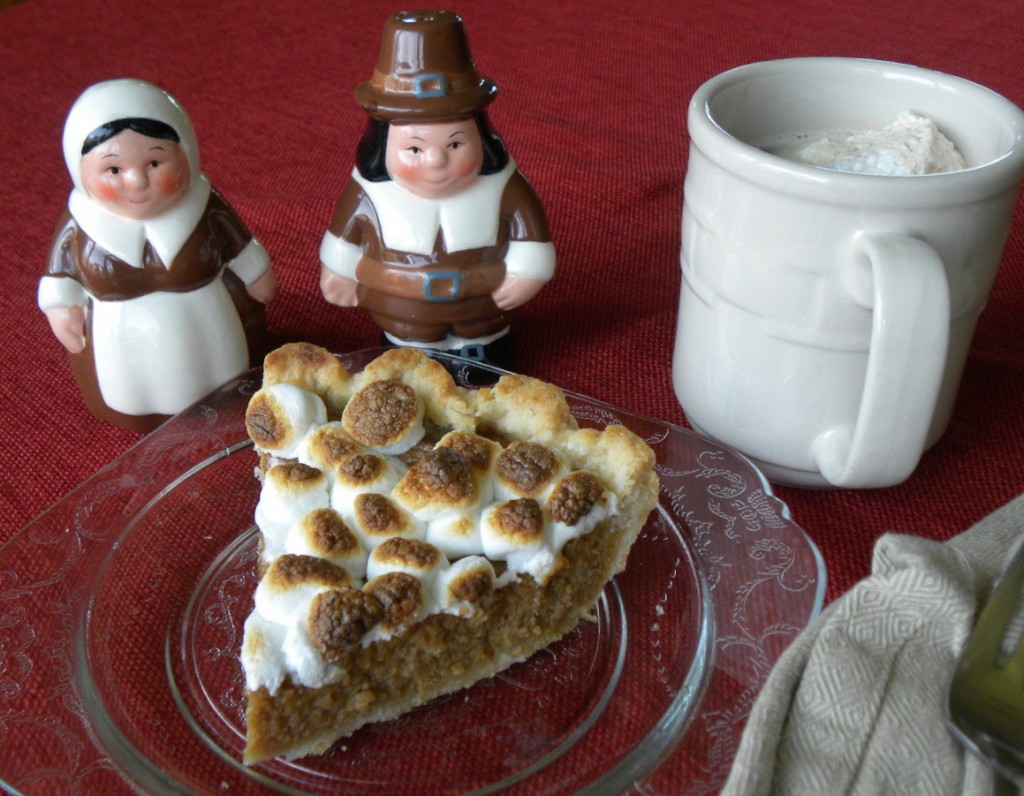 MMM mmm MMMmmYum.  The perfect ending to your Thanksgiving Day dinner.  My Pilgrims even made their way out of the drawer early for this pie.
Life's short, EAT PIE!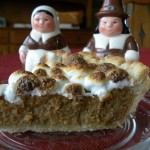 Print Recipe
Sweet Potato Pie
Sweet Potato Pie is custardy and rich with just the perfect amount of spice. It will be the perfect ending to any meal.
Ingredients
1 - 20

ounce

can of Sweet Potatoes/Yams in syrup

3/4

cup

brown sugar

6

tbsp

melted butter

1

tbsp

pure vanilla extract

1/2

tsp

salt

1

tsp

ground cinnamon

1/4

tsp

ground nutmeg

1/2

tsp

scant half teaspoon ground ginger

3

whole

eggs

3/4

cup

heavy whipping cream

1

unbaked pie crust
Instructions
Preheat oven to 350 degrees.
Roll unbaked pie crust out into a 9" pie plate, crimp edges.

Drain sweet potatoes. Using whatever method you choose, ricer, blender, potato masher, mash sweet potatoes, getting all the lumps out.

Add sweet potato puree, brown sugar, melted butter, vanilla, and spices to mixing bowl. Mix on high for 3 minutes, scrape down sides of bowl and continue to mix for another 2-3 minutes. 

Measure out 3/4 cup heavy cream break 3 eggs into cream, whisk eggs and cream together. Add egg/cream mixture to sweet potato mixture, mix on medium-high speed for 3-5 minutes, scraping sides of bowl. Continue to beat until filling is fluffy and creamy consistency.

Pour into unbaked pie shell. Bake in a preheated 350 degree oven for 50-60 minutes. Pie is done when cake tester comes out clean when poked in middle, or when center does not appear fluid.
Notes
If you would like your crust to stay lighter, cover pie with foil while baking.
Let pie cook completely before cutting.
For marshmallow topping: adjust wrack to top half of oven, turn broiler on high, cover baked pie with miniature marshmallows, pop under broiler for less than one minute, or until marshmallows brown. Pie can also be served with  a dollop of whip cream.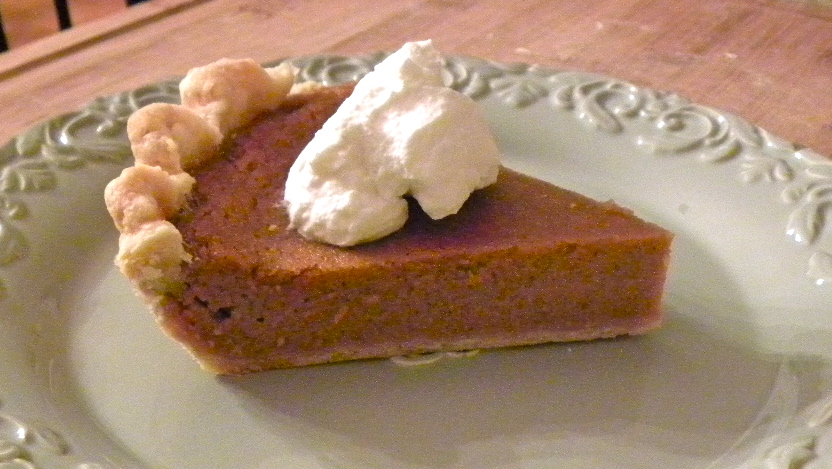 If marshmallows aren't your thing…I actually prefer this pie with a dollop of whip cream.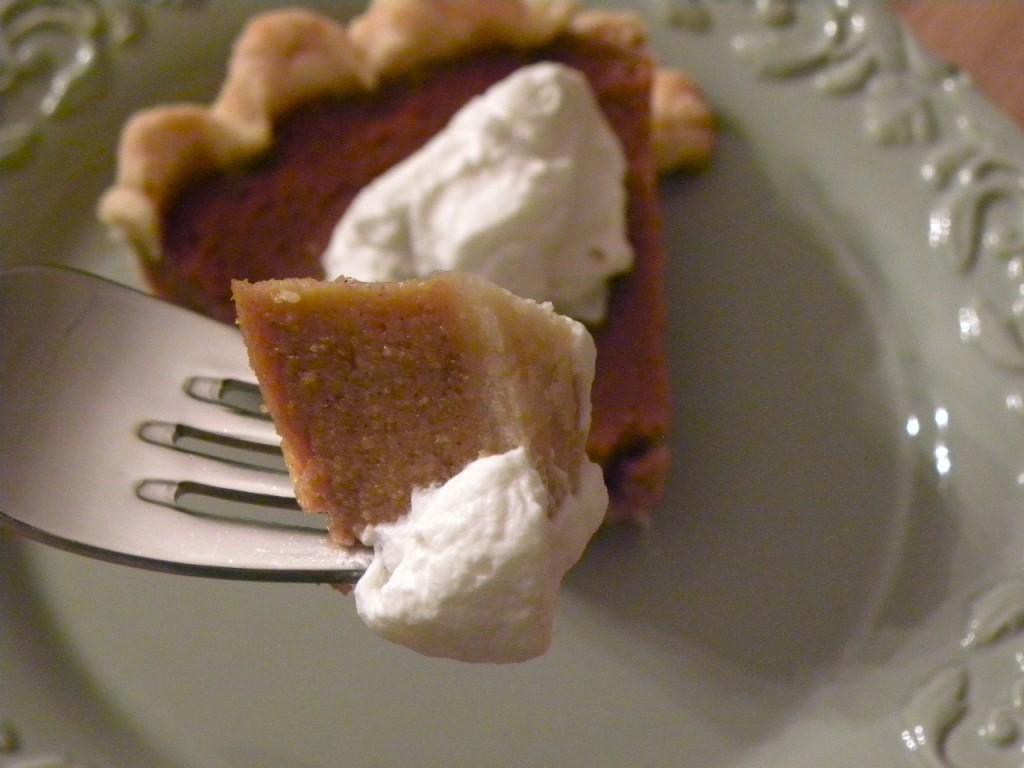 MMmmm…Ymmm here's to filling your pie hole!
Enjoy,
Sheila