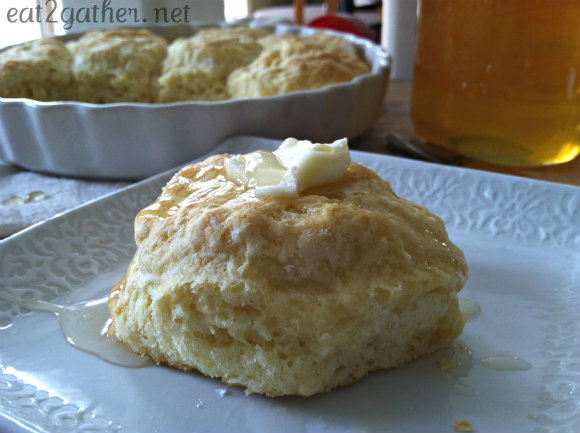 One last recipe to share with you before Thanksgiving.  Biscuits.  Gravy Soppers.   Biscuits and gravy are like two best buds, and what does every Thanksgiving table have?  Why gravy, of course!!  So why not bake up some luscious homemade Buttermilk Biscuits for Thanksgiving dinner?  These two are obviously made for each other.  Plus: I've also got a really great recipe to reshare with you for Thanksgiving leftovers…and you guessed it it involves biscuits!
If you're anything like me biscuits also double as dessert, slather them in butter and honey and Voila!  Or spoon smashed strawberries over them with whip cream and you've got yourself the best Strawberry Shortcake ever.  Who needs pie….did I just say who needs pie?
Pretend you didn't hear that….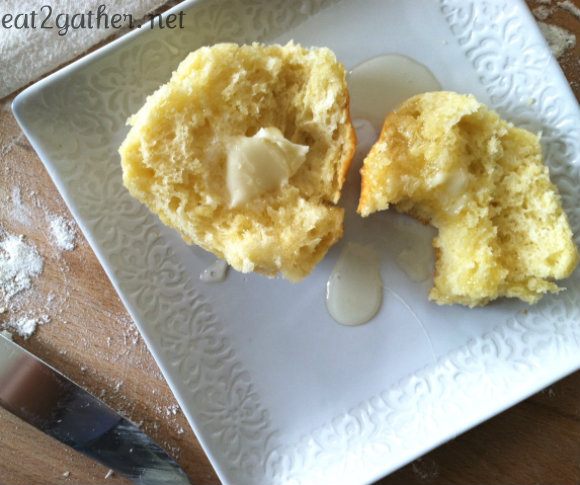 Never made homemade biscuits?  Always buy the canned variety?
Once you make homemade biscuits you will NEVER go back.  My mom made biscuits every week when I was growing up.  I never knew a canned version existed until I was married.  No lie. Biscuits are easy.  The hardest part is cleaning off your counter afterward, but it's all worth it!
I bet you have everything you need at all times to make biscuits.  No buttermilk you say?  NO problem!  TIP: Mix 1 tablespoon of white vinegar or lemon juice with just under 1 cup of milk and you've got yourself a perfect buttermilk substitute.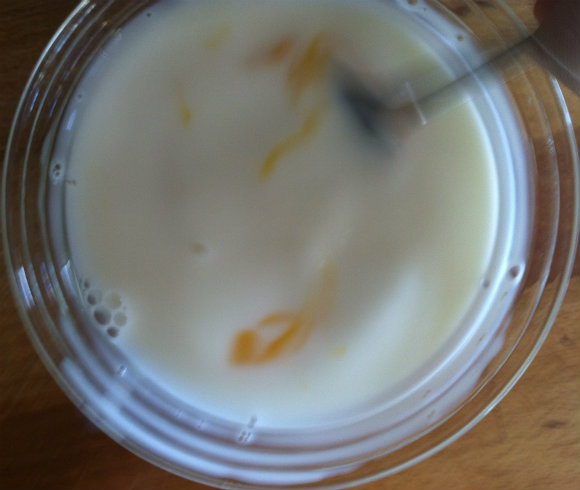 Start: Whisk 1 cup buttermilk with 1 egg, set aside.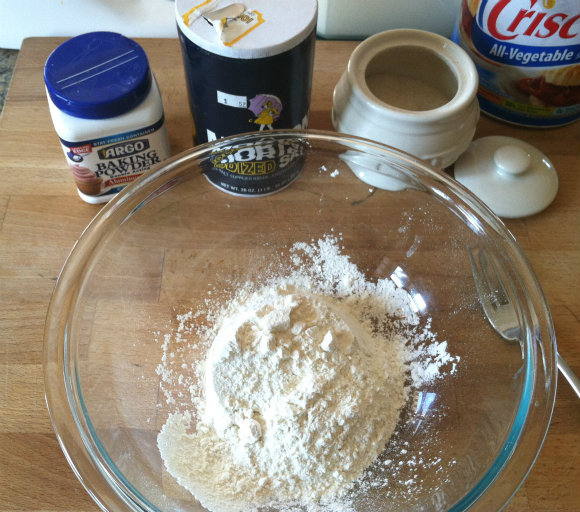 Combine flour, baking powder, sugar, and salt in a bowl.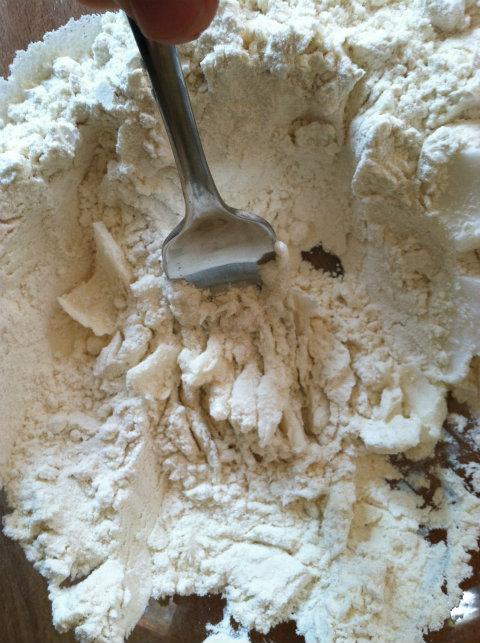 Add Crisco or Butter, cut in with a pastry cutter.  A fork works too.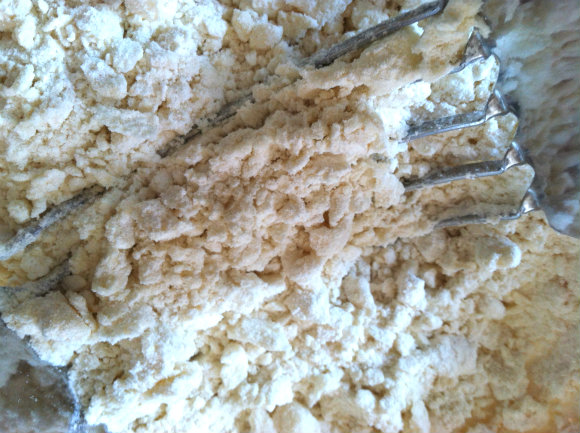 What's the difference between using butter or shortening?  I love the taste butter gives the biscuits, however it makes for denser bread. I think using shortening makes the biscuits lighter and fluffier.  Sometimes I use a combination of both.  If I'm making biscuits for shortcake then I use only butter and a little more sugar.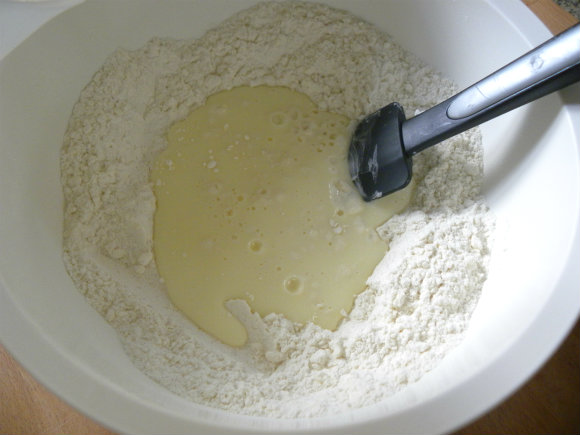 Make a well in the middle of the dry ingredients.  Pour milk/egg mixture in the well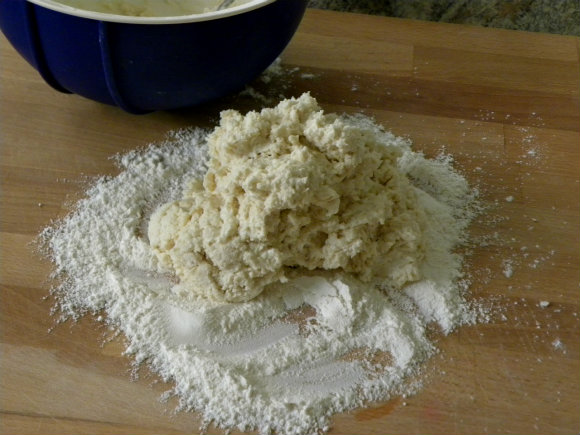 The key to tender biscuits is.….. are you hanging on the edge of your seat?  The key is, do not over mix.  Fold wet and dry together until just barely mixed, then dump out on to a well floured counter top or cutting board.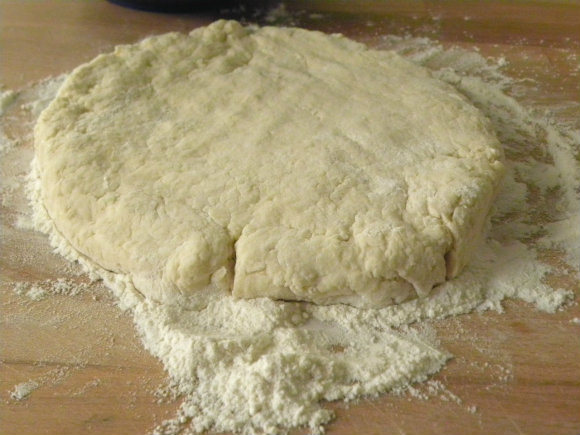 Pat dough down into a flat disk approximately 1/2-3/4 inch thick.  Your hands are gonna get sticky…don't freak out.  Just don't mess with the dough too much.  This process should take no more than 10 seconds.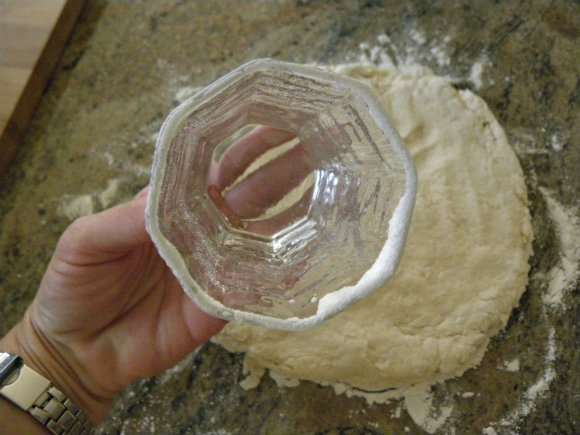 I use a juice cup to cut my biscuits.  But if you have a biscuit cutter or a round cookie cutter feel free to use that.  I do, and I still like to use my juice glass….just like my momma used to ; ).   Get the edge wet and then dip cutter in flour, this will keep the biscuits from sticking in the cup as you cut them.  The cup I use is about 2 inches in diameter, in case ya wondered.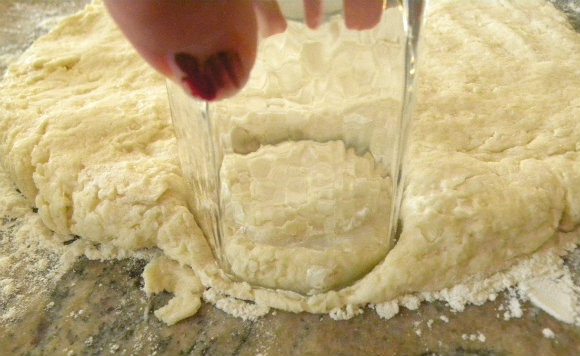 How about that manicure?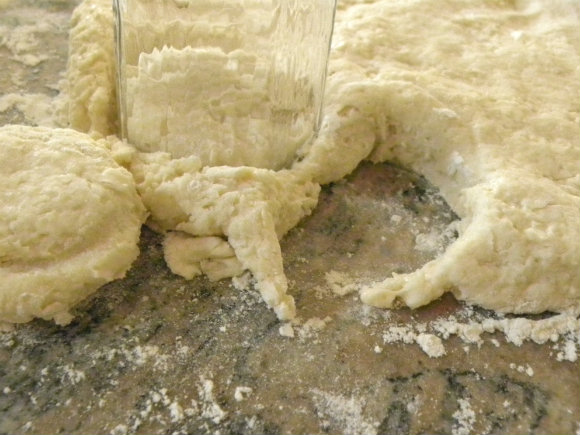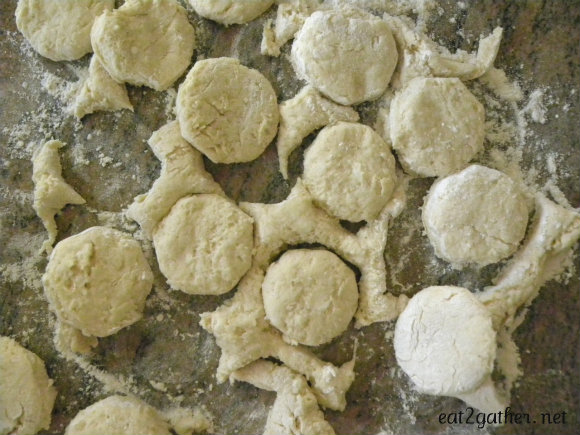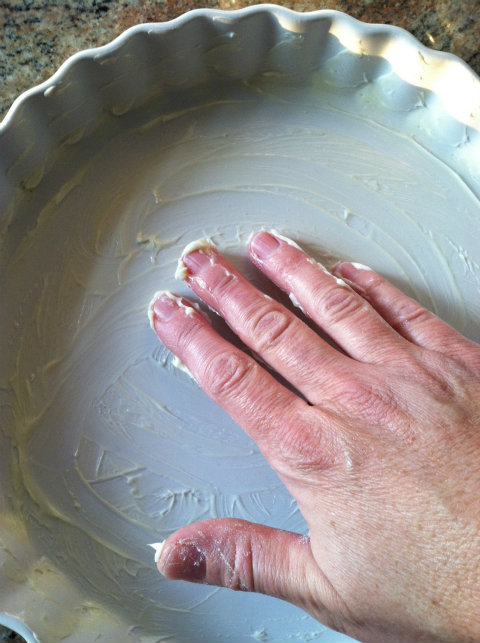 I always grease my baking dish with butter when baking biscuits. It gives them a beautiful golden, buttery texture on the bottom.  Another lovely mani shot….yikes how did my moms had get in this picture!?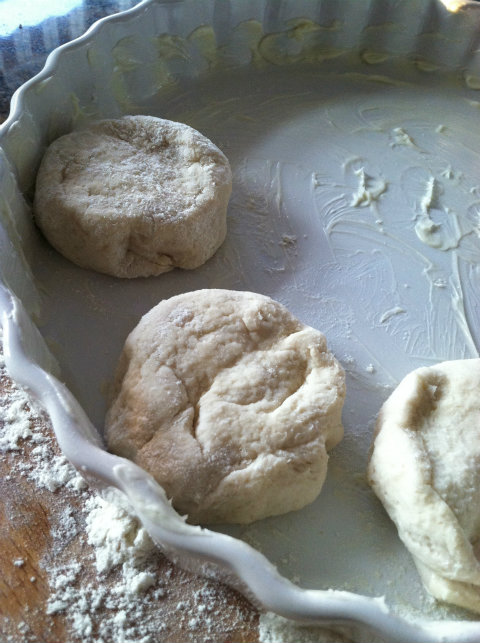 Leaving a little room around each biscuit place them in your buttered baking dish.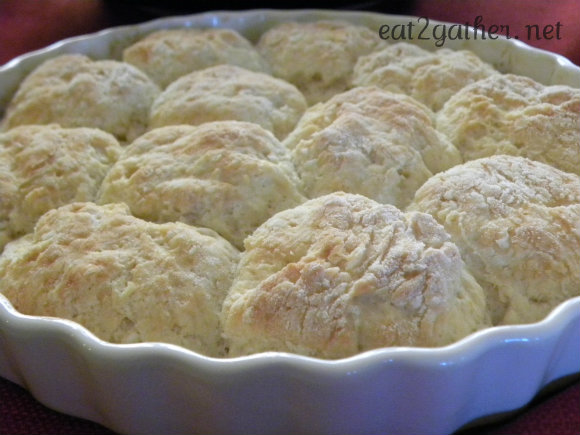 Place in a 375 degree, preheated oven for 20 minutes, or until they look like this.  Feel free to slather them in melted butter as soon as they come out of the oven….this is not necessary and I rarely do it.  But when I do I wonder, why I don't everytime…..then I look down and see my cheesey middle and decide maybe I should refrain from a few unneccary buttery calories.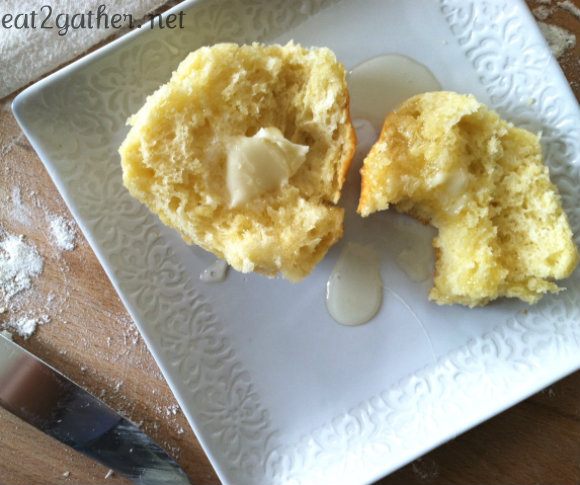 But then when I pry my warm delicate, buttery, melt in my  mouth biscuit open it screams at me to dab on butter and drizzle on the honey and that whole above theory about restraint goes right out the door!  Gol dernit!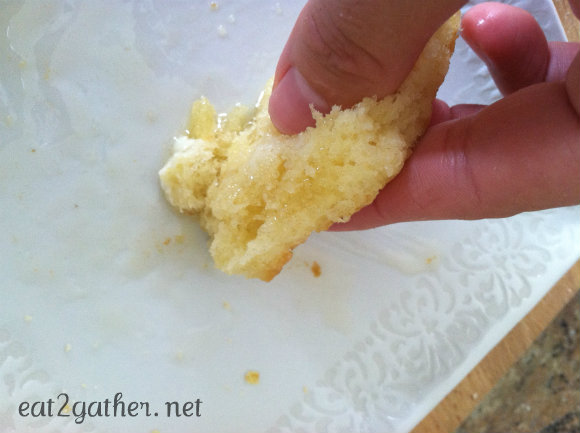 Oh these babies are soppers.  You are going to be draggin them through your gravy, honey, and cranberry sauce…..and then the next day you're going to make Mini Turkey Sliders with them….if there are any left that is.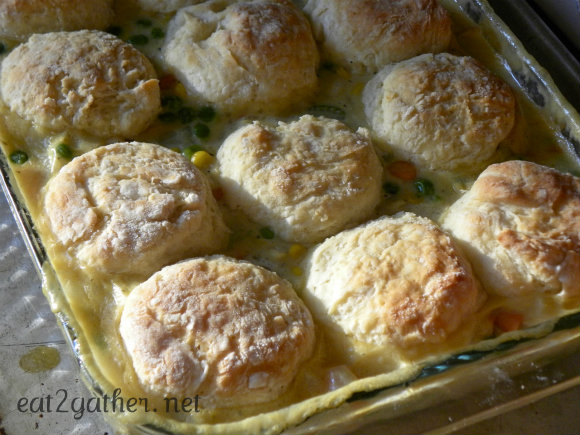 Speaking of leftovers!  You could make my Chicken & Biscuit recipe to use up your left over turkey.  Just substitute 5 cups of chopped turkey for the chicken.  You can find the recipe HERE.   
[print_this]
Buttermilk Biscuits
1 dozen biscuits
2 1/2 cups Flour
3 tablespoons Baking Powder
1 teaspoon Sugar
1/2 teaspoon Salt
1/3 cup Shortening or Butter
1 Egg
1 cup Buttermilk
1 tablespoon Butter for greasing dish
Preheat oven to 375 degrees
Mix flour, baking powder, sugar, and salt together in a bowl. Cut shortening/butter in with a pastry cutter, until there are no large lumps. Whisk buttermilk and egg together in separate bowl. Make a well in the middle of flour mixture, pour in wet ingredients. Gently combine with a fork or spatula. Do not over mix. Dump out onto a well floured surface, pat dough into a round 1/2-3/4 inch thick. Cut biscuits with a biscuit cutter or a small juice glass. Place biscuit rounds in butter dish leaving space around each biscuit. Bake at 375 for 15-20 minutes or until lightly browned and appear to be done in the middle.
[/print_this]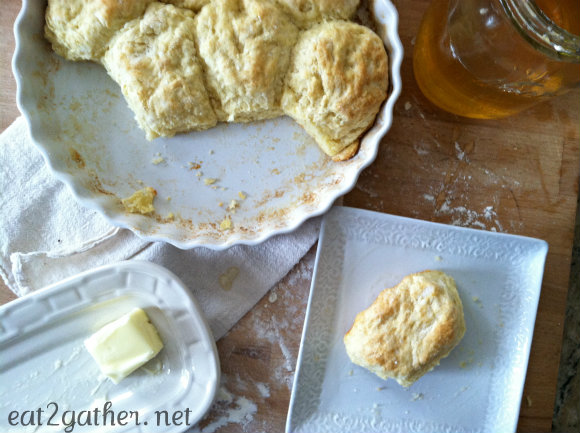 At this moment I am knee deep in making pies.  Only 50 this year, but if you don't hear hide nor hair of me for the next couple days, don't worry.  I do have a rather long Thanksgiving post that will be going live for your reading pleasure on Wednesday…..my son started to read it today and said, "sheesh mom how long is this", then got up and walked away.  Hmmmmm, not sure how I feel about that.
I pray your Thanksgiving is peaceful and your table is full of friendly faces, and loads of delicious vittles.
I am so thankful for you all!
Much luv!
Sheila