This Green Bean Casserole is seriously the best thing I ever ate! My sister is the keeper of the recipe. She make it every year.  It's her thing. It's scrumptious. I love it. I always pray there is enough leftover for me to bring some home and have for lunch the next day!
Jump to Recipe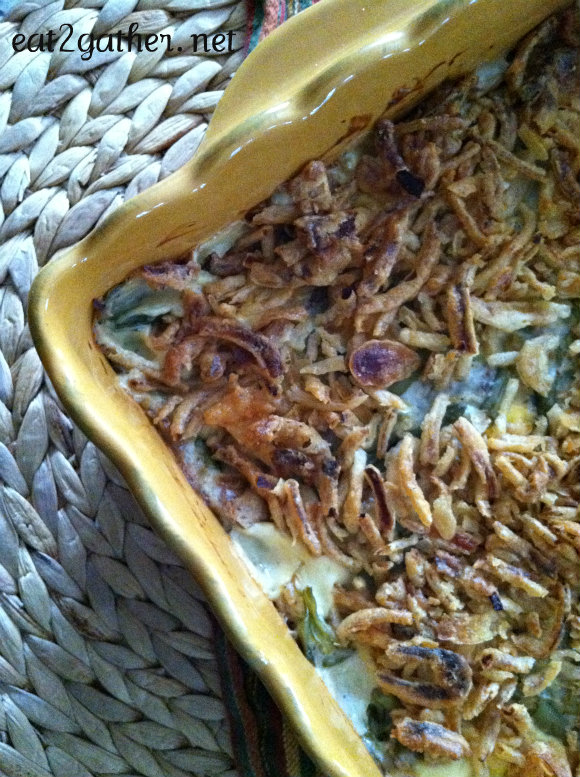 Is Green Bean Casserole part of your Thanksgiving Meal?
I decided that I should share this recipe with my beloved readers, so I asked my Seestor if she would be so kind as to let me have the recipe to share.
She said YES!
But then I got her email with the ingredients. I emailed her right back and said, "Seriously….this is what's in your FAMOUS Green Bean casserole?!!".
"Yup..that's all there is to it."
"Hmmmmm are you sure you're not holding something back on me?"
"NO! Yes! Sheesh. Why would I do that?"……….
Me…, "Cause you're sassy!"
Here it is…… drum roll please!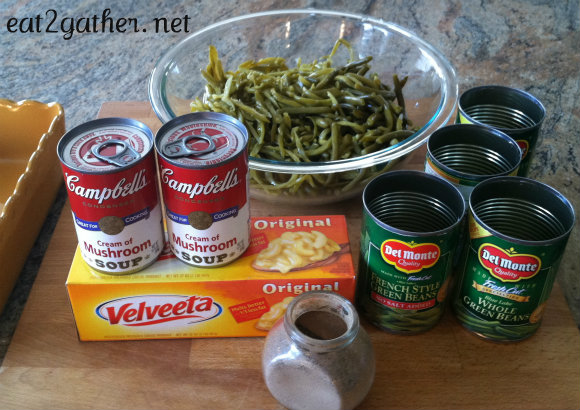 Ok – I use 6 cans of green beans, 3 french style and 3 regular cut
I think I use 4 cans of mushroom soup….pretty sure 3 or 4.  😉
1/2 of a large 'log' of Velveeta – cut into small cubes (the smaller they are, the easier they will get all melty in there)
Large can of French's onions – original kind
Mix everything together along with 1/2 of the can of onions.  Plop in in a baking dish and put the rest of the onions on top.  
Voila!  amazing bean casserole!
I think I bake it for like 30 min at 375.
Those are her exact directions….see why I was like What the Heck?! no garlic powder, Worcestershire Sauce, or pepper?
Well I have to admit it's EASY! And I'm ALL about easy!  I'm also, all about plopping globs of goodness in a pan, covering it with french fried onions, and letting it get all bubbly!
Please
BELIEVE
me this is so good…
It's crazy!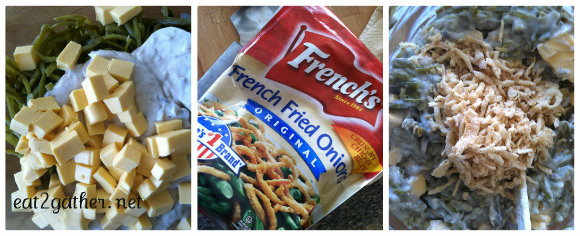 Drain beans.  Mix beans, cream of mushroom soup, diced Velveeta chunks, and 1/2 large can of french fried onions together. Plop in a baking dish.  Sprinkle with the rest of the french fried onions, and bake.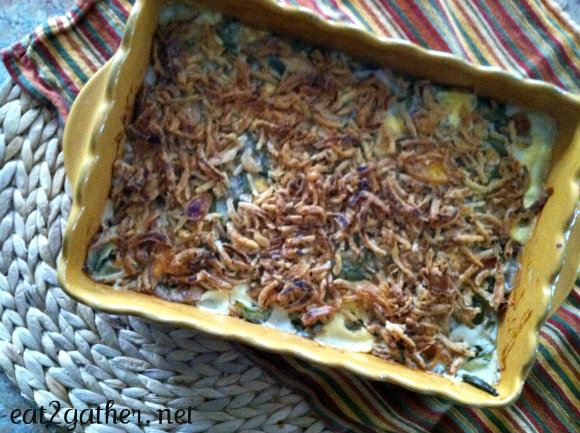 Voila! This is seriously not legal.
I know I got some friends out there who are totally grossed out to the max right now.  You can't even believe I eat this stuff.  I know who you are.  And I love you…but I just gotta say…..
It's time to dip your toe in my pool…come on in the waters fine. It's just one day out of the whole gol darn year for heavens sake!  I'ts not like I'm walking around the house  lickin' on a Velveetacicle!
Ok whatevs!
More for me and my Seestor!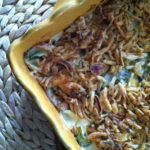 Print Recipe
My Seestors Famous Green Bean Casserole
The best gol' darn green bean casserole you'll ever eat, and its so easy!
Ingredients
3 - 15

ounce

cans of whole green beans, drained

3 -15

ounce

cans of French style green beans, drained

3 - 10

ounce

cans cream of mushroom soup

16

ounces

Velveeta, cut into small cubes (half a large block)

1 -6

ounce

can French's French Fried Onions

pepper to your taste
Instructions
Preheat oven to 375 degrees.
Drain beans, combine with soup, velveeta cubes (the smaller the better), 1/2 can of onions, and pepper to taste. Pour into a dish. Sprinkle remaining onions over the top of the casserole. Bake at 375 degrees for 30-40 minutes.
Notes
Voila! What could be easier than that? Enjoy!
OK sorry, I couldn't leave it alone, I had to add pepper.  About 10 cracks of fresh ground pepper.  Everything could stand a little pepper.  Spice things up a bit!!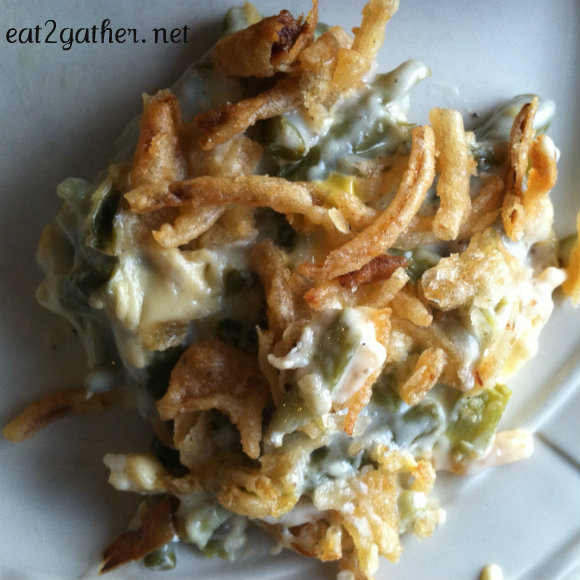 So, are you gonna stick with your version?  Or jump ship for my sisters?  Come on over the waters fine!
 STAY TUNED for more of my families favorite "healthy" Thanksgiving Dinner side dishes!!
with Luv, Mrs. Vel Veeta